If you're new to cycling or want to expand the equipment you have, you may want to consider buying cycling shoes. Because these shoes and the pedals they require can be costly, you may be wondering if they're worth the investment. 
Cycling shoes provide benefits that make them well worth their cost. They allow for a more comfortable, fluid ride that can't be matched by ordinary sneakers. They do this by allowing riders more stability in slick conditions and more power when it's time to drop the hammer.
If you're a cyclist looking to step up your game with some new shoes, we've got you covered. Below we'll discuss the pros and cons of cycling shoes and break down all the details you need to know to pick the right pair.
The Pros And Cons Of Cycling Shoes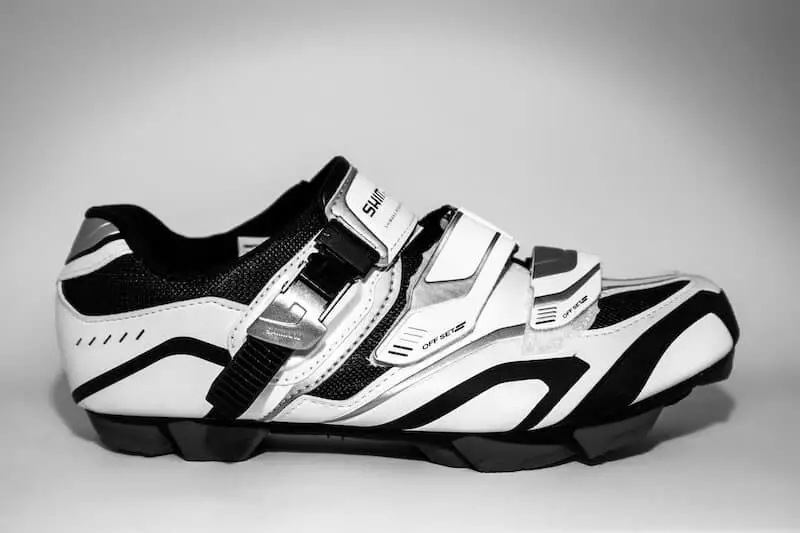 Like anything else, there are pros and cons to using cycling shoes. We will start by getting the cons out of the way first, as there are not many of them, and they can almost all be mitigated by the pros. 
The following issues mainly require you to weigh the financial investment that goes into cycling shoes with your cycling needs and habits.
Requires additional equipment: In order to use your new cycling shoes, you'll also need clipless pedals. If you're living on a budget, or you don't cycle enough for the price tag to be worth it, this could present a problem. Fortunately, if you're just starting out, there are options for people on a budget. 
Requires Know-how: Hand in hand with the previous issue, you have to know how to remove and install new pedals on your bicycle. Of course, you can pay someone to do this, but that will add to the overall cost. 
Potential danger: While cycling shoes can make things like riding in slick, in climate weather safer, they can also present other dangerous challenges. If you have to suddenly get off the bike to avoid danger, it can be made more difficult because your shoes are linked to the pedals.  
Though using cycling shoes involves acquiring the right equipment and a learning curve, they can be quite useful once you get them down. Eventually clicking in and out with cycling shoes should become second nature. Think of it like learning how to ride again for the first time! 
In the following section, we'll break down all of the many benefits of using cycling shoes.
Related article – Best Road Bike Cycling Shoes: Reviews And Complete Buying Guide
What Are The Benefits Of Wearing Cycling Shoes?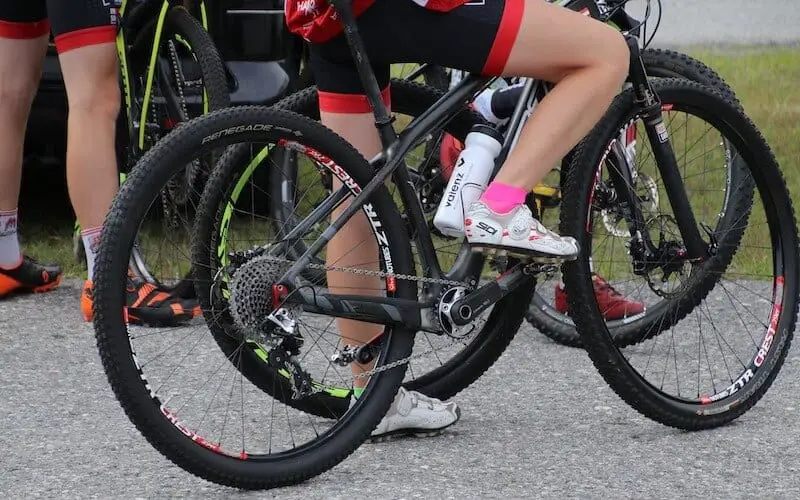 From a more comfortable fit than regular sneakers to an increase in the stability of your bicycle, the benefits of cycling shoes are far-ranging and include: 
Comfort: These shoes are built for making biking a more comfortable, fluid experience. You'll find they feel better against the pedals than any sneakers ever could. You'll also find that they aren't as hard on your legs.
Increased stability: Cycling shoes clip onto your pedals and make it much easier to stabilize your bicycle while riding. Please note that while riding is made easier, successfully stopping and unclipping will take a bit of practice. You should therefore ride slower than you normally would. At least until you're used to your new cycling shoes!
Better for slick conditions: If you're riding in the rain, you don't have to worry about your foot slipping off the pedal because your cycling shoes keep it clipped into place. 
More power: With cycling shoes, you can get a real power boost. This is because the position of the clips on your shoes forces your feet into the best possible position on the pedal. Also, because your shoes are attached to the pedal, you can actually engage your hamstrings.  This will allow you to feel the "lifting up" motion whilst pedaling. Overall, this will allow you to go much faster!
Related article – Is Cycling Good For Achilles Tendonitis?
Are Cycling Shoes Universal?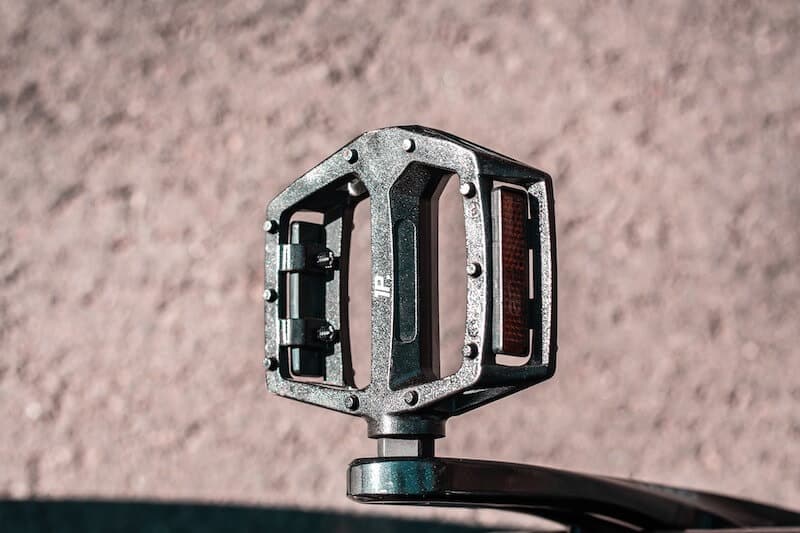 Cycling shoes are not universal. They are generally distinguished by how they clip to the pedals. There is either a three bolt or two bolt clip-in system. This is why it's vitally important that you know which shoes go with which type of bike ahead of time. It could definitely save you some time and money!
We should note here that there are some cleats which contain the ability to connect to both three and two bolt clip-in systems. It should say what the cleats you're considering are compatible with on the box the shoes come in or in the product description online. If you're using high quality, specialty shoes, however, they will only connect to one or the other.
Related article – 8 Of The Best Touring Cycling Shoes
How to Choose Bike Shoes
To choose the right bike shoes, you must first determine what type you need. The type of pedal system (your combination of pedals and compatible shoes) that works best directly corresponds to the kind of bike you're planning on riding. 
Mountain Bike: For a mountain bike, you'll want to use a two bolt clip-in pedal system. Often these shoes have the benefit of more tread in case you need to get off of your bike and walk. They're also compatible with some indoor cycling equipment. 
Road Cycling: A road bike generally calls for a three bolt clip-in pedal system.
Indoor Cycling: Surprisingly, the same two bolt clip-in pedal system that is used for MTB, works for some indoor cycling machines. This one is really dependent on the spinning bike / smart bike you end up using.
Cycling Cleats And Pedal Basics
The number of bolts or clips they have varies and are usually used for different bikes. The bolt systems include: 
Two-Bolt Cycling Clip-in System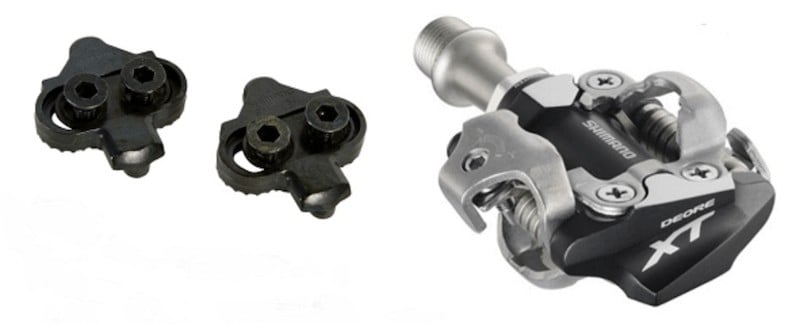 Three-Bolt Cycling Clip-in System (Also known as SPD-SL)

Universal (compatible with both two and three bolt cycling systems)
If you want further customization, you should take a look at the color coding some companies use to designate the degree of float the shoes have. Float simply refers to how much lateral rotation you'll have once the cleats are clipped into place. 
The color coding is different depending on what company your shoes are manufactured by. As an example, we've provided the color codes for the company Shimano's cleats below: 
Red 0° Float
Blue 2° Float
Yellow 6° Float 
If you don't know the code your shoe's company uses, you can usually find it on their website or in the product description. 
Are Spinning Shoes The Same As Cycling Shoes?
Spinning shoes are not the same as cycling shoes.
Spinning shoes specifically use different SPD clipless pedals than most road bike shoes. They can also sometimes use a caged flat pedal, which also is not compatible with most road bike shoes. 
That being said, the appropriate SPD clipless pedals are more commonly found in mountain bike shoes.
Related article – How To Install Cleats On Indoor Cycling Shoes
How Much Should I Spend On Cycling Shoes?
The price of cycling shoes usually falls somewhere between $50 and $200. If you're not completely sold on using them yet, you can start with a less expensive pair and see how you like them before investing in a more expensive pro set.
So, Are Cycling Shoes Worth It?
Cycling shoes are well worth a buy if you want to boost your power and speed. They will also make cycling a more fluid and easy experience. They have a fairly decent price range between $50 and $200, so you can try a cheaper pair before you invest in the more expensive ones. However when you purchase them, just make sure you're getting the right bike, pedal and shoe pairing.
Thanks for reading and please share with your family and friends if you enjoyed this post!
Related article – Can Trail Running Shoes Be Used For Mountain Biking?