Sunglasses for cycling aren't only about fashion, they are an essential part of your kit throughout the year.
Just like your helmet or shoes, it's important that you get the right fit and they work for you.
Polarized lenses block out light from certain angles, making it easier to see through sunny conditions. This also means you'll be able to ride in the late afternoon without having to worry about being blinded by the sunset glare.
So where do you start? Well by finding out what the best budget polarized cycling sunglasses are, of course! I've thrown in a bit of Harry's wisdom too.
Why Wear Polarized Cycling Sunglasses?
As a cyclist, I'm obviously a bit biased but cycling sunglasses look cool. Some may say goofy but they're wrong 😂
So style aside, dedicated cycling sunglasses do serve a purpose. 
They give you some much-needed protection from bright sunlight, harmful UV rays and protect you from wind, rain, dust, grit, and bugs (speaking from experience, bugs are awful when they end up in your eyes).
Whilst a normal pair of sunglasses will more often than also do that, cycling sunglasses are made for the job. They give you better protection and use tougher lenses, designed to withstand whatever cycling can throw at them.
You also get the benefit that many manufacturers will offer interchangeable lenses so that you just quickly swap out the lens to suit the weather and light conditions. It saves you having to own multiple pairs of sunglasses, which will quickly become very expensive. 
If you choose photochromic lenses then they automatically darken when faced with bright sunlight so it gives you the ability to use the same pair of sunglasses in a variety of conditions.
You might be thinking that you don't need eyewear in the winter. Well, remember what I said about bugs? 
Bugs can still get you in the winter. As can grit, dirt, etc. For winter riding, I'd recommend yellow lenses as that can give you a boost in contrast, meaning those gloomy days look brighter. Win all around!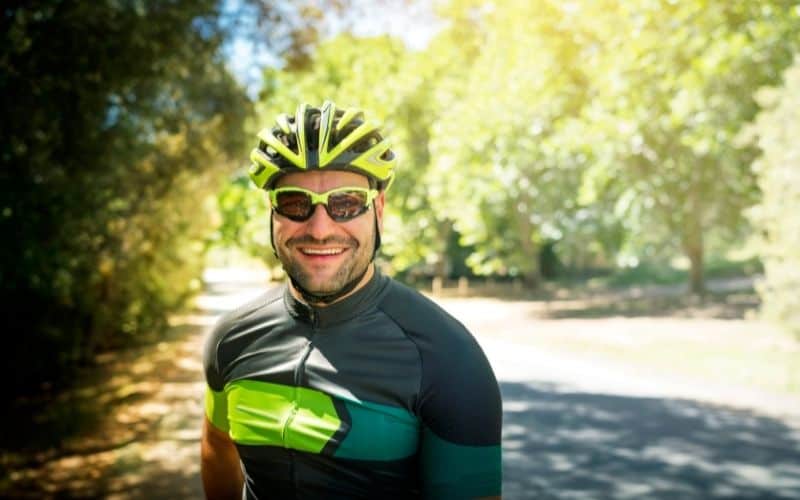 Buyers Guide: What To Look For When Buying Cycling Sunglasses
Lens
I probably don't need to state this but the lens is the most important part of your sunglasses so it's a big consideration when choosing your pair. 
On the whole, mirrored sunglasses look cool but they only really come into their own on very sunny days.
So if you live somewhere that doesn't see its fair share of super sunny days, you are better off considering a multi-lens package. 
Other cycling sunglasses manufacturers offer photochromic lenses. What this means is that they react to changing light levels. When it's sunny, they get darker and clearer when it's not.
Frame
The big framed sunglasses are in fashion at the moment and unusually for fashion, they do have advantages!
They provide you with a massive amount of protection and coverage. Though I will admit, the bold appearance isn't suited to everyone. 
Those glasses that have large frames can impede your peripheral vision and that can get annoying. There are frameless options out there, which give you an unrestricted view.
When it comes to frames, it usually comes down to your style preference more than anything else.
Arms
Alright, so you do need to give some thought to the arms of your sunglasses.
The arms need to be robust enough that they will keep the sunglasses in place, no matter where you're riding or how rough it gets. 
Manufacturers will often apply tacky rubber inserts to the arms. This helps to increase the friction but keeps things comfortable.
Nose Bridge
Everyone's face and nose are shaped differently so it's best to find a pair of sunglasses that offer adjustable or interchangeable nose pieces. That way you can be sure of a personalized fit.
Want to keep your sunglasses looking sharp?
What Does Polarized Lens Mean?
Alright, so the sun is awesome but it can also do a great job at temporarily blinding you with its mighty glare. That can be annoying and even dangerous. 
Light tends to scatter at varying angles when it hits an uneven surface.
However, when the surface is smooth, such as a flat piece of sheet metal, or calm water, the light reflects only at one angle and sometimes that's straight into your eyes. This is what glare is.
So what polarized lenses do is help prevent that glare. This is achieved by having a chemical filter. This filter blocks that intense light that gets reflected on flat surfaces and as such, the glare you experience is reduced. 
The ever so slight downside or knock-on effect of that is that it does reduce your visibility when looking at LCD screens, so it can sometimes be difficult to see your phone screen or cycling computer but overall it does make your cycling experience more comfortable!
What Color Lens Is Best For Cycling Sunglasses?
You may have seen that cycling sunglasses have different lens color options – with very good reason too! 
If you're cycling in weak sunlight then amber or rose-colored lenses work best. 
When the sunlight is strong, then grey is the best choice. While yellow lenses are perfect for those low light conditions as they will increase the contrast.
How are cycling sunglasses made? 👀
The Best 5 Budget Polarized Cycling Sunglasses
These polarized sunglasses from Rockbros offer 100% UV400. Not only that they have an attractive mirrored coating. 
The reason I mention the coating (aside from the fact, it's rather beautiful), is that it makes the lens anti-fog, hydrophobicity, soil, and oil-resistant so you stand a decent chance of keeping the lens clear when you're wearing these. 
Rockbros polarized sunglasses come in at 25 grams. These bad boys are lightweight. Impressively so. That's always good on a ride, I think we can all appreciate that. 
To ensure that they stay on your head, Rockbros has fitted an adjustable nose-pad so you can get the right fit for your nose and it's reasonably anti-slip so should help to keep the sunglasses in place. 
In addition to this, the ear pads are rubberized. This not only helps to keep the glasses stable but it does give that extra bit of comfort that you can't help but appreciate. 
There are plenty of color combination choices with these cycling sunglasses so you're bound to find something to compliment your style! 
---
Torege aims to cover you for all conditions, giving you 3 interchangeable lenses in one package! 
First up you get a blue lens, known as the PC Revo Lens. This lens is there to reduce glare and improve contrast. Ideal for sunny or overcast days.
Then you get a polarized lens, this one is black in appearance and is superb at reducing glare – especially on sunny days. 
The final lens is yellow, it's there to improve contrast. It's especially useful in low-light conditions.
So your bases are covered with Torege but are they any good?
In short, yes.
Ensuring that these cycling sunglasses are comfortable, the nose pads are rubber. This keeps your nose comfortable but also holds the glasses in place.
Something quite special with these sunglasses (apart from everything I've already mentioned!) is that Torege offers a lifetime breakage warranty on the frame.
The customer service is excellent so I wouldn't have any hesitation if I had any issues with these. Knowing they offer a lifetime warranty does help to give confidence, it's a big statement.
Overall, these polarized cycling sunglasses from Torege provide something a bit extra to other models out there and they're worth taking note of. Particularly if you want flexibility, which these offer in droves.
---
Kicking things off with a retro pair of cycling sunglasses from Tifosi. These sunglasses don't look overly "sporty" so if you're looking for a pair of dual-purpose sunglasses, then the Tifosi Swank SL could be the ideal pair for you.
What I really like about these sunglasses is that they are the type of sunglasses that you can wear for other things, not just cycling. As much as I like cycling sunglasses (and I really do!), they don't usually look all that great when you're not actually cycling. So Tifosi gets some style points there. 
Tifosi Swank SL are lightweight, these aren't going to weigh you down. They are going to rest gently on your nose and generally not get in the way. 
Speaking of the frames, Tifosi uses Grilamid TR-90 nylon to give them that lightweight quality. The lenses are made from polycarbonate, which is scratchproof and shatterproof so you can be sure that the sunglasses are going to be durable. 
Overall, for the relatively low outlay, the Tifosi Swank SL offers a great mix of style, substance and does a good job of reducing glare. Lovely stuff! 
---
Sticking with Tifosi, we have the Crit. These cycling sunglasses are also made from Grilamid TR-90 nylon so another lightweight pair, weighing in at only 31 grams! 
Not only does this make them lightweight, but it also helps to keep them firmly in place on your head, whichever direction you look. This is helped out by the rubber nose piece (adjustable too!) as it keeps things snug.
To be doubly sure that the Tifosi Crit is a good fit, the end of the arms are adjustable. Finished off with hydrophilic rubber, they are soft and increase the grip – even when you get sweaty! 
The show-stopping feature of the Crit are the lenses. 
As you'd expect, they provide 100% protection from harmful UV rays. But where it gets special are the photochromic Fototec lenses. 
When it comes to swapping from light to dark and vice versa, it seems instantaneous. You shouldn't even notice. Now that's impressive. 
This comes into its own in winter light (you know that low blinding winter sun, yeah?). These Tifosi Crit cycling sunglasses are remarkable in these conditions and I wouldn't be understating when I say that they've raised the bar in the photochromic world.
---
If you're craving that big, bold frame then take a look at the ATTCL sunglasses!
First things first, with big framed sunglasses, comfort is important. ATTCL isn't messing around here. 
The earpads and arms are flexible, as to are the nose pads so you should be able to make these work for you. 
These cycling sunglasses do give you the full wrap-around experience that does provide you with fantastic protection. 
There are a few lens color options, though the black lens is the polarized version. As you'd expect, they come with UV protection. 
Let's consider the weight because you can't get away from the fact that these are big shades! Surprisingly, they only weigh 30 grams so you aren't likely to notice the weight of them against your nose/ears/face. 
Finished off nicely with a unique hard case. Ok, may not be needed but I do store my cycling sunglasses in the cases they come with and I'm always appreciative of those that come in a nice case.
Overall, these polarized cycling sunglasses from ATTCL offer style and substance…you can't argue with that.
---
Round-Up
Sunglasses are pretty personal things, whether that's fashion sunglasses or cycling sunglasses. However, it does pay to do some research to ensure you get the right type of lens for your cycling needs. 
Being a sucker for the full wrap-around look, my favorite is the Rockbros sunglasses. They offer style and for the budget, they do the job excellently. 
What's your style?
You may also be interested in – Are Single Speed Bikes Good For Commuting?