What are the best hybrid bike tires available? Many cyclists are asking themselves that question as they plan the year's rides. With all the new advancements in cycling technology, it can be hard to keep up with which products are the best for your needs out of hundreds of popular hybrid bike tire options. So we've tried to simplify the process for you.
Here are the hybrid bike tires that we've reviewed in this article:
Let's roll on!
Before we take a look at five of the top hybrid bike tires on the market, we also provide some background information on each tire type. This will help you make an informed decision when it comes to purchasing new tires.
Buyers' Guide To Hybrid Bike Tires
So, what is a hybrid bike tire, and why the hype over choosing a particular match for your cycling style? 
A hybrid bike tire needs a type of bike tire designed for both paved and unpaved surfaces. These tires are usually a wider tire than traditional road bikes use, which gives hybrid tires much better traction on loose surfaces.
Another difference between hybrid bike tires and road bike tires is the tread pattern. Road bike tires feature a smooth, slick tread designed for riding on paved surfaces. Hybrid bike tires are different in that they have a tread to suit both paved and unpaved surfaces, ideal for cyclists who want to ride their bikes on both paved roads and rough, scenic trails.
When choosing hybrid bike tires, there are a few important considerations that may sway the decision, including:
The type of terrain
The tire size
The price of the tire
Related article – Does Cycling To Work Get Easier?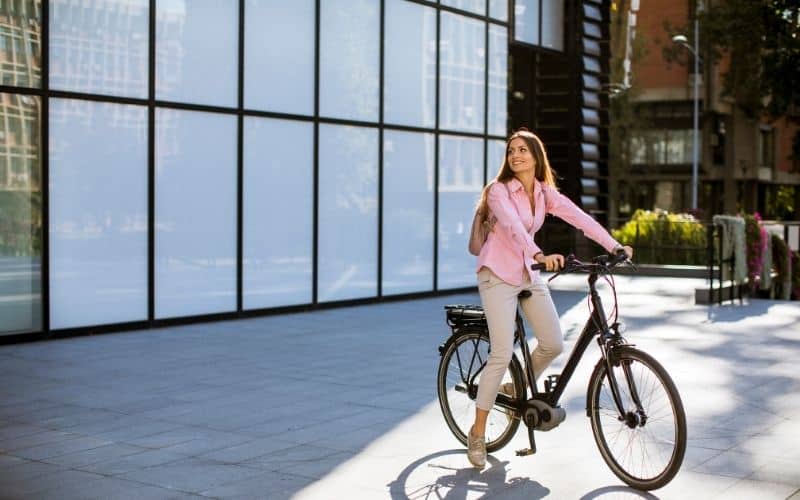 Type Of Terrain
First, decide what type of terrain you will be riding on the most. If the majority of your ride will be on paved or smooth surfaces, a tire with a smooth tread will be beneficial. However, if the ride will be featuring a lot of off-roading, most cyclists enjoy having a tire that carries a robust tread to help the bike to stay upright on loose or rocky surfaces.
Tire Size
Second, consider the appropriate size of tire, which will primarily depend on the size of the bike. The type of riding also comes into the decision, though. Most hybrid tires come in two sizes:
The final decision will be around your preferred price point. Like with anything else, cyclists get what they pay for when it comes to hybrid bike tires. However, that does not always mean having to spend a fortune on the best set of tires out there. The most important piece of advice from the cycling experts is to do enough research and find a tire that is going to last.
Ultimately, the decision will come down to how you intend to use the bike. If you want a bike with a good grip, go for a hybrid bike tire that is designed to perform well on unpaved surfaces. The knobbly tread is great for mountain bike tires and gravel cycling but might not be suitable if the rides need streamlining and will stick to smoother surfaces.
However, if high speed is the only requirement, go for hybrid bikes with a smoother tread. These tires will be aerodynamic, which could shave precious seconds off your time. Keep in mind that these road-based tires do not offer the same grip for unpaved surfaces if you happen to go through some rough patches on the journey.
If comfort is the priority, the recommendation is typically a hybrid bike tire with a thicker tread. This combination will absorb some of the impacts on rough surfaces.
Thankfully, hybrid bikes present great flexibility, which helps to make the purchasing decision less daunting.
Related article – 5 Of The Best Hybrid Bikes Under $500
The 5 Best Hybrid Bike Tires – Our Reviews
Choosing the best hybrid bike tires requires some forethought about terrain, size, and budget, but there are myriad features that could make one product more appealing. Here are five of our top picks, in no particular order:
The Continental Grand Prix 4 Season Road Bike Tire is an excellent option for cyclists who want a versatile hybrid tire. It works well on both paved and unpaved surfaces, which means that you can vary your rides on a whim. The tread pattern performs solidly for all types of terrains, and the tire itself consists of durable materials that will last a long time; it is a great investment for those who like some variety on their routes.
As an all-weather tire, the Continental Grand Prix 4 Season Road Bike Tire also brings a greater sense of confidence in cyclists who are more adventurous. A beginner trying out their skills on smooth and rough surfaces alike will enjoy the stability these tires provide on every ride. The hardy tread pattern sheds water and mud well, and the tire itself is highly resistant to punctures and other types of damage.
Overall, the Continental Grand Prix 4 Season Road Bike Tire is a great option for cyclists who want a versatile tire that works well in all types of weather conditions.
---
The Fincci All Mountain Enduro Gravel Bike Tire is a viable contender for the year's most popular hybrid bike tires. These slick yet sturdy tires consist of extremely durable construction, perfect for use on a variety of terrains. The unique selling points here are that these tires fold up easily for convenient storage when not in use, and they provide a smooth and comfortable ride for cyclists of all levels.
Cyclists looking for hybrid bike tires that can handle any terrain would do well to weigh the benefits of the Fincci Pair Foldable 60 TPI All Mountain Enduro Gravel Bike Tire. These tires really are durable, able to stand up to even the roughest terrain without breaking a sweat. The foldable design is perfect for easy storage in small apartments or tight spaces when not in use.
If you are looking for a smooth and comfortable ride that adapts to any chosen route, these tires are reliable enough to represent a great investment in your time on the road.
---
The SCHWALBE Marathon Plus HS Wire Tire 26 Inch is a great hybrid bike tire option. Cyclists who want a tire that is specifically designed for riding on paved roads will be particularly impressed by the smoothness of the ride on these durable yet streamlined treads. If you do need to navigate any rough terrain, these are some of the best hybrid bike tires to handle it.
These smoother hybrid tires come with a reflective sidewall that helps to improve visibility when riding at night, a great safety feature on busy roads. The versatile tread pattern of the SCHWALBE Marathon Plus HS Wire Tire also provides amazing traction on a variety of surfaces. Any cyclist will be able to confidently ride on wet or icy roads and rely on the puncture protection system, even when riding over debris or sharp objects.
Cyclists who enjoy a spot of night riding on the streets of the city will appreciate the safety focus of this versatile set of tires. It is an excellent option for a hybrid bike tire that can still compete with others in its class for rougher road conditions.
---
The Vittoria Zaffiro Rigid likes on-road and off-road cycling since the rigid casing makes it ideal for use on paved roads. However, the tread pattern adds to the mix with excellent traction and stability in all weather conditions and on rougher terrains. As a true hybrid tire option, this product allows any level of cyclist to plan their route with complete peace of mind about how the tires will perform, no matter the weather.
One of the Vittoria Zaffiro Rigid's defining features is its lightweight construction. Other models tend to be a lot heavier, which is a consideration in both the riding experience and portability. These tires are also extremely easy to install, making them a great choice for commuters and recreational cyclists who want something quick and easy to take them where they need to be.
These well-made bike tires have been handmade in Germany since 1871, so customers can be sure that the products are built with a focus on precision and quality. German manufacturers are also world-class integrators of the most advanced technology available, and Vittoria Zaffiro Rigid tires demonstrate this beautifully. The durable hybrid bike tire uses DuraSkin, a strong, abrasion-resistant fabric that allows it to handle even the most challenging riding conditions year-round.
---
The final pick is the ever-popular Panaracer Tour hybrid tires. Are you looking for a durable yet smooth tire option? These are some of the best hybrid bike tires for urban riding that are smooth and comfortable.
Those who do a lot of city-based riding tend to appreciate these hybrid tire options for the balance of durability, grip, and handling. It makes for a comfortable ride while still providing the stability you need on rougher sections of the journey. The durability of these tires also makes them reliable for those who want to make use of interesting new routes or commute without worrying about punctures or weather complications.
The Panaracer Tour uses a convenient wire bead, which makes it easy to install and remove (an attractive feature for those who like to switch up their tires often). It is also one of the best options for cyclists on a budget who still need a hybrid tire that can handle a variety of surfaces.
---
Our Final Recommendation
So, what is the top hybrid bike tire available?
That all depends on the cyclist's preferences, routes, budget, and style. However, we would be happy to recommend the Schwalbe Marathon Plus HS Wire Tire for durability and puncture resistance.
The most important consideration is that the hybrid bike tires you choose should match the conditions in which you will be riding. For example, our second choice would probably be the Continental Grand Prix 4 Season Road Bike Tire for its amazing all-weather grip, but that depends where you will be off to next. The choice will come down to personal preference, and it is worth testing some of the options above.
Our top two recommendations above are great, but the other products listed may suit your route better. All these choices ensure a high-quality hybrid bike tire that will last for many miles, which is all you really need to make memories for a lifetime. Make your choice based on safety, durability, stability, or convenience, and don't forget to enjoy the ride.
Ride on!
You may also be interested in: