Panniers, the sight of a touring cyclist!
As someone relatively new to touring, I felt daunted at the thought of using panniers. Surely they're for the seasoned tourer? 
After all, they make the bike more unstable, right? Never fear, in this article, we'll take a look at the best panniers for touring (and how to keep you upright! 😄):
What Are Bike Panniers?
Panniers are bags designed specifically to be hung off the sides of a bicycle or motorbike.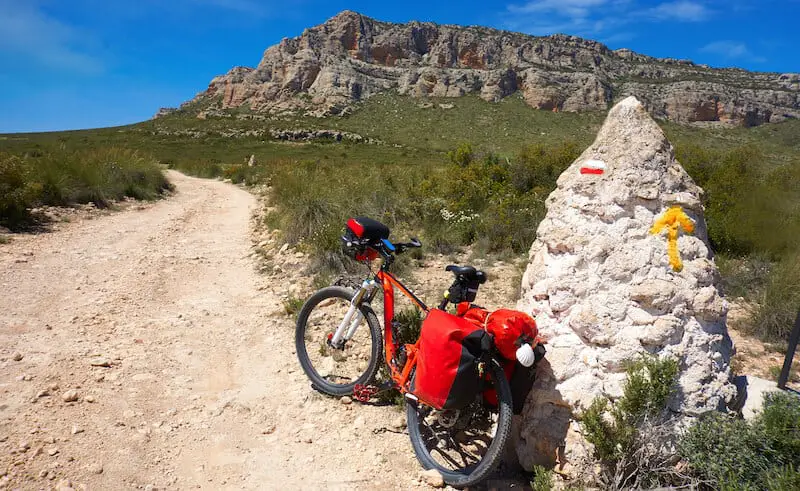 They are intended to be used in pairs. Whilst you can use them independently, they will alter your balance and general stability.
Pros To Using Panniers
You can carry more gear (and more food!)
Easy to pack and get on the road again
Larger capacity to be able to fit a single big item in
Fairly easy to repair (though a good pair will be durable and shouldn't require it!)
Cons To Using Panniers
Panniers make your bike wider, potentially making it less stable
Adds extra weight and can slow you down as a result
You won't be as streamlined with panniers. This will increase drag
How Many Panniers Do I Need?
The standard set-up for a long-distance adventure would be four panniers. 
This usually means two small ones at the front and a larger set at the rear of the bike. If you still need additional storage, you can add a handlebar bag. 
For lightweight and shorter trips, two rear panniers will suffice.
As you get used to touring, you are likely to find that you don't need four panniers. You may find that you start to take a minimalist approach and have learned what you do and don't need to pack.
What To Look For When Buying Panniers For Touring
Waterproof
If you're touring, you are likely to be out when it's raining. This is why having a waterproof bag (or cover) is important. 
Finding your change of clothes wet after a long time in the saddle is not fun.
Design
Panniers for touring are designed differently from those for day-to-day riding and they come in a range of sizes, materials, and colors. 
Touring panniers tend to be labeled either 'front' or 'rear' and commonly sold in pairs. Depending on the model, there are sometimes differences in the left to the right pannier. 
Front panniers are smaller, they have to be. The weight that goes into these will directly impact the weight on your front wheel. This weight will affect the steering and handling of your bike so try to keep things light at the front.
Bag Volume
Front panniers have a capacity of around 10 – 15 liters each. As they are sold as a pair, this equates to around 20 – 30 liters. 
You don't want anything greater than this on the front of your bike as this will increase the chances of the bag hitting the down tube, or the ground if you were to turn sharply. 
Rear panniers usually hold double the capacity of front panniers. 
If you ride a tandem, firstly, you're very brave and I have huge respect for you. Secondly, you can have even larger panniers!
Material
There are two main categories for pannier material; fully waterproof and semi/non-waterproof.
With fully waterproof panniers the fabric is usually laminated and the seams are sealed. My advice is to always pack a simple repair kit for it – Gaffa tape will do. This will ensure your kit stays fully waterproof throughout your trip.
Non-waterproof panniers are often made from heavy-duty canvas. The lid of the bags is similar to what you find on a backpack, with zippers or buckles.
You do get some degree of water resistance and this will protect you to some extent from road spray.
A heavy-duty needle and thread should be your repair kit for these types of panniers. 
Padding
Some riders like to have a good amount of padding on their pannier. It's worth considering as it will provide some protection to the contents while helping to maintain the shape of the pannier.
How To Pack A Pannier For Touring
This will depend on what you like to pack and where you're going. However, there are some basic rules to get you started. 
Don't pack anything you might need while you're cycling. You won't be able to get to them. Anything you might need should be stored elsewhere. 
Heavy items should go at the bottom. This helps to balance the weight and always protect the lighter items. 
What would you take on a 900km ride? Find out what one rider would take!
Review Of The 10 Best Panniers For Touring
Combined Capacity: 40 liters
Combined Weight: 1.9kg
If you've even just dipped your toes into the touring world, you are likely to have stumbled across Ortlieb. A well-known and highly respected brand.
Ortlieb Back-Roller Classic has an IP64 rating, giving you total security from dust and water – ideal for all-weather touring. The name 'back roller' is inspired by how they close. The top rolls over to close and this makes them impermeable to weather. 
It feels like Ortlieb has thought about everything with these panniers, there is an internal pocket, giving you quick access to those items you need to get to quickly. As with every Ortlieb, the Classic has reflectors on them. This increases your visibility on the road – which never hurts! 
Each pannier comes with a shoulder strap, making them very easy to carry when they aren't attached to your bike.
It has to be said, it's little touches like this that make these panniers standout – every aspect of the design has been thought about. Back it up with a five-year guarantee, you can see why these panniers are a favorite among cyclists.
---
Combined Capacity: 35 liters
Combined Weight: 1.24kg
The Axiom is beautifully understated but smart in design.
There's nothing complex about these panniers, they will see you through your touring adventures, with a good amount of capacity, that has been used wisely (with style, too!) and you can't ask for more than that. 
For riders who are keen to make an environmentally friendly purchase, this could be the one for you. The Axiom is constructed in Oceanweave 600D, (that's recycled fishnet polyester to you and me). 
Adding to the durability, there is a waterproof coating and a red interior lining – this enables you to see inside of the pannier more easily but it also protects the items inside from being scratched or damaged.
The top closure is operated by a drawstring, nice, simple, and secure. While you get zips on the pockets – there are rear, front and side pockets. As well as some daisy-chain webbing loops so there are plenty of places to store little items!
Visibility is important to any cyclist, with these panniers you get a reflective Axiom logo and space to clip your light. A Rixen and Kaul mounting system is used with the Axion Seymour.
To finish things off, you get a lifetime warranty against manufacturing defects.
---
Combined Capacity: 26 liters
Combined Weight: 1.4kg
The flexible storage option.
Whilst the capacity of these panniers aren't the largest we looked at, how space can be used is what shines through. A good solid rectangular shape – ideal for putting oversized items in. 
At the front of each pannier, you get a zipped compartment to store smaller items in. 
Making things easy for you off the road, there is a carry handle attached. There is also a rigid back panel inside and this keeps the structure of the pannier. It also allows you easy access as you aren't fighting to keep the bag upright when you're trying to retrieve an item!
Visibility has been considered and there is 3M reflective trim applied. I have to say, it's a decent amount of trim and it does a great job at increasing a rider's visibility! 
With each pannier, you get a bungee hook on the back. The purpose of this is to secure the lower portion of the pannier. This will give a good amount of stability when riding. 
BV has thought about how a rider will fit their panniers, and there are three separate spots where you can attach the bungee hooks.
---
Combined Capacity: 37 liters
Combined Weight: 1kg
If you're looking for value to money, then the Roswheel panniers may be your answer! Roswheel describes it as multifunctional and I can see why – you get 3 bags for the price of one.
Two bags are the traditional panniers style and sit on the side of your bike. Whilst there is also a top bag. The three combined give you an impressive capacity of 37 liters. You shouldn't be short on compartments as there are plenty to choose from, helping you to keep everything organized. 
Like a lot of panniers, this set is angled to ensure that it doesn't make contact with your heels while you're pedaling – much appreciated! Being seen in low light isn't too much of an issue as the handles are reflective as are the logos. 
Each bag is constructed from reinforced polyester and whilst Roswheel doesn't state that it is waterproof, it does provide a degree of water-resistance with the polyurethane coating. A slight downside to these panniers was that the zips didn't seem to be the best quality and would stick on occasion.
Overall, the Roswheel offers a little something different to the market, with the added top bag and that's a welcome addition!
---
Combined Capacity: 25 liters
Combined Weight: 1.4kg
Topeak states that the DryBag DX is "sonically welded and fully seam-sealed" and I have to say, these panniers seem watertight! 
There is a great sense that whatever you keep in your pannier, will be protected from Mother Nature. Getting the DryBag where you want it positioned on your bike is easy as Topeak has slidable hooks in place. They also feature a quick-release system so that you can install and remove with ease! 
The build quality of the Topeak DryBag DX is superb, they are lightweight but sturdy. On the sides of each pannier are reflectors and you also get a handle and a shoulder strap for the times when you want to carry your bag off your bike. 
Installation may take some getting used to and don't be surprised if you don't get it spot on the first time. However, if you're willing to spend a bit of time understanding how it works, it will pay off in the long run.
These panniers are secure. They can take rough terrain and a fair speed and not complain once. Ideal!
---
Capacity: 25 liters
Weight: 950g [Sold individually]
The Waterfly pannier is made from 1000D polyester material, finished with a waterproof PVC layer on both sides, making this a great option for riders who venture out in wetter conditions.
Durability is a consideration when buying a pannier, this pannier is designed to be with you for many adventures. It's anti-tear, wear-resistant, and heat-resisting so your belongings should be safe inside! 
Not forgetting that practicality is also important, Waterfly has a front pocket so you can store important items, such as your phone or things you need to access quickly. The best bit? It's waterproof too! 
The listed capacity of the bag is 25 liters. In reality, it's closer to 22 liters. It will hold 25 liters when the bag isn't folded. The fact is, you aren't likely to ride any distance unfolded. Having said that, 22 liters should be ample space for you to pack everything you need! 
Your belongings should be kept secure when stored in this pannier as there are two ways to close it. As with other panniers, it features a roll-up top. However, it's finished off with buckles to keep the top cover in place. 
Want to see how this pannier works? Find out here!
---
Combined Capacity: 37 liters
Combined Weight: 1.5kg
Sahoo's mission is to provide first-class cycling equipment and their products are developed with the input of cyclists so they know what makes a good pannier – this certainly is!
The design of these panniers has been upgraded and now you get a 3 in 1 design. The 3 in 1 design gives you 2 large side bags and a top bag, which is detachable. If that doesn't seem like enough, you also get string bags on all three bags. These are ideal for storing extra water bottles.
With a combined capacity of 37 liters, you should have enough for a touring holiday! 
The panniers are versatile and can be used as a shoulder bag as the strap comes included. 
Sahoo panniers are easy to clean, a simple wipe down will remove the mud and dirt build-up. Not to mention, these are waterproof at the back, helping to keep your items dry from the inevitable road spray. 
Installation is relatively easy, straps and buckles are used to keep the pannier in place. These are secure and when up against bumpy terrain, bushes, and everything else you encounter along the way, they tend to hold their own!
---
Combined Capacity: 24 liters
Combined Weight: 2.1kg
Thule makes some impressive stuff, high-quality materials, durable, throw in a user-friendly design, you've got yourself a great pair of panniers!
The mounting system is user-friendly and that's a welcome change from other manufacturers. There are no latches or straps to contend with. However, the rotating clip system was somewhat tedious. Having said that, it was very effective. 
The Shield closure system is easy and shouldn't pose too many problems when trying to access your gear. It also keeps things nice and secure with a roll-top opening, even protecting them from harsh weather conditions.
Durability is excellent. Yes, it's the heaviest in the lineup but it's one of the most well-built too. 
These panniers are rated IP64 thanks to the heavy-duty nylon material and welded construction. It's worth noting that all the attachments, handles, and straps are also brilliantly constructed. Nothing short of what you'd expect from Thule.
A slight negative to the nylon material is that it can scratch off when you hit it. It's not easy to do but catch it just right, it can happen. However, these bags should last a long time and will stand up to a lot of abuse!
---
Combined Capacity: 30 liters
Combined Weight: 1.8kg
With this pannier pair from Ibera, you get a large pocket that has a zipper. Inside of this are two pockets so you can organize your belongings exactly how you want to.
The design itself is stylish, though straps flapping around in the wind can be a distraction. Ibera knows that and their buckle straps get held down. Not only does that make these panniers more streamlined, but it also takes away that annoyance! 
Capacity sits at 30 liters (15L per bag) so should provide you with enough space for your touring adventures. Mounting is quick. It works on a clip-on and quick-release system. It genuinely can be done within seconds! 
The material on the PakRak is water-resistant and will protect the contents to some extent. It isn't fully waterproof so in heavy rain, you are likely to experience some leakage. However, Ibera includes a rain cover with panniers, so you can make everything 100% waterproof without too much effort. That's a nice touch!
---
Capacity: 28 liters
Weight: 1.2kg [Sold individually]
This is slightly different from the other panniers in this review. It's more geared towards riders who will benefit from having a pannier that works just as well as a backpack. 
If you need to keep a laptop secure, this could be the ideal pannier for you. It features a dedicated 13" padded laptop compartment – with its water-resistant zipper. 
One thing that immediately stands out is how thick the back pad is. At around a quarter of inch-thick, it provides the comfort you'd want from a backpack. It also serves well to hide the rack attachments. 
Organization is easy with this bag. You can store two water bottles on either side. There's an additional flap pocket at the front of the bag, this closes with a magnetic mechanism. 
The material and design have taken a lot of inspiration from other successful bags from Timbuk. It's waterproof, reflective, and very sleek. 
One standout feature is the heavy-duty bottom boot. Often you place your pannier down on the ground as you're getting ready. With this pannier, you need not worry about where you place it. It's durable and waterproof so it can handle a lot of things.
---
Final Thoughts
My top pick would be the Ortlieb Back-Roller Classic.
The capacity is one of the best at 40 liters and things are kept simple. One pocket, everything in there. Getting into that pocket is easy with the back-roller cover but it keeps the contents secure and dry when it's sealed. 
The Ortlieb back-roller can take on the elements and win. Most importantly, your gear should remain dry!
Mounting is an easy task, as is detaching the panniers. Pull the handle strap upwards and they're free. 
Overall, the classic gives most touring riders everything they could want from a pair of panniers and that's why it gets my top spot!
Looking for something a bit different? Check out our reviews of the Best Convertible Pannier Backpacks.
This article includes affiliate links. If you choose to purchase any of the products we have discussed in this article, we may receive a small commission.