Do you need some help picking the best phone holders for indoor cycling? The Cycling Point has got you covered.
Cycling indoors can sometimes become monotonous. While there are several ways to keep yourself motivated and stay on your bike longer, most of them require the use of your tablet or phone during your workout. This is where a bike phone holder comes in.
Bike phone holders are accessories you often only pay attention to when you buy the wrong one. To help you avoid this expensive error, we have compiled a list of the best phone holders for indoor cycling.
In a rush? Here are our top picks:
How To Choose A Phone Holder For Indoor Cycling
While there are several factors to consider when choosing a phone holder for your exercise bike, there are a few that play a more significant role. For starters, the bike phone mount must be easy to install and remove. You do not want to have to deal with screws every time you want to set up or uninstall your phone holder.
The holder also has to securely hold your phone in place regardless of how intense your workout is. Some cyclists also consider the phone holder's adjustable view options.
Other factors to keep in mind include:
How Often You Upgrade Your Cell Phone: If you regularly purchase the latest cell phone on the market, buying a universal phone holder would make more sense because they are compatible with numerous devices.
Compatibility: Ensure that the phone holder you purchase is compatible with your current cell phone and the bikes you intend to mount to.
Environment Protection: Do you want to be able to take your phone holder on outdoor rides too? The best phone holder for your exercise bike would be one that offers your phone protection from the environment.
Different types of phone holders will offer several features that address these considerations. As such, knowing the most common types of bike phone holders will go a long way in helping you choose the best one for your exercise bike.
Interesting read – Zwift Vs Peloton – Which Is Best For Indoor Cycling?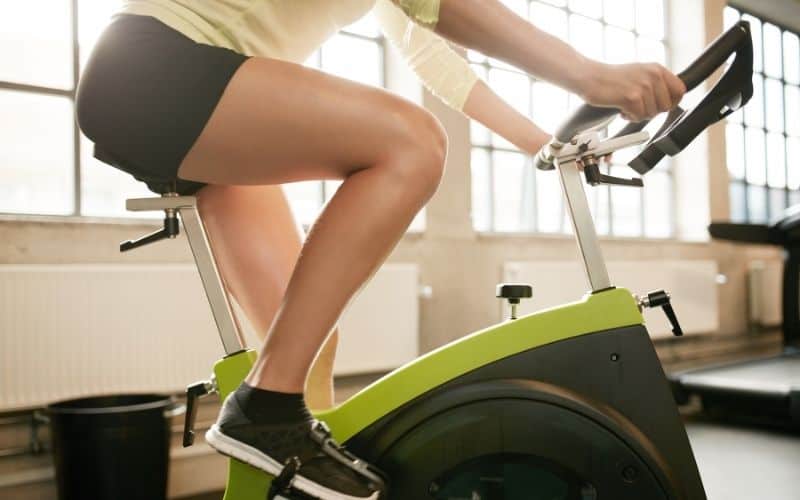 Types Of Phone Holders
Case Mounts
This type of phone holder secures your phone inside a case that you attach to a small plastic mount which you place on your bike's stem or handlebar. Some case mount brands allow you to adjust the view, twisting the mount from portrait to landscape mode and vice versa.
The main advantage of case mounts is that it is normally easy to click your cell phone into the holder. However, the downside is that you have to use the case permanently. This means if you were to upgrade your phone, you would need to purchase a new case as well.
Frame Bags
These phone holders are essentially small pouches in which you carry your phone. Many cyclists attach these mounts to their bike's top tube.
Since your entire phone is always inside the pouch, you can guarantee your cell phone 100% protection from the weather and other external elements. The transparent windows the pouches come with are a nice added touch.
However, not all transparent windows allow you to operate the touch screen, and you will have to contend with reduced touch functionality.
Interesting article – Best Headphones For Peloton
Universal Mount
The last type of phone holder we will mention is the universal mount, which generally attaches to your bike's stem or handlebar, clamping your phone in place. This option is ideal if you rarely upgrade your cell phone. When you do, you have the option of retaining the mount's existing phone case.
Though universal mounts are compatible with various phone models, they don't always effectively secure your phone. Additionally, there are specific cases when their clamp mechanisms will not be compatible with your phone case's specs.
Need more of an outdoor focus? Check out our Best Bike Phone Mount: Reviews and Complete Buying Guide.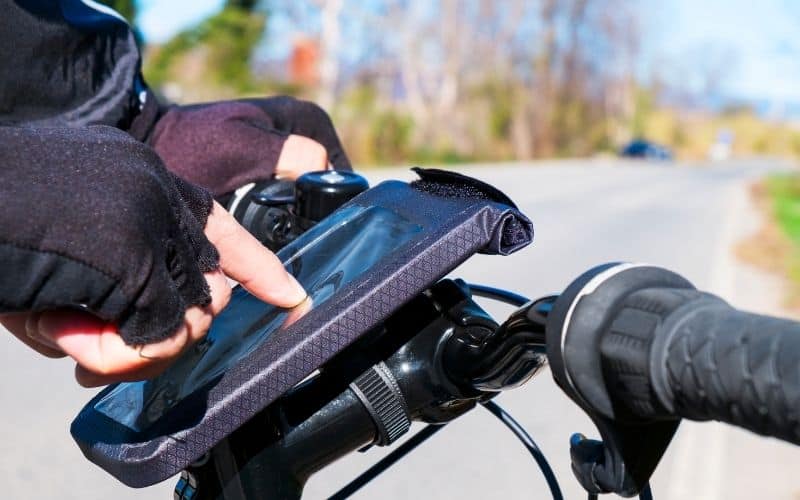 5 Of Thee Best Phone Holders For Indoor Cycling
The AboveTEK Mount is versatile enough that you can use it for not only your phone but your tablet as well. The product features a holder that can expand up to 12 inches, holding everything from an iPhone 5 to several tablet models.
It has a handlebar attachment, an extendable arm, and offers a 360-degree rotation ball head feature that will let you watch your trainer apps or videos in whatever angle you prefer.
Though the setup process can be complicated, it helps ensure that your phone or tablet remains in the mount even when you are exercising hard. 
Additionally, the rubber padding it features helps reduce vibration, meaning it can protect your device should you choose to ride your bike outside. However, the AboveTEK Mount functions better as an indoor cycling phone holder.
---
This elastic silicon phone holder can expand, holding various phone sizes. Besides offering versatility, UGreen's silicon material is also perfect for absorbing vibration and shock. This means you can exercise with total effort without worrying about your phone falling. The silicon even safeguards your phone against scratches.
If that wasn't enough, it also has three adjustable sizes that allow you to connect the holder to your exercise bike's handlebars easily.
---
The Quad Lock Bike Mount is one of the most popular phone holders for exercise bikes. It is a case-mounted holder that comes in multiple sizes. You can install the holder on your exercise bike's handlebars or stem.
This mount promises to offer you everything you need in a phone holder, from good quality and adjustability to securely keeping your phone in place. If that wasn't enough, you could use this holder for both indoor cycling and when biking on the road.
---
This in-case bike phone holder is a high-end product that features a protective carbon fiber and aluminum magnetic case with a twist lock. Though the product comes in a wide range of versions, the Pro Series is a top-end model that will not disappoint.
A significant advantage of the Pro Series is the protection its carbon fiber aluminum case offers. Though low-end models do not feature this case, they still promise to provide your phone the protection you desire.
Like the Quad Lock Bike Mount, the Rokform Fuzion is another excellent option if you are looking for a holder that will securely keep your phone in place when biking out on the road.
As excellent as the option is, one main downside is the need to purchase the mount's handlebar attachment separately.
---
The EasyAcc Gooseneck isn't technically a bike mount. It is a front mount phone holder that easily attaches to any flat surface, allowing you to connect it to a stand in front of your bike.
It comes with protective pads made using anti-deformed rubber, has a long neck that allows you to have your device close, and features a groove design that prevents your phone from falling. Its 360-degree rotation also means that you can view your device at any angle.
Its installation is easy and only needs you to attach the clamp, tighten the surface, and lock in your tablet or phone.
---
There are several other phone holders you can browse through, like the Vibrelli Phone Mount, which features strong side clamps and three silicone bands. However, the options listed here are some of the best phone holders for indoor cycling you can get.
Conclusion
These options will enable you to train hard on your bike while enjoying videos or utilizing the training apps on your mobile devices. In doing so, you can stay motivated and keep pushing as you strive to attain your fitness goals.
We should note that the option you go for will be down to your personal preference. Everyone will have a different opinion on what features make a holder the best phone holder. This opinion will often be driven by their needs.
Do you wish to go outside and would like a phone mount that will secure your phone as you tackle rough terrain? Or are you only interested in having a simple indoor setup? The right option will come down to which phone holder best meets your needs.
Are you interested in shopping for more than the best phone holders for indoor cycling? Need more indoor cycling accessories? Check out 5 Of The Best Floor Mats For Indoor Cycling.