As winter kicks in, my inclination to become a 'fairweather cyclist' grows. Losing my summer gains is a bit hard to swallow though, so I figured it was about time to invest in a portable bike trainer!
Indoor cycling is a way to keep getting the miles in so it's important to find the best portable bike trainer for you….want a hand in finding it? 😀
I've done the research so you don't have to!
What Are The Different Types Of Portable Cycling Trainers?
When winter starts kicking in it's easy to start thinking that all of your summer fitness is going to disappear. You might have a bit of a freakout, or that may have just been me. 
Anyway, that's doesn't have to be the case, an indoor trainer can keep you race fit, and to be honest, I've had a few winters, where I've gone into the season fitter!
Every trainer is different and gives you a different road-like feel. There are different resistance levels, noise output, price, how it connects, and how compatible it is…yeah it's a lot to get your head around when you first start looking!
There are a few types of trainers to think about:
Wind Trainer
These are fairly simple to operate, basically, the more you pedal, the more the fan move and the more resistance you feel. The downside to these types of bike trainers is that the fan can be noisy, which means that if noise is a consideration then a wind trainer isn't likely to be for you. The upside is that these bike trainers are inexpensive to buy, durable and they are good for building up your fitness.
Fluid Trainer
Taking the price tag up a notch is a bike trainer that uses fluid to produce resistance. This increases your road-feel so arguably a better buy. Although you do need to consider that they aren't as good at withstanding the same amount of use so potentially have a shorter life span.
Related article – 5 Of The Best Fluid Bike Trainers
Magnetic Trainer
A magnetic trainer works through a flywheel trainer. The resistance is fixed, though can be manually adjusted (it's not hard to do either…) and it does give you a good workout. In terms of noise produced, these bike trainers are fairly quiet!
Rollers
Rollers are the professional's choice. They give you a great road-feel experience. Though they can take a bit of getting used to, rollers can be a great way to keep fit and improve your on-the-bike posture.
Related article – 5 Of The Best Floor Mats For Indoor Cycling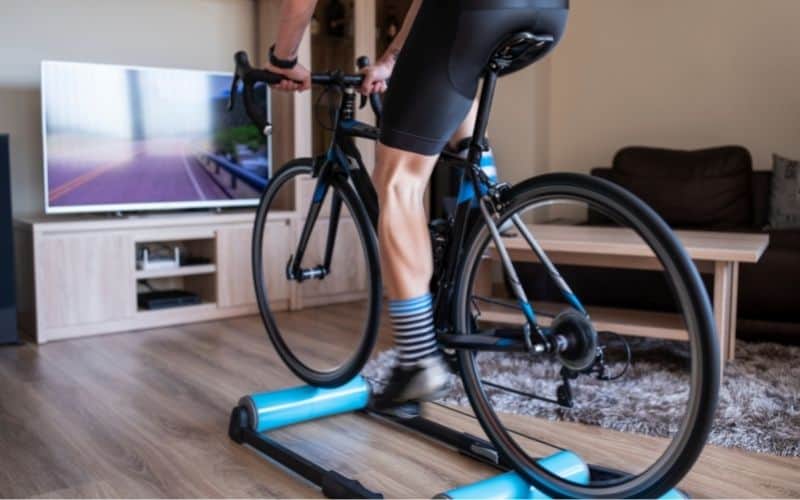 What To Consider When Buying A Portable Bike Trainer
So now you know the types of bike trainers, you probably want to know how to narrow your choice down?
Here are a few things for you to consider before you pick up a portable bike trainer:
Noise Level
For some people, noise is not a concern but for some, it's something you need to consider. If you want to train at 3 am, you don't want to wake the neighbors (well I'm going to assume that's the case!) so something quiet is what you need.
Be sure to check out the decibel level as this is a good way to measure the noise output. One thing you can do to minimize the sound is put a mat down underneath the trainer as this helps to absorb some of the noise (it also catches those inevitable sweat drops).
Weight
The whole idea of looking for a portable trainer is so that you can take it with you when you want to, right?
So weight should be a consideration for this. Find a lightweight trainer and you'll have no trouble taking it to events for a warm-up.
What you do need to check is that the maximum load weight is adequate too. 
Flexibility
Depending on the type of training you do or want to do, you'll need to ensure that the bike trainer is going to be up to the job. 
Ensure that it has all of the different settings you want it to.
Performance
Ideally, you want a portable bike trainer that you look forward to using. One that is easy to use, performs well and you feel like you benefit from using.
Related article – How To Prevent Your Indoor Trainer From Damaging Your Bike
Is A Portable Bike Trainer Cheap?
This is a very subjective question and it's going to come down to what you expect to get from a portable bike trainer and how much you're willing to spend. 
You can pick up an inexpensive indoor trainer for less than $200 and it could serve you well. It's unlikely to have connectivity features so if that is something you want then you will have to increase your budget.
If you're wanting to go all out with your portable bike trainer then you could spend around $1,200. 
This will give you plenty of connectivity options and resistance-wise, it ought to be automatic and seamless. 
I'll be honest, as with most things in life, what you get out of it is what you put into it. 
A portable trainer is a brilliant way to increase your performance. Though bells and whistles are nice to have, they aren't always needed. It's all about taking what you learn from your trainer and applying it to your outdoor rides.
Reviews Of The Best Portable Bike Trainers
Saris are a USA-based company and these are some of the best rollers on the market. Saris are confident in that statement too – they give you a lifetime warranty!
That warranty will ensure that the company will take care of any repairs that the rollers need, providing you haven't totally abused them (fair is fair).
Alright, so what is actually special about these rollers?
You get 5 levels of resistance so you can switch things up with your training. There is an option to go for the model without the adjustable resistance and you still get a solid set of rollers. Plenty of choices, either way!
Next up, keeping things stable, the Saris rollers come with six floor-contact points so you can go full gas and not worry about moving the rollers.
You're reading this because you want portability, these rollers fold easily and they fold well enough that you can store them under your bed or in a tight corner.
Finally, the customer support offered by Saris is exceptional. Queries are responded to quickly and issues are fixed. That's pretty rare these days.
So if you're after a set of quiet rollers with some resistance, the Saris have a lot to offer.
---
The Sportneer gives you something a little different in that it is smoother than a lot of magnetic bike trainers – not many fluid trainers can say that! So you can be sure of a smooth ride.
In addition to the smooth ride you get from the Sportneer, it's also remarkably quiet. This is largely down to it being a fluid trainer as it doesn't have the magnets inside causing jerky movements.
Durability shouldn't be much of an issue either, the Sportneer bike trainer is made from stainless steel so you can train hard without worries. 
Portability right? When not in use, the frame can be folded into a small structure, ideal for storing in compact spaces. 
It doesn't take long to set up either, I'm talking minutes so it's possible to use this every day.
This trainer comes with progressive resistance. This means that it depends on how fast you're moving. Similar to what you experience when you're on the road, the higher speeds you reach, the greater resistance you feel.
By all accounts, this trainer manages to exceed expectations and does a fantastic job of delivering a real-road feel. 
---
The first thing that catches me about the Alpcour fluid bike trainer stand is that it looks the part! It's elegant and attaches to your bike tire within minutes to give you a fluid mechanism for the flywheel.
Constructed using stainless steel, the stand is stable so you'll be good to train hard without the worry of wobbling. Alpcour has even coated the bottom of this trainer with rubber to be sure of an anti-slip workout. 
As with most biker trainers, you get a riser block for your front wheel so everything stays in place. 
One thing I especially like about this trainer is that it comes with a carry bag so when you do want to take it places, you have a safe place to pack it up. 
Similar to the Sportneer, resistance is done on a friction basis. It will fluctuate depending on your pedaling speed. For me, this is a great system for riders who want to change the pace as they ride and it does a great job of simulating real-life experiences.
Your training session will be almost silent as this trainer produces very little in the way of noise, this is thanks to the Alpcours noise reduction resistance wheel as this eliminates the incessant 'whirring' and 'humming'. Happy days!
---
Moving onto direct drive trainers, the ThinkRider A1 is an affordable route to get you onto Zwift with ease. 
ThinkRider A1 is designed to be a quiet machine and it is! If you're in an apartment with people below you, I'd still recommend a mat underneath, just to suppress the noise a little more but I recommend that with any of these portable bike trainers.
Something that really appeals to me is that this bike trainer is wireless. It's battery-powered, which really does mean it can be taken anywhere and used. It comes with a 300-day standby time and 300 hours worth of usage before it needs to be changed. These are standard CR2032 batteries so widely available.
In terms of performance, the ThinkRider A1 gives you everything you need to have a good workout. With a maximum sprint resistance, you can take it up to 1200 watts…more than most of us are likely to need! 
This bike trainer is compatible with Zwift and can work on other programs such as TrainerRoad. However, ThinkRider A1 can also be used with Powerfun and it's free! It has plenty of training courses available as well as lots of routes for you to enjoy.
What I'm saying is that ThinkRider gives you options to get the most out of your training time.
---
Never used Zwift? I'll save you some time...
The Magene T100 is a direct drive turbo trainer. 
Magene claims that you can have the trainer working within a few minutes and in practice, it's not far off – maybe more like 10 if you're wanting everything to be perfect, which of course I do :D.
It's compatible with Shimano and SRAM cassettes, 8 – 11 speed. That's actually a good range for a turbo trainer. Often it's 11-speed or nothing.
It produces around 60db of noise, so a quiet trainer. It shouldn't upset the neighbors. 
The Magene T100 is rated at a maximum of 700 watts, which for some, I guess for a few of us might be limiting but if you're getting into indoor cycling or a more of a hobby cyclist, then it's most likely going to do the job. 
The T100 is a semi-smart trainer. Now what this means is that when you're in Zwift or any other training program, the resistance will not automatically change to replicate what's on the screen. This does affect the experience somewhat but I've found that sometimes it's nice not to be constantly changing resistance so this can work for those of similar thinking.
It weighs in at 15kg and folds easily so very space-saving and easy to transport. 
Magene T100 is powered by AAA batteries. It keeps things neat and I do like this switch from power cables. Sure, it means you have to swap out the batteries but with a run time of 320 hours, before that happens, it's not going to be all that often.
---
Conclusion
You aren't short of choices when it comes to portable bike trainers and a lot will come down to your budget and needs.
My favorite is the Alpcour Fluid Bike Trainer Stand.
Why?
It's quiet. Sturdy. Great design. Truly portable. Has everything! 
Have you set your winter training goals yet?