Feet are arguably the most important contact point when you're riding so getting the right shoes is crucial. When I started looking for a pair, I was stunned by the choice – what are the differences, and do I need to spend hundreds on the best road bike cycling shoes?
Want some good news?
I've done the research and here's a list of the best road cycling shoes for you, all with a variety of budget options – oh, and a bit of experience and advice thrown in there too.
Are Top-end Road Cycling Shoes Really Worth The Money?
Generally speaking, spending more money on better cycling shoes usually gives you a better performance. That can't be said for every cycling product though!
Now I'm not saying find the most expensive road cycling shoes you can find and buy them because you'll squeeze a few extra watts out of them (although you might…). Things can be taken too far. 
I think the thing to remember with cycling shoes is that you do tend to get what you pay for. There are other types of cycling equipment out there, where you can spend $100 to $200 and see no performance gain. That isn't the case when you choose the right road cycling shoe.
Want to know more?
Are Men's And Women's Road Cycling Shoes Different?
A large proportion of cycling shoe manufacturers produce gender-specific shoes. 
Having said that, it can be difficult to tell the difference! Women's road cycling shoes are often a bit narrower and smaller in the sizes available. The color ranges tend to be different too, manufacturers opting to choose colors that they believe will appeal to women.
The good news is that a good number of cycling shoes out there are unisex. These are commonly available in fairly gender-neutral colors, black, white, and others. While also being made in half sizes, narrow widths, wide widths, all of this means that these shoes will cater to a wide variety of riders, both men, and women.
What Makes Road Cycling Shoes Different?
When you compare road cycling shoes to mountain biking shoes you can see that road shoes have a stiffer sole. 
This stiffer sole is achieved by using either carbon or plastic and enhances the rigidity. 
Why is that a good thing?
The rigidity provides greater power transfer and increases efficiency. 
On the sole of a road cycling shoe, the cleat is also different and they can be difficult to walk in but they are lighter when compared to mountain bike shoes and that makes a difference in performance! 
Want to know more?
Related article – Is Cycling Good For Plantar Fasciitis?
What Are The Benefits Of Road Cycling Shoes?
If you're just starting out on the road, you could be wondering are there really any benefits of getting a pair of road cycling shoes?
There are many benefits!
Comfort is going to be a big one. Road cycling shoes offer your feet some much-needed breathable features and a stiffer sole. These shoes also come with air vents so the air is able to circulate. 
The result?
Your feet are going to be more comfortable, dry, and largely sweat-free.
Energy transfer is another benefit. If you're looking to improve your performance on the bike or simply conserve energy, upgrading your shoes can be a really effective way to do this. 
Road cycling shoes provide brilliant energy transfer from your feet through to the pedals. The stiffer soles also mean that the shoe doesn't easily bend, which again, improves performance. 
The durability of cycling shoes is a benefit worth having. Road cycling shoes are designed to handle the wear that is expected whilst being out and about on your bike. This means that the quality materials will be able to last longer than an ordinary shoe.
Related article – How To Install Cleats On Indoor Cycling Shoes
How Should Cycling Shoes Fit?
Getting the right fitting cycling shoes is vital. They should be a nice and snug fit, though they shouldn't be restricting. 
When you're trying new cycling shoes on, your toes shouldn't be at the end of the shoes and it shouldn't feel like your feet are being squeezed in. However, you don't want the shoes to be too roomy either!
Related article – Best Cycling Shoe Covers For Wet And Winter Rides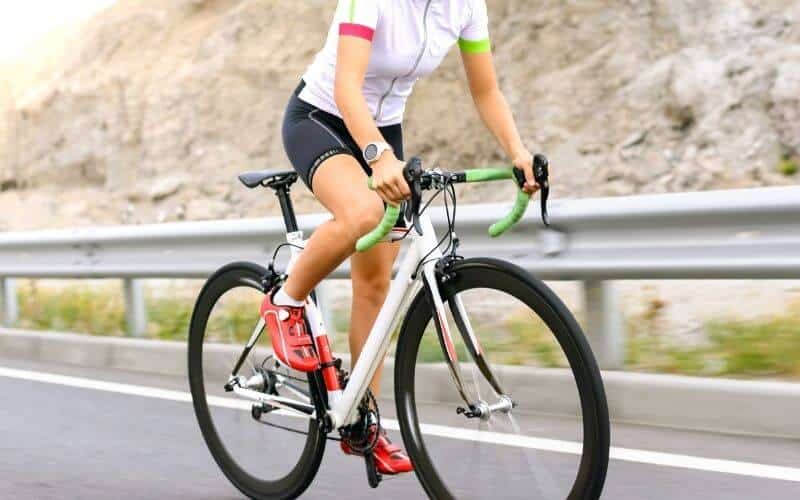 The Six Best Road Bike Cycling Shoes
Let's kick things off with the Tommaso Strada 200. These shoes are a solid all-rounder. 
The stiff fiberglass sole is reinforced with polyamide allowing you to achieve a level of power transfer often only associated with premium shoes. 
Power transfer is great, we've established that but without comfort, that doesn't mean a lot. 
Fortunately, Tommaso knows this too and the fit system on the Strada 200 has had an upgrade so for those of you who spend hours in the saddle, this should appeal!
Even the smallest of adjustments can make a big difference soo the pair of ergonomic velcro straps placed on the lower and toe box are welcomed. The ratcheting buckle system dials things up (or down! 😁) when you need to make those micro-adjustments to give you that perfect fit every time. 
If you're looking to get the most out of every pedal stroke, then the Strada 200 is there to help you do just that. 
Tommaso has brought premium performance and comfort at an affordable level with the Strada 200.
Better still, these road cycling shoes are designed to fit all 3 and 2 bolt cleat systems (that includes Shinano SPD, SPD-SL, Look, and, Speedplay so opening up the uses for these shoes.
---
For riders who are looking to dip their toes into dedicated road cycling shoes, the Shimano SH-RP1 shoes are the ideal entry-level performer.
Designed to give you optimal support, the toe-spring section features Shimano Dynalast, this is going to help you improve your pedal stroke, making it smoother and more efficient. Overall, saving you energy. All good things for a cyclist!
The Shimano SH-RP1 road cycling shoes come with dual hook and loop straps so you can secure them in place within seconds. This also allows for micro-adjustments so you can get the perfect fit. 
Even though this cycling shoe is aimed at the entry-level market, corners haven't been cut. For example, there is a reflective heel cup print to increase your visibility when you're on the road. It's little things like that, make these shoes a great purchase. 
Comfort-wise, you're in for a bit of a treat. The soles are lightweight and that's thanks to the fact that they are fiberglass reinforced carbon. What you should find is that Shimano got the balance right between stiffness and comfort. 
Plenty of cleat options are available with the SH-RP1 shoes, you can use either SPD-SL or SPD cleats so if you're wanting to use them for indoor cycling classes, this could be perfect.
---
The Shimano RC7 is superbly ergonomically designed, using Dynalast technology. The toe and heel have a good number of rubber bumpers built-in to provide that comfortable, yet stiff fit. 
Things get a little more traditional by way of design with the upper part of this cycling shoe. The construction means it's stretch-free and conforms to your foot perfectly. 
Ventilation is effective as there are hundreds of small perforations covers in the uppers above the toes and on the side of the shoes. However, the slight downside is that the uppers are thicker and this means that there is less airflow there. 
You get two BOA L6 dials on the Shimano RC7 road cycling shoes. One adjusts the forefoot volume, whilst the other adjusts the tightness of the broad ankle strap. You also get an additional wire guard at the bottom which provides a decent amount of tension.
Boa dials are great and let's be honest here, they're a bit fancy too! With the L6 dials, you can tighten them just fine, however when you want to loosen the fit, you need to pop up the dial, release all the tension, and start again. This is slightly different from other Boa dials found on more expensive shoes. 
The obvious downside to this is that if you overshoot your tightening, you have to start the whole process over again but honestly, it's something you get used to and it's not a big issue. 
Overall, the RC7s has all the making of cycling shoes that can perform as well as the premium ones out there, they're roomy and stable and make for a decent purchase!
---
I don't know what it is about Fizik but so much of their range oozes style, the Tempo R5 cycling shoes are no different. They are exactly what you'd expect from a company steeped in Italian heritage. 
The sole on these shoes are reinforced carbon fiber and the upper is one single piece, totally seam-free and it's nicely plushy. 
When it comes to ventilation, there are a good number of perforations on both sides, though you're not going to find any at the toe, nor will you find any vents in the sole. For most riding conditions, this shouldn't be an issue but if you ride in particularly warm climates then it's worth noting!
One thing I do love about Fizik products is their durability (I've had my Aliante saddle for years and you wouldn't be able to tell!). With the Tempo R5s, you get substantial heel and toe bumpers so the heels should see you through many years – they also make walking easier which is always a nice bonus.
With the Fizik Tempo R5, you get one Boa dial on each shoe, complimented with a velcro strap. 
I get it some people may be disappointed with this setup, however, in my book, it's a good combination. It's quick and easy so you'll be good to go in no time. Sure, it's not quite as adjustable as having a twin dial set up but it's pretty close.
---
The performance matches the look of these cycling shoes and that's a good thing because they look the business! 
Fizik uses the same Microtex material on the wrap-over upper on these shoes as found on their saddles so you can be sure it's durable and also practical. It also makes them easy to clean, which is a bonus when you forget to pop your overshoes on (guilty!) and they provide a good level of protection against poor weather. 
The gloss finish on the panel adds that extra bit of Italian character, you can't help but love. 
These shoes aren't just a pretty face. Ventilation has been thought about. On the flanks, there are plenty of tiny laser-cut perforations so your feet can enjoy a nice constant colling effect. 
You also benefit from air being channeled through the sole toe vents and insole so when I say Fizik thought about ventilation, they really had this covered.
When pedaling with these shoes on, you should find that the experience is excellent. The stiffness balance is spot-on and makes sure that you can transfer every watt to those pedals. 
For those riders who like to spend hours in the saddle, these shoes should be comfortable for you. Although in Fizik fashion, these do favor the narrower feet so it's worth checking the sizing guide.
---
The Vaypor is offered in various versions but the S is the latest and greatest.
So throughout the Bont range, you're going to see a few common themes, that are present in the Vaypor S too.
Firstly, the bathtub-shaped sole is one of Bont's standout pieces. It gives you a fantastic amount of foot support. This is achieved through the shape but it also used incredibly thin and uni-directional carbon construction to achieve this. 
For those of you interested in slack height, this one is going to be very low so your connection to the pedals is going to be great. 
In order to get the right fit for your feet, Bont uses a heat-moldable upper. You pop your shoes in the oven for 20 minutes are 70c. Give them time to cool down so you can handle them and then place your feet inside (pop your cycling socks on first) and then tighten the Boa dials.
The idea is that once they're cooling, the soles will set around your feet, giving you a unique fit that will be perfect for your feet. 
I'll be honest, when you're riding with the Bont Vaypor S, you can't really get much better for stability. You do feel like you've got a bond with your bike and therefore the power transfer is perfection.
---
Conclusion
Just like other shoes, road cycling shoes can be fairly personal and budget dependant. However, there can be some merit in spending a little more to eke out a few extra worthwhile features. 
My favorite goes to the Fizik R3 ARIA. They're stylish but practical and have everything you could want from a road cycling shoe. 
Ventilation is something to consider, as is the width of your feet. When you've mastered those two points, you'll be able to see your watts increase! 
What's your FTP? Want to improve it?