For anyone looking to start a cycling hobby or searching for a temporary solution to a broken bike, it's important to find a budget-friendly one. Inexpensive road bikes can be of surprisingly high quality if you find the right one.
Budget road bikes are easy to use and provide a comfortable ride. For daily usage, such as training or commuting, bikes that cost $500 or less can function perfectly.
Though these bikes are very basic and do not include the latest tech in cycling, they serve the users fundamental needs. You do not need to spend over $1,000 on an entry-level road bike, particularly if you end up ditching the hobby after a few months.
To help you make an informed decision about the best beginner bike for you, today we break down the five best road bikes under $500. You can easily order these online or look for them in your local bike shop.
How To Choose Road Bikes Under $500
When looking for a road bike, you should consider these five characteristics:
Lightweight frame
Sturdy wheels
Slim tire rims
Handlebars, brakes, and saddle
Ease of assembly
Lightweight Frame
The material of your bike's frame should be a lightweight aluminum (or other superior material). This will make your ride more pleasant, as most aluminum frames prove quite durable. This material also makes it much easier to ride as you won't tire as quickly during a long ride.
A lightweight frame should weigh between 20 and 30lbs. Be sure to check the material when buying since some companies use metals or composites that aren't optimal for a road bike. Bike frames of steel, carbon fiber, titanium, or alloy also work perfectly.
When choosing the correct frame, you should also keep your height in mind. If you measure the height of the inside of your leg, aka your "inseam length," your bike must be at least two inches taller. This will ensure that you can fully extend your legs while riding.
Related article – How Long Do Steel Bike Frames Last?
Sturdy Wheels
You should choose tires that are sturdy and built for speed. Tires that produce less friction move much faster, though you should be careful using your bike when it rains. The bike you choose should have tires measuring between 26 and 29 inches.
If you like a bike but not its wheels, you can always change them. However, not all bikes have the same size or type of wheel, so pay close attention to the specs if you plan to replace the wheels.
Slim Tire Rims
Rims should measure about 23–28mm. Like smaller wheels, thin rims allow the bike to move much faster, making for an easier ride. They also add less weight to the overall frame, meaning you won't work as hard.
Related article – Bike Geometry Explained – What Does It Mean?
Handlebars, Brakes, and Saddle
The handlebars and saddle on a road bike can make a huge difference. Your handlebars should not force you to crouch over as you ride, causing back pain. You should be able to reach the handlebars and brakes while sitting fully upright.
Having a comfortable saddle is also a must. Unfortunately, many of the best road bikes under $500 do not have comfortable seats included. This can lead to severe discomfort when on long rides.
Though a poorly designed saddle should not deter you from buying a specific make and model of a bike, you should consider replacing it as soon as possible. You will find many replacement options or covers you can buy to widen the saddle or make it softer.
Finally, make sure the bike has high-quality and easily accessible brakes. For example, mechanical disc brakes, which stop the bike from moving by creating tension with a steel cable, are perfectly acceptable. You can find this sort of information in the specs and reviews.
Don't know the difference between Shimano, Sram, or Campagnolo? Check out our Road Bike Groupsets: A Beginner's Guide.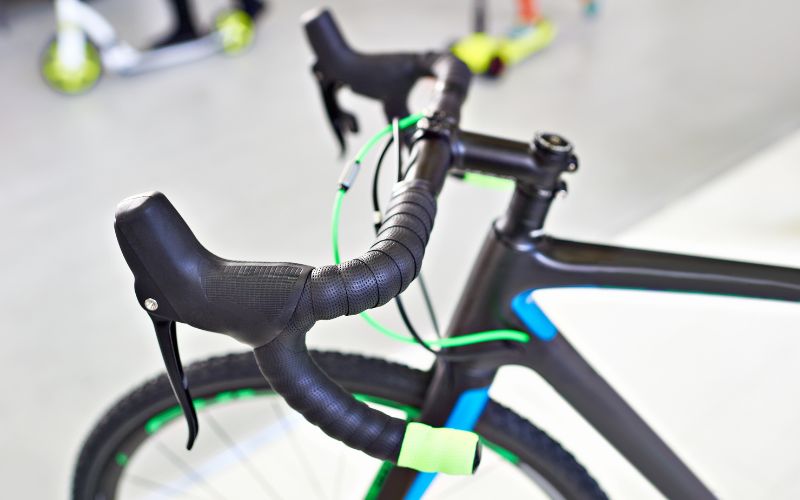 Ease of Assembly
Because these road bikes are inexpensive, they normally either come partially assembled or require full assembly. Make sure that the instructions are in English and that the steps are not too complex.
If you haven't built a bike before, you should buy a bike that is already partially assembled, even if it costs more. Worst case, take it down to your local bike shop for a proper professional assembly.
With these five characteristics in mind, we will discuss the best road bikes under $500.
4 Of The Best Road Bikes Under $500
The Giordano Libero bike rates as one of the most affordable road bikes on the market.
It has a durable and lightweight frame. The aluminum Giordano Libero bike features a steel fork, meaning that the frame is unlikely to break during an accident. 
Shimano Claris, a leading brand for bike equipment, makes the 16-speed drivetrains that the Giordano Libero utilizes. Having a high-quality drivetrain ensures a smoother ride as you shift between gears.
Furthermore, if you need reliable brakes, this bike has a dual pivot system, making it ideal for beginners nervous about taking to the road.
This medium-sized bike has 29" wheels and 700c x 25mm tires. It weighs 42 pounds and has alloy rims. The suspension is rigid, and another well-known biking equipment company, STI, equips the bike with ultra-smooth gear shifters.
---
The Vilano Shadow 3.0 Bike has a sleek and classy design that combines functionality with style. This top-rated bike will find favor with both beginner and seasoned cyclists. With an aluminum frame, this bike can cover 80 miles in a day with no issues.
One of the biggest benefits of the Vilano bike stems from its ease of assembly and repairing it. If you are a beginner, your best bet is to ask a bike shop to assemble it for you. However, experienced cyclists should have no problem repairing or building this bike.
The Vilano road bike also comes with Shimano shifters and brake levers, as well as 14 speeds. It includes dual-pivot brakes and alloy rims. The wheels are narrow for better speed on the road.
Overall, a great beginner road bike.
---
This bike has unfortunately raised in price and now costs a little over $500 (inflation!), but it is still worthwhile to include on the list. This bike has a carbon fiber fork with an aluminum frame. Unlike the others, it also includes mechanical disk brakes.
The Schwinn Phocus provides a drop bar, meaning that you can ride it bent over to improve speed on the road. If you prefer a bike where you can sit upright, this is likely not a good option for you.
There are two options for the Schwinn road bike, either a 14-speed or a 16-speed model (indicated by 1400 and 1600). With either option, you can expect smooth gear changes and a comfortable ride.
---
This bike is of Italian design. Thus, the frame is sleek and attractive, great for anyone looking for a bike with style and substance. If you are an avid cyclist and want to ride for long distances, this bike makes a great option for you.
The bike has an aluminum and steel blend frame that only weighs 25 pounds, meaning that it is also quite lightweight relative to the rest of this group. This bike includes a whopping 21 speeds, perfect for experienced cyclists who know how to use these features.
The tires on this bike are particularly skinny, meaning that you can easily build speed and even use this bike for racing. This offers a smooth ride and excellent control.
---
Conclusion
Whether you are a beginner in the cycling hobby or an experienced cyclist looking for a high-quality but affordable bike, you don't have to invest thousands of dollars. Remember to check the specs and size charts when choosing your new bike.
When you buy online, remember that most bikes do not come pre-assembled. Keep in mind that if you have yet to complete a full bike assembly, you should probably take it to your local bike shop to help.
As for the best bike on the list for you, consider your level of cycling expertise and what you need the bike for. Our overall top pick in this list is the Trinx Tempo – a great balance of speed and value.
Though these rank as the best road bikes under $500, other bikes available have more advanced technology and will last for longer. These options are more expensive, but for bikers who indulge in the hobby often, think about spending the extra money.
If you need a bike for other purposes, such as for mountainous terrain or long-distance biking, you will find other specialized options available. You should consider another type of bike that suits your needs better, as road bikes are solely meant for biking on paved streets. Check out our Beginner's Guide To Picking The Perfect Bicycle!
Ride on!