Nothing beats the feeling of completing a long ride. Your muscles are pumping and you feel relaxed, accomplished. In your mind, you try to calculate the total journey. You wonder what your heart rate was doing and how many calories you burned. The right fitness tracker can add real practical training value to your cycling experience. 
We have reviewed the following bike fitness trackers: 
What To Look For In Bike Fitness Trackers
Fitness trackers come equipped with several features that can be very helpful to cyclists. But which is the best bike fitness tracker? The types of features range from a basic heart rate monitor tracking all the way to advanced health monitoring data.
But more than that, the data collected and monitored by fitness trackers are also valuable for day-to-day life. We'll help you determine which fitness tracker is best for you, your needs, and your budget.
A Practical Fitness Tool
Let us start with some basic features of fitness trackers. They help you keep time, so you do not have to guess how long you have been riding or when you need to turn around to get back home. Beyond that, many fitness trackers can pair with your phone. You can receive text messages and call notifications without having to stop and pull your phone out.
Now, you should not be texting and cycling at the same time. However, this feature keeps you connected to your family, friends, or cycling partners.
Geek Out With Data – Your Fitness By The Numbers
Fitness tracker technology has progressed rapidly over the past few years. Fitness trackers, at the very minimum now, measure your heart rate. This can help you track how your body responded to various parts of the ride.
Beyond your heart rate, some fitness trackers have the capability of providing additional information like calories burned and VO2 max which can help you develop as a cyclist. Some fitness trackers can also measure your pulse ox blood oxygen saturation level. This data tells you how efficiently your body is absorbing oxygen during workouts.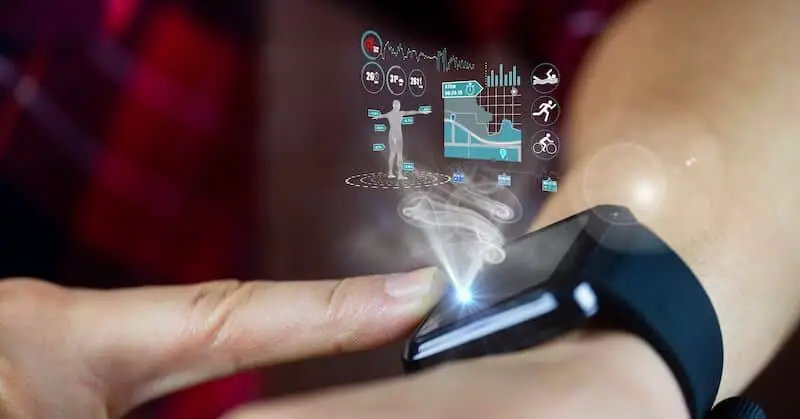 Go The Distance, Know The Distance
One of the most important and practical functions of fitness trackers is GPS capabilities. This eliminates the need for any guesswork about the mileage you covered. The ability to monitor and track your total mileage will help you progress through your training cycles. It's also pretty awesome when you can upload rides to apps like Strava and be able to share with family and friends.
Elevate Your Game
Another incredibly practical feature depending on where you are cycling is having daily and long-term elevation data. Some cyclists find this data incredibly beneficial. If you are someone who is following a rigorous training regiment, the elevation and distance monitors will be indispensable.
For instance, if you want to focus on getting better at climbing, then you can measure how quickly you climb a certain elevation. Or, you can measure how much elevation you gained over a specific distance.
Go Beyond Cycling
This article is, obviously, focused on how fitness trackers can help you as a cyclist. But, many trackers on the market are programmed with different tracking modes. 
So, no matter how you choose to stay active, whether it is running, swimming, or golf a fitness tracker will be able to monitor your progress. They generally have specific programs to boost your performance and measure your body's response to that exercise. Know more, train better – a good fitness tracker can help you fine-tune your overall exercise routine.
Related article – Is Cycling Good For Boxing?
5 Of The Best Bike Fitness Trackers
Apple Watches shattered our expectations when they were initially released. Now, the Apple Watch Series 6 is one of the best fitness trackers out there. There are some incredible benefits to having an Apple Watch as your fitness tracker. Here are just some of the great features of the Series 6.
First off, the pulse ox blood oxygen measure is something that is incredibly helpful when analyzing your workouts. This is accomplished using LED photodiodes on the back of the watch casing.
If activity monitoring is one helpful facet, then the sleep monitoring function can be seen as the second important feature to becoming more healthy. The Apple Watch can help you track your sleep patterns and let you know how efficiently you are resting. We all know that rest is as important to training as the exercise itself — so having this data can only help you improve.
Related article – 5 Of The Best Bands For Apple Watch Cyclists
---
Garmin has long been synonymous with quality products, especially with GPS technology. The Garmin Vivoactive 4 is an excellent fitness tracker, especially for those of you who are serious cyclists or if you exercise a lot.
The 1.3″ inch screen has a color display, the design makes it incredibly wearable, and it comes with a slew of excellent health monitoring features. It plays well with Spotify and features Garmin Pay. That's right, you do not have to worry about lugging your wallet with you on a ride or fretting about losing your money clip while in the saddle. Instead, use Garmin Pay to fuel up on your way home after a long ride.
---
Polar is another high-quality brand with lots to offer cyclists. Polar specializes in making outdoor and multisport watches. The Grit X is loaded with plenty of features, including a Hill Splitter mode, route guidance, calculates calories burned and can analyze which fuel you cycle best on.
It is an incredibly durable fitness tracker that can operate in any condition. Aesthetic features make it a good watch for everyday wear. It is a light watch that can take a beating on the trails or in a game. No matter what your activity is, the Polar X can help you.
It comes equipped with four buttons that make navigation easier. This ensures that users are less dependent on touch screens, which can be fickle depending on the conditions of your fingers. The route guidance feature is helpful in (literally) navigating your ride or just around town.
---
The Suunto is a multi-faceted fitness tracker that can help you no matter what your activity is. It comes complete with over 80 activity/sport modes so you can track relevant data no matter your activity of choice. 
The Suunto can also create 7-day activity plans that are customized specifically for your body and your needs. In some ways, this can help remove some of the planning behind your exercise routines. Just follow the metrics laid out by your watch. 
It comes standard with 24/7 location tracking and heart-rate monitoring. Complete with a flexible and comfortable band that you will not get annoyed by during your workout or throughout your day.
Related article – Best Triathlon Bikes For Beginners
---
Fitbit is so synonymous with fitness trackers that the brand name has become a verbal stand-in for a fitness tracker. The Fit Versa 2 shows why this company continues to be one of the best in the fitness tracker industry.
Some of the exciting features included in this new model are a built-in voice assistant, 24/7 location monitoring, water-resistance up to 50 meters, and incredibly long battery life when it watch mode (up to six days). Some other interesting features include programmed motivational messages and tips that will help you rise and grind when your own motivation levels are running low. 
It also includes meditation guidance for those moments when you need to slow down and center yourself. Overall, an incredibly versatile and wonderful fitness tracker that can be extremely helpful.
---
Final Thoughts
It is hard to declare a clear winner when each of these products is so great!
However, when considering all the options we went with the Garmin Vivoactive 4. We feel that it delivers in all the areas you need it to: good battery life, accurate data recording, and it is incredibly durable. 
What the Garmin lacks in bells, whistles, and apps, it more than makes up for its features. It is going to deliver all the health-related statistics you need, plus keep you from getting lost, and it will look good while you are wearing it. 
It was an incredibly difficult choice to make and your opinion may differ from ours depending on your personal needs. Remember, you are the only one who can determine which fitness tracker is right for you!
If you're looking for some cycling training tips, check out these articles:
Thanks for reading and happy cycling!
This article includes affiliate links. If you choose to purchase any of the products we have discussed in this article, we may receive a small commission.