A bike tool kit is an indelible part of a cyclist's gear, but picking the right one can be difficult. With a plethora of products on the market, which do you choose? And how can you tell a good kit from a bad one? 
Such overwhelming questions and hardly any answers. But fear not! We've compiled a list of the four best bike tool kits on the market: 
The best bike tool kits include:
How To Choose The Best Bike Tool Kits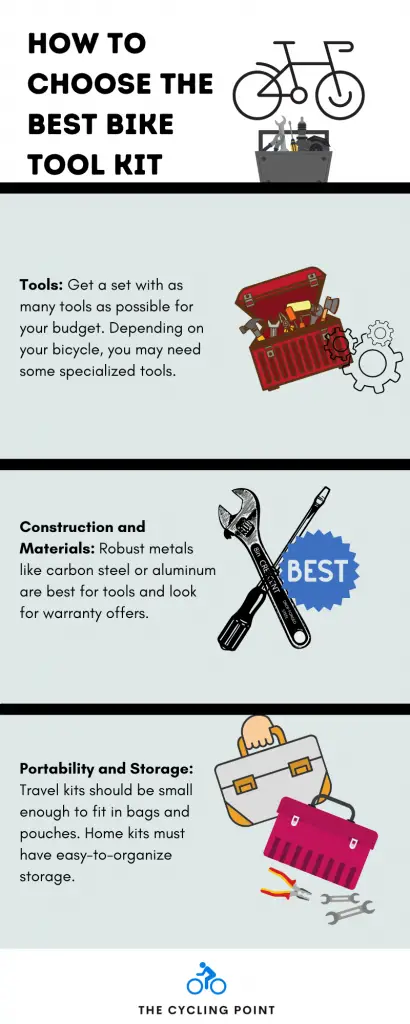 A good quality bike tool kit will cost you a decent amount, which is why it's imperative you identify which attributes make a product good or bad. Doing this may be hard for beginner cyclists. That's why we've included this section in the extensive buying guide. Use it to make more informed decisions when purchasing your next bike tool kit!
Tools
You should get a well-stocked tool kit that ensures you're adequately prepared for any situation. The best bike tool kits have the following components: 
Allen (hex) keys: These have a hexagonal end and drive bolts and screws into sockets. Look for a tool kit with Allen keys in varying sizes that range from 1.5 to 10 millimeters. 
Tire levers: The best tool to wrench off your tire and replace a punctured inner tube. Get one with a large radius; this makes it much easier to use. 
Screwdrivers: Brakes and derailleurs are often fastened by screws. Make sure your set has a combination of star and flatheads. 
Chain checker: This tool helps you know when to replace your chain. Purchase a digital chain checker if you find the analog ones difficult to use. 
Chain breaker: Once you know when to replace your chain, a chain breaker will make the process convenient and satisfying. Get a premium, well-made tool that won't flex or damage your chain. 
Pedal wrench: Even though an Allen key will suffice for most pedals, you may need a pedal wrench for bikes with specialized pedal systems. Get a pedal wrench that's long; it provides better leverage, which makes it easier to wrench.
Torque wrench: If your bike has a lightweight frame like carbon, a torque wrench is best. Tightening bolts too much can damage delicate materials, and a good torque wrench prevents that. Buy one that's between 3 and 15 nanometers. 
Cassette lock ring with chain whip: You need this to remove and replace a cassette. Purchase one with good depth and grip as these attributes make it easier to use.
Bottom bracket tool: Unfortunately, bottom brackets come in a variety of sizes, which makes it difficult to choose the perfect one. You can either get a tool kit that has a range of bottom bracket tools or one with a size that specifically compliments your bike. 
Only the very best, and perhaps the most expensive, bike tool kits have all these tools. In most cases, you'll get five or six of these, and you'll have to supplement with separate purchases.
Related article – How To Remove Rust From Bike Chain
Construction and Material
Your bike tool kit should be durable to last many years. The best way to determine if a bike tool kit is durable is by looking at its construction details. 
Tools made from metal and that feature a solid rubber grip are usually better suited to last a long time. Metals to look for are carbon steel or steel alloy, similar to those featured in the CYCLISTS 23 Piece Bike Tool Kit. 
In addition, manufacturers often offer 100 percent money-back guarantees on their products if they're sure they've made good quality products. Many of the products on this list have a one-year warranty. Such offers should instill confidence that a tool kit has high-quality construction. 
Related article – How Long Do Steel Bike Frames Last?
Portability and Storage
Not all tool kits are portable. You can't cycle with the Bikehand Bike Repair Tool Kit, but you can with the YBEKI Bike Repair Tool Kit. Both of these tool kits have excellent storage, and each serves its own purpose. That's why when it comes to tool kits, you should get a set you travel with and one you keep at home for heavy-duty repairs. 
For travel, look for one you can attach to a saddle or keep in a bag. The WowTow Bike Repair Set is small enough to fit in a belt bag or pouch. For your home, a tool kit with a lot of tools is best. It should have easy-to-organize storage compartments in its case. This also helps in checking if a tool is missing from your multi-piece set!
Related article – Bike Storage Solutions For Apartments
Reviews Of The Best Bike Tool Kit
Using the criteria mentioned above, we've gathered what we think are the best bike tool kits on the market. With a wide variety of options to choose from, we're sure you'll find one that will suit your needs and budget. 
This kit comes with nearly every tool you'll need to repair and maintain your bike. With 23 pieces, this set includes every tool mentioned in our tool criteria and more. 
Convenient additions include a tire patch kit for quickly fixing punctures and chain pliers to easily adjust your chain. This ensures there'll be no problem you can't solve with this bike tool kit.
Related article – How To Tighten A Bike Chain
The build quality is also impressive. This kit is made from durable carbon steel and premium grade plastic. These materials enable Cyclists to offer a one-year warranty on their product. They'll return all your money if you become dissatisfied within the first year of purchasing the bike tool kit. 
Storage comes in the form of a hard shell briefcase with precise compartments for storing every one of the 23 tools. This makes it easy to identify missing parts, and the secure buckles ensure the case won't open if you accidentally drop it. 
This product is a considerable investment, and it can't be cycled with, but it's ideal for routine maintenance, repairs and upgrades on your bicycle.
---
If you only want the best for your bike, then this kit is best for you. With 37 pieces that include a crank tool for the drivetrain and a freewheel wrench for more challenging repairs, you'll have the tools of a professional bike mechanic. 
The heat-treated steel will last you for years. So much so that Bikehand offers a two-year warranty on this product. In addition to these features that make the product durable, you get an easy to carry storage box with precise tool compartments. 
Being a premium product, the Bikehand Repair Kit is pricey, but you definitely get your money's worth.
---
This YBEKI is the best for portability. It includes a wide range of tools that you can store in a small bag that attaches to your saddle. This bag is large enough to store other items and has a waterproof surface for rainy days.
The star of this product is a Universal hex wrench that resembles a pocket knife. It includes six Allen key sizes, two screwdrivers and a chain tool. 
You also get a three-in-one tire level, which can remove and file a tire and then install tire patches after a puncture. 
Despite this performance, the tool kit isn't the most complete. Various things are missing, like a torque wrench and chain remover. These aren't expected on a portable kit, and that's why we recommend you purchase two different types of kit – one to keep at home and one for the road!
---
At a low price, this is one of the best budget bike tool kits on the market with a decent amount of tools. It includes a 16-in-one Allen key wrench, emergency glueless patches and a tire pry bar. All these are packaged in a convenient hard shell pouch that's small enough to fit in your bag. 
For products priced as accessible as this, customers have little to complain about. With steel alloy construction and excellent after-sales service, you'll be getting more value than what you paid for when purchasing this kit.
Minor concerns with the product are the ineffective emergency patches and how heavy the 16-in-one tool is. Some customers reported how the patches don't work, which is quite a shocker because we believe they're an integral part of the kit. The tool weighs around 0.53 pounds, which some find unusually heavy for such a device.
---
Final Thoughts
Now that you've gone through this extensive guide on the best bike tool kit, you know how to choose which one is best for you and your bike.
Our top pick is the CYCLISTS 23 Piece Bike Tool Kit, as it's a premium product with nearly all the tools you need for a solid bike repair. But other tools on my list offer different values like the portable YBEKI Bike Repair Tool Kit or the budget-friendly WowTow Bike Repair Set. 
Whichever product you decide to buy, ensure you get one that you can trust on the unfortunate day your bike needs repairs! You know that it always happens at the most inconvenient times!
Thanks for reading and if you have any questions, please feel free to drop us a comment down below!
This article includes affiliate links. If you choose to purchase any of the products we have discussed in this article, we may receive a small commission.