Are you looking for a convenient bag to carry essentials without weighing down your bike? Bike trunk bags are the solution.
To help save you time, we have compared over 20 trunk bags and reviewed user feedback to find the best bike trunk bags. This guide is ideal for both the daily commuter and the weekend adventurer.
In this roundup, you'll find trunk bags that offer optimal storage, weather resistance, and easy mounting. You'll also learn how to choose a trunk bag, what to look for when buying one, and more!
Let's get started!
Summary of The Best Bicycle Trunk Bags
Pros:

Sleek and durable trunk bag

Front velcro straps keep the bag in place when cycling

Compartments are expandable

Water-resistant fabric

Pros:

Compatible with most racks

Reflective elements on the bag to increase visibility

Convertible bag

Affordable

Pros:

Easy and secure mounting system

Large and expandable capacity

Rear water bottle holder

Pros:

High storage capacity

Plenty of protected side pockets

Easy clip release mount

Reflective trim with tail light hanger

Pros:

Padded and insulated interior

Expandable side pockets

Reflective trim

Rear light clip attachment
Detailed Reviews Of The Best Bike Trunk Bags
Best Overall
Pros:
Sleek and durable trunk bag

Front velcro straps keep the bag in place when cycling

Compartments are expandable

Water-resistant fabric
Cons:
Lacks quick-release mechanism
View On Amazon
View On Walmart
The ROCKBROS Bike Rack Trunk Bag is a versatile bag that can be used for both short commutes and long rides. This carbon leather trunk bag from Rockbros has a 17L maximum carrying capacity.
It has a large main compartment, two extensible side pockets, and a water bottle holder in the back. The main compartment can hold laptops up to 15 inches in size, making it perfect for commuters.
This bag features flexible storage and can quickly be unfolded with zippers when you need additional capacity. With two shoulder straps, you can use it as a messenger bag. The portable design also makes it convenient when traveling.
The design of this bag has an integrated body frame that protects clothes, phones, bike cameras, shoes, and other accessories you want to carry. The exterior is water-resistant and easy to clean. 
With the thick pad securing the bag, there is some shock absorption when cycling. Additionally, the velcro straps ensure that this bag stays securely on your bike when riding on rough trails.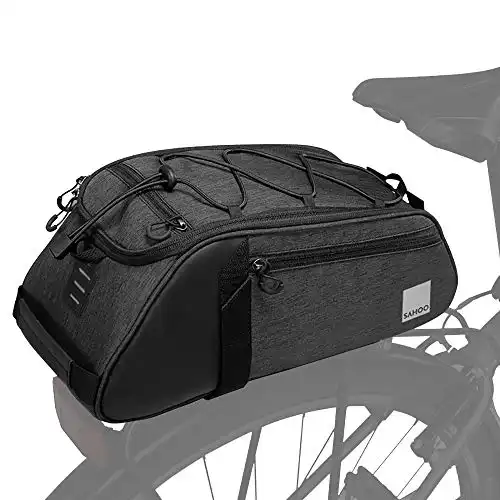 The Roswheel Bike Trunk Bag is most suitable for commuters and casual riders who need to carry their essentials on the go.
This 8L bag features a main compartment, side pockets, and a rear zipped pocket that offers more protected storage space. Additionally, the waterproof liner protects your belongings when it rains.
The bag is compatible with most bike racks, thanks to its four Velcro straps that secure it firmly. The straps are hidden behind the side pockets when not in use, giving the bag a sleek and elegant look. These velcro straps make it easy to mount and release the bag.
This trunk bag can also be converted into a messenger bag with a shoulder strap or a handbag with a built-in carrier handle.
On the downside, the bag is not very spacious compared to other bike trunk bags in the roundup. If you need to carry a lot of stuff, such as a laptop or a change of clothes, you'll find this bag too small.
Consider the ROCKBROS or Topeak MTX trunk bag, which has more capacity and expandable features.
Compared to other trunk bags in this review roundup, this is one of the most affordable options available today.
If you're looking for a bike trunk bag that can expand your storage capacity and fit securely on your rack, you might want to consider the 20L Topeak MTX Trunk Bag.
One of the standout benefits of this trunk bag is its expandable top section, which allows you to carry even more gear when needed. The bag also features multiple pockets for easy organization and access to your items.
This bag is designed to work with Topeak's MTX QuickTrack system, which allows you to attach and detach the bag with a simple slide and click. No more fumbling with Velcro straps or worrying about the bag shifting or falling off!
However, this does require a special rack, which adds weight and cost to your bike. Additionally, one feature that could be improved is the bag's tendency to rattle when empty.
Compared to other bike trunk bags in this roundup, the Topeak MTX Trunk Bag has a more durable build quality and better expandability. However, this does come at a cost, making this the most expensive trunk bag in the roundup.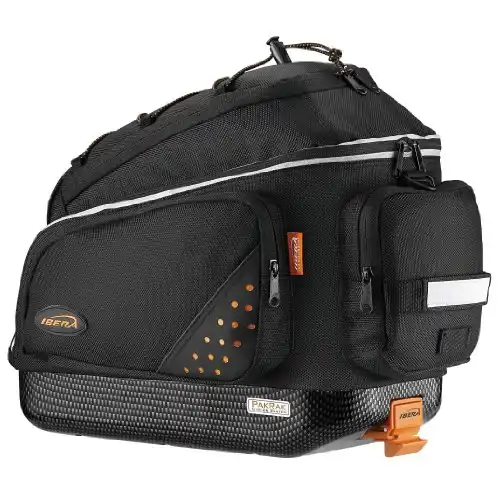 Pros:
High storage capacity

Plenty of protected side pockets

Easy clip release mount

Reflective trim with tail light hanger
Cons:
Not waterproof

No rain cover
View On Amazon
Looking for a bag to cover weekend adventures with your friends or commuting to school? Check out the Ibera Bike Trunk Bag. It features multiple compartments, just right for holding all your cycling tools and essentials.
The Ibera Trunk Bag has a wide opening with an easy-access zipper to quickly put in and take out items. There's an inner mesh compartment that can hold sensitive items.
Instead of a rear water bottle holder, this bag has a rear zipped pocket that offers more protected storage space and is more suitable for commuting.
A detachable padded shoulder strap is standard, making carrying the bag easy and comfortable.
The quick-release bag mounting system only takes three seconds to install and release the bag. It features thick padding and reinforcements in the bag's inner lining to protect any fragile items you are carrying.
The major downside is that it's not waterproof. The fabric is water-resistant but not waterproof, so it can get wet in heavy rain. A rain cover would help, but it doesn't come as standard. I wish the bag had a better waterproof design like some of the other bags in this review roundup!
The Bushwhacker Mesa trunk bag with a rear light clip attachment offers plenty of room for all your belongings.
It has a main compartment with a padded and insulated interior and two side pockets that can expand into mini panniers. The side pockets are handy for storing things like gloves or energy gels.
The bag can also keep your food and drinks cool or warm thanks to its insulated interior. You'll love how easy it is to access your belongings with the wide opening and the zipper closures.
For safety, the Bushwhacker bag features reflective trim for added visibility at night.
One feature that could be improved is the attachment system. The bag needs a front and rear strap to keep it from sliding back and forth on the rack. A quick detachment system would also be handy.
Additionally, this bag is not waterproof, so you'll need to buy a separate rain cover or use plastic bags to protect your items from getting wet in case of rain.
What Should You Consider When Looking At Bike Trunk Bags
Bike trunk bags are an efficient and secure way to carry your essentials while cycling.
They mount at the rear of your bike, typically on a rack, providing a convenient storage solution that doesn't hinder your ride.
Never fear. We're here to help you choose the best trunk bag for your bike!
Purpose
When choosing your bike's ideal trunk bag, you must consider what you will primarily use to carry.
Commuting: If you're commuting, you may need a bag with compartments for a laptop, office essentials, and perhaps even a change of clothes.
Touring: For longer rides or tours, you'll require a bigger bag to accommodate clothing, food, and camping gear.
Casual Riding: A small to medium bag should suffice for quick trips to the store or rides around the park.
Also, ensure the size is proportionate to your bike and doesn't affect its balance.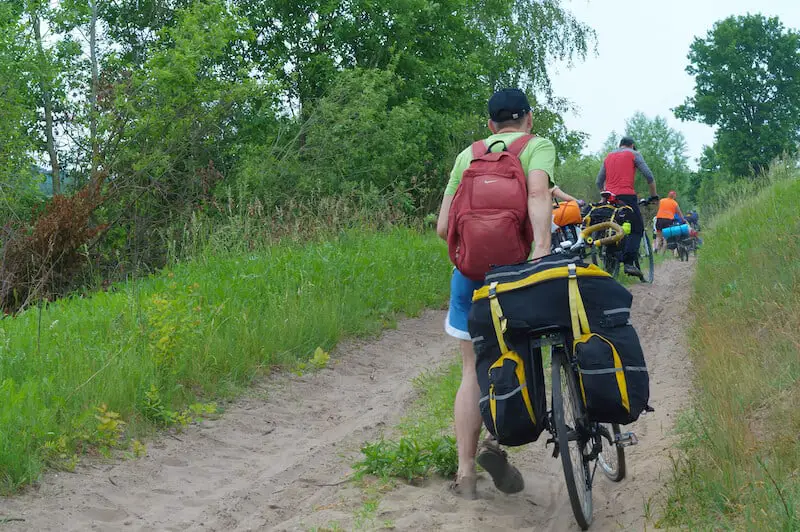 Design & Accessibility
Once you know your primary use for the trunk bag, think about the design and features that would be helpful. A few examples:
Multiple Compartments: Helps in organizing items.
Expandability: Some bags have an expandable design, giving extra space when needed.
Quick-Access Pockets: You might need to access things like keys, wallet, or phone frequently.
Some bags come with a rigid base or internal support, ensuring they maintain their shape while riding. This can be especially useful for carrying delicate items.
Material & Durability
The type of material of your trunk bag is one of the most important considerations to make. The bag's material determines how safe and dry your bag will remain while you're on the road.
Popular trunk bags are made of polyester due to their affordability. Nylon and PVC are also mixed due to their durability and waterproof properties.
Most manufacturers use a PVC coating because it is long-lasting and waterproof. It also makes the bags easier to clean.
Go for bags with waterproof IP ratings between IP65 and IP67 to ensure your bag's contents remain dry. Be careful when deciding which type of waterproof bag because some water-resistant bags may still leak during a heavy downpour!
Mounting Mechanism
You may have to attach and detach this trunk bag from your bike regularly, and it has to be easy. Here are some standard mounts:
Velcro Straps: These are common and easy to install but might not be as secure as other mechanisms.
Clips & Brackets: These offer a firmer attachment but may require a compatible rack.
Not all trunk bags fit all racks. Ensure the bag's mounting system is compatible with your bike's rack.
If you intend to leave your bike and take the bag, a model with a quick-release system and a carry handle or shoulder strap would be beneficial. Alternatively, ensure you securely attach your trunk bags to the bike to prevent theft when parking in public!
Frequently Asked Questions
How do bike trunk bags differ from regular backpacks or panniers?
Unlike backpacks carried on the rider's back or panniers hanging on the side of a bike rack, trunk bags sit securely on top of the rear rack. Or convertible pannier backpacks!
They typically offer easier access and can be a more aerodynamic and balanced option compared to panniers.
Are there bike trunk bags suitable for mountain biking?
Yes, there are trunk bags specifically designed with a more rugged build for mountain biking. They usually have a sturdier attachment system and are made with materials that can handle the rough terrains of mountain biking.
How much weight can a bike trunk bag hold?
Weight limits vary based on the bag's design and the strength of your rear rack. On average, many trunk bags can safely carry between 5 to 15 pounds. Remember, you'll be riding up the hill with this load!
Always check the bag's specifications and the recommended weight limit for your bike rack.