Cycling with a heavy backpack on your shoulders can quickly wear you out. Whether you are commuting or just bike traveling, there are some items you need to carry. Trunk bags are popular among most cyclists because they are compact and portable without adding on excess weight. If you are looking for an ideal bike trunk bag, here are a few options you can check out.
What Should You Consider In A Bike Trunk Bag?
Never fear, we're here to help you choose the best trunk bag for your bike. It is necessary to consider everything from material to the number of compartments of the bag if you will be using it on your long bike treks.
Purpose
When choosing your bike's ideal trunk bag, you need to consider what you will primarily use it to carry. If you need a bag for regular commuting to work or school, it might need to have multiple compartments to organize your laptop and papers.
For cyclists who need to carry gear for adventures, you will need a larger bag with more room. Depending on how long your cycling escapade lasts, going one size larger will keep you on the safe side when you need to carry extra items.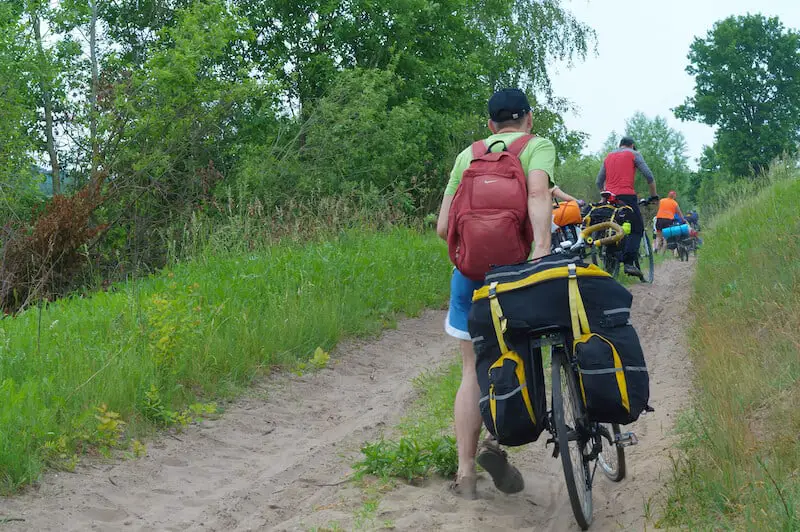 Type Of Materials
The type of material of your trunk bag is one of the most important considerations to make. The bag's material determines how safe and dry the contents of your bag will remain while you're out on the road.
Popular trunk bags are made of polyester due to their affordability. Nylon and PVC are also mixed in due to their durability and waterproof properties. Most manufacturers use a PVC coating because it is long-lasting and waterproof. It also makes the bags easier to clean.
Waterproof
If you enjoy cycling during any weather, the last thing you need is water soaking into your  bag. For cyclists who live in rainy areas, having a waterproof bag is a necessity. Have a look at roll-down tops that have clips which are super easy to tie down. This reduces the chance of water getting in your bag!
Trunk bags that feature rubberized materials will help protect your belongings even when it is raining heavily. Go for bags with waterproof IP ratings between IP65 – IP67 to ensure your bag's contents remain dry. Be careful when deciding which type of waterproof bag because some water-resistant bags may still leak during a heavy downpour!
Carrying Capacity
You want a bag that will carry all your essential biking items on each trip. Think about your needs and choose a trunk bag that features enough compartments to safely hold all your possessions. For daily commuters, consider getting a spacious bag with multiple compartments to hold your books, laptop and clothes. 
If you are using this trunk bag for short biking trips, think about getting a smaller size bag. This will be enough with minimal compartments to hold water, valuables, and accessories. Some bags are expandable to offer more space when needed. The bag should also be firm enough to organize and keep your items stable without moving, even when riding on rough trails. 
Adjustability
The best bike trunk bag should be adjustable enough to hold various items and possessions. Adjustability is important when you expect to be carrying things like a laptop, change of clothes or even groceries!
With compression straps, hooks, and flexible collars, you can vary the size of items you have without worrying about the load shifting. If not properly secured, your load can cause a loss of control when they shift.
You should be able to load your stuff into the trunk with ease, and if it contains proper padding, it will be stable no matter the type of trail. 
Attachment Options
You will probably have to attach and detach this trunk bag from your bike regularly, and it has to be easy.
If your bag has durable and quality hooks and clips, it will be simple to attach and detach the straps when necessary. Make sure to securely attach your trunk bags to the bike to prevent theft when parking in public though!
Review Of The Best Bike Trunk Bags
Whether you are commuting to the city or going for your daily bike ride, you need a trunk bag to hold all your items. Carry all your essentials in the Roswheel Bike Trunk Bag, which is not only a stylish commuter bag but a bike tool kit with velcro straps and buckles.
This bag features durable velcro straps that make mounting and releasing easy. The spacious main compartment also allows you to quickly arrange all your biking essentials and tools without damaging them.
With a large capacity of eight liters, this is a beautiful storage bag for your daily essentials. The waterproof liner is there to protect your belongings when it rains.
This trunk bag is also versatile to use as a messenger bag due to the shoulder strap or handbag with the built-in carrier handle. The Roswheel bike trunk bag is the perfect shape to be easily portable no matter where you want to go.
---
Looking for a bag to cover weekend adventures with your friends or commuting to school? Check out the Ibera Bike Trunk Bag. It features multiple compartments, just right for holding all your cycling tools and essentials.
The quick-release bag mounting system only takes you three seconds to install and release the bag. It features thick padding and reinforcements in the bag's inner lining to protect any fragile items you are carrying.
The Ibera Trunk Bag has a wide opening with an easy access zipper for you to put in and take out items quickly. There's an inner mesh compartment can hold sensitive items. Additionally, there's a more extensive section which can carry groceries, books, cycling gear, or clean clothes!
Considering the price, there's a lot packed into this trunk bag. The quality construction and adaptable design will make this your go-to bag for various biking activities.
---
This carbon leather trunk bag from Rockbros with a 17L maximum carrying capacity. This will be adequate storage for all your items. This trunk bag is water-resistant and durable to use during the rainy season. 
This bag features flexible storage and can quickly be unfolded with zippers when you need additional capacity. With two shoulder straps, you can use it as a messenger bag. The portable design also makes it convenient when traveling.
The design of this bag has an integrated body frame that protects clothes, phone, camera, shoes, and other accessories you want to carry. With the thick pad securing the bag, there is some shock absorption when cycling. Additionally, the velcro straps ensure that this bag stays securely on your bike when riding on rough trails.
---
This bag is a must-have when going on cycling adventures. At 25L, this bike trunk bag might be a bit big for your daily commute bag! Unless you head to the gym with it of course.
The COFIT trunk bag features multiple compartments with two side pockets with zippers. The side collapses out for additional storage, so you will have more than enough space to carry cycling gear, tools, clothes, books, and shoes.
This bag's material is waterproof, water-resistant, and tear-resistant. It should be enough to withstand harsh weather and conditions. With a safe and reflective tape design, you don't have to worry about your visibility when cycling at night. 
The velcro straps make installation and removal quick and easy. These straps also keep your bag in place to avoid wobbling. A nice extra feature is the rainproof cover to provide some extra weather protection.
---
The Bushwhacker Mesa trunk bag with a rear light clip attachment offers plenty of room for all your belongings. With a fully padded and insulated interior, this bag will keep all your items safe and dry. It will not sag anytime soon because although the side walls are soft, they are still thick and firm enough not to lose shape. The side pockets are also handy for storing things like cycling gloves.
The four-point mounting system allows for easy and secure attachment onto your bike. For stabilization, the half-inch stiff foam will keep your load steady without wobbling.
The Bushwhacker bag features reflective trim for added visibility at night. You can easily access the exterior pockets of the Mesa through the quality zippers. The foam padding also helps keep drinks cool while you ride. Finally, this bag includes a detachable shoulder strap for you to carry as comfortably as you can.
---
The Kulie AllSport trunk bag offers 20L storage with an expandable top and sides to increase the room to 38L. This versatile bag quickly attaches to the rear rack and works well with electric bikes. The design of this trunk bag features an elastic inside to hold your electronics and valuables. It includes a water bottle holder on the side that firmly carries your bottle when cycling.
The hand-molded side panels offer added security for the contents in the bag. It is reliable to use during any weather with waterproof zippers and rain cover. This AllSport trunk bag can carry anything from laptops, shoes to clothes, and office material while bike packing.
The Kulie bag is a great multi-purpose bag, with pull-out panniers for all your storage needs. Additionally, there are numerous attachment points to keep it secure on your bikepacking adventures.
---
Conclusion
Trunk bags are essential for cyclists who want to avoid carrying numerous bags when bikepacking or commuting. With all the options available, getting the right trunk bag for your bike can be overwhelming. As I have described, you need to consider more than just the price and capacity of the trunk bag.
The winner of our best bike trunk bag goes to the Rockbros Trunk bag!
It stands out because of its quality leather construction and durability. The foldable nature of this bag allows you to increase the carrying capacity for additional storage space. It is also waterproof, with numerous attachment options to keep it secure when cycling on any terrain. This multifunctional bag will ensure you don't have to leave anything behind the next time you go riding!