Have you ever found yourself cycling with a water bottle that leaves your drink warm and unpalatable after just a few miles?
Introducing my handpicked selection of the best bike water bottles available today.
After testing and comparing over ten bottles, reading through countless user reviews, and researching hydration tech, I'm thrilled to crown the CamelBak Podium Chill as the best water bottle for cyclists. Read on to find out why!
Ready to elevate your hydration game while cycling?
Let's get started!
In A Rush? Here Are The Best Bike Water Bottles
Pros:

Jet Valve nozzle is very easy to drink from

Fits all standard bottle cages

Easy-to-open lock mechanism to reduce leakage

Pros:

Surge Cap is very easy to clean

Best insulation performance

Nice design/colorway

Pros:

BPA, BPS, BPF free

High flow rate

Variety of colors
Best Overall
Pros:
Jet Valve nozzle is very easy to drink from

Fits all standard bottle cages

Easy-to-open lock mechanism to reduce leakage
Best Insulation
Pros:
Surge Cap is very easy to clean

Best insulation performance

Nice design/colorway
Most Hygenic
Pros:
BPA, BPS, BPF free

High flow rate

Variety of colors
Reviews Of The Best Bike Water Bottles
Best Overall
Pros:
Jet Valve nozzle is very easy to drink from

Fits all standard bottle cages

Easy-to-open lock mechanism to reduce leakage
Cons:
Insulation doesn't make a noticeable difference
View On Amazon
View On JensonUSA
There's nothing worse than grabbing your drink bottle during a hot summer ride only to find that your drink is warm! Enter the Camelbak Podium Chill.
Built with double-construction walls for insulation, this bottle is designed to keep your drinks cold. Camelbak claims it is meant to keep water cold twice as long as a regular bottle. 
I filled the CamelBak Podium Chill with ice water and took it on a 50-mile bike ride. The temperature was around 90°F. I attached the bottle to my bike frame using a standard cage and drank from it regularly throughout the ride. 
However, I found a negligible difference in temperature on a scorching day.
The drink nozzle has the usual Camelbak "self-sealing cap" that prevents spills and leaks. I didn't have to worry about opening or closing the cap; I squeezed the bottle and drank.
The valve also has a lockout feature that prevents accidental squeezing when not in use.
The Podium Chill has a wide mouth, making it easy to fill and clean. I could fit large ice cubes in it without any problem. The bottle is also dishwasher-safe and BPA-free.
Overall, it is a great drink bottle with a sleek design and a variety of colors to choose from. I liked the matte finish and the ergonomic shape that fit well in my hands and cage.
Best Insulation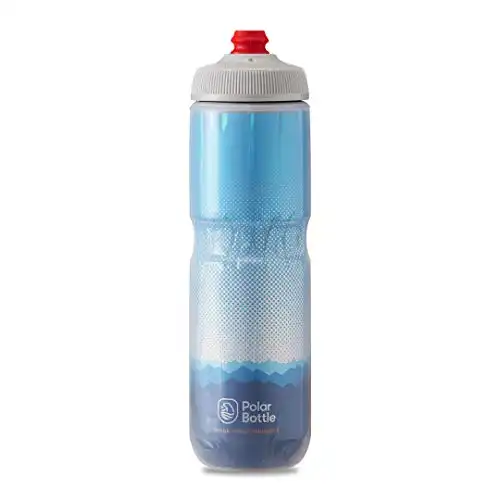 Pros:
Surge Cap is very easy to clean

Best insulation performance

Nice design/colorway
Cons:
Heavy relative to others in this roundup

No protect cap
View On Amazon
View On Walmart
When someone says Polar, the heart rate monitor brand usually comes to mind for me! At first glance, the Polar Bottle Breakaway looks like a standard cycling drink bottle. 
Once you pick it up, though, it's slightly on the heavier side, and that's because of the tri-layer insulation. 
Like the Camelbak Podium Chill, Polar has also touted that this is meant to keep liquid cooler 2x longer than standard bottles.  I'm happy to report that the Polar actually performs exceptionally well in this category!
I tested the bottle on a hot summer day and was impressed by its performance. I filled it with ice and water before setting out, and after four hours of cycling, I still had a tiny bit of ice left in the bottle!
One interesting bit of this bottle is the nozzle design with a "Surge Cap." This delivers a good flow of liquid with minimal effort and easily seals back up to prevent drips. The mechanism is also easy to clean and can be pulled apart so you can access every inch of the nozzle.
Most Hygenic
CamelBak recommends this bottle for off-road, gravel, or mountain biking because it is designed for "dirt-free water consumption." This is ideal for riding in dusty or muddy conditions, where you don't want to ingest any unwanted particles!
Although CamelBak calls this a mountain bike water bottle, it will also serve road bikes and commuters.
The bottle also has a "self-sealing cap" that prevents spills and splatters, even when squeezing it hard. That said, the clear rubber mouthpiece bit is not removable and cleanable, which can be problematic if it gets full of gunk and mold.
The bottle has an optimized cage fit, which can securely fit in various bottle cages on the market. This means you don't have to worry about your bottle falling out or rattling around while you ride.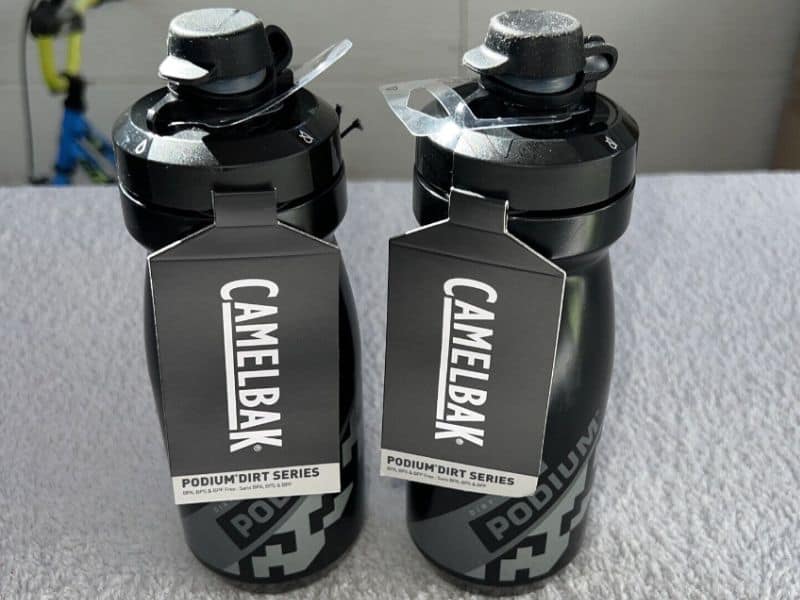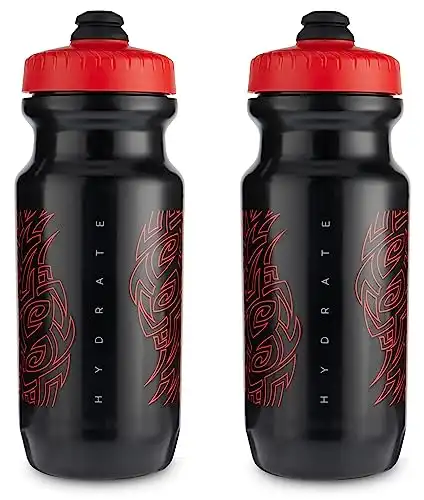 The Peakline water bottle is lightweight, flexible, and easy to clean. The bottle is made of BPA-free plastic and printed with non-solvent base (UV cured) ink, meaning no taste residue exists.
The MOFLO cap is easy to open, effortless, and leak-proof when closed. The bottle fits easily into a standard bike cage or bottle holster.
However, the water bottle is not insulated. If you're riding in extreme temperatures, you might want to look for a different option to maintain your drink's temperature better.
Overall, it is a no-frills water bottle for those who want a BPA-free, inexpensive cycling water bottle for their sports drinks. The 2-pack weighs 5.6oz, so each bottle is under 2.8oz.

You're in for a treat! The Elite Jet cycling water bottle is an excellent choice for anyone looking for a high-quality, eco-friendly, and affordable water bottle.
Manufactured in Italy, the Elite Jet is made from compostable plastic and is BPA-free. It has an oversized nozzle that is easy to drink from and seals efficiently. The bottle weighs about 3oz and has a capacity of 25oz.
The Elite Jet has a high-flow valve that delivers a copious amount of liquid with minimal effort. The valve is also tasteless, so you don't get any unpleasant plastic flavor in your mouth.
Additionally, the valve is easy to open and close with one hand and has a lock system that prevents leaks when not in use.
The only downside is it's not insulated. Note that this bottle is slightly taller than others, so be careful if you have a small bike frame.
Pros:
Lightweight system

Aesthetically pleasing

BPA-free bottle
Cons:
Difficulty re-attaching bottle to studs

Limited compatibility
View On Amazon
View On Walmart
Honestly, I scratched my noggin when I looked into this bottle. Cageless? Baffled yet intrigued, I searched for what others were saying about the Fabric system. Designed and manufactured in the UK, the mounting concept is simple:
You remove your existing water bottle cage and studs from your bike.
You attach the Fabric mounting studs (plastic) to the bike.
The Fabric bottle clips (or slides) onto these studs.
With the cages removed, it gives the bike a better look in the sense that this design preserves your bike's clean lines when it isn't mounted.
The Fabric Cageless Bottle is significantly lighter than traditional water bottles and cages. However, some have found it difficult to reattach the bottle. It will take some practice and configuring to return the bottle to the studs.
Lastly, this setup is not compatible with all frames. You need two mounting holes on your downtube or seat tube and enough clearance for the bottle to fit. Some frames may not have the correct configuration or space for the cageless system.
I tested this water bottle for a week on various cycling routes, and here are my thoughts on it.
The bottle is lightweight and easy to squeeze, making it convenient to use while cycling. It fits snugly into the cage, so no issues there. 
It has a soft silicone spout that is comfortable and convenient to drink. You can open and close it with one hand, handy when riding.
It's BPA-free. However, I didn't like the strong plastic smell when I first used it. You'll need to wash it a few times before the smell disappears.
Overall, this water bottle is a decent choice for cyclists who want a lightweight, easy-to-use, environmentally friendly bottle. It's perfect for short to medium-length rides where you need to stay hydrated but don't want to carry much extra weight.
What To Look For In a Water Bottle for Cycling
Size Does Matter
Most cycling water bottles come in two sizes:
Large capacity (24-26 oz or 730-780 ml)
Small capacity (12-16 oz or 360-500 ml)
Which you choose will be based upon:
The distance you will bike. A small bottle will suffice if you're going for a 1-hour ride. If you cycle all day, you'll want (2) large-capacity bottles.
The temperature. On a cool day, small bottles will work. If you're cycling with me here in the States when the humidity hits 80-90%, you'll need (2) large-capacity bottles.
The event you'll be participating in. If you're on a ride, carrying various cycling accessories, and stopping frequently to refuel, a smaller bottle will get you throughout the day. The same can be said of sportifs or Gran Fondos with rest stops for refilling your bottles. However, if you're in a race or triathlon with no time to stop, you'll have to consider which size to use carefully.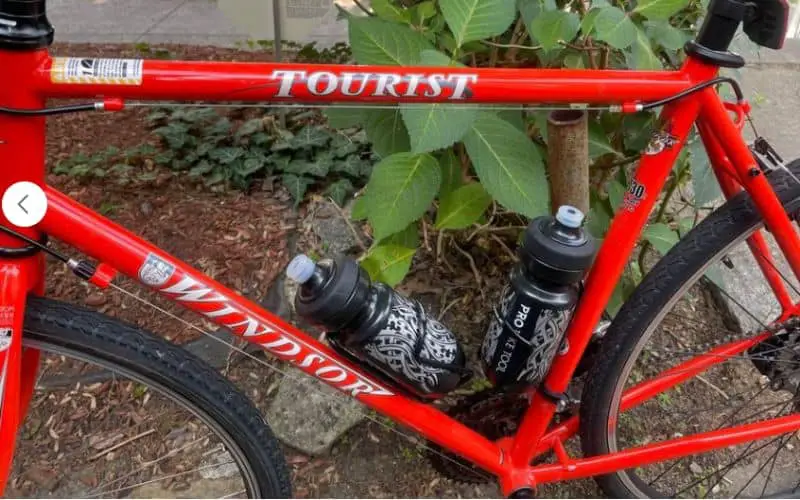 Insulated Bottles
You will need an insulated bottle if you want to keep your sports drink chilled or your tea hot (oh, you Brits!). Keep in mind that there's a price to pay for this amenity:
Cost. Insulated bottles are generally twice as much as a regular cycling water bottle.
Weight. They not only cost twice as much, but they weigh twice as much, too. Keep that in mind if you do a lot of climbing or racing where additional weight isn't a good idea.
Material & BPA
Most water bottles are made of plastic, although some come in aluminum.  When considering a plastic water bottle, get one free of BPA or bisphenol-A.
Although the U.S. Food and Drug Administration (FDA) says that small levels of BPA in food are safe, there is evidence that too much exposure can lead to health issues. Maybe that's why I'm such a grumpy old man! 
Because of this concern, many plastic manufacturers no longer use this chemical. Most cycling water bottles, including the ones I reviewed, are BPA-free. Nevertheless, be savvy as you shop. 
Age & Aero
Hydration is important at any age, but as a cyclist in my 60s, I can attest that hydration is even more critical than when I was younger. Suffice it to say, I prefer bottles with the most capacity so I have plenty to drink to combat cramps and to stay hydrated.
If you're the type who is all about being aerodynamic and you want an aero-cycling water bottle, manufacturers like Elite have systems you may want to look into.
Be advised that they require Elite's special cages, which are pricey, and if you lose a bottle, you're stuck purchasing one of theirs.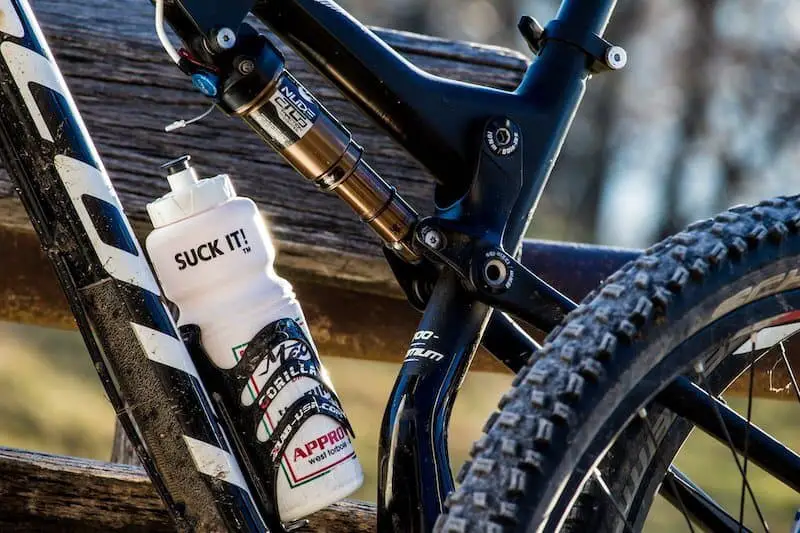 Frequently Asked Questions
Is there a difference between regular water bottles and those designed for cycling?
Yes, bike water bottles are often designed with a shape that fits securely in bike bottle cages.
They also usually feature a spout or nozzle that's easy to drink from while on the move, and they're built to be more durable to withstand the rigors of cycling.
How often should I clean my bike water bottle?
For hygiene and to maintain the water taste quality, it's recommended to clean your water bottle after every ride.
Bacteria and mold can grow in moist environments, so regular cleaning and drying are crucial!
Drinker's Choice
Boy, selecting a champion was tough! Any one of these cycling water bottles will serve you well. Before I list what I chose, here are some thoughts to consider when selecting your bike water bottle.
Are you a germophobe? Hey, I'm not judging, but if the thought of dirt on your bottle spout going down your gullet makes you cringe, then you need the CamelBak Podium Dirt Series!
Want something to keep your drinks cooler on a hot summer day? I'd recommend the Polar Breakaway Bottle!
If I could only choose one, my choice would be the Camelbak Podium Chill.
So there you have it! Seven worthy contenders whose cycling water bottle will keep you hydrated all year.