Whether you race, do club rides, or bike for fitness, you know the importance of staying hydrated. On cool rides, a cyclist should consume 12-16 ounces every hour while on hot days 2-4 bottles an hour is recommended. Other factors are one's training intensity, weight, age, and geographic location.
Bottled Up
Warning! Old man rant forthcoming.
(Read with an American Southern drawl) "Back in my day, we didn't have all these fancy water gizmos you youngsters have. You strap some on your back and you even got ones that keep things cold! Shoot, all we had were small, plastic bottles. And you know what? They worked fine! Dang kids!"
Okay, rant over; moving on.
Joking aside, this codger thought about passing on this review opportunity because it seemed trite. Upon further examination, and for the sake of staying young at heart, I've taken on the assignment with my usual gumption and flair. I won't delve into backpack systems (like CamelBak) but will focus on these:
What To Look For In a Bike Water Bottle
Size Does Matter
Most cycling water bottles come in two sizes:
Large capacity (24-26 oz or 730-780 ml)
Small capacity (12-16 oz or 360-500 ml)
Which you choose will be based upon:
The distance you will bike. If you're going for a 1-hour ride, a small bottle will suffice. If you're cycling all day you want (2) large capacity bottles.
The temperature. On a cool day, then small bottles will work. If you're cycling with me here in the States when the humidity hits 80-90%, you'll need (2) large capacity bottles.
The event you'll be participating in. If you're on a ride and will be stopping frequently to refuel, then a smaller bottle will get you through the day. The same can be said of sportifs or Gran Fondos that have rest stops for refilling your bottles. However, if you're in a race or triathlon where there's no time to stop, then you'll have to carefully consider which size to use.
Related article – Best Triathlon Bikes For Beginners
Insulated Bottles
If you want to keep your sports drink chilled or your tea hot (oh, you Brits!) you will need an insulated bottle. I've included two insulated bottles to the roundup. However, many of the companies I'll be reviewing offer insulated bottles so check their website or online stores for details. Keep in mind that there's a price to pay for this amenity:
Cost. Insulated bottles are generally twice as much as a regular cycling water bottle.
Weight. They not only cost twice as much but they weigh twice as much, too. Keep that in mind if you do a lot of climbing or racing where additional weight isn't a good idea.
Material & BPA
Most water bottles are made of plastic although some come in aluminum.  When considering a plastic water bottle, be sure you get one that is free of BPA or bisphenol-A. Although the U.S. Food and Drug Administration (FDA) says that small levels of BPA in food are safe, there is evidence that too much exposure can lead to health issues. Maybe that's why I'm such a grumpy old man! 
Because of this concern, many plastic manufacturers no longer use this chemical. The majority of cycling water bottles on the market, including the five I reviewed, are BPA-free. Nevertheless, be savvy as you shop. 
Age & Aero
Hydration is important at any age but as a cyclist in my '60's, I can attest that hydration is even more important than when I was younger. Suffice it to say, I prefer bottles with the most capacity so I have plenty to drink to combat cramps and to stay hydrated.
If you're the type who is all about being aerodynamic and you want an aero cycling water bottle, manufacturers like Elite have systems you may want to look into. Be advised that they require Elite's special cages, are pricey, and if you lose a bottle you're stuck purchasing one of theirs.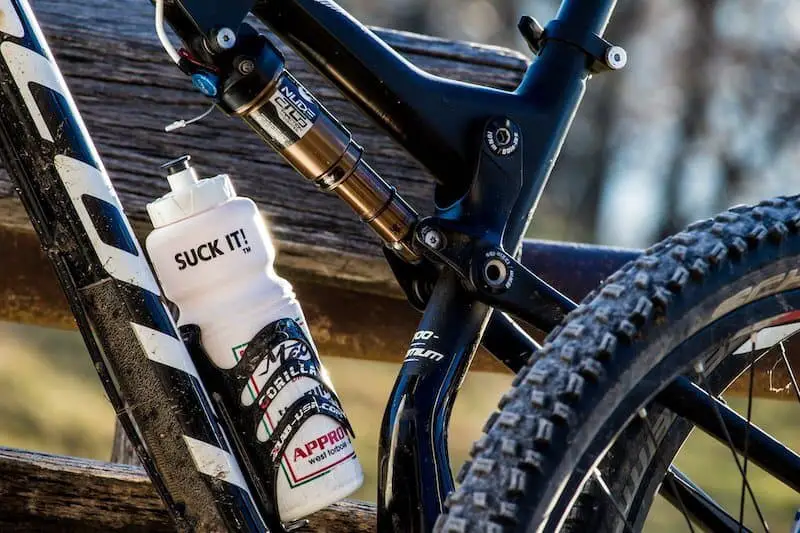 Reviews Of The Best Bike Water Bottles
As a reminder, the following seven bike water bottles are plastic, non-insulated types. So here we go!
Although CamelBak calls this a mountain bike water bottle, it will serve road bikes and commuters as well. The primary reason CamelBak recommends this bottle for off-road, gravel, or mountain biking is that it is designed for "dirt-free water consumption" and has what the company describes as a "self-sealing cap" that reduces spills and splashes. The design is easy to clean and has a dial to completely close the bottle so it doesn't leak during transport.
---
Peakline's easy-to-clean bottles are sold as 2-packs and come in a variety of colors. These no-frills water bottles are perfect for those that want a BPA free, inexpensive cycling water bottle for their sports drinks. The 2-pack weighs 5.6 ounces so I estimate that each bottle is just under 2.8 ounces.
---
Elite Fly is touted as one of the lightest drink bottles on the market, with "ultra light sport bottle" stamped on the bottle. I did find the company's website and although the 550 ml bottles are touted as weighing 1.9 oz (54 grams) I was unable to find anything per the 750ml. 
Manufactured in Italy, this bottle is designed for easy cleaning, fast liquid flow, and the 550ml comes in a variety of colors. The company claims that since the walls of the bottle are thinner than the tops and bottoms (thus the lighter weight) this gives cyclists a better grip and easier ability to squeeze out water.
---
I'll be honest, I scratched my noggin when I looked into this bottle. Cageless? Baffled yet intrigued, I dug around online to find what others were saying about the Fabric system. Designed and manufactured in the UK, the mounting concept is simple:
You remove your existing water bottle cage and studs from your bike.
You attach the Fabric mounting studs (plastic) to the bike.
The Fabric bottle clips (or slides) onto these studs.
One reviewer said that with the cages removed, it gave the bike a better look in the sense that the lines were consistent. Although one reviewer said his system came loose while riding another claimed it handled a steep, bumpy descent like a champ. The Fabric system is substantially lighter than its competitors but riders reported that returning the bottle to the studs while riding took practice and configuring.
---
KOM, a company that manufactures a variety of bike products, offers this 2-pack of BPA-free bottles at a very reasonable price. These have a small capacity of 17 oz (500 ml) but offer a wide mouth for easy cleaning and according to the company, have "a unique grippy material" for better handling. 
Manufactured in "the same factory as those used by pro cyclists in the Tour de France", they come with motivational messages (you can choose which you prefer) stamped on the side of the bottles.
---
There's nothing worse than grabbing your drink bottle during a hot summer ride, only to find that your drink is warm!  Enter the Camelbak Podium Chill. 
Built with double-construction walls for insulation, this bottle is designed to keep your drinks cold. Camelbak claims that it is meant to keep water cold for twice as long as a regular bottle, however most people have found that there's a negligible difference on a hot day.
The drink nozzle comes with the usual Camelbak "self-sealing cap". This design makes it very easy to drink from as you can hold it up to your mouth and squeeze instead of having to suck. It's been designed to also produce a good flow of liquid as well, overall great design here.
---
When someone says Polar, heart rate monitor brand is usually what comes to mind for me! At first glance, the Polar Bottle Breakaway looks like a pretty stock standard cycling drink bottle. Once you pick it up though, it's slightly on the heavier side and that's because of the tri-layer insulation. 
Similar to the Camelbak Podium Chill, Polar has also touted that this is meant to keep liquid cooler 2x longer than standard bottles.  We're happy to report that the Polar actually performs quite well in this category!
One interesting bit of this bottle is the nozzle design with a "Surge Cap". This delivers a good flow of liquid with minimal effort and easily seals back up to prevent any drips. The mechanism is also easy to clean and can be pulled apart so you can access every inch of the nozzle.
---
Drinker's Choice
Boy, selecting a champion was tough! Any one of these cycling water bottles will serve you well. Before I list what I chose, here are some thoughts to consider when selecting your own bike water bottle.
If I could only choose one, my personal choice is the Elite Fly. I love the simplistic logo, the fact that it's lightweight, will pump out liquid fast, and won't cost me a fortune. If you've read any of my other posts you know I love anything bike-related from Italy. Was that the deciding factor? Oh, it's possible!
So there you have it! Seven worthy contenders whose cycling water bottle will keep you hydrated all year long.