Hit a cold spot on your bikepacking trip and dreamt of a warm meal? Your choice of stove can make or break that dream. So, which stove will be the heart of your bikepacking kitchen?
To ensure you're cooking with gas (or the right fuel), we've biked under the stars, boiled, simmered, and sautéed, and asked fellow bikepackers what works best. We've fired up everything from the ultra-light to the ultra-reliable in search of the best camping stove for bikepacking.
In a hurry to get cooking? Our go-to is the Optimus Crux Lite. Why is it the little stove with a big performance? Stick around, and you'll see.
Want the full menu of options? Keep pedaling through this guide, and let's get cooking! 🔥🚴‍♂️🥘
Summary of the Best Camping Stove for Bikepacking
Pros:

Lightweight and compact

Includes non-stick cookware

Powerful burner with fast boil time

Adjustable flame

Pros:

Easy to use

Ultra-efficient windproof radiant burner

System nests components for easy packing

Lid makes pouring liquid mess-free

Pros:

Remarkably lightweight

Folds flat for easy storage

Quick cooling
Best Overall
Pros:
Lightweight and compact

Includes non-stick cookware

Powerful burner with fast boil time

Adjustable flame
Best for Solo Riders
Pros:
Easy to use

Ultra-efficient windproof radiant burner

System nests components for easy packing

Lid makes pouring liquid mess-free
Lightest Stove
Pros:
Remarkably lightweight

Folds flat for easy storage

Quick cooling
Detailed Reviews of the Best Camping Stove for Bikepacking
Best Overall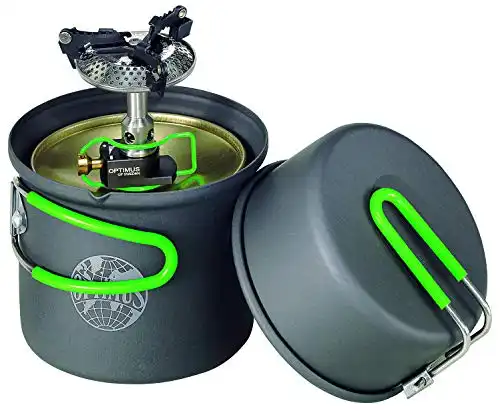 Pros:
Lightweight and compact

Includes non-stick cookware

Powerful burner with fast boil time

Adjustable flame
Cons:
No windbreak included

No ignitor switch

Small cookware set
View On Amazon
View On Walmart
Having tried out the Optimus Crux Lite Solo cook system during a recent bikepacking adventure, we can confidently say it's our top pick for the best camping stove for bikepacking.
The compact and lightweight design didn't add much heft to our gear, making it an ideal choice for those who prioritize space and weight.
The powerful burner allowed us to boil water in as little as three minutes, making the preparation of our meals efficient.
The included 0.6-liter hard-anodized aluminum saucepan and frying pan were sufficient for our cooking needs, although the saucepan could be small for some riders depending on their meal plans.
However, we found the small size of the pot suitable for ultralight camping and bikepacking.
One downside is the lack of a canister stand included in the set. While this wasn't a deal-breaker for us, it's worth noting that you'll need to purchase one separately for added stability.
As for lighting the stove, you'll need a separate lighter or ignition device, but this is a minor inconvenience compared to the stove's overall performance.
When using the stove, we noticed that the flame was exposed to wind, potentially impacting its efficiency in certain weather conditions. Despite this, the Crux Lite remained our go-to choice for bikepacking, and we wouldn't hesitate to use it again on future trips.
Best for Solo Riders
Pros:
Easy to use

Ultra-efficient windproof radiant burner

System nests components for easy packing

Lid makes pouring liquid mess-free
Cons:
No built-in igniter

Heavy

Excludes IsoPro fuel canister

Can't be used with traditional cookware
View On Amazon
The MSR WindBurner Stove is best for solo riders with its integrated cook pot design.
One of the main advantages of this stove is how compactly it packs away. The components nest perfectly inside the pot, leaving enough room for a 4-ounce IsoPro fuel canister (sold separately).
This space-saving feature is crucial for those who have limited storage on their bikes. 
It is compatible with various WindBurner cookware (so you need to invest in MSR's specific line of products), including the 1.0-liter personal pot and the optional 1.8-liter duo pot, which offers multiple cooking options depending on the size of your group.
The enclosed windproof design and radiant burner ensure consistent and efficient performance. This also makes it perfect for bikepackers often exposed to windy conditions.
However, it's essential to consider the MSR WindBurner's shortcomings. Firstly, it does not come with a built-in igniter, which means you must carry an alternative means of ignition. Secondly, it is a tad heavier than competitors at 1.3lbs.
Lightest Stove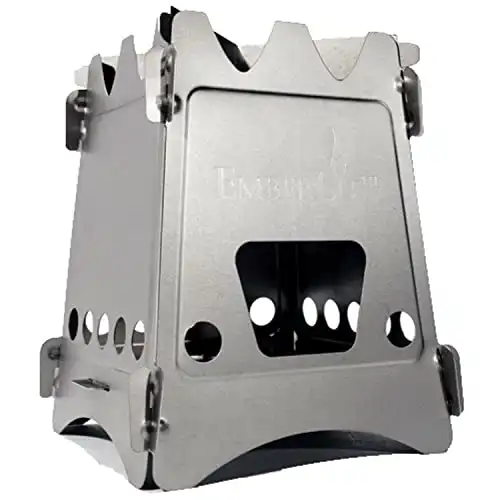 Pros:
Remarkably lightweight

Folds flat for easy storage

Quick cooling
Cons:
Manual assembly

Longer cook times

Temperature can vary greatly
View On Amazon
View On Walmart
This stove is ideal for bikepackers looking to cut down on weight without sacrificing the ability to cook a warm meal at the end of the day.
It can be broken into a slender bag and slipped almost unnoticeably into a pack. It is small enough to fit in a back pocket. It's extremely lightweight at 0.36lbs.
The camping stove can utilize alcohol or wood as fuel. Both fuel types are widely available. 
It's constructed of titanium that blocks the flame and coals within the stove from wind and water. While we did find that the individual panels might warp slightly after extended use, this never hindered our ability to assemble or use the stove effectively.
The Emberlit Titanium Compact Design is also quick-cooling. If you are taking part in a bikepacking race where you want to move on quickly, this is a convenient feature.
One drawback is that the cooking time and temperature consistency can vary with this stove. It can take up to 10 minutes to boil water. Additionally, it requires manual assembly. While we found the process straightforward, it might take longer than other stove models.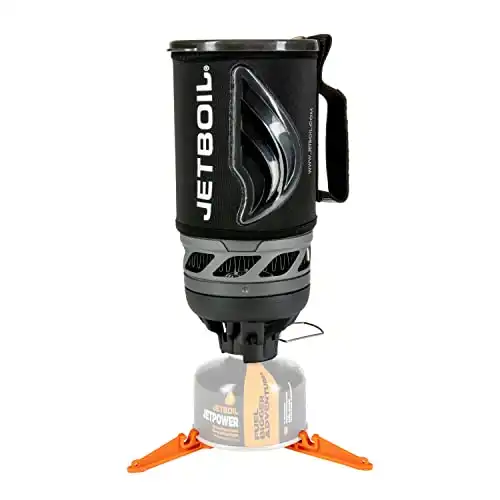 Pros:
Thermochromatic color-changing sleeve

Boils water in 100 seconds

Compact

Reliable ignitor

Easy pour lid
Cons:
Skillet not included

Igniter may wear out over time

Fuel canisters may be expensive to ship
View On Amazon
View On Walmart
The JetBoil Flash Stove is a cooking system stove. Its portable and lightweight design is great for any bikepacking trip, as it easily fits into your bag without adding significant weight.
The stove works with the included 1-liter cook pot or JetBoil's skillet. It also features a convenient pushbutton igniter and can use butane, isobutane, and propane canisters with an EN417 nozzle.
The stove can heat water in 100 seconds or less, making it quick and efficient for your time on the trails.
It's been designed so that the lid makes it easy to pour water out of. This is ideal for heating water for instant meals or a hot drink. The sleeve around the cook pot has a heat indicator letting you know when your water is ready.
Accessories help you get the most out of the JetBoil Flash Stove. There is a coffee press so you can make coffee on the go. Pretty handy first thing in the morning! JetBoil also offers a skillet and cooking utensils at an extra cost.
However, there are a few downsides to the Jetboil Flash. Some bikepackers have noted that the fuel canisters can be quite expensive to ship.
Additionally, the igniter is known to wear out over time – though this was not an issue for us during our experience with the product. Lastly, the Jetboil Flash may not be as versatile as other stoves when it comes to cooking various meals.
This innovative camping stove from BioLite is for eco-friendly bikepackers who enjoy cooking meals using renewable biomass resources like twigs, sticks, and pinecones! However, be prepared to dedicate more time and effort to gathering fuel and maintaining the fire. 
The stove not only burns these materials efficiently but also generates electricity to charge your devices, making it a valuable addition to your bikepacking gear.
One of the outstanding features of the CampStove 2+ is its ability to convert heat into electricity and store it in a built-in battery. This means you can charge your smartphone, headlamp, or other USB-compatible devices even when the fire isn't burning.
Plus, the included 100-lumen LED FlexLight illuminates your surroundings while you cook.
The stove packs down to the size of a 32-ounce wide-mouth water bottle and weighs just over 2 pounds. Additionally, this stove might not be the best option for preparing intricate meals.
How To Choose The Best Bikepacking Stove
In this buying guide, we'll walk you through the key features to consider when choosing the best camping stove for bikepacking adventures.
Fuel
Camping stoves come with a variety of fuel types. Wood, alcohol, kerosene, propane, butane, isobutane mixes, white gas, and gasoline fuel canisters can all be used in camping stoves.
Fuel choice is important. I once spent twenty-one days bikepacking in Alaska during their rainy season. I would not have wanted to fuel my cooking system with wood on that adventure!
If I had my fire, it would have been a struggle to start. That's the last thing I want to deal with after hours of pedaling!
Alcohol is versatile and easy to come by. White gas and gasolene stay lit in the cold. I've struggled to keep white gas lit on windy days without a good windbreak. 
Some fuels are cleaner than others. Gasoline and kerosene are not as environmentally friendly as other fuel options. Fuel canisters with propane, butane, and isobutane mixes are convenient and mess-free, but they can be heavy and bulky.
Here are the pros and cons of using stoves fueled by each:
Wood-Burning Stoves
Pros
Fuel can be found as you go
No or low cost for fuel
Very compact, they often fold flat
Cooks cleanly
Can be used with a variety of cookware
Available in several sizes
Cons
Not the best in wet conditions
Can be hard to find in some areas
Longer cook times than other fuels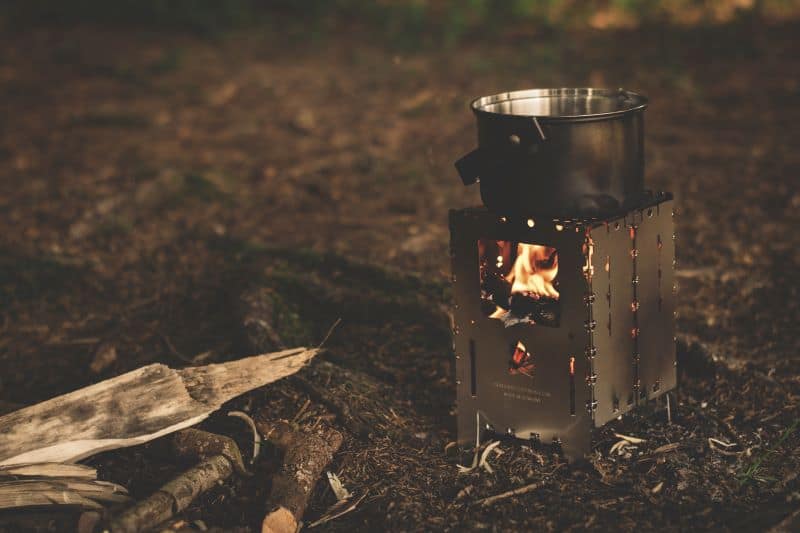 Alcohol Camp Stoves
Pros
Widely available fuel
Fairly Clean
Can be transported in a variety of containers
Cons
Liquids can leak
Cook times can be lengthy
Does not do well in cold
White Gas Camp Stoves
Pros
Clean compared to other fuels
Liquid and able to transport in a variety of containers
Cold-tolerant
Cons
Can be hard to find in some locations
Hard to keep lit in windy conditions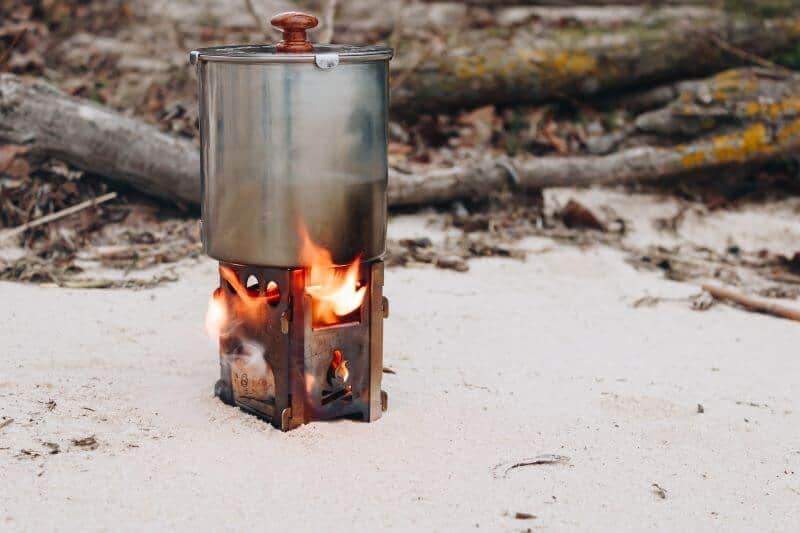 Gasoline Stoves
Pros
Available on the road
Very capable in freezing conditions
Liquid can be transported in a variety of contains
Cons
Not as clean as other fuel options
Extremely flammable 
Kerosene Stoves
Pros
Can be transported in different-sized canisters
Available at most camping and hardware stores
Cons
Dirty and can clog your fuel system
Slow to cook in cold temperatures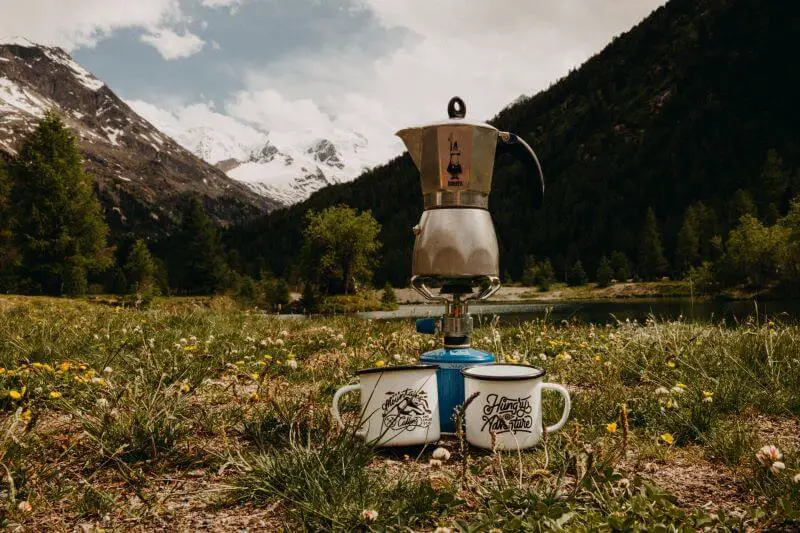 Canister Stoves (Propane, Butane, Isobutane)
Pros
Won't leak in your bags
Easy to use
Propane can work well in cold
Cons
Difficult to purchase in some locations
Butane and Isobutane are not reliable in cold conditions
Bulky
Group Size
The size of your meals can impact your stove choice.
As a single bikepacker, a smaller stove like the MSR WindBurner is ideal. If you're bikepacking with friends and cooking community meals, your stove should be able to make bigger dishes. 
I once encountered a family of six bikepacking the White Rim Trail in Canyonlands National Park. Their camping stove would have differed greatly from the small canister stove I had tucked away in my panniers!
Some camp stoves come with cookware integrated into the setup. They come with a pot that fits perfectly on the stove's burners. You can't use a traditional skillet or saucepan with these stoves. They are great for heating water for freeze-dried meals or soup.
Other camp stoves allow you to use your own cook pots and pans. Cooking meals, family-style, often requires this versatility. Your group size will help you determine what kind of cookware you want to use on your camping stove as well.
Climate and Weather
Think about the climate and weather you plan on bikepacking in.
Will you ride the lush trails of Olympia National Park or through the dry Sonoran Desert? Are you going to Alaska to ride the Iditoriad on your fat bike? 
This will help you determine the best camping stove for bikepacking. Is it going to be hot or dry where you travel? Do you plan on exploring an area with frequent rain? Do you want to use your camping stove in the winter?
Some fuels and systems are not as efficient in wet or cold conditions.
Butane, isobutane mixes, propane, and alcohol are harder to use in freezing temperatures. Dry twigs might be harder to scavenge in wet climates like the rainforest or Pacific Northwest. Twigs to fuel your fire may be completely non-existent in the Arctic or sand!
On the other hand, highly flammable fuels like gasoline are not best to use in dry and windy conditions. You don't want your cookstove to start a forest fire!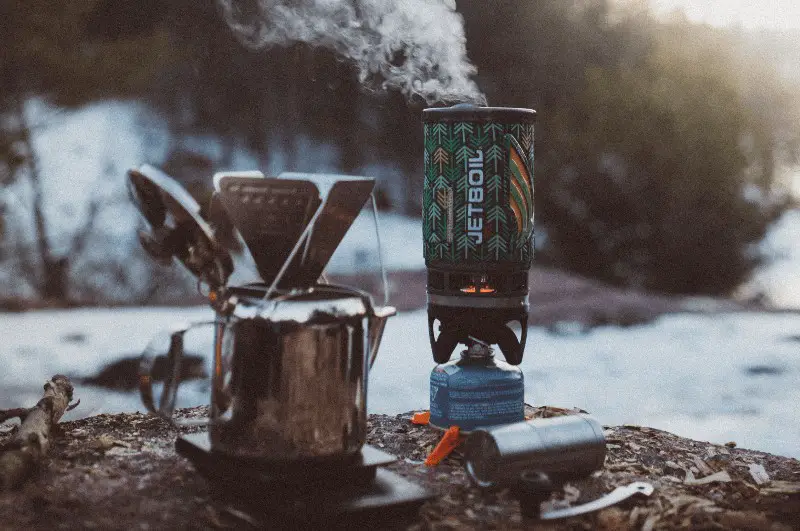 Attributes To Help Differentiate The Best Stove For Bikepacking
Cookware Compatibility
Not all camping stoves can use a skillet or small saucepan. Please note that some products only work with cookware from the manufacturer!
Most cooking systems do not come with a skillet, but a skillet that works with the system may be available for an additional cost. Companies offer accessories to improve and create versatility as well.
Bikepackers who want to use their own saucepan or skillet will want to look at camping stoves that can be used without a specific container.
Wood burning, white gas, and propane stoves often allow campers to use their own cookware. The size of the cookware you can use with a camping stove of this type can vary. If the stove's surface is too small, it cannot balance larger cookware!
Temperature Adjustment & Performance
Controlling the temperature as you cook can make or break a meal. Not all camping stoves give you this ability.
I've found some stoves easy to dial in. Others take more focus and attention to ensure they are creating the heat I desire to bring my meal to a boil or reduce to a simmer. 
As for cooking performance, think about the meals you'll be preparing. If you're mostly going to rehydrate pre-packaged meals, boiling water quickly is essential, and a stove with a fast boil time is ideal.
On the other hand, if you prefer cooking meals from scratch, a stove with simmer control will provide more versatility for various recipes.
If you're unsure what to eat on your bikepacking trip, check out these meal ideas for inspiration.
Size And Shape 
People come in all shapes and sizes. Stoves do, too 😄.
Some stoves can fold up and flatten out. They are slim and sleek. They fit in the back of a pannier or flat against the side of your frame bag. Some stoves break down into pieces. They need to be carefully assembled.
Some stoves take up more space not only because of their shape but also because of their fuel consumption or the canister needed to carry fuel for them. Canisters can be bulky and heavy compared to other fuels.
So, it's important to think about the space you have for your stove and fuel!
Budget
Last but not least, think about your budget. Thankfully, there are affordable options available for those bikepacking on a budget.
While it's essential to invest in a quality stove that will last, you can still find fantastic options that won't break the bank.
Things To Consider When Cooking A Bikepacking Meal 
Cooking a warm meal on a bikepacking adventure is a rewarding and pleasurable experience. Here are pointers to make cooking trailside safe and fun:
Make sure your cooking space is free of flammable material. You don't want to catch a bed of pine needles on fire below your stove. Forest fires have begun from cookstoves!
Use a wind barrier such as aluminum to block the wind. This helps keep your stove hot and decreases your cooking time.
Properly dispose of empty fuel canisters if you are using propane, butane, or isobutane canisters. Usually, forest service offices, campgrounds, and transfer stations offer disposal of these products.
Pack it in. Pack it out. Don't leave food remains on the trail. Items like eggshells and orange peels don't break down quickly.
Meal Ideas For Bikepackers
Bikepacking meals don't have to be boring! Several brands offer instant meals for camping and bikepacking. All you have to do is add hot water to the pouches, wait a few minutes, and your meal is ready.
One-pot meals with dehydrated or canned meats and grains like rice and pasta are another option for bikepackers. These meals require more work as you plan and prepare your meals. They require you to carry more ingredients and spices to flavor your meal.
Below is a video with an idea for a one-pot bikepacking meal: