Have you ever brewed a coffee or cooked a warm meal trailside? This is one of my favorite parts about bikepacking. I love the smell of seasoned rice simmering after a hard day of riding. The warmth in your belly, drinking a coffee on a winter fat bike expedition is amazing. To make either of these experiences a reality, you need a camping stove that is efficient and reliable.
The best camping stove for bikepacking may not be the same for everyone. There are a lot of factors to consider before you choose the best one for your bikepacking setup.  We looked at five of the best camping stoves for bikepacking and what makes them top-notch, in this roundup.
Need a quick answer? The overall best camping stove for bikepacking is the Overall, Optimus Crux Lite. It rated highly in all attributes – light, affordable, and versatile.
How To Choose The Best Camping Stove For Bikepacking
There are several things you should consider when choosing the best camping stove. One stove may not be the best for all bikepackers. Fuel, group size, cookware, and climate are all things to consider in your search for the best camping stove for bikepacking.
Fuel
Camping stoves come with a variety of fuel types. Wood, alcohol, kerosene, propane, butane, isobutane mixes, white gas and gasoline fuel canisters can all be used in camping stoves.
Fuel choice is important. I once spent twenty-one days bikepacking in Alaska, during their rainy season. I would not have wanted to fuel my cook system with wood on that adventure. If I had my fire it would have been a struggle to start. That's the last thing I want to deal with after hours of pedalling!
Alcohol is versatile and easy to come by. White gas and gasolene stay lit in the cold. I've struggled to keep white gas lit on windy days without a good windbreak. 
Some fuels are cleaner than others. Gasoline and kerosene are not as environmentally friendly as other fuel options. Fuel canisters with propane, butane, and isobutane mixes are convenient and mess free, but they can be heavy and bulky.
Here are the pros and cons to using stoves fueled by each of these.
Wood-Burning Stoves
Pros
Fuel can be found as you go
No or low cost for fuel
Very compact they often fold flat
Cooks cleanly
Can be used with a variety of cookware
Available in several sizes
Cons
Not the best in wet conditions
Can be hard to find in some areas
Longer cook times than other fuels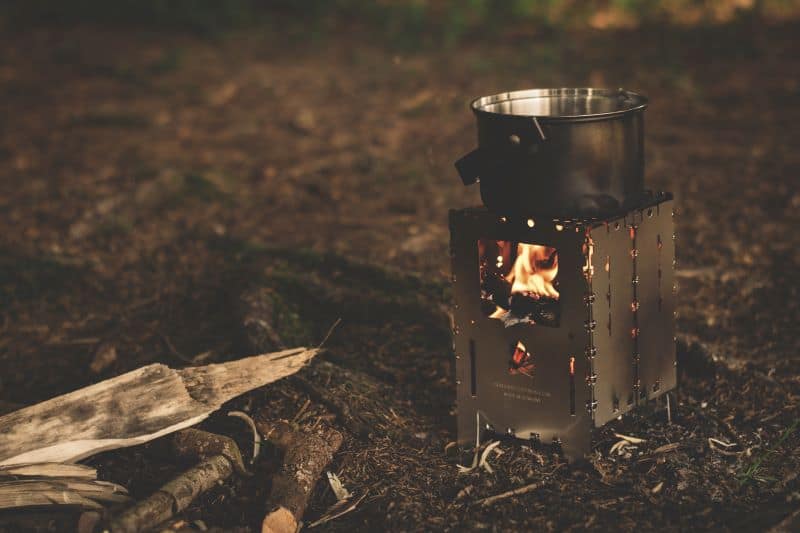 Alcohol Camp Stoves
Pros
Widely available fuel
Fairly Clean
Can be transported in a variety of containers
Cons
Liquids can leak
Cook times can be lengthy
Does not do well in cold
White Gas Camp Stoves
Pros
Clean compared to other fuels
Liquid and able to transport in a variety of containers
Cold-tolerant
Cons
Can be hard to find in some locations
Hard to keep lit in windy conditions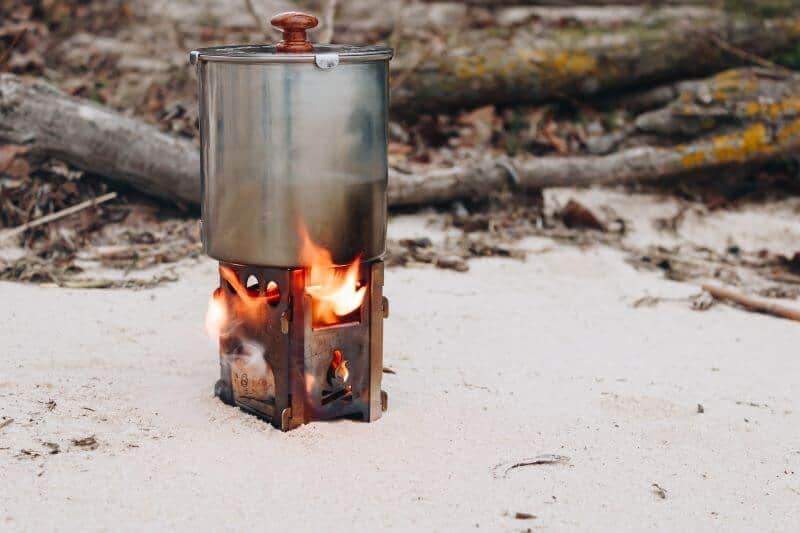 Gasoline Stoves
Pros
Available on the road
Very capable in freezing conditions
Liquid and can transported in a variety of contains
Cons
Not as clean as other fuel options
Extremely flammable 
Kerosene Stoves
Pros
Can be transported in different sized canisters
Available at most camping and hardware stores
Cons
Dirty and can clog your fuel system
Slow to cook in cold temperatures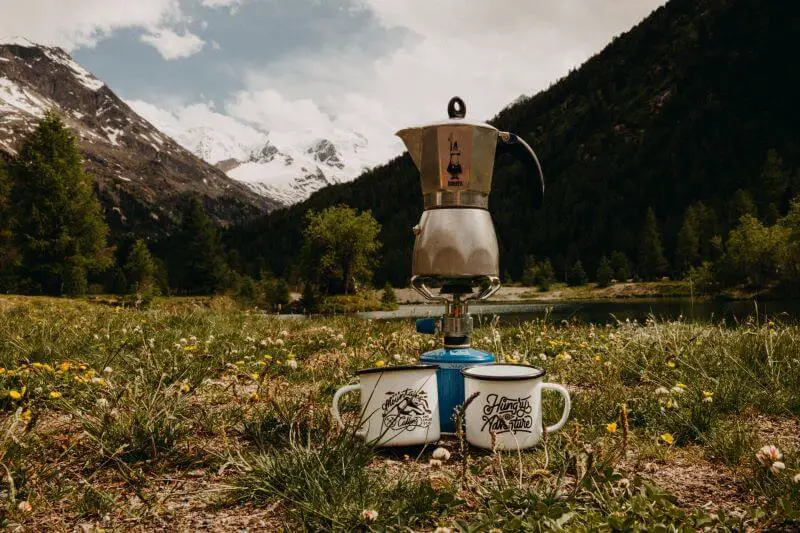 Canister Stoves (Propane, Butane, Isobutane)
Pros
Won't leak in your bags
Easy to use
Propane can work well in cold
Cons
Difficult to purchase in some locations
Butane and Isobutane are not reliable in cold conditions
Bulky
Group Size
The size of your meals can impact your stove choice. As a single bikepacker, a smaller stove set up that has a one-man pot is ideal. If you're bikepacking with a group of friends and cooking community meals your stove should have the capacity to make bigger dishes. 
I once encountered a family of six bikepacking the White Rim Trail in Canyonlands National Park. Their camping stove would have been very different from the small canister stove I had tucked away in my panniers!
Some camp stoves come with cookware integrated into the setup. They come with a pot that fits perfectly on the stove's burners. You can't use a traditional skillet or saucepan with these stoves. They are great for heating water for freeze-dried meals or soup.
Other camp stoves allow you to use your own cook pots and pans with them. Cooking meals family-style often requires this versatility. Your group size will help you determine what kind of cookware you want to use on your camping stove as well.
Climate and Weather
Think about the climate and weather you plan on bikepacking in. Are you going to ride the lush trails of Olympia National Park or through the dry Sonoran Desert? Are you going to Alaska to ride the Iditoriad on your fat bike? 
This will help you determine the best camping stove for bikepacking. Is it going to be hot or dry where you travel? Do you plan on exploring an area with frequent rain? Do you want to use your camping stove in the winter?
Some fuels and systems are not as efficient in wet or cold conditions. Butane, isobutane mixes, propane and alcohol are harder to use in freezing temperatures. Dry twigs might be harder to scavenge in wet climates like the rainforest or Pacific Northwest. Twigs to fuel your fire may be completely non-existent in the arctic or sand!
On the other hand, highly flammable fuels like gasoline are not best to use in dry and windy conditions. You don't want your cookstove to start a forest fire!
Overall, fuel, weather and climate, and group size are all factors you should consider before choosing the best camping stove for bikepacking. If you forget to consider one of these features you may struggle with your camping stove!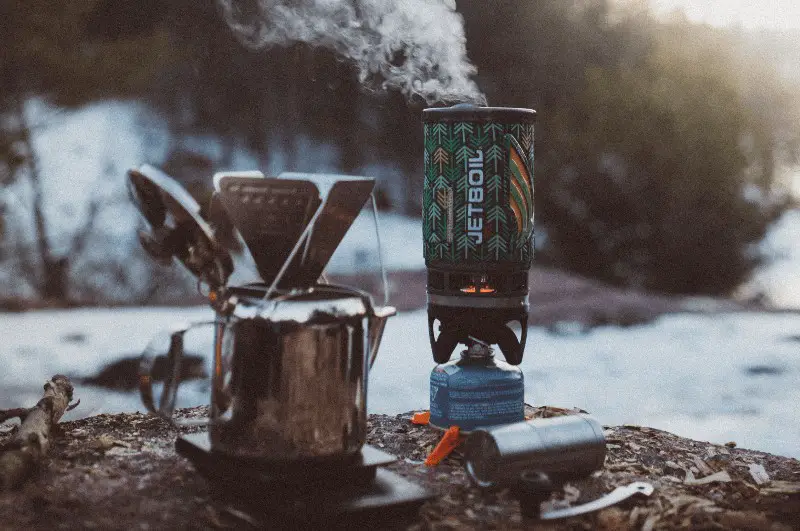 Attributes To Help Differentiate The Best Camping Stove For Bikepacking
Cookware Compatibility
Not all camping stoves can use a skillet or small saucepan. Please note that some products only work with cookware from the manufacturer! 
Cooking systems are widely available online or in camping stores. As mentioned, they also come in a variety of sizes. There are cooking systems compatible with cookware under 1 liter. Others are 5 liters. This is where group size is important. If you are travelling solo 1 liter is plenty big for most one-pot meals. 
Most cooking systems do not come with a skillet, but a skillet that works with the system may be available for an additional cost. Companies offer accessories to improve and create versatility as well.
Bikepackers that want to use their own saucepan or skillet will want to look at camping stoves that can be used without a specific container. Wood burning, white gas, and propane stoves often allow campers to use their own cookware. The size of the cookware you can use with a camping stove of this type can vary. If the stove's surface is too small it cannot balance larger cookware!
Temperature Adjustment
Controlling the temperature as you cook can make or break a meal. Not all camping stoves give you this ability. I've found some stoves easy to dial in. Others take more focus and attention to ensure they are creating the heat I desire to bring my meal to a boil or reduce to a simmer. 
In some camping stoves you need to constantly feed fuel to it. Other systems allow fuel to flow through the system and heat your stove until your meal is ready to devour.
Charging Capabilities
Did you know that some stoves can turn heat into energy to charge your phone or cycling computer? Crazy or brilliant? I have always carried a small solar panel to charge my devices bikepacking. A stove with charging capabilities lightens the load by removing the solar panel from my gear setup!
Size And Shape 
People come in all shapes and sizes. Stoves do too 😄. Some stoves can fold up and flatten out. They are slim and sleek. They fit in the back of a pannier or flat against the side of your frame bag. Some stoves break down into pieces. They need to be carefully assembled. 
Some stoves take up more space not only because of their shape but also because of their fuel consumption or the canister needed to carry fuel for them. Canisters can be bulky and heavy compared to other fuels. So, it's important to think about the space you have for your stove and fuel!
Related Article: Bikepacking Budget – Money Saving Tips!
Things To Consider When Cooking A Bikepacking Meal 
Cooking a warm meal out on a bikepacking adventure is a rewarding and pleasurable experience. Here are pointers to make cooking trailside safe and fun:
Make sure your cooking space is free of flammable material. You don't want to catch a bed of pine needles on fire below your stove. Forest fires have begun from cook stoves!
Use a wind barrier such as aluminum to block the wind. This helps keep your stove hot and decreases your cook time.
Properly dispose of empty fuel canisters, if you are using propane, butane or isobutane canisters. Usually forest service offices, campgrounds, and transfer stations offer disposal of these products.
Pack it in. Pack it out. Don't leave food remains on the trail. Items like egg shells and orange peels don't break down quickly.
Meal Ideas For Bikepackers
Bikepacking meals don't have to be boring! There are several brands that offer instant meals for camping and bikepacking. All you have to do is add hot water to the pouches, wait a few minutes and your meal is ready to eat. Your camping stove just needs the ability to heat water on the go.
One pot meals with dehydrated or canned meats and grains like rice and pasta are another option for bikepackers. These meals require a little more work as you plan and prepare your meal. They require you to carry more ingredients and spices to flavor your meal.
Below is a video with an idea for a one pot bikepacking meal:
Reviews Of The Best Camping Stove For Bikepacking
The JetBoil Flash Stove is a cooking system stove. The stove can use butane, isobutane, and propane canisters with an EN417 nozzle. It lights easily with a press-button ignitor. The stove works with the included 1 liter cook pot or JetBoil's skillet.
The stove can heat water in 100 seconds or less. The opening in the lid makes it easy to pour water out of. This is ideal for heating water for instant meals or a hot drink. The sleeve around the cook pot has a heat indicator letting you know when your water is ready.
Accessories help you get the most out of the JetBoil Flash Stove. There is a coffee press so you can make coffee on the go, pretty handy first thing in the morning! JetBoil also offers a skillet and cooking utensils, at an extra cost.
The fuel canister and stove stand fit in the cookpot. The bottom cover can also serve as your measuring cup or bowl. This setup is compact and best for solo bikepackers.
---
The MSR WindBurner Stove is best for solo riders. It has an integrated cook pot. The sleeve around the pot protects riders from burning themselves. It has a lid with an easy-to-pour from and mess free opening. The stove comes with a cup for measuring ingredients out. The cup can be used as a bowl too! The stove, fuel, and stand all pack together. This stove is super compact, but a tad heavier than competitors at 1.3lbs.
The MSR Windburner Stove features a radiant burner that uses both radiant and convective heat. It's fueled by 4 oz. isobutane canisters. It's efficient in most weather. It will work in wet conditions but can struggle in the cold. A cover blocks the heat from wind ensuring unnecessary heat loss doesn't occur.
MSR offers a few bolt-on accessories for this stove. This includes the skillet, hanging kit, and coffee press. It is ideal for simple one-pot meals or heating water for instant meals.
---
The Emberlit Titanium Compact Design is versatile and sleek. It can be broken down into a slender bag and slipped almost unnoticeably into a pack. It is small enough to fit in a back pocket.  It's extremely lightweight at 0.36lbs.
The camping stove can utilize alcohol or wood as fuel. Both fuel types are widely available. It's constructed of titanium that blocks the flame and coals within the stove from wind and water. The Emberlit Titanium Compact Design is also quick-cooling. If you are taking part in a bikepacking race where you want to move on quickly, this is a convenient feature.
The fuels for this stove are incredibly clean burning, however alcohol does not perform that well in the cold. You'll need to ensure that wood is also abundant in the areas you're bikepacking.
One drawback is that the cook time and temperature consistency can vary with the Emberlit Titanium Compact Design. It can take up to 10 minutes to boil water. The stove does not include cookware to use with it. A saucepan or skillet can easily be used with it.
---
The BioLite Campstove 2 is a wood-burning stove that can also generate energy to fuel your phone or devices with battery life. The BioLite Camp Stove has internal jets that help circulate the air, which helps improve combustion.
There are light sensors that show the fan speed temperature and battery's capacity. The battery bank can be charged to store 2600mAh for charging your devices. A gooseneck light is included with the stove that's powered by plugging it into the USB. Pretty handy to have a light to help cook sometimes!
The stove is constructed out of aluminum. The legs fold up for transport. It is the heaviest on our top list of stoves at over two pounds. Stove efficiency also holds up quite well, boiling water in 4.5 minutes.
Please note that wet areas and areas with little vegetation may not be the best for this stove.
---
The Optimus Crux Lite is a compact cook system. It includes a stove fueled by propane, butane or isobutane canisters, cookware, and a storage bag. If you're looking for very compact and very light, look no further.
The stove comes complete with a saucepan and fry pan. The fry pan also doubles as the lid. The saucepan has a capacity of 0.6 liters. The cook set fits snugly together in the storage bag with the fuel for easy transport. Overall, it does feel very small and cramped though.
One advantage is that this is flexible enough to be used with cookware that is not included in the set.
The stove is easy to operate and light, but does not have an ignitor button. Performance wise, it can boil a liter of water in about three minutes. The stove does not include a windblock but you can easily make one with foil and store it with the cook set.
---
Conclusion
The best camping stove for bikepacking can vary depending on how you use it on your bikepacking trip.
Overall, the best camping stove for bikepacking is the Optimus Crux Lite. Of all the stoves reviewed it is light, affordable, and versatile. It comes with a light and compact saucepan and frying pan setup. Ideal for a solo bikepacker that wants to expand their menu beyond freeze-dried meals! You can also easily switch out your cookware and you can help feed a group. Helpfully, it's also quick to boil in any temperature with the right fuel.
The other stoves in this roundup were close contenders. The JetBoil Flash has similar versatility but lacks the included frying pan. The MSR Windbreak and BioLite Campstove 2 are on the heavier side. The BioLite uses wood only. This can be hard to find and can dampen your ability to cook if it rains.