When I started riding, any athletic shoe seemed to work for pedaling those short and enjoyable rides. I figured I would slowly add accessories and equipment to my rides as needed. And it worked out well until the day I encountered some muddy trails.
The caked-on mud dried and made it nearly impossible to remove my shoes. I thought, "If I ever get serious about mountain biking long distances." I need to get some more appropriate shoes. That's when I started to look seriously into my bike riding shoes.
The fast, short answer to whether trail running shoes can be used for mountain biking is yes!
Trail running shoes work great for mountain biking when used for short rides in reasonably dry conditions and with platform pedals where you may need your foot to balance or occasionally push off from the ground. However, there is a reason for the specific shoe designated for a particular sport.
If you are plunging full force into mountain biking, special shoes designed to provide good grip, comfort, and support can make all the difference in performance. They will be well worth the investment. Otherwise, any comfortable shoe is generally acceptable.
It's usually a good idea for beginner cyclists to wear the most comfortable shoe they feel. Some early riders find the possibility of getting their shoe stuck on the pedal terrifying. Specially designed mountain biking shoes are also more expensive.
On the other hand, experienced mountain bikers often find that shoes designed specifically for mountain biking have a lot of benefits. If you want to make a considerable commitment to mountain biking and rarely walk on trails, it may be time to invest in some mountain biking shoes.
Difference Between Trail Running Shoes And Mountain Biking Shoes 
First, it's essential to understand what makes trail running shoes different from regular running shoes.
Generally speaking, trail running shoes are designed to handle rougher terrain. Regular running shoes are intended to support the foot and ankle while running on harder and smoother surfaces.
In 2019, the American Trail Running Association reported that 83% of runners wore trail-specific shoes during training. If trail running shoes are essential for runners, mountain biking shoes must also have a purpose for riding.
Trail Running Shoes 
Trail running shoes are typically stiffer through the mid-soles to offer more support on rugged trails or uneven surfaces. Some provide rock plates between the mid-soles and out-soles to help protect against sharp objects encountered on a hiking trail.
Related article – Can You Use Hiking Shoes For Mountain Biking?
Mountain Biking Shoes 
As the name implies, mountain biking shoes are specially designed for use while mountain biking.
Mountain biking shoes come in two basic styles:
clipless, those that use cleats
flat, those that don't use cleats
Within these choices, they range from super stick to lightweight or rugged. Also, the closure systems range from dial, lace, or hook-and-loop.
Deciding which type is best often comes down to a matter of personal preference as well as what kind of mountain biking they are used for.
Related article – Are Mountain Bike Shoes Worth It?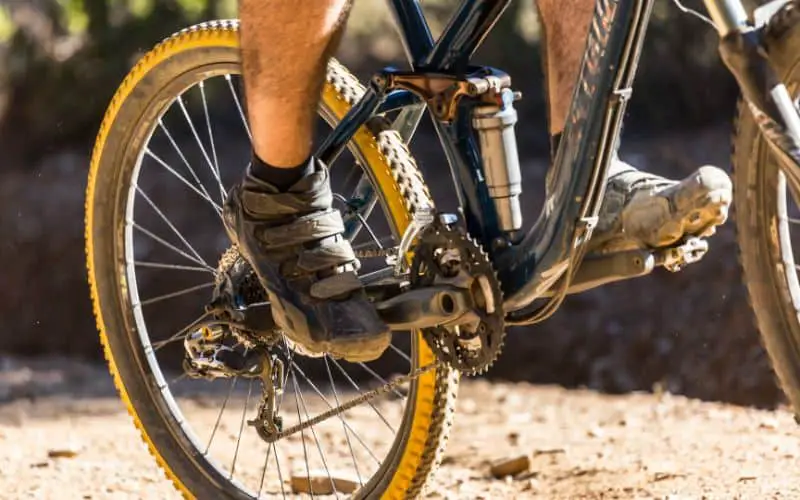 Clipless Shoes
Clipless shoes enable more efficient climbing with more control and better power transfer.
Clipless pedals are named as such because they initially replaced a toe-clip pedal. A clipless shoe has a plastic, or a metal piece on the base called a cleat, which clips into a reciprocal clipless pedal.
If you are a beginner or terrified at the thought of being locked onto your bike, hold off on considering a clipless pedal.
Flat Shoes
The flat-style mountain biking shoes are skate-style with a sticky rubber sole for better grip. Flat shoes are used with flat pedals and are not locked onto the pedal.
Additional Styles
Cross-country mountain biking shoes look more like road shoes. Trail/Enduro shoes are heavy-duty and intended to withstand rugged conditions.
Benefits Of Mountain Biking Shoes
The general benefits of mountain biking shoes include:
Mountain biking shoes provide a better grip on pedals that help you keep your footing while riding on rough terrain and are very comfortable for riding. Mountain biking shoes are perfect for cycling for several hours or long distances.
These specially designed biking shoes have a stiff midsole that provides better energy transfer. Better energy transfer allows you to ride faster. They also have a better grip on the pedal to prevent your foot from sliding off with your foot attached to the pedal. The cleats keep your foot from bouncing on the pedal on drops or jumps.
In mountain biking shoes, your foot is protected from sharp rocks and branches, and most are water resistant.
Mountain biking shoes tend to last between 500 and 1,000 miles.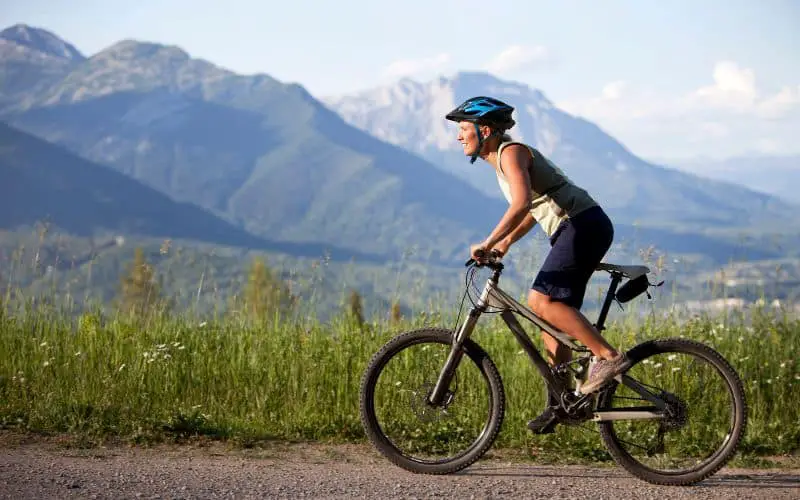 Benefits of Trail Running Shoes
As the name implies, trail running shoes provide a better grip on the trail or ground. They are lightweight, comfortable, and easy to use. They also tend to be less expensive than specially designed mountain biking shoes.
They are also excellent if the trail requires spots where getting off and carrying the bike is necessary. Or, maybe you want to hike part of the trail or head off the biking trail to see a waterfall or other sites.
If you are not trying to break a record time or train for a race, trail running shoes can work well and typically last between 300 and 500 miles. 
Disadvantages Of Wearing Trail Shoes For Mountain Biking
While trail shoes are perfectly acceptable to wear for beginner riders or those who ride for pleasure, there are some disadvantages to wearing trail shoes for mountain biking.
Trail shoes provide:
Less grip on pedals causes the foot to slide off and make falling likely
Banging shins on the pedal without proper protection
Damage the out-soles of the trail shoes
Reduced energy transfer to the pedal because of the soft mid-sole making it more difficult to speed up or climb hills
They tend not to be very water resistant
The tread of a trail running shoe is intended to help grip dirt or rocks but not a bike pedal. They tend to have a significant, deep impression instead of a flat sole. These ridges don't sit well on a flat pedal and can easily slip off
The flat pedals are designed to grip shoes and can shred the lugs off of trail running shoes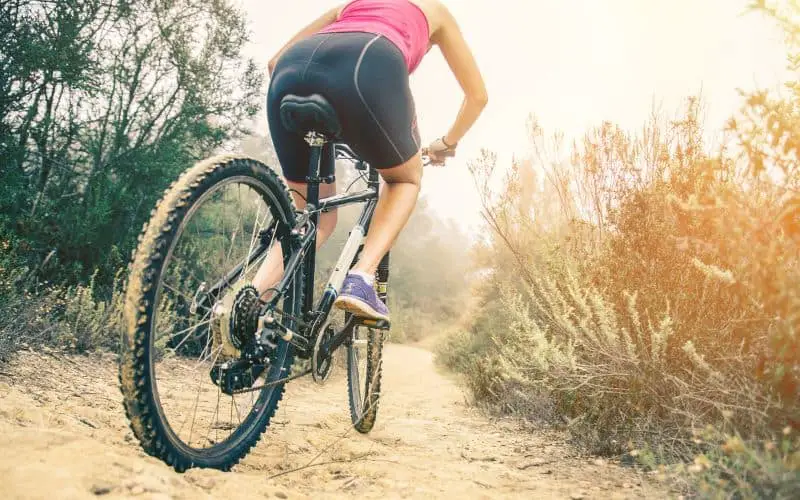 Reasons To Consider Mountain Biking Shoes
It is time to consider mountain biking shoes if:
You ride your bike several times a week for 10 miles or more each time.
You go mountain biking as a sport
If you're biking in muddy, wet, or cold conditions, mountain biking shoes will protect your feet better from water and cold 
What To Look For In A Mountain Biking Shoe
When you choose mountain biking shoes, the shoe must match the pedal. If you want a clipless shoe, you must have a clipless pedal. If you don't want to be clipped into the pedal, consider a flat shoe that grips the pedal but is not attached, making for an easier dismount.
Follow these tips when shopping for mountain biking shoes:
Look for a mountain biking shoe with grip treads to sit on a flat pedal, providing as much contact with the pedal surface as possible
Find a shoe that keeps your feet stable with solid support around the ankles
Find shoes that are water resistant, especially if you ride in muddy conditions
Find shoes that offer a lace-less system to prevent laces from getting caught in the drive train or clogged with mud
Mountain biking shoes are excellent for technical trails or jumps. However, if your rides are long-distance or cross-country, consider changing your pedals and shoes to work with a clipless pedal.
You may also like to read Gravel Bike Vs Mountain Bike – Best For Off Road Riding?