Are you tired of boring, silent rides on your bike? Do you want to add some excitement to your cycling routine? Look no further than the world of cycling headphones.
These headphones not only provide a soundtrack for your ride, but they also offer safety features and comfort that are tailored to your cycling needs.
In this article, we'll explore the top 5 cycling headphones on the market, so you can choose the perfect pair to take your cycling experience to the next level. Get ready to pedal to the beat with our list of the best cycling headphones!
Remember to take all the safety precautions to minimize risk to yourself and others on the road.
In A Rush? Here Are Our Top Picks…
If you're looking for a great pair of headphones to ride safely with, check out the few options highlighted below!
Pros:

Great sweatproof rating of IP57

Very sleek package with a small case

Comfortable in-ear rubberized design

Pros:

Bone conduction technology keeps you aware of your surroundings

Comfortable and secure fit, ideal for cycling

Durable and weather-resistant design

Pros:

Great fit and is very stable in your ear with the ear hook

Best battery-life headphones
Top Pick
Pros:
Great sweatproof rating of IP57

Very sleek package with a small case

Comfortable in-ear rubberized design
Safest Headphones
Pros:
Bone conduction technology keeps you aware of your surroundings

Comfortable and secure fit, ideal for cycling

Durable and weather-resistant design
Best Battery Life
Pros:
Great fit and is very stable in your ear with the ear hook

Best battery-life headphones
The Best Cycling Headphones Roundup
Top Pick
Pros:
Great sweatproof rating of IP57

Very sleek package with a small case

Comfortable in-ear rubberized design
Cons:
Mediocre microphone quality

Buttons are a bit sensitive
View On Amazon
View On Walmart
The Jabra Elite 75t was launched in 2019 and received very good reviews.  The "Active" version takes this as a starting base and improves it even more for fitness folks!  The earbuds themselves are quite small and light (0.19 ounces), but surprisingly good fit in most ears due to the silicone/gel tips.  The way these sit in your ears should provide ample space for any helmet.
There's nothing to be concerned about in regard to the sound quality of the Elite Active 75t. These are definitely on the top end of the market in terms of sound quality for wireless earbuds. Another great feature of the Jabra's for cyclists is the HearThrough mode. It is a 4-microphone system that picks up the ambient sound and allows you to be more mindful of your surroundings as you ride.  Finally, these headphones also integrate well with various digital assistants (Alexa, Siri, or Google Now).
In terms of battery life, Jabra claims that you will get 7.5 hours on a single charge and a total of 28 hours with the charging case.  The earbuds also automatically turn off after an hour of inactivity or 15 minutes without connection to save battery life as well.
Jabra has mentioned that these are fully waterproof and sweatproof with an IP57 rating. This means they will be VERY durable during the sweetest or stormiest of rides.  They even back it up with a 2-year warranty against dust and sweat.
Safest Headphones
Pros:
Bone conduction technology keeps you aware of your surroundings

Comfortable and secure fit, ideal for cycling

Durable and weather-resistant design
Cons:
Battery life could be better for longer rides

Bass response might not satisfy audio enthusiasts
View On Amazon
View On Walmart
Right off the bat, you'll appreciate the bone conduction technology that the OpenRun Pro uses. This feature allows you to stay tuned into your surroundings, which, as a cyclist, is absolutely essential for your safety.
Whether you're on a busy city street or a quiet country lane, you'll still hear that car honking or the birds chirping. Plus, the sound quality is decent, making your ride even more enjoyable.
When it comes to comfort, Shokz really hit the nail on the head with these.
The OpenRun Pro headphones are lightweight and have a snug, secure fit, so you won't have to worry about them bouncing around or falling off even during your most strenuous rides.
While the battery life is decent at around 8 hours, for those long, all-day rides, you might find yourself running low on juice. Also, if you're a bass lover, the OpenRun Pro may not meet your expectations as the bass response is just okay, not outstanding.
Despite these drawbacks, many cyclists use the Shokz OpenRun Pro because of the unique blend of safety, comfort, and sound quality they offer. Also, their durability makes them a decent investment as well.
Best Battery Life
Pros:
Great fit and is very stable in your ear with the ear hook

Best battery-life headphones
Cons:
Case is quite bulky

Only IPX4 rated
View On Amazon
View On Walmart
Apple's Powerbeats Pro is one of Apple's latest models in the Beats line. As with all Apple products, these wireless headphones have a very nice design and finish.  They include an adjustable ear hook that will provide you with an additional level of security as you cycle with them.  Even with the additional ear hooks they should still fit quite nicely under your helmet.
Beats have never been known for the best sound quality.  However, as a pair of workout headphones, these have definitely been upgraded in that department. Whether you're listening to music or making a call, the sound is crystal clear.
Powerbeats are built to last up to 9 hours in between charges and store about two charges in the case.  Apple claims that you can get an hour and a half worth of playtime off of a five-minute charge. One nice function is that the earbuds automatically detect when they are not in use which is meant to help conserve battery life as well.
The PowerBeats Pro has been rated IPX4 for water and sweat protection.  If you're not going through the rain constant or sweat buckets, then that should be sufficient.
Pros:
Excellent sound quality

Secure fit with StayHear+ Sport tips

Sweat and water-resistant (IPX4)
Cons:
Bulky design

Average battery life
View On Amazon
View On B&H
Designed to provide exceptional sound quality and a secure fit, these wireless earbuds are popular among cyclists who value their playlists as much as their pedal power.
Bose is known for delivering products with excellent audio performance, and the SoundSport Free doesn't disappoint. You'll be able to hear every note, every beat, every strum, and every lyric with absolute clarity, as you cycle. These earbuds help to take your mind off the miles and keep you motivated.
One major reason why cyclists love these earbuds is because of their secure fit. The StayHear+ Sport tips are engineered to stay in place, no matter how much you move. This means that even when you're cycling on bumpy terrains or doing long-distance rides, these earbuds won't fall out.
The SoundSport Free has an IPX4 rating, which means it can withstand splashing water from any direction. So, whether you're cycling in a light drizzle or breaking out a sweat on a sunny day, these earbuds can handle it.
The most common complaint is about the bulky design. These earbuds are larger than many other options in the market, which might not suit everyone's aesthetic preferences. Careful about the headroom for your helmet too.
They also stick out from your ears a bit, which some users find a bit uncomfortable after long periods of use.
Pros:
ANC for focused rides and Transparency mode for safety

Comfortable and secure fit

Seamless integration with Apple devices
Cons:
Pricey

Limited battery life

Mediocre sound quality compared to others in this roundup
View On Amazon
View On Walmart
As with all Apple products, these are a great choice if you have an iPhone and want everything to just work out of the box.
They are much better than the original AirPods for cyclists due to the in-ear silicone tips. This help to solve a few issues – making them sweat resistant and improving the sound quality by blocking out the wind. The customizability of the ear tips provides a snug fit, ensuring that they don't fall out even when you're maneuvering over rugged terrain or pedaling at high speeds.
The sound quality of the AirPod Pros sits in the lower to the middle of the pack in this list. However, they are better than the standard AirPods due to the sealed ear canal.
The sound quality is made up for with the Transparency Mode which allows you to hear surrounding noises without having to take your earbuds off. For indoor cyclists, the AirPod Pros also come with a noise-canceling function!
The AirPod battery can last up to 5 hours per single charge, with the charging case providing you 24 hours of listening time when fully charged. I generally put mine into the charging case when they're not in my ears so I never really run out of batteries. Apple also claims that you'll get about an hour of listening time from just five minutes of charging.
One nitpicky thing about the charging case is that it just has the amber or green light. This makes it difficult to see how much is left without referring to my iPhone.
The AirPod Pros have an IPX4 water-resistance rating allowing for some sweat and rainy weather conditions. Some people have reported that the silicone tips get a bit slippery with excessive sweating and the headphones can move a bit in your ear.
How To Choose Cycling Headphones
When buying headphones for cycling you need to consider more than just sound quality and aesthetics. We've listed out a few features you should look out for as you decide.
Safety First!
Safety first when it comes to cycling, especially if you commute in a busy CBD area on a daily basis. Keep the volume low enough so you can still hear oncoming traffic, or even consider just plugging in one earbud.  Highly recommend you don't look for anything that's noise canceling!
Most (true) wireless earbuds don't drown out all environmental sound, so you should still be able to hear the traffic if you haven't turned up the volume.
Alternatively, consider swapping the wireless earbuds for bone-conduction headphones like the Shokz OpenRun Pro. They don't plug into your ears and create sound via vibrations on your cheekbones, delivering sound directly to your inner ear.
Just don't be the person rolling around with over-ear headphones and no helmet…
Final note, check the local laws as some cities have made it illegal to ride with headphones on. In particular, three states (California, Delaware, and Maryland) regulate the use of headsets.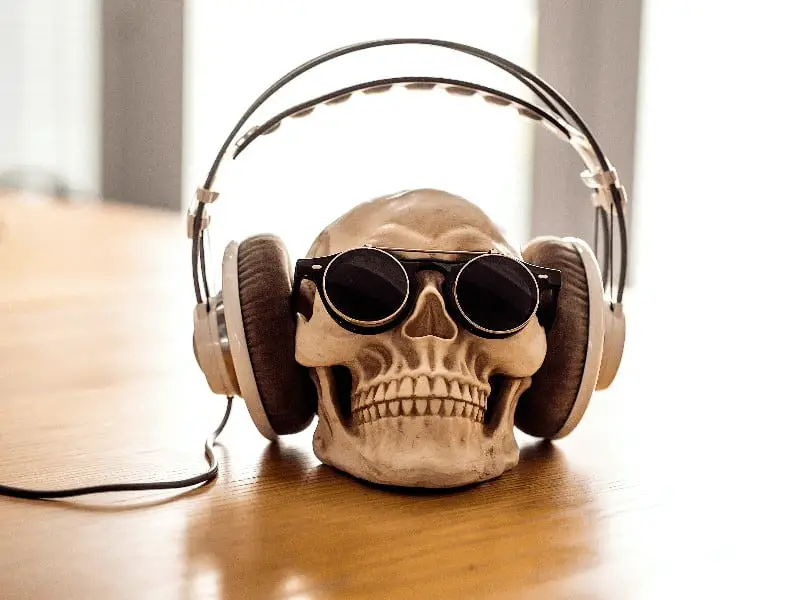 Comfort & Fit
The comfort and fit of a pair of headphones is quite a subjective topic but the five options we've highlighted should cover most types of ears/heads!
We haven't chosen to review any wired options here as the freedom of movement and technology in wireless headphones now is just plain better for cyclists.  One drawback previously was the battery life but wireless headphones have come a long way over the last few years.
Depending on where you ride, there could be a lot of movement and vibrations so we've recommended sport-specific headphones. This means they are designed to stay in place even while you're moving around frequently.
Another thing to think about is the fit of your bike helmet. All the headphones featured in this roundup should work with a majority of helmets. Can't guarantee they'll be comfortable with your helmet though!
One last comfort point is whether or not you can control the headphones with bike fitness trackers. For example, the AirPod Pros will sync nicely with the Apple Watch!
Sound Quality
Usually, sound quality is the most important part of selecting a pair of headphones.  However, with cycling headphones, you'll also need to consider the safety and fit aspects. No point in having great-sounding headphones if you can't hear the road or keep popping out of your ear!
Again, sound quality is quite a subjective topic, however, you generally get what you pay for.  A pair of Bose SoundSport will definitely produce a better and crisper tune when compared to ultra-budget wireless headphones.  
One intangible benefit of good sound quality is that it can really help boost your ability to ride harder and faster.
Music is a major part of fitness for most people and when your tune drops, you can really ramp up the intensity. Check out Countdown by Hardwell if you're a fan of EDM. You can thank me later! 🙂
Battery Life
Nothing worse than the battery on your wireless headphone running out 5 minutes into a long ride…
The headphones reviewed below generally manage around ~6-8 hours of battery life. This should be enough for most long rides, just remember to charge them before heading out! 🙂 
If you're after something that lasts longer, I suggest you take a look at the Powerbeats Pro which boasts a 9-hour battery life.
Worst case, you can carry around a USB battery pack! It'll add a few grams of weight, but if you're out for a long ride and you have your phone on the entire time, you'll probably need some juice anyway. Most headphones will have some form of USB charging.
Cycling Headphones Need To Be Waterproof And Sweatproof
If you don't ever ride in the rain or hardly sweat, then you can probably skip this section. If you need some water or sweat resistance, then read on!
To measure how effective a device is at keeping water from it, some headphone companies use something called an IP Code. The IP Code (International Protection Rating or Ingress Protection Rating) is defined as "the degree of protection provided against the intrusion of dust, accidental contact, and water in electrical enclosures."
Devices are usually quoted as IP(X)(Y), where (X) and (Y) are digits. The (X) is the degree of protection against dust and (Y) is the degree of protection against water. The simple version is, that the higher the digits the better!
If you're looking for more details on it, Shokz has a good guide here.
Related article – Best Headphones For Peloton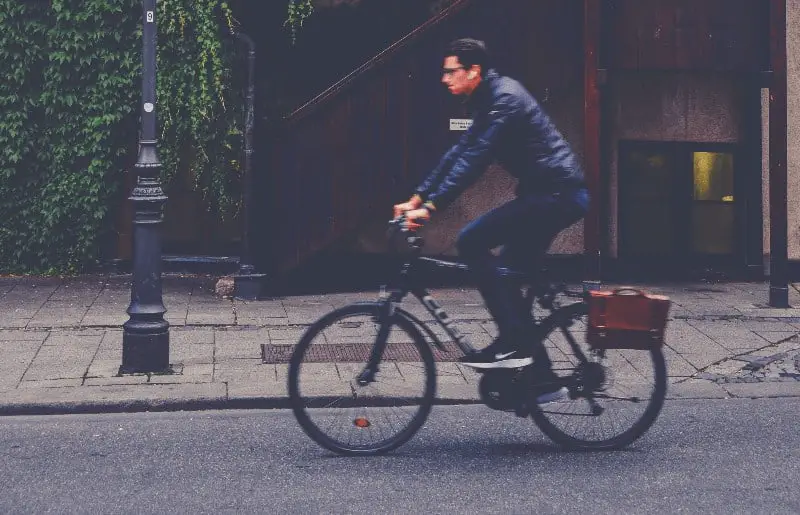 So, Which Are The Best Cycling Headphones?
There you have it, 5 of the best headphones for cycling on the market today!
If I had to choose just one, it would be the Jabra Elite Active 75t. They provide a great balance of safety features, sound quality, sweat resistance, and overall aesthetics.
If safety is your primary concern, then it'll be hard to look past the Shokz OpenRun Pro which provides you maximum environmental awareness with the open ear design.
Depending on your specific needs, the Apple AirPod Pro (best for iPhones), Bose SoundSport Free (sound quality), and PowerBeats Pro (best battery life) are also worth a mention!