Recreational cyclists can surely relate to this scenario: you've been pedaling on a flat route for about 20 minutes and there's a bit of incline coming up. Wouldn't it be nice to be able to coast up that hill and give your legs a little breather? Electric bike (or e-bike for short) anyone? Yes please!
Before purchasing your first e-bike, have an idea of which product will match your lifestyle. Consider what type of riding you're planning to do, the terrain being covered, average distances and of course, budget.
In this round up, we take a look at 5 of the best electric bikes under $1,500 on the market today.
First up, let's break take a look at e-bikes in a bit more detail so you have a better understanding of what to look for.
Electric Bikes 101
Types of E-bikes
Cruiser e-bike – these best for recreational riders who like a more comfortable ride. Designed mostly for flat terrains (bike paths and paved roads), cruisers have wide tires and usually feature a suspension system to reduce shock in the seat. Handlebars are placed higher to provide a more upright ride and easier on the back.
Commuter e-bike – these are good for getting to work or running errands. Commuter bikes typically sport large, narrow tires built for efficiency and an upright design for comfort. Think of a hybrid bike. They also feature comfortable seats, but the seats usually aren't as wide as cruiser seats.
Mountain e-bike – as the name suggests, these are built for adventure seekers who prefer off-roading trails. They feature wide tires and flat handlebars for tackling rugged trails.
Road e-bike – similar to a cruiser bike, designed for recreational riding on paved surfaces. The difference is these lightweight bikes have narrow tires and lower handlebars for faster riding.
A Matter of Class
Classes were created to determine how e-bikes should be used according to local e-bike laws. The three different classes of e-bikes are:
Class 1 – The Class 1 e-bike is equipped with a motor that provides assistance only when you pedal. Once you reach 20mph, the motor stops providing you help. This type of bike is appropriate for bike lanes, bike paths or wherever you ride a traditional bike.
Class 2 – The Class 2 e-bike is equipped with a throttle which provides a boost without pedaling.  Again, assistance caps out at 20mph.
Class 3 – The Class 3 e-bike is equipped with a speedometer and assists with pedalling until the bike reaches 28 mph. An excellent choice for commuters.
You can find additional information on state electric bicycle laws here.
 Motoring
There are three types of motors and they can be placed in the wheel hub or mounted to the bike. Here's what you can expect to find when it comes to e-bike motor placement:
Hub motors are located inside the hub of the front or rear wheel of the bike.
Mid-drive motors are located in the center of the bike's frame between the bike's cranks.
Friction motors mount directly to the seat post and are more often than not available in kits to transform a traditional bike into an e-bike.
Interesting read – Can Electric Bikes Go Up Steep Hills?
The Battery
Where the battery is located depends mostly on the shape of the bike's frame. E-bikes that are designed for navigating city streets often place the battery on the cargo rack. Conversely, mountain bikes usually mount the battery on the down tube. A battery mounted on the down tube provides a sleek look and a more balanced ride, especially with a rear hub motor.
You may also like to read Can You Carry An Extra Battery For An Electric Bike?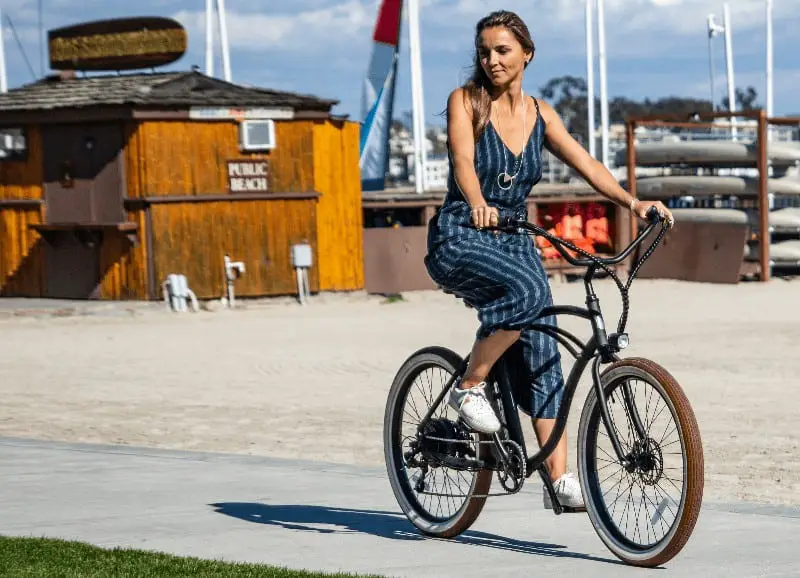 5 Electric Bikes Under $1,500 To Consider
Now that we have some e-bike essentials in our basket, here's a look at 5 top contenders at or below $1,500:
The Swagtron is a foldable e-bike that's great for cycling uphill. It has a 350-watt rear hub motor and a cruise control feature that can be activated by maintaining a steady speed for seven seconds. The "pedal-assist" mode has three speeds (11 mph, 14 mph, and 18.6 mph).
The EB-7's frame is made from aluminum and its three-fold design allows for easy storage and carry beside you on a bus or train. On flat terrain using the "throttle-only" mode you can travel 7-8 miles roundtrip if you don't ride it aggressively.
The bike's LCD display panel is located on the left handlebar. It shows all the essential metrics like the current battery level, speed, and work mode of the bike.
Other specs/features include:
Black-red or White-blue choice of color
Backlit handlebars
Battery lock with 2 keys, charger, adjustable seat, headlight, horn and tail light
"Autoguard" brake technology, which stops the motor when you apply the brakes
Weighs 42 pounds (19.2 kg)
---
The Rad City 4 distinguishes itself from the competition with its efficient 750-watt direct drive motor and step-through frame. This Class 2 commuter e-bike has a larger direct drive hub motor and is better suited to handle heavier loads and long-term usage. A direct drive motor has an array of copper wire and magnets instead of internal gears and it's designed to easily last a decade or more. 
The other main feature that sets the RadCity4 apart is the frame. It has a larger commuter bike frame and sensible 2.3-inch wide tires. The tires offer a safe, more efficient commuter performance. Equally efficient is how the frame incorporates a rear rack directly into the frame itself.  The bike comes with a Shimano drivetrain and plastic fenders.
Among its other specs/features:
20 mph (32 km/h) top speed
25- to 45-mile range (45-72 km) per throttle/pedal assist
48V 14Ah (672 Wh) battery
Kenda K-Rad 26″ x 2.3" tires w/K-shield puncture liner
Tektro mechanical disc brakes with 180 mm rotors
LCD display with a tripmeter
USB charging port for cell phones
Mounting for front and rear racks/accessories and fenders included standard
---
The Trek Townie is another pedal-activated assist e-bike with a maximum speed of 20 miles per hour. This beach cruiser is priced to compete with other online e-bikes and offers dealer assembly, fitting, tech support. It comes in two frame styles, the high-step frame which has 27.5″ tires while the step-thru is a bit lower to hop on with 26" tires.
Offered in seven color options, the Trek Townie is a Class 1 e-bike with three levels of assist on a dimmable LED display. The rack-mounted battery has a 309.6 watt hour capacity and the efficient 350 watt geared rear hub motor is quiet but not particularly powerful on steep hills.
Large 180mm mechanical disc brakes provide respectable stopping power and wider 2.35″ tires offer comfort and stability for light trail use. There's also a USB port on the display to charge your devices.
Among its other specs/features:
20- to 50-mile range (32-80 km)
Aluminum frame
Tektro mechanical disc brakes
7-speed Shimano Tourney derailleur shifter
Shock-absorbing elastomer cruiser saddle and rear rack
---
The Aventon Pace 500 is a Class 3 commuter e-bike that has it all: speed and style at a reasonable price. It features an electric drivetrain with a 20-mph trigger throttle and a 28-mph, cadence-based pedal assist. Each is well-served with hydraulic disc brakes.
There have been some compromises to keep the price down. For example, there's no suspension, integrated lights or USB charging capabilities.
Ultimately, this e-bike offers an ergonomically comfortable ride; it comes in a variety of size and color options and offers nice finishing touches such as reflective sidewall stripe tires.
Among its other specs/features:
500W geared rear hub motor
30-mile (48 km) range
48V 11.6Ah (557 Wh) battery
6061 aluminum alloy frame
27.5″ x 2.2″ Kenda tires
LCD display with speedometer, battery gauge, left-side thumb throttle, Shimano Altus 8-speed shifter
---
Available in two sizes for riders of many sizes, the Ride1Up comes with an aluminium frame. The frame manages to conceal a 672 Wh Samsung battery inside the downtube. The battery is lockable and removable and should give a range of 30-60 miles before needing a recharge.
This commuter e-bike can keep "pace" with the Aventon 500 with its 27 mph maximum speed and comes standard with a rear rack and a stainless steel fender set.  These parts often cost extra on other e-bikes. The rack also holds the rear light, which operates via the main battery along with the matching front head light.
There's pedal assist for riders who prefer to skip the throttle altogether as well as a full color LCD display on the handlebars, a trigger shifter for the 8-speed Shimano Acera drivetrain and a left-side thumb throttle.
Among its other specs/features:
500W geared rear hub motor
30-mile (48 km) range
48V 14Ah (672 Wh) battery
6061 aluminum alloy frame
27.5″ x 2.4″ Schwalbe Super Moto-X tires
---
The E-Pick
A close call, but our favorite e-bike here would be the Rad Power RadCity 4.  
Given the price tag, the RadCity4 really stands out for overall comfort, performance and range.  It also comes with all the extra bells and whistles like a cargo rack, lights and fenders so you don't have to splash out any extra cash! Definitely a great value commuter-friendly electric bike.
I hope this roundup has given you the confidence to choose an electric bike that works best for you. Any questions or comments, please pop us a message down below! Thanks for reading!
Interesting read – Can You Take An Electric Bike On A Plane?