Women Take Center Stage!
Step aside, men. Today's spotlight is on the ladies! I'll be reviewing five entry-level road bikes for women. Although I'm not a woman (my wife can attest to this!) I've reached out to some female cycling friends for better insight.
In A Rush? Here Are My Top Picks…
Pros:

Great price

Zertz carbon fork inserts

Comfortable, confident handling

Pros:

Great price point for a beginner

Shimano 14-speed drivetrain

Pros:

Fast

Great components

Disc brakes

Shimano 18-gear drive train

Purchase from a local dealer and not online
Top Pick
Pros:
Great price

Zertz carbon fork inserts

Comfortable, confident handling
Budget Pick
Pros:
Great price point for a beginner

Shimano 14-speed drivetrain
Fastest Bike
Pros:
Fast

Great components

Disc brakes

Shimano 18-gear drive train

Purchase from a local dealer and not online
The Best Entry Level Women's Road Bikes
Top Pick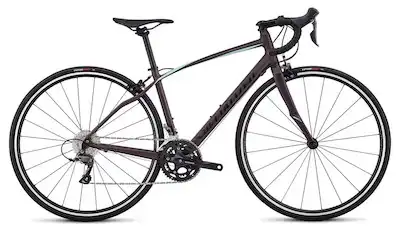 Pros:
Great price

Zertz carbon fork inserts

Comfortable, confident handling
Cons:
Gearing may have gaps in one's ideal cadence
View On Specialized
Like the other bikes I've reviewed in this roundup, this has an aluminum frame and carbon fork with one difference: Zertz inserts. These are built into the carbon fork and improve shock absorption that much more. 
Concerning how it rides, reviewers claim the Dolce is very comfortable, rock-solid on descents, and agile enough for climbing. It also comes with a women's saddle and handlebars, but as previously stated, leave those features alone; be sure you're fitted. 
The only negative is the gearing is 16-speeds. Some riders needed help finding the ideal gearing for their cadence, especially in the flats.
The Dolce has less expensive components and wheels, but at a steal for around $840, those are items you can upgrade down the road.
Budget Pick
Pros:
Great price point for a beginner

Shimano 14-speed drivetrain
Cons:
Heavy: 33 lbs

Ships unassembled

Limited sizes
View On Amazon
The Giordano Aversa is my budget pick for a good reason. The women's model has a more relaxed top tube than the men's version, making getting on and off the bike easier. Aside from that and the blue color, the bike is identical to the men's. 
Made from aluminum, the Aversa has a steel fork to help absorb road shock and make for a more comfortable ride.
Be advised that with only two sizes (and the fact that you buy it online), the bike may not truly fit your body type.  So measure yourself and check the manufacturer's specs before you hit buy!
Fastest Bike
Pros:
Fast

Great components

Disc brakes

Shimano 18-gear drive train

Purchase from a local dealer and not online
Cons:
Most expensive road bike in this roundup
View On Cannondale
My first road bike back in the '80s was a Cannondale. It was fast, lightweight, and responsive. This was also back when fat aluminum frames were scoffed at by the "steel is real" community, so I got a lot of laughs and looks.
Funny how those scoffers ended up with a Cannondale of their own! 
The Synapse is superior to the Giordano and the Schwinn by leaps and bounds. One look will make your eyes pop; it's a beautiful-looking machine.
Toss in the disc brakes, Vittoria tires, the better components, the women's seat, and this bike will handle anything the road gives you.
The aluminum frame with the carbon fork is designed for endurance and comfort, and weighing in at 21 lbs, it is the lightest model so far. Plus, you'll purchase from a Cannondale dealer who can fit you properly and handle any warranty issues you may have.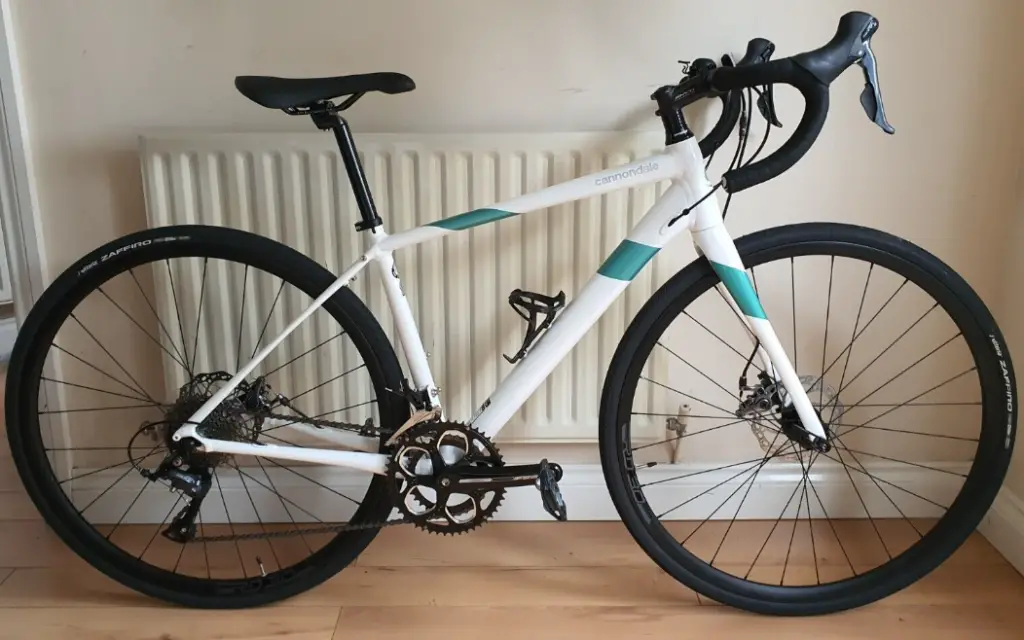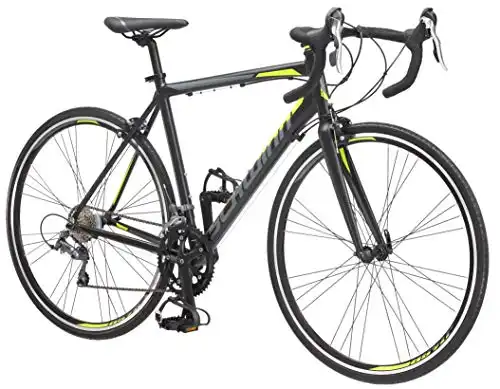 Pros:
Good entry price for novice

Shimano 16-speed drivetrain

Weight: 22 lbs
Cons:
Some assembly required

Bottom bracket can be a bit noisy

Warranty issues aren't handled locally; must ship bike at your expense
View On Amazon
View On Walmart
The Schwinn company has been around since 1895 and has created iconic classics over the years. The Phocus is a step above the Giordano Aversa in quality but costs more, too. 
Labeled as a "unisex" bike, it is designed to fit a man or a woman. But as discussed above, I think they tossed in the word "unisex" more for marketing purposes than fitting purposes.
The top tube is more relaxed than the Aversa, and the frame is built of aluminum, while the fork is carbon fiber. This should translate into a smoother ride than the Aversa, plus make it lighter in weight.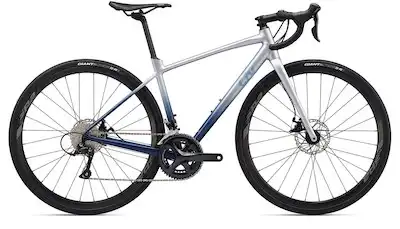 Pros:
Shimano components

Eyelets for packs or fenders

Cool colors

Purchase from a local dealer and not online
Cons:
Some riders say the disc brakes are a bit sluggish
View On Liv
Liv, an offshoot of Giant, brings to the fray this gem: the Avail AR3.
The Avail will give you a smooth, comfortable, and confident ride with its aluminum frame, carbon fork, and sloping top tube. 
The tires are wide (32mm), so many owners use the Avail for gravel and off-road. Whether you ride road, gravel, or bikepacking, the wider tires will give you a smooth ride.
If you're interested in bikepacking, the Avail has built-in eyelets to support front and rear racks. And if you want a cool color, check out the Avail in "lemon chrome."
Top off the bike with Shimano components and disc brakes, making the Avail a versatile entry-level bike. It's a wee cheaper than the Cannondale at around $1,000 but weighs about the same: 21 lbs.
Women's Road Bike Myth Busters
Ladies, when it comes to selecting a road bike, there is a lot of misleading information to sort through. Therefore, we need to debunk these myths, so I turned to my fellow USAC female coaches for help. Here are some classics to bust:
"Be sure you get a woman's bike." This statement is like handling a live grenade! First, if the person who said this proposes that women only ride bikes with a step-through frame, they obviously have yet to see the women's Tour de France or Olympics. If you find (and like) a men's road bike that fits you, go for it! The key here is if "it fits you." More on that in a bit.
"One bike size fits all." Again, only an idiot would say this. Like us men, you ladies come in every shape and size and will need a bike frame size suited for your height, weight, riding style, etc. Check out our bike sizing guide here.
"Women have long legs and short torsos." Sure, if you're a supermodel! This myth is undoubtedly created by the same MAMIL (Middle-Aged Men In Lycra) that came up with "one bike size fits all." Every woman is unique, so you'll need a bike that's unique to you.
"Road bikes for women are different than men's road bikes." Yes and no. Some bicycle manufacturers realize that women generally need a smaller frame size and narrower handlebar. But as I've established, this really comes down to your body type and riding style. Some women's bikes have "girly" colors like teal, pink, and baby blue, but the frame (per material, weight, and components) is identical to the men's model. So it once more comes back to…you! What do you want and like? Let that be your starting point guide.
Check out this great video on the subject:
You Gotta Be Fit To Be Fit
You may have noticed how I mentioned getting a road bike that fits you. This goes light-years beyond the old-school method of straddling a bike to see if it fits.
Consider finding a local bike store that offers to fit you and, if possible, has a female fitter. When it comes to talking "woman" no one does that better than another woman.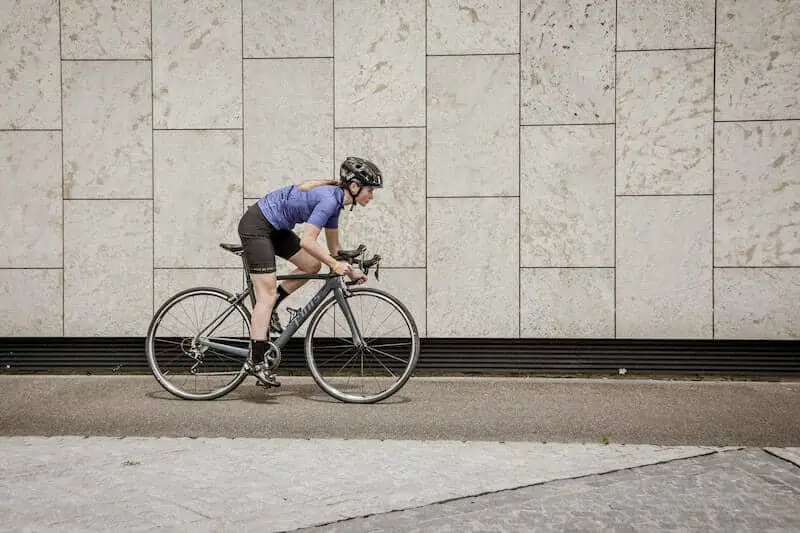 Here Are Some Things To Consider When Shopping For A Women's Road Bike
What type of riding will you be doing? If it's racing or triathlons, you need a different style than someone who merely wants to do club rides. You may be eyeballing touring or long-distance riding. Let your LBS (local bike shop) know your intentions; they can steer you toward a bike best suited for your adventures.
How flexible are you? Again, this was pointed out by my fellow female coaches, and it makes sense. Suppose you're a stretching Yoga Goddess; then you can tolerate (and probably enjoy!) an aggressive frame that stretches your upper body into a more aerodynamic position. On the other hand, if your idea of stretching is picking up a dropped handkerchief, you'll want a road bike that has you in a more upright position. Let your body and fitness levels guide you on this point.
I hope that simplifies the selection process and gives you the knowledge to shop confidently.
The Final Rose
Okay, so I feel like I'm on The Bachelor, standing before five attractive women, or in this case, road bikes, and I have to select one.
I quickly ruled out the Giordano and the Schwinn for being too heavy ("Did he just call that bike fat?" Remember, ladies, these are bikes, not humans! 😜).
Plus, purchasing online means you can't be fitted. Returns or warranty issues are a headache.
That left Synapse, Avail, and Dolce. I'll admit that I couldn't take my eyes off Avail in her "lemon chrome outfit" while the Synapse, whose details were simplistically stunning, reminded me of my first love…a Cannondale. But in the end, I gave my rose to…
Top Pick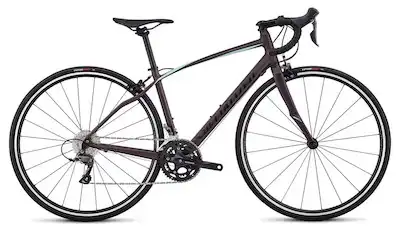 Don't get me wrong, the other four ladies, I mean bikes, are amazing machines, but the keyword is entry-level. The Dolce is a steal at $840. Yes, she has cheaper components, but this is a win-win.
If you fall in love with road cycling, which I'm confident you will, you can improve Dolce's performance with upgrades here and there.
On the other hand, if you absolutely hate cycling, which would totally baffle me, then you're not out much money, and you should be able to sell your bike relatively quickly.
Remember, ladies, find a bike that is as unique as you are and fits your riding style and you!
Frequently Asked Questions
What are some top brands for entry-level women's road bikes?
There are a variety of high-quality brands that design excellent entry-level women's road bikes. These include Giant, Specialized, Trek, Cannondale, and Liv.
Each of these brands has a range of bikes that offer a blend of comfort, performance, and affordability, suitable for beginners and those just getting into cycling.
What is the typical price range for an entry-level women's road bike?
The price for an entry-level women's road bike can vary greatly depending on the brand, materials used, and the components featured on the bike.
Generally, you can expect to spend anywhere from $500 to $1,500.
Remember that while the initial cost is important, you should also consider the bike's longevity, ease of maintenance, and potential resale value if you decide to upgrade in the future.
Are there any specific bike maintenance tips for entry-level women's road bikes?
Regular maintenance is key to the longevity and performance of your bike.
This includes routine checks and adjustments of brakes and gears, regular chain lubrication, tire pressure checks, and periodic professional services.
Entry-level bikes often come with user-friendly components that make maintenance simpler for beginners.
Remember, a well-maintained bike lasts longer and provides a safer and more enjoyable ride.