I spent 2 hours on my smart-trainer, climbing Alpe Du Zwift. As much as I like counting Pizza Slices and sweat points, I want to track my progress on Strava.
If it isn't on Strava, did you even do it, right?
Opened up Strava, only to see that the option isn't there to record indoor cycling. How come?
That led me to wonder how to record an indoor cycling ride with Strava? 
You too?
Here's the answer…
How To Record Indoor Cycling With Strava Mobile App
So the first thing to note is that when using the Strava app, either with Apple or Android, you aren't able to tag a ride as 'Indoor cycling'.
However, there are ways around this and that's what I'll show you here!
Previously on Strava when you recorded an indoor workout, it would still require GPS. This didn't work brilliantly as you ended up with a giant GPS blot all over your house. They've fixed that, thankfully!
As part of the change, you can now pair a Bluetooth Smart heart rate sensor and record this data with your workout. So a big improvement from where it was! I'll stop with the Strava history lesson and show you how it's all done…
Open the Strava app up and hit the 'record' button. If you're a regular Strava user, you will be familiar with this page: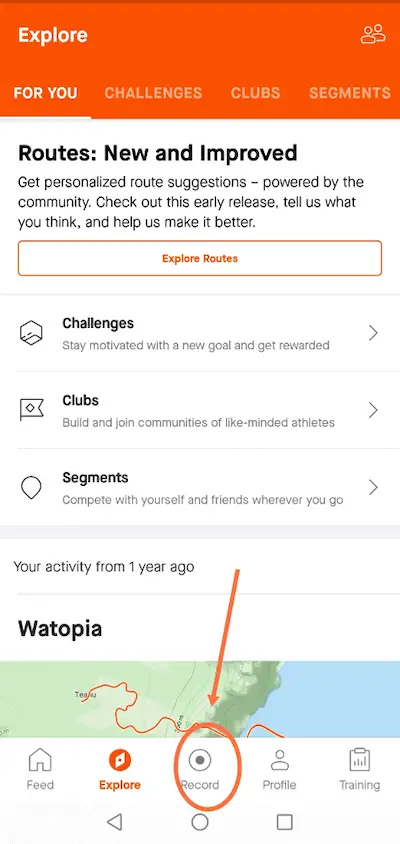 The record button will take you to the GPS tracking page. However, as you're doing an indoor ride, you need to toggle the sport listing – this can be found here: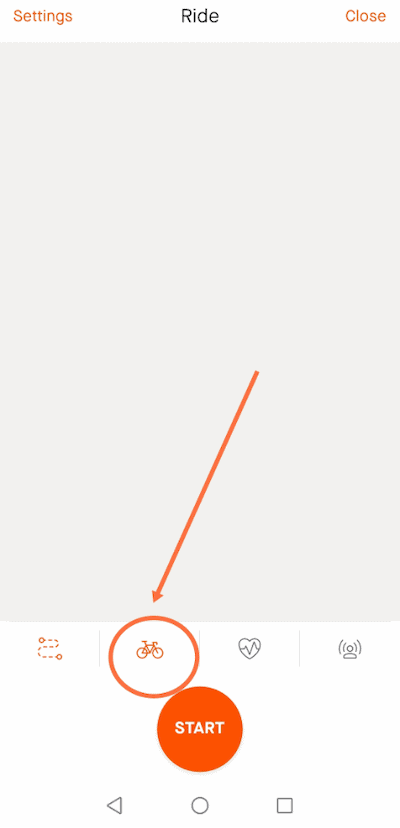 Lots of sports will pop up, simply scroll through the list until you get to the indoor workout options: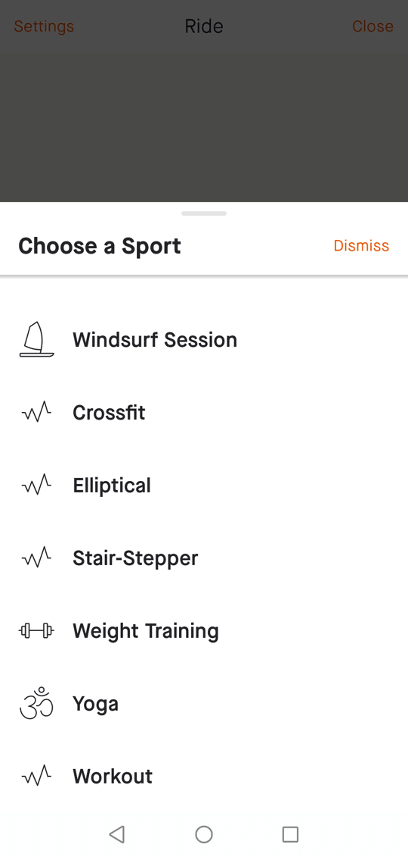 As you can see, there are a few options. In my case, I opted to use 'workout' as it seemed to cover most bases. However, if one seems more relevant to what you'll be doing, go for that!
From this point, you can now connect a heart rate sensor via Bluetooth Smart. 
You don't have to pair the heart rate sensor up, but if you've got it, you might as well. It will give you more accurate data, you can see how hard your heart worked and it's nice to show everybody you've got a nice bit of kit, isn't it..? Guilty as charged over here!
When everything is paired, you're ready to roll…press start!
What you will see is this screen: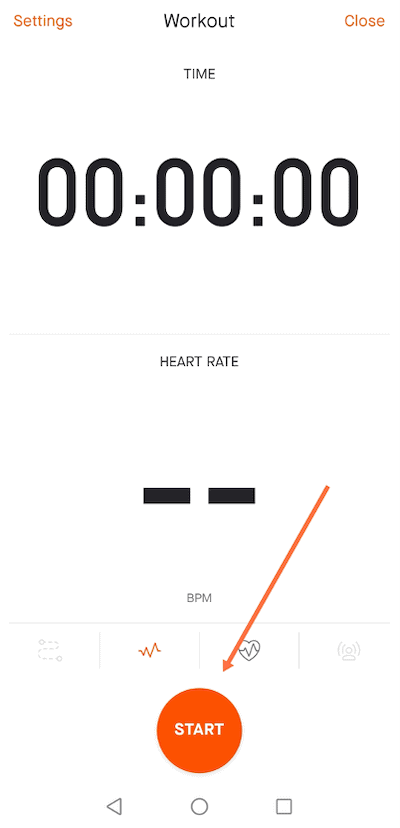 This shows you elapsed time and heart rate (if your sensor is connected – mine wasn't!). You don't get the option to create laps – there's no GPS so no way of knowing!
When you've completed your workout, save it as you would normally. Add a title to your workout – I know you've been thinking about one while you've been working out…we all do it, don't we? Set a photo, change anything else you want to and that's it. 
When it's finished how you want it, you should be able to see all the normal things you'd expect, minus a route, elevation, and distance traveled. 
One thing to note is that the next time you come to record something on Strava, it will remember the last setting you used!
Related article – Zwift Vs Peloton – Which Is Best For Indoor Cycling?
How To Record Indoor Cycling With Strava On A Computer
When it comes to recording your indoor cycling as 'indoor cycling' on Strava, then you have to do so through your laptop or PC and enter the ride as a manual workout.
Here's how you do it!
Step One – Login!
Log-in to Strava as you would normally.
A little heads up, if at the time of signing up, you did so on your phone, then it's possible that you have signed up using a social media account not your email. If you did, select the correct one in order to sign in – yes I am speaking from experience as someone who forgot this is what they'd done!
Step Two – Add Manual Entry
Now you're logged in, you can see that there is a plus symbol in a circle (see image below), this can be found at the top.

Hover over that and you will be able to see another menu, giving you extra options.
You need to select the "Add manual entry" on that list. 
Step Three – Edit Manual Entry
You should now have an image similar to that below – got it? Nice!

On this screen, you will pop in the activity data. You may have got this from your trainer or an app you have used. 
The reason you have to use the web interface for this, rather than the app is as I mentioned before, the 'indoor cycling' tag (highlighted in the image above) is not present on the app so this is the only way to navigate around that. Be sure to click it! 
Optional Step Four – Add Your Bike Details
This step is optional, though it's one I like to take so I can keep track of how often I'm using which bike. On Strava you have the ability to separate rides based on which bike you completed it on. Even if you use one bike for both indoor and outdoor riding, you can list it separately.
To go about this, you need to add a 'New Bike'. This can be found where the highlighted box is below: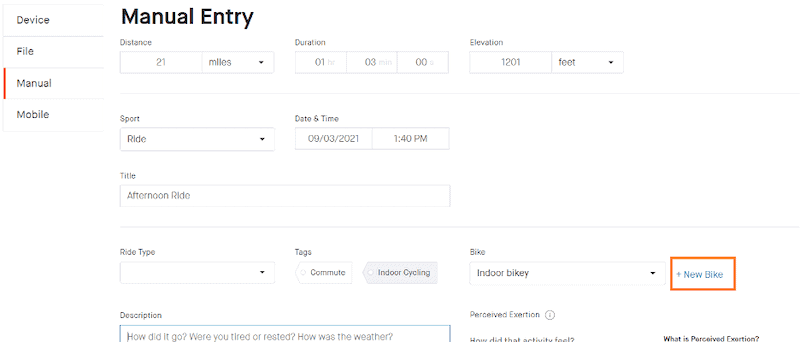 When adding a bike to Strava, it will ask you for the bike's weight. You won't be able to add a bike without this information so if you're unsure, give it the best guess you've got. 
Side note – have a look here at the Pro's having a go at guessing the weight of their bikes!
You might be asking, why does Strava need this information?
It is used to be able to provide metrics you see from a ride. It isn't actually needed for indoor rides and it doesn't apply but you can't proceed without that information. As you now know that it won't affect anything, you don't have to worry too much about getting it correct! 
Now all is left is to save the equipment and hit 'create'. This will save your workout. 
One thing I try to do once I've completed my workout is to do a snapshot of the machine's display. This way, I have a record of all the details so there's no pressure to remember them…which I most certainly don't. 
How To Track Your Indoor Cycling Progress?
Indoor cycling (or virtual cycling) is a fantastic opportunity to not only maintain your fitness but actually improve it. There are lots of methods to track your progress when indoors so let's have a look!
Need somewhere to mount your phone while you ride? Check out the Best Phone Holders For Indoor Cycling.
Take An FTP Test
You might be asking, what is a FTP test? FTP stands for Functional Threshold Power. This is the maximum power that you can sustain for one hour on a bike. 
When you have a turbo trainer set up, an FTP test is a great place to start. 
Many of the apps, such as Zwift or TrainerRoad have FTP tests you can take. This will provide you with your FTP in watts and give you appropriate training zones.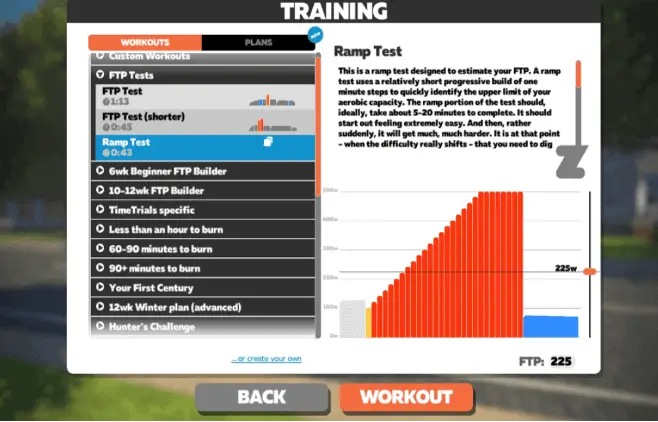 How Often Should I Take An FTP Test?
Personally, I try to take one every six weeks or so – it really depends on how much training I've been doing.
Taking an FTP test every four to six weeks will give your body time to improve so the results should be positive!
Frequently Asked Questions
Can I Integrate My Smart Trainer With Strava?
You certainly can…in most cases anyway! If you're using an indoor trainer, a lot of these will upload your ride data to Strava automatically.
Indoor trainers such as Peloton, Wattbike, or Echelon Smart Cycle will all take care of Strava automatically for you. An alternative route is to use a cycling application. There are lots to choose from – it feels like this list grows daily!
Related article – Do Rollers Damage Your Bike Tires?
The vast majority of these apps will upload the data to Strava automatically. One which most cyclists will have heard of is Zwift, though as I said earlier there are lots out there and each offers something different.
FulGaz and Rouvy provide a more realistic visual display. Allowing you to 'ride' well-known real routes and climbs such as Angliru. I did this on New Years' Eve in order to complete the climbing goal I set myself for the year. I wouldn't recommend leaving it until the final day of the year but I would recommend the software!
However, you can use others, TrainerRoad and Sufferfest give you good workouts with a strong focus on training. So if you're looking to hit your goals, perhaps give one of those a go!
Whichever you settle on, the setup will be different (though on the whole, straightforward). The official Strava website has great guides on how to connect things up…these can be found here.
Related article – Can You Use Zwift Without A Smart Trainer?
Where Do I Find The Indoor Cycling Tag On the Strava App?
TL:DR version: If you want to label your indoor ride to be marked as such, use Strava's web interface.
With indoor cycling, you aren't moving and therefore there is no need for any GPS data. Strava decided that there doesn't need to be a tag for indoor cycling on the mobile app as you will be stationary.
Whilst some may see it as a strange decision, after all isn't our whole life on our phones!? So being able to record everything on your mobile seems like an obvious choice to a lot of riders. People have been asking for the change since 2014 but so far, no luck so it doesn't look like it's something Strava will be changing any time soon.
What's The Difference Between A Virtual Ride And An Indoor Ride In Strava?
They are quite similar in many ways. 
The one benefit that virtual rides have over indoor rides is that they will provide informative data sent from your smart trainer.
This data will have come from a simulation of a route and will include information such as; GPS, distance, elevation, and time data.
Related article – Best Budget Bike Trainers
Can Strava Record A Spinning Class?
If you take spinning classes at the gym and want to upload them onto Strava, then all you need to do is record them how you would record a virtual ride, just like you would at home. 
Remember, you need to set this to record under the 'manual activity' tab. However, increasingly classes are providing the data so it can be on Strava within seconds.
Looking for a way to boost your indoor training? Check out some of the 6 Of The Best Headphones For Indoor Cycling!
Final thoughts
That's your lot!
If you're wanting to record your indoor ride accurately through Strava, you're going to have to use the website.
Although if you've got a smart trainer and are using one of the training apps, then your worries may go away as they usually sync with Strava automatically!
So, what are your training goals this year?
Related article – How To Change FTP On Zwift