Thinking of upgrading your road bike groupset or looking at buying a road bike and not sure what groupset to get? 
Welcome to the Road Bike Groupsets: Beginners Guide! Where all your questions will be answered by me!…I'll do my best anyway! ✌️
So let's get going!
Basics Of Road Bike Groupsets
What Is Included In A Groupset?
A full groupset usually consists of:
Gear shifters
As you can guess, gear shifters are what allow you to move through the range of gears. There are different types, but the purpose is the same. 
The front derailleur will shift between chainrings. There will be either two or three gears, depending on the chainring. 
There is a gear shifter for the rear derailleur, and it will shift between 8 – 12 rear sprockets, again, depending on the derailleur.
The biggest brands are SRAM, Shimano, and Campagnolo. They have different systems, all having different names.
As far as road bikes are concerned, Shimano's system is known as STI (Shimano Total Integration). Campagnolo's is Ergopower, and SRAM's is Doubletap.
Brake Levers
Brake levers are mounted onto your handlebars. When pulled, they will compress hydraulic fluid that squeezes the brake pads or pull a cable to bring you to a stop.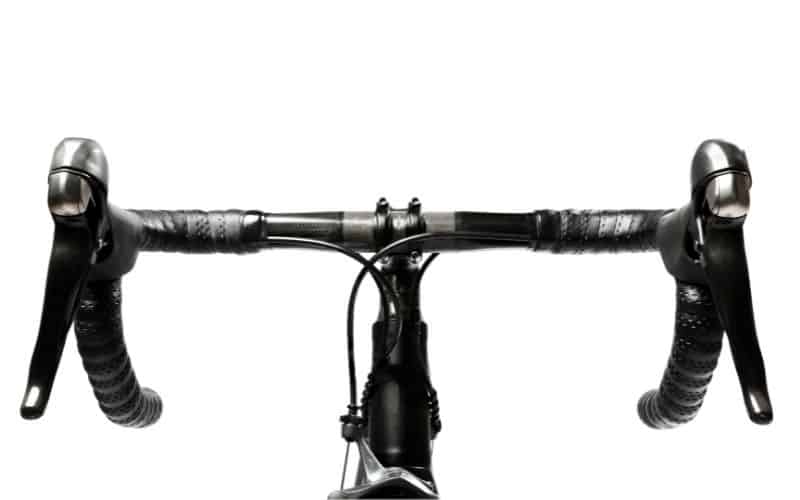 Brakes
You can choose between either rim brakes or disc brakes.
Disc brakes give you better stopping power, but they are heavier and more expensive. Rim brakes are easy to maintain but won't give you the consistent stopping power of disc brakes.
Related article – How To Clean Bike Brake Pads
Derailleurs
Front and rear. The front derailleur will move between chainrings, usually between two or three depending on your setup. 
The rear derailleur has a cassette where you change your gears.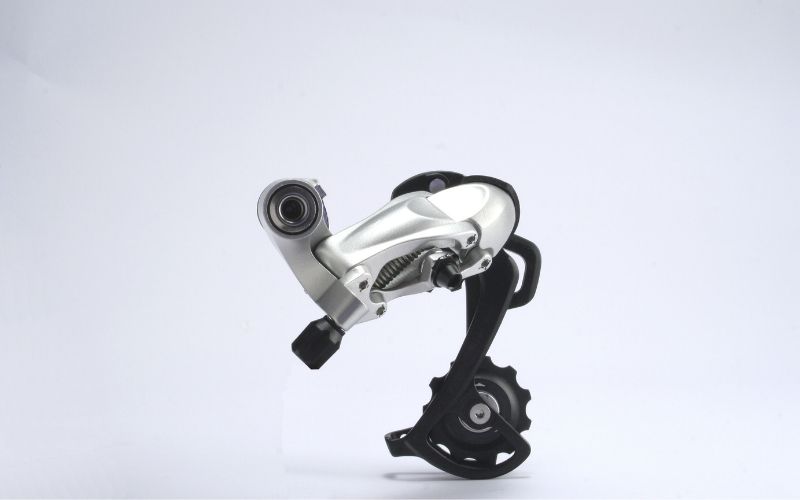 Bottom Bracket
The bottom bracket is the connection between your crankset and the bike's frame. 
For many, it can seem unimportant, but the quality of your bottom bracket can impact the efficiency of power transfer. 
If you pick up a good-quality bracket and ensure it's correctly installed, you should get years of trouble-free cycling.
Chain
I'm sure you know what a chain is and its purpose, but it's worth noting that chains differ in quality and weight. 
Maintaining your chain is important as it comes into contact with many other components, and it can cause them to wear out more quickly too. 
What type of chain you get will depend on your gearing. If you have a 10-speed groupset, you need a 10-speed chain. If you're willing to spend a little more on a chain, you get extra features such as a wear-resistant alloy coating and you save a few extra grams.
Chainset
A chainset connects via the chain to the drive wheel of the bike. 
It rotates using the bottom bracket as support. 
As the chainset moves in a clockwise direction, you get the needed power to move your bike forwards. 
Think of the chainset like the accelerator pedal in your car, to get yourself moving, you need to turn the cranks. This means that chainsets need to be durable so they can withstand the stresses you naturally put them through.
Cables
Commonly gear and brake cables are made up of braided stainless steel wire that forms the inner cable, and there will be outer cable housing.
As cables age, they can stretch, fray, and damage. This is more of a problem with cheaper cables.
Should I Buy A Complete Groupset?
If you're building a bike from scratch or want to upgrade your current bike, opting to go down the complete groupset route can work well. 
For upgrades, it can be a way to increase your bike's performance and save some weight…a worthwhile upgrade in other words! 
The benefit of buying a complete groupset means that you're getting components that are designed to work together. I wouldn't recommend mixing brands. This way, you don't need to think about that.
Most parts in a groupset will wear down over time, particularly the cassette, chain, and chainrings. When the time comes to replace them, it can work out better value to replace the whole groupset.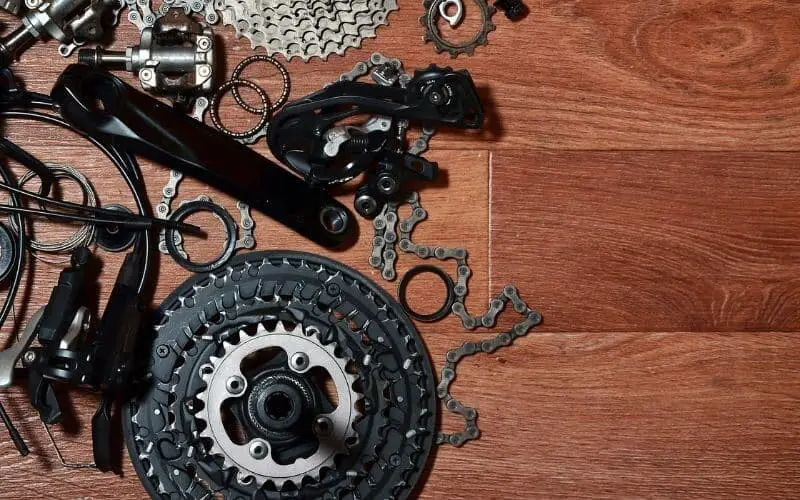 SRAM Groupsets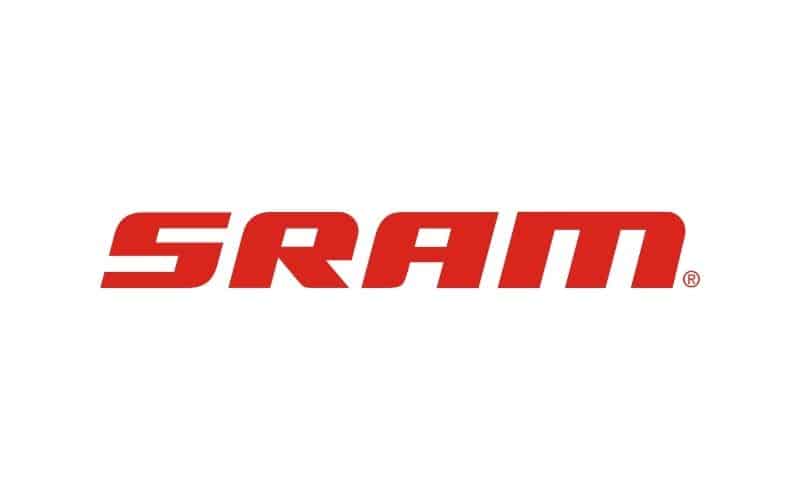 SRAM hit the scene when mountain biking was becoming hugely popular in the late eighties. 
By 2007 it was introducing market-changing groupsets such as the lightweight RED.
The road groupset of SRAM is made up of four main groups, Apex, Rival, Force, and RED. With all of these groupsets, you do have the option of hydraulic brakes. Unusual, but given SRAM's mountain bike heritage, not totally surprising. 
Rival, Force, and RED are the top three tier groupsets and are available in 12-speed wireless options too.
SRAM has been focusing on developing electronic groupsets by and large, so the mechanical groupsets haven't seen any major updates for quite some time now. 
SRAM Groupset Hierarchy
Apex
Apex is SRAM's entry-level and is a 10-speed groupset. It features SRAM's WiFLi system and what that means is that you get a wide gear range – I'm talking between 11 and 32 teeth on the rear cassette. In fact, you can actually go up to 36 teeth on the big cog on some SRAM road derailleurs.
The reason the WiFLi system is so good is that you get a wide range of gears that you usually see on a triple front chainring setup, but you don't get the weight associated with it. This was something that was totally unique to SRAM but as with all things good, other manufacturers are now offering it.
SRAM offers Apex in a 1 x 11 setup, known as Apex 1. 
Apex 1 has the capability to handle a 42-tooth cassette. It's a setup that has been used in mountain biking for a while, crept into gravel, and now road bikes. I will say I'm a fan! 
Rival and Rival eTap AXS
Coming up next in the SRAM lineup is Rival. 
Rival uses the same wide-ranging WiFLi rear derailleur and cassette as Apex but the difference is in the materials, they're lighter.
One big difference is that SRAM Rival is 11-speed, compared to Apex 10-speed. Rival is usually found on a 2 x 11 chainring setup but there is the option to go down the 1 x 11 route if you so wish. 
SRAM has recently launch Rival eTap AXS, electronic shifting basically. It's a bit of an industry upsetter in a way as it uses a lot of the same technology in the higher performance tiers, it's 12-speed and gives you app-based configuration when used with a smartphone and a power meter. Plus, it's the cheapest option, hugely undercutting Shimano Ultegra Di2.
Force
Taking things up another level, we have a look at SRAM Force. There are a lot of good things going into the makeup of this groupset. Lightweight materials such as carbon fiber and high-grade alloys, so it's got a lot going for it.
Similar to the Rival, it's an 11-speed groupset that offers you either a 1 or 2 chainring setup at the front so you have more gearing options if you want or simplicity, whatever suits your riding style, Force has something for you. 
Just like Rival, there is an electronic shifting version, Force eTap AXS. This is a 12-speed wireless groupset, and it genuinely offers stiff competition against Shimano Ultegra Di2.
RED
SRAM RED is at the professional level, it's an 11-speed groupset and has taken riders to victory in the Tour De France many times. 
When SRAM released it, it was designed to compete with Shimano Dura-Ace and Campagnolo Super Record.
The components used in RED are incredibly lightweight – you even get ceramic bearings! 
If you want to take advantage of SRAM's WiFLi option, you can do that too. 
When compared to the top of the range groupsets, SRAM RED is the lightest available so if weight is important to you, then SRAM RED could be the groupset for you. #MarginalGains
As you'd expect, SRAM launched a wireless electronic version, which is now known as RED eTap AXS (though previously known as RED eTap).
When first released it was SRAM's first 12-speed groupset. The wireless version is available in either disc or rim brake, again giving you those options and that's one thing I really like about SRAM, they allow you set your bike up how you want.
Related article – 4 Of The Best Road Bikes Under $2,000
Shimano Groupsets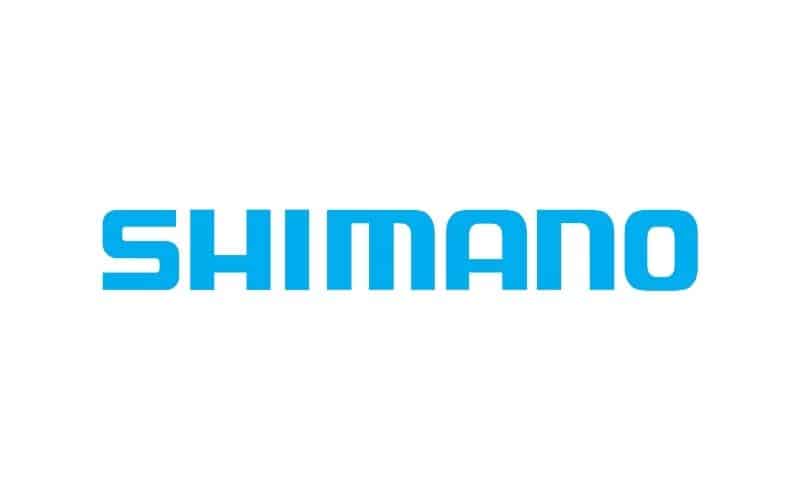 Next up is, Shimano, who is the market leader when it comes to groupsets and they have the largest range of groupsets specific for road bikes. 
The great thing about Shimano groupsets is that they all work together, that is providing that they share the same number of gears. So there is nothing stopping you from mixing componentry, although I will say that you should probably keep it uniform if you're after the best performance. 
Shimano Groupset Hierarchy
Claris
Starting with the entry-level, we have Shimano Claris. 
Claris is generally best suited to riders who are after a recreational bike. It comes with an 8-speed cassette and you're going to get a choice between a double or triple crankset, this gives you plenty of gearing options.
If the triple crankset appeals to you, it's available as a 50/39/30 tooth crankset. The double is available in either the traditional 50/34 tooth compact option or the smaller 46/34.
Shimano Claris is arguably a good option if you're a new rider, the dual control levers have gear indicators, meaning that you'll never have to guess what gear you're in, you'll always be able to clearly see! 
For flat bar road bikes, Claris has a purpose-built shifter lever, it's known as 'Rapidfire Plus'.
Sora
Shimano Sora takes things up a notch, literally, as you get extra gear when compared to Claris. 
So you're looking at a 9-speed cassette and a maximum cog size of 30T. 
The additional gears aren't the only step up. Shimano has made refinements so shifting is smoother, and overall the groupset is more durable. 
Aesthetically, Sora is different from Claris, sitting more in line with the performance options from the Shimano products. 
You can get four and five arms cranksets, with double and triple configurations offered. 
Got a flat bar? Swing for the dedicated 'Rapidfire Plus' shift levers.
Tiagra
Shimano Tiagra appears on an impressive number of entry-level road bikes, and rightly so, it's a great starting point, in my opinion.
Tiagra comes with a 10-speed groupset and a fine balance between performance and durability. 
Still giving you plenty of choices, Shimano offers the crankset in either a double or triple option, taking it up to a 34T sprocket for the rear cassette, so you shouldn't be short of gears! 
That large sprocket has to be accommodated somehow so the rear derailleur comes in either a long or short cage option. 
Crankset options increase by one, and a 'mid compact' 52/36 gear option is available. This gearing has been popular in the upper-tier groupsets so it's worth considering!
105
Shimano 105 is a performance-orientated groupset. It's the most popular groupset option in Shimano's lineup and speaking from experience, there is a big performance difference between Tiagra and 105 and it's noticeable! 
105 does use equal parts found on the more expensive Ultegra and Dura-Ace groupsets so you can be assured of a good performance. There is a slight weight difference, with 105 being heavier – would the average cyclist notice? Unlikely. 
It's an 11-speed groupset and 105 is the first groupset in the hierarchy to feature its own flat-mount hydraulic disc calipers, meaning that it offers a complete full disc-specific groupset. 
With the 105, you have a long and short cage option for the rear derailleur and the HollowTech II crankset gives you 53-39, 52-36, and 50-34T options.
Ultegra
Ultegra is said to be aimed at intermediate to high-level road riders and I'll go with that. 
One major difference to the Ultegra groupset is that the new R8100 is only available in their electronic shifting version, Di2. Which is a big shift (pun intended) from previous versions when both mechanical and electronic shifting was offered. 
What is Di2?
Another big change for Shimano Ultegra is that it's moved to 12-speed. 
Similar to 105, Ultegra uses some parts found on the more expensive groupsets. Also just like 105, you pay the price in weight but again, not something worth writing home about. 
When I say not worth writing home about, I mean the total groupset weight difference is 278g compared to Dura-Ace Di2.
Let me put that into context, the full 500ml bottle you take with you on rides weighs around 640g so there's really not a lot in it! 
So overall when you think that both of the new Di2 groupsets share many of the same mechanics and electronics it's difficult to argue in favor of Dura-Ace but let's see what it offers!
Dura-Ace
Shimano has taken away the mechanical option for Dura-Ace too, it's Di2 all the way! 
The new Dura-Ace R9200 looks different from its predecessor, and you get an extra sprocket on the back. You're going to get faster shifting, better braking, and other refinements. 
One surprising feature is that Dura-Ace R9200 is heavier than R9100 but don't let that put you off, the new Dura-Ace is brilliant.  
Like Ultegra, it's available as 12-speed only and that extra sprocket does give you a good feeling when you rock up to your club ride but I can't honestly say it has a huge impact on your everyday riding. 
However, the shifting speed is seriously impressive! The way the front derailleur sends the chain from the small ring to the big ring is incredible. 
Sometimes I find it hard to say Dura-Ace is worth the additional cost to Ultegra but everything about the performance of Dura-Ace is top class.
Related article – Best Road Bikes Under $1,000 In 2021
Campagnolo Groupsets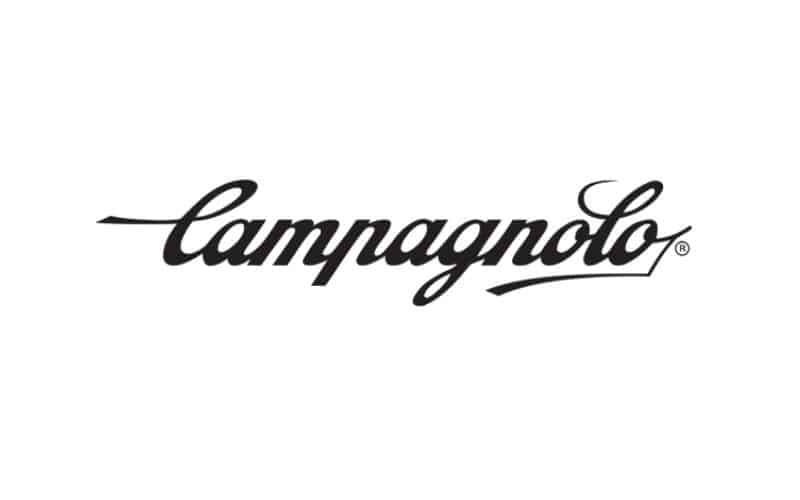 Thanks to founder Tullio Campagnolo's frustrations at having to remove a rear wheel during a race, Campagnolo was formed in 1933. 
Campagnolo has a huge association with many of the cycling greats, Eddy Merckx, Fausto Coppi, and Bernard Hinault to name but a few. 
As a result of this, Campagnolo is often the groupset of choice for those serious bike collectors, don't let that put you off, they offer some seriously high-quality pieces of kit!
Campagnolo Groupset Hierarchy
Centaur
Centaur is Campagnolo's entry-level groupset, though, to many people, it isn't exactly 'entry-level' as the overall hierarchy of Campagnolo started higher so you can compare the Centaur to the likes of Shimano's 105 or SRAMs Rival. 
It's an 11-speed setup and one you're unlikely to find on a bike that costs less than $1,200.
Chorus
Chorus sits just below the top of the range and is a 12-speed groupset. 
Using light alloys, carbon fiber, and titanium, you can be sure of high quality and durability. 
When compared to Shimano, Campagnolo Chorus sits between Ultegra and Dura-Ace, or if you're a SRAM fan, between Force and Red.
With Chorus, there is a hydraulic brake option so you have the flexibility to spec things how you want, without compromising on quality. 
Offering just as much as its rivals, Chorus can handle cassettes up to 11-34 tooth. 
Record and Super Record
Record is the premium mechanical offering from Campagnolo and premium it is. With high-grade carbon fiber, the construction also uses lightweight alloy and titanium to finish things off nicely.
Taking things up a notch from there is Super Record. By and large, it's very similar to Record but more refined. 
Higher quality materials are used and that makes the groupset even lighter and generally enhances all aspects of it. 
Electronic Power Shift Groupsets
Campagnolo is increasingly offering electronic groupsets, just like other manufacturers, they have their own name for them, for Campagnolo, it's Electronic Power Shift or EPS for short.
EPS is offered on all groupsets except the Centaur. 
As with other manufacturers, EPS groupsets use the same components as mechanical groupsets. 
Want to know more about Campagnolo EPS?
Related article – Best Carbon Road Bikes Under $2,500
So, Which Is The Best Groupset For A Road Bike?
The best groupset for a road bike is either SRAM RED eTap, Campagnolo Super Record, or Shimano Dura-Ace Di2.
On paper, these are the best groupsets for a road bike. Also the most expensive!
Does that mean they're the best groupset for you? Not necessarily.
How Do I Choose The Right Groupset For Me?
Finding the right groupset can be tricky.
Sure, you can spend a small fortune, and you'll get the absolute best, but for most riders, that's not needed. 
The more expensive the groupset, the lighter it is. It will perform better, I'm not going to lie. However, the differences become less noticeable the further up the tiers you go.
Durability should be a factor in your decision. The more you spend, the longer you expect your groupset to last. 
In my experience, this is the case but only so far. Once you get to the highest-tier groupsets, durability starts to decline again. This is down to the components that are used, chainrings and cassettes on the higher tiers use softer, lighter materials, and this means they wear out more quickly than the heavier steel options.
You see an increase in performance the higher up the tiers you go. This is apparent with shifting, and it will become smoother and quicker.
One thing to note is that when you go up to the higher tiers, as well as getting extra gear, you usually get the latest features.
When Shimano first released Di2, it was only available at the Dura-Ace level. Now it has trickled down to Ultegra.
Is there a huge difference between Ultegra and 105? The answer used to be no, you saved a few grams when you chose Ultegra, but now you automatically get Di2, so if that's something that interests you, then go Ultegra. Otherwise, Shimano 105 is a solid, reliable groupset.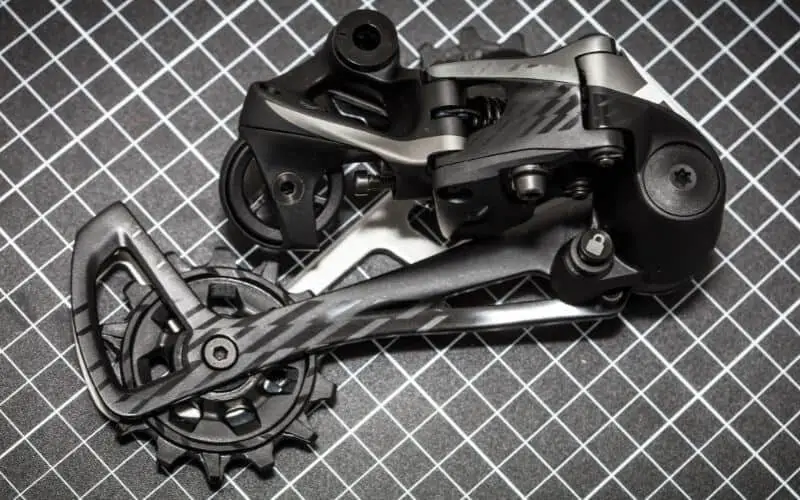 Frequently Asked Questions
Can I Put Any Groupset On My Bike?
Yes and no. In theory, there is nothing stopping you, and indeed, if you're going from 11-speed Shimano 105 to 11-speed Shimano Ultegra, there is likely to be little issue. Though I would recommend that you replace the full groupset out at the same time rather than doing it piece by piece, but you do you!
Things get more complicated when you want to go from 10-speed to 11-speed or Shimano to SRAM. You need to replace the full groupset at the same time for things to work correctly, and it's going to require changes to the hub and other various parts. 
What I'm saying is it's doable, but do plenty of research!
Is A Bike Groupset Worth Upgrading?
A groupset upgrade can be a way to give you that 'New Bike feeling' without actually getting a new bike. 
At some point, your components are going to wear out. When this happens, you can use this as an opportunity to upgrade your groupset.
Upgrading from mechanical to electrical shifting is a step up. For some, it's worthwhile. For others, it's not. 
Going from Shimano Claris to Shimano 105 is that day and night and something you will undoubtedly notice.
How Many Miles Does A Groupset Last?
Providing you look after the groupset; you should get a few thousand miles out of it before you start seeing signs of wear on the parts.
Final Thoughts
Feel more knowledgeable about groupsets now?
Paying a bit more tends to be worth the extra expense, though it isn't always necessary to opt for the most expensive groupset going…unless you want to! 
Campagnolo has my heart, but Shimano has my wallet. Which manufacturer do you favor?
Looking to pick up the perfect bike? Look no further – A Beginner's Guide To Picking The Perfect Bicycle.