It's the peak of the Covid-19 lockdown, I'm working long hours and really just move between my desk, the couch and the bed. It's really not healthy so I decide that it's time to make a change. I decided to get a Wattbike Atom so I can do some form of exercise…   
What Is A Smart Bike?
Even before the pandemic, interest in indoor cycling was already starting to grow with the advent of "smart" turbo trainers and "smart" bikes. So what makes them smart?
Using bluetooth connectivity, smart bikes connect with your iPad and exercise gaming apps. The gamification part has really transformed the way that I view indoor cycling – which used to be quite a dull and boring exercise at the gym. I'm actually quite eager to wake up and exercise every morning now!
Each morning, I pair my Apple Watch and connect the Wattbike Atom to the Zwift app via my iPad, the most popular gaming / cycling app.  This has turned my small apartment lounge room into a sweaty gateway to outdoor cycling courses around the world. I'll post up a review on Zwift in another article, but long story short – it's definitely worth the subscription fee!
The Wattbike Atom works well for both avid cyclists and casual riders. The convenience of the Wattbike Atom has been amazing and it's been a very easy way for me to get my cardio in every week. As winter approaches here in the northern hemisphere and rumors of a 2nd lockdown, I'll be making full use of the Atom!
Virtual cycling has been a useful training tool for myself when COVID-19, the weather or work life keeps me off the road outside. There are plenty of ways to connect your bike to Zwift – here's few Zwift setup ideas for any budget.
Wattbike Atom Overview
The Wattbike Atom has been designed to be an all encompassing piece of home gym equipment. It's designed to fit and work with all types of riders (and their accompanying sweat) and this makes it very adjustable. 
You should be able to pretty much replicate your road bike setup (I managed to do this).  There's plenty of range in the bar and seatpost, and there's sufficient space for fore-aft adjustments for the saddle and bar too.  Not an issue for myself as I'm the sole user, but the saddle fore/aft and stem adjustment requires an Allen key to make changes.  I can imagine this could be quite annoying if you're sharing the bike with a couple others in the household!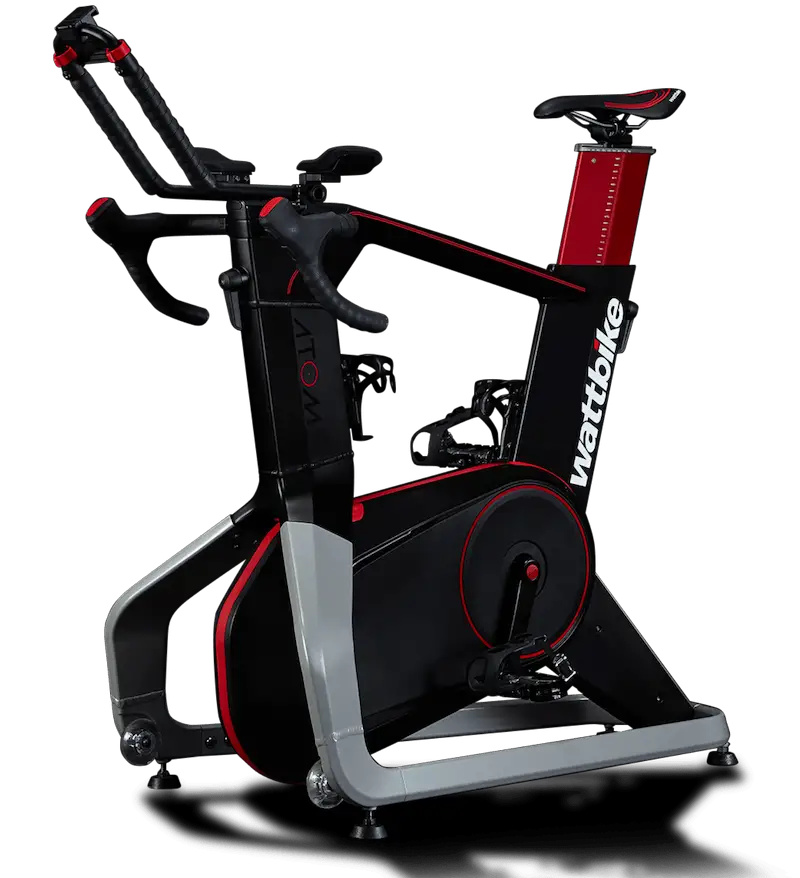 Key Specifications
Ok now onto some more techy aspects of the indoor bike (the below is based on the Wattbike Atom 2019 model).
| | |
| --- | --- |
| Size (H x W x L) – Height assumes fully extended tablet holder | 150cm x 50cm x 100cm |
| Weight | 44kg |
| Frame | Aluminium |
| Resistance | Magnetic |
| Gears | 22 |
| Crank | 170mm |
| Power range | 0-2000 watts |
| Gradient simulation | 0-25% |
| Connectivity | ANT+ FEC and Bluetooth Smart Control |
| Power required | Yes – mains adaptor |
Like every other smart bike or smart trainer, the Atom both measures power and automatically adjusts resistance based on the gradient of the virtual course or of the training workout (more on ERG mode later on).
The Setup and Design
The setup of the bike was a breeze. The 44kg training bike comes in a massive box and it's pretty much assembled except the aerobars (where the iPad sits), the pedals and the power cable.  Wattbike also provides a set of Allen keys so you can make all the various adjustments. 
That's it!
In terms of parking this bike in a corner of the room – it does take up a bit of space.  This is quite subjective as I'm living in a one bedroom flat!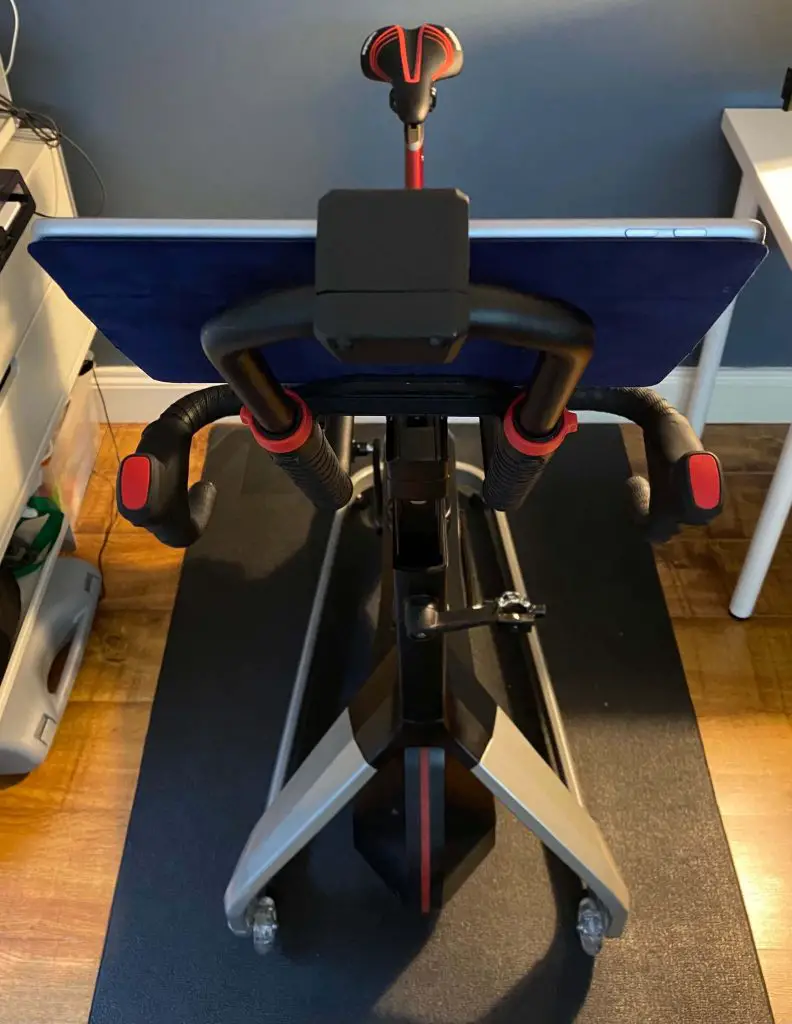 It does look quite sleek in that corner though 🙂
In terms of the base and the stability of the bike, it's been amazing even when pushed under hard sprints.  The bike is propped up on four rubber feet which are height adjustable.  If you need to move it around it's also quite easy to wheel around on the two coasters. If you need to carry it up and down stairs you'll likely need an extra pair of hands though.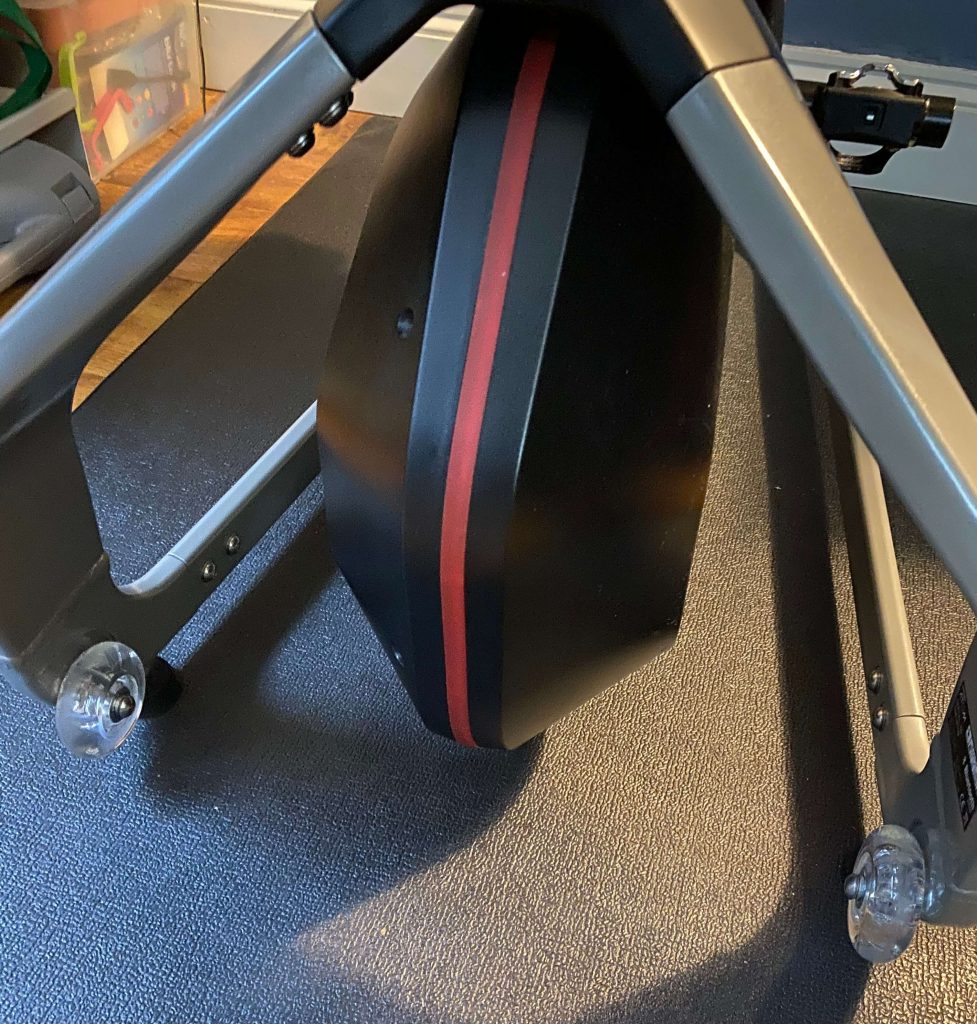 As I mentioned earlier, most aspects of the Atom can be customized according to your body type and riding preferences.  Markings on the seatpost as well as the seat fore/aft adjustment allow for precise points of reference (if the bike is shared with others!).
The handlebar system is also adjustable so you can align exactly with your road bike setup.  The system is also interchangeable with your own 26mm handlebars if you like.  The bike also comes with clip-on aerobars that have a tablet holder at the end. I don't mind having the aero bars but if you don't like them then you'll have to make a trade off with the built-in tablet holder.
The Atom features shift buttons that work in linear fashion, with 22 virtual gears.  WattBike has integrated the gear changes with third party apps like Zwift so when you shift gear changes on the screen. Of course this isn't as crisp as a top tier road bike but sufficient for my needs.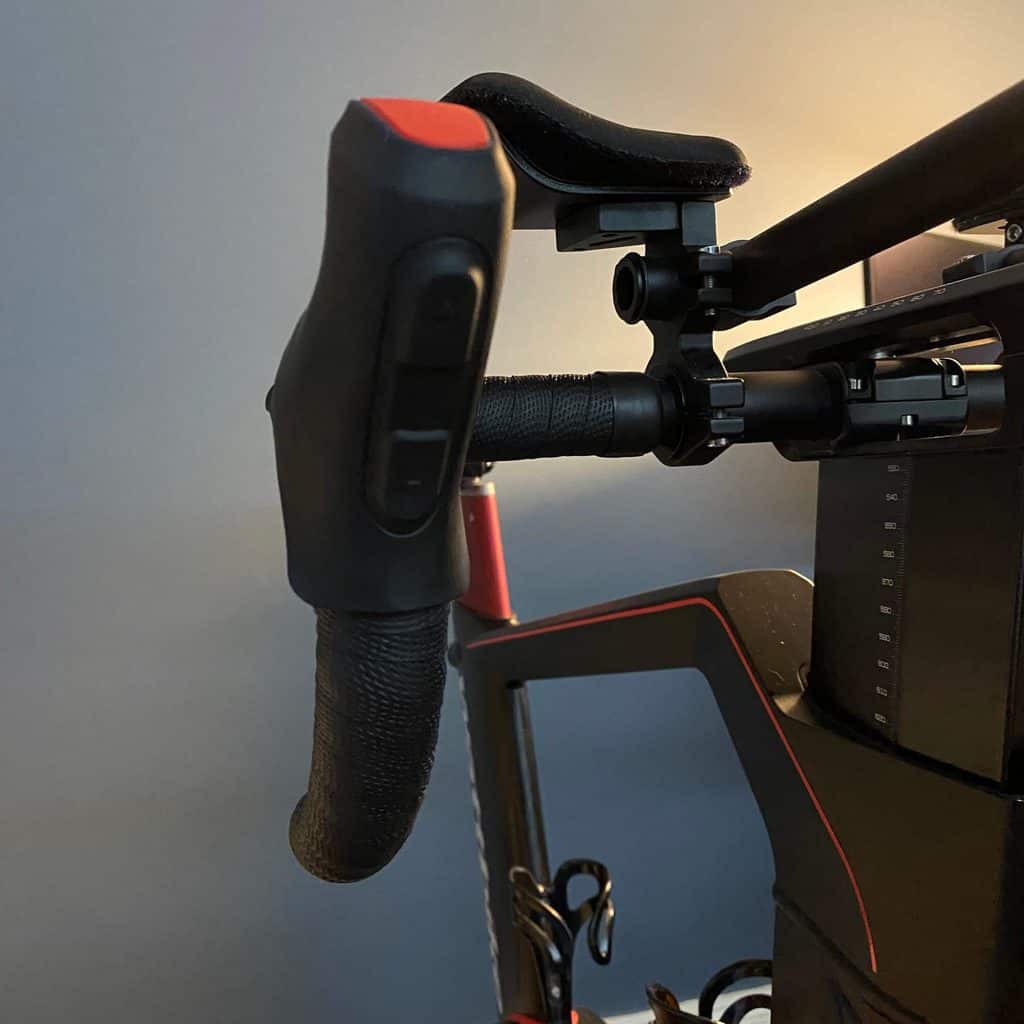 The Atom is equipped with 170mm cranks.  This works for my body type (short) so not an issue for me but some people are not the biggest fans of them with Atom competitors providing different crank options – mileage on this will vary between individuals here. In terms of peddles, I've equipped my own but flat pedals with toe cage comes as standard.
The pedaling feels nice and smooth. On the Atom, I usually do more of the structured workouts so ERG mode is always on.  This means that the resistance is held at a steady level but there is some flexibility with cadence to ensure you're working out in the correct power zone.
Overall, the bike is fairly easy to set up and make adjustments.  The only issue I ran into was the seatpost sliding during the first few rides. A few others have reported this issue as well but I was able to fix mine with a bit of extra muscle with the seat tightening leaver.  Otherwise no issues in the last 10 months of ownership!
Gear mode and ERG mode
The Atom has two modes, gear mode and ERG mode. Gear mode is when the user toggles the gear up and down (like a normal bike) and the resistance of the bike adjusts according to the terrain of a Zwift map.
On the other hand, ERG mode is very useful during training rides when you want to target a specific wattage.  By removing the gears function completely, the bike automatically adjusts the magnetic resistance meaning if you increase your cadence then the resistance reduces to balance the power output (and vice versa).  This functionality works seamlessly in the workout training mode on apps like Zwift.
Wattbike Atom App
To connect the bike to the Wattbike app, I've got a 6th generation iPad that's permanently left in the tablet holder.  In terms of bluetooth connectivity with the bike, it's never skipped a beat and I haven't had any issues with it.
Wattbike has also released an app that pairs with the bike.  It displays all the usual metrics you'd expect of an indoor bike.  If you have a heart rate monitor this will also sync with the app. 
The Wattbike app also has a handful of free workouts in categories like Warm-up/Cool-down, Endurance, Speed, HIIT and Climbs. 
Overall, a decent free app that allows you to get started with the Atom.
3rd Party Apps
This is where the fun really starts to begin.  As a smart bike, the Atom uses both Bluetooth and ANT+ standards to connect and broadcast to apps and heart rate monitors. I've only ever tested Zwift, but it was super easy to set up and connect.  I'd imagine other apps like Fulgaz, TrainingPeaks, The Sufferfest, and Trainerroad will be just as seamless.
I'll do a proper full write up of the Zwift app in another article but the premise is that you can use the smart bike to ride on a virtual road.  You can connect with other people in races, community rides and general cycling banter through the chat function. 
It's great to be able to ride with my brother who's currently living on the other side of the world!
Don't know where to put your phone as you ride? Check out the Best Phone Holders For Indoor Cycling.
How Does It Compare To Other Smart Bikes?
If you are looking for one of the best indoor cycling trainers, at a very premium price tag, then you should check out the Wahoo Kickr bike. This indoor bike takes years of Wahoo knowledge of indoor trainers and packs it into this tank of a bike.
The bike has some of the most innovative tech you'll see currently on the market.  It features an electromagnetic resistance unit which can generate up to 2,200 watts of resistance. This is combined with the Kickr Climb which is meant to simulate terrain of +20% and -15%, providing a very similar experience to an outdoor ride.
---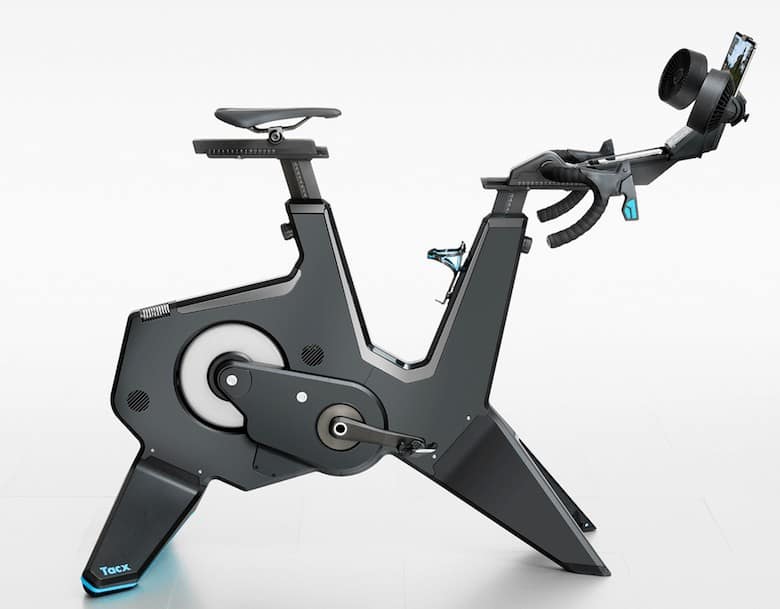 The Tacx NEO bike was first announced back in 2018 and it took a while to roll out due to various reasons. This coupled with the fact that it's the first indoor bike model by this brand, it's done quite well!  
Tacx has put together a very solid indoor bike and has everything you would want from a smart indoor bike. In terms of performance, the Neo is able to keep up with the road feel / accuracy of the other smart bikes. You can't go wrong with this option! 🙂
---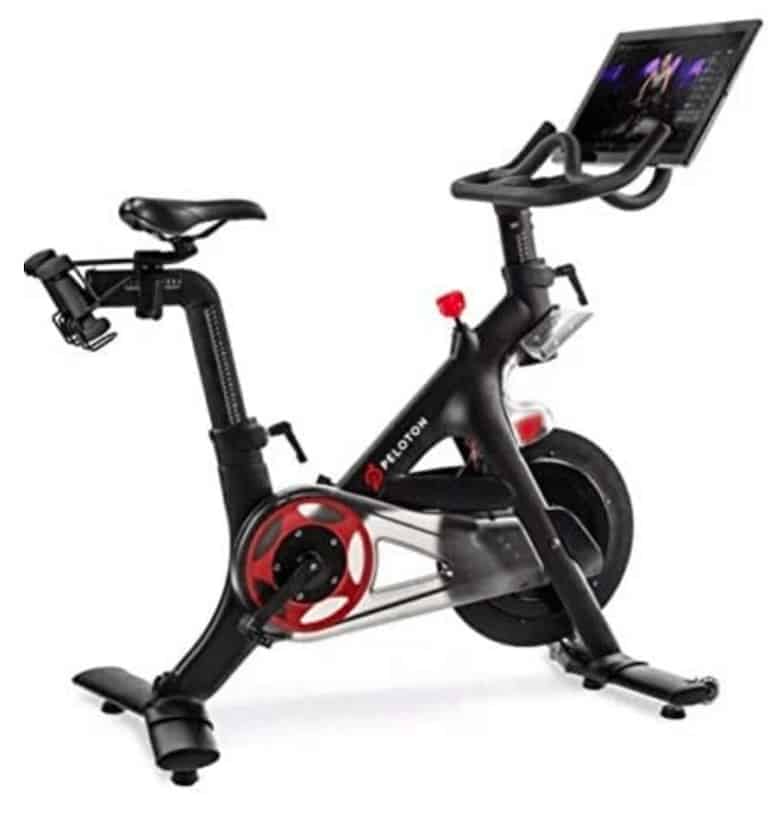 The Peloton bike is more than just a bike. When you buy the bike, you'll also need to subscribe up to Peloton app.  This then allows you to stream indoor cycling classes (spinning classes) to your home live and on-demand.
The bike itself is equipped with a 22-inch WiFi touchscreen tablet that allows you to compete with other riders.  This is done based on rider "output" (total watts expended) on a live leader scoreboard. Like all spinning classes, you also get the high intensity instructor yelling instructions at you along with the club bangers to help get you in the zone! 🙂
---
Wattbike Atom – The Verdict
If you read the entire review you can probably guess my final recommendation (also thanks for reading).  However, if not, it's a resounding GREAT BUY from my side. Wattbike has done very well in terms of balancing performance and price.
Included in the price is Wattbike's offer of a two-year guarantee on the Atom. They have also included a 30-day money-back guarantee if you don't like it!
Rating 4.75 / 5!