Bike helmets are the rare piece of bike equipment you hope you never need to test out. No one wants a crash, but if you have one, you'd better be sure your head is fully protected. 
But when riding in lower temps, a helmet is about more than just protecting your noggin. You've got to keep it warm too!
With that in mind, we're going to look at the best winter bike helmets out there.
The best winter bike helmets include:
What To Look For When Choosing A Winter Bike Helmet
Helmet Materials
No matter what season you're using your helmet in, it has to have safe materials. The materials used to make a safe helmet aren't actually that expensive. 
The outer shell is usually made of some kind of plastic, and the inner foam is often something called EPS. EPS is light, durable and inexpensive – it's the same stuff used to make picnic coolers. But don't worry, it's a higher grade of that same material!
MIPS
What can make a helmet more expensive is the addition of MIPS. MIPS stands for the Multi-Directional Impact Protection System. MIPS helps to reduce the rotational forces of some impacts. 
Some experts say that MIPS can help riders avoid major brain injuries.
Ventilation
When it comes to winter riding, you certainly don't need as much ventilation, but you still need some. 
Even in the cold, you're going to produce some sweat. But you also don't want a lot of cold air making you freeze your butt off! 
When looking for a winter helmet, look for fewer vents and more solid plastic on the helmet.
Need some additional warmth? Check out the Best Cycling Balaclava For Winter Cycling.
So, What Is Going to Keep Me Warm?
We guess your next question would be, what type of winter biking gear will keep me warm?
For winter bike helmets, some kind of inner lining is desirable. If it's removable, it's better so you can wash it and use the same helmet in summer as well. 
Fleece is a nice and cozy addition to a liner that will keep you warm.
Because ears are a particularly cold part of your body, look for winter bike helmets that offer earmuff attachments or ear flaps. Again, it's best if these are removable.
Related article – Best Cycling Shoe Covers For Wet And Winter Rides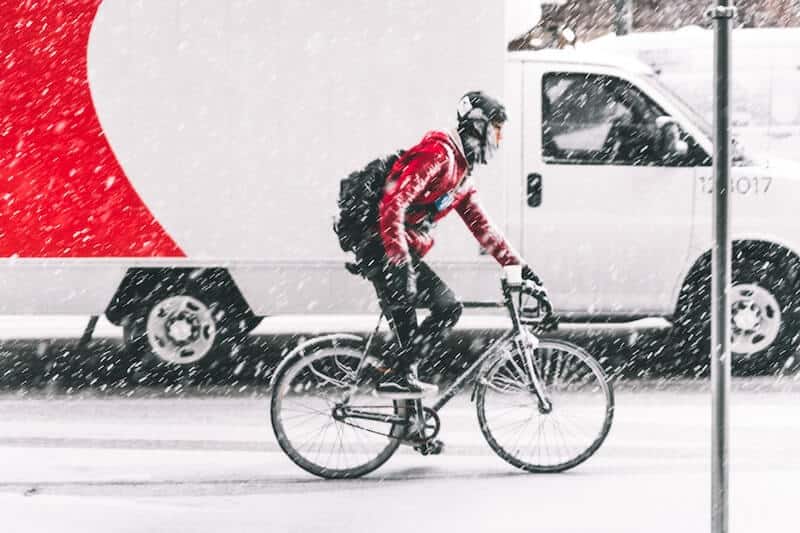 Visor and Face Protection
A visor isn't as important in winter, but there is still sun that you may need to block. It also helps with the wind.
Full-face coverage is great if you're going hardcore and cycling in really cold temperatures. I find I don't need it, but I don't cycle much once it goes below freezing!
Most winter bike helmets don't come with a full face covering. Look instead for a place to put your own goggles. 
Here are some tips and tricks on ways to ride in the snow:
Weight
Winter biking gear often means heavier equipment. Watch out for overly heavy winter bike helmets. They will be uncomfortable and cause neck pain on long rides.
Since we are looking at winter bike helmets, you may notice that the weights may be slightly higher than standard helmets. This is due to additional padding and fewer vents.
What Does It Look Like?
For some riders, style is important. You'll notice that most winter bike helmets have a sort of heavy, military look to them. That is generally because of the fewer vent holes. They also tend to be less aerodynamic. 
Look for helmets that come in bright colors and cool patterns to brighten things up.
How Does It Fit? 
A good-fitting helmet is worth its weight in gold. First, you need to get the right size for you. Follow the manufacturer's instructions on choosing the right size for your head size. 
Once you've got the helmet, you'll want to make adjustments. This sometimes means moving small foamy tabs around to match your head shape. This process is a bit of a pain, but once it fits your head, you're good to go.
A new-ish feature is a dial that lets you simply turn your way to a perfect fit. 
If you need additional information on helmets, check out our guide on choosing a bike helmet.
Price
It's not a great idea to skimp on a bike helmet. That said, even the cheapest helmet will be better than nothing. And price doesn't always guarantee it is the safest. 
With winter bike helmets, prices can range from $40 to $100. Of course, there's always some obscenely expensive one :). 
Check out this guide for more information on preparing for cold-weather cycling.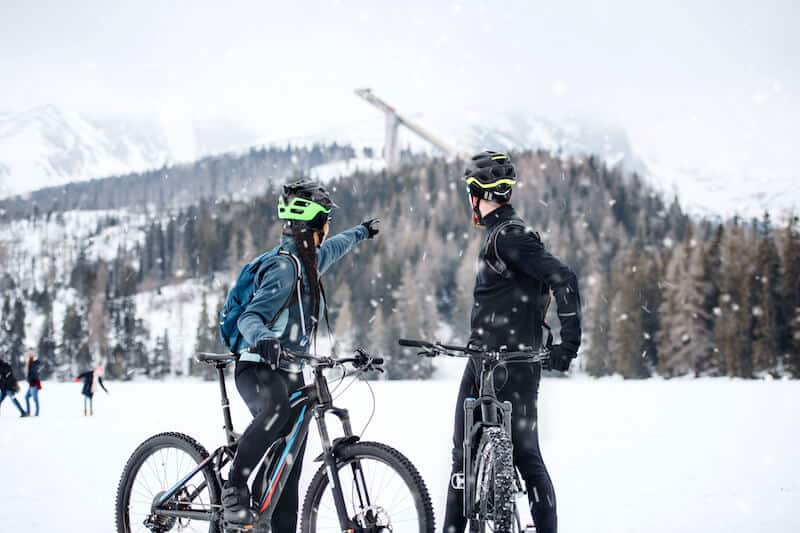 Reviews Of The Best Winter Bike Helmets
Now that you've seen yourself as a winter bike rider, how are you going to pick that perfect winter bike helmet to add to your winter biking gear?
Don't worry; I've got you covered with some reviews of what I think are the best winter bike helmets on the market today. 
The Retrospec Traverse H1 Convertible Helmet is for riders who aren't afraid of deep freeze riding. It's a combination ski, snowboard and bike helmet and meets all safety certifications required for each activity. 
This helmet comes with the usual ABS outer and EPS inner material. It has 10 vents for optimal circulation and temperature regulation. 
With your purchase, you will get a plush fleece netted cap and earmuff attachments. Some users found the earmuff material a little rough but said the helmet did a good job of keeping their head warm. 
There is no visor or face covering, but there is a clip so you can attach your own goggles. Some users found the clip to be too rigid. 
The weight is 19 ounces, which is a little heavier than other winter bike helmets on this list due to the extra padding. 
This is a slightly military-looking helmet, but it does come in some great colors and even patterns. My favorites are wood and marble that look really unique.
There is an Ergo Knob adjustable dial, which tightens and loosens the entire inner framework to fit your head. A few riders found that the helmet fits small because of its shape, so it might be best to check measurements before you buy.
Considering all the features and the warmth, I'm surprised this is in the lower price range.
---
The Bern Macon 2.0 MIPS Helmet has an ABS constructed shell and injection molded foam for protection. The MIPS system reduces rotational motion to the brain in the event of impact. As a refresher, rotational motion in an accident can cause brain damage.
There are 12 vents to keep the air moving but not too many to make you cold. What keeps you warm is a ribbed EPS liner. This winter bike helmet doesn't come with either a visor or full-face coverage. 
You can use this helmet for recreational cycling, skating and snow sports. It weighs 13.3 ounces, which is nice and light.
This is a pretty cool-looking helmet. In black, it looks very serious, but there are great color options, some with little stripes near the ears. The kind of helmet that draws compliments on when you're out with friends 😃.
The fit is nice and snug because of compression-molded pads and an adjustable strap.
The sizing of the helmet seemed to cause confusion in some users, but the EZ-Fit system automatically adjusts for comfort every time you wear the helmet. This falls into the mid-price range bucket for this round up.
---
The Giro Timberwolf Adult Dirt Cycling Helmet has polycarbonate shell material and EPS impact foam.
The vents are adjustable, which is great for a winter helmet. The Thermostat Control Adjustable Venting allows you to control how much air passes through the vents, and users liked the fact that they could adjust to cool down when they overheat.
To keep you warm, you have a removable brushed fleece liner and ear pads. Your ears are an extremity body part that needs extra care in winter. Luckily, plenty of customers report that it does keep them warm!
There is no face shield or visor, but it's goggle compatible. You can use this helmet for mountain biking, touring, and commuting. It weighs 13.8 ounces, which is about average.
This helmet looks pretty serious in matte black with few vents. There are no colors besides black, and this product is in the higher price range.
The In Form Fit System lets you make the helmet a perfect fit for your head. This is done by adjusting the vertical position and tension. Some users said the chin strap was a little too short, so be careful if your noggin is on the bigger side.
---
The ILM Adult Bike Helmet Commuter is on this list for those who live in climates that see more rain in winter than really cold weather. 
The integrative molding shell complies with the US CPS safety standard, and the inner material is EPS foam.
There are only 15 vents, so there will be less rain and cold air coming in compared to regular bike helmets. There's no lining, so this isn't a really cold weather helmet, but it will keep you dry. Users mentioned that if you wear a helmet liner for warmth, this product is ideal for winter.
There's a visor that will help with sun, rain, and wind in your face, but no face protection. Some customers had trouble fitting the visor onto the helmet. The listed uses for this helmet are commuting, scooters, biking, and other outdoor sports. 
The helmet weighs in at 9.5 ounces. That's quite a bit lighter than the other models because it isn't lined for warmth.
I would call the appearance of this helmet kind of bug-like but in a fun way. It comes in a variety of bright matte colors such as red, green, and blue, as well as gray, black and white.
This helmet comes with an adjustment dial to make it fit well. It also has quick-release buckles which are convenient.
---
Final Thoughts
I'd put my hard-earned money on the Retrospec Traverse H1 Convertible Bike Helmet for the following reasons:
The product has made a serious effort at keeping your head warm
An adjustable dial for fitting
Comes in great colors and patterns
 All whilst keeping its price pretty low!
The only serious downsides are its weight and the omission of MIPS. 
The jury's still out on how much of a benefit MIPS is, but maybe in the future, it will be an added feature on this helmet.
Looking to increase your safety during winter rides? Check out the Best Bike Helmet Rear Lights!