Cycling shorts for women will change your riding experience. They're well designed to optimize the anatomical differences between men and women. Getting a pair is a must if you ride often! But which ones do you get? And how can you tell which pair is high-performing and which isn't? 
Such questions are the reason we compiled an extensive list of the best women's cycling shorts in 2023. My list consists of: 
What To Look For In Women's Cycling Shorts
There are plenty of women's cycling shorts on the market, making it difficult to decide which is best. The following guidelines present markers you should look for to determine whether a pair of shorts will provide the comfort and performance you need.
Performance Features
Cycling shorts are a functional item of clothing. They need to include performance features and also keep you comfortable. The most common features you should look for in a pair of cycling shorts are:: 
Freedom of motion: Of course, your cycling shorts should be tight for aerodynamics. But you want to get a pair of shorts that also allow your legs to move freely. If you're feeling constrained, you could harm your legs and groin area. Look for products that emphasize how easy it is to cycle in them. 
Stretch panels: Cycling shorts are made of four, six or eight panels. They follow the natural curves of the legs and provide support when cycling. High-performance cycling shorts have a higher number of panels. Get yourself a pair of cycling shorts with at least six panels. 
Moisture absorption: To keep yourself dry, get a pair with moisture absorbing fabric. 
Leg grippers: These function like a belt and keep your shorts in place. You don't want to be adjusting your shorts every few minutes. Such inconvenience can easily be avoided by purchasing a pair with leg grippers.
Pockets: You can easily store bank cards or ID in short pockets. They can remove the need to carry a backpack every time you cycle. Try to get pockets that won't make you uncomfortable when you cycle. We suggest getting shorts with side pockets and avoid ones with front or back pockets.
Chamois: This is protective padding that's specially made to prevent chafing and alleviate pressure. Men's and women's are designed with different foam densities. It's also performance-enhancing because it lessens cycling vibrations. Many products on the market help with personal hygiene as they are considered anti-bacterial. 
Reflective material: If you cycle a lot at night, get gear that has reflective properties to ensure you're safe and well seen by motorists.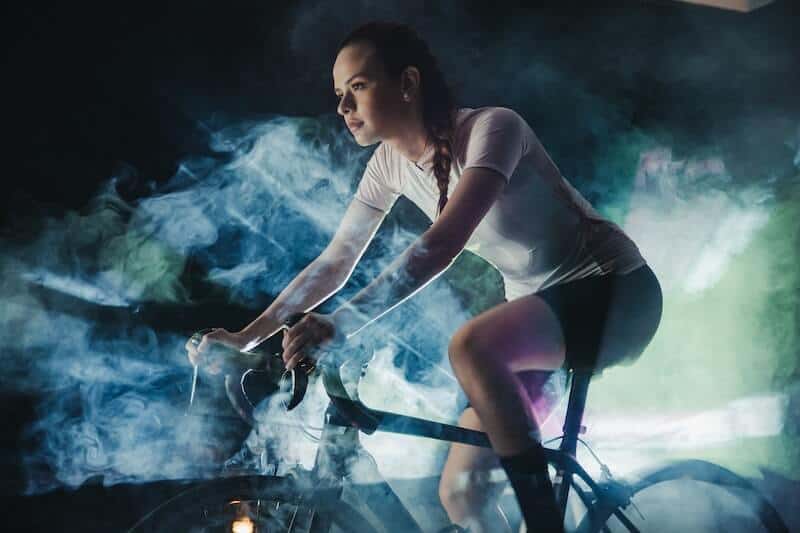 Type
Not all women's cycling shorts are the same type. Some are made for indoor cycling while others are for mountain biking. They will come in various lengths and fits. This difference makes them suited to one type of cycling more than another. The sort of shorts you choose will depend on which type of cycling you do.
Here's a summary of the most common: 
Standard cycling shorts: These are the type you would normally expect to buy. They have thick padding in the chamois and are very versatile. Our top pick, the Beroy Women's Bike Shorts, is a great example of this. 
Indoor/spin class cycling shorts: Because you aren't as likely to move around during indoor cycling, the shorts have a much thinner chamois. The chances of chafing are low, and the padding is consequently smaller and thinner. 
Triathlon cycling shorts: Triathlon bike shorts are usually custom-fit. They generally feature very thick padding. Because of this, there's no reason for a triathlon cycling short to feature a lot of padding. The padding is even thinner than that of indoor cycling shorts.
Construction and Materials
You want ventilation, freedom of motion, moisture absorption and durability. 
Nylon spandex blends are the most common material in women's cycling shorts.  They're popular due to their elasticity and resistance to wear. Elasticity ensures freedom of motion, while wear resistance is great for ensuring you can use the product for a long time. But this material isn't great at absorbing moisture, which will deter most customers.
This is why modern spandex shorts have strains of polyester to improve moisture absorption.
Fit 
Cycling shorts should feel like a second skin. To determine the perfect fit for you, there are a couple of considerations you should make: 
Basic fit: Shorts should be tight but comfortable. You don't want them to be wrinkly or baggy, but you also don't want your cycling shorts to be too tight. Worst thing would be that they hinder blood circulation! Fits differ from manufacturer to manufacturer. This makes it hard to determine the perfect fit when purchasing online. That's why you should buy products that offer free returns if you're unhappy with the fit. 
Leg length: These range from 3 to 10.5 inches and depend on the type of cycling you do. Short lengths (3 to 5 inches) are for indoors, while those that are long enough to pass the quadriceps are for racing.
Review Of The Best Women's Cycling Shorts in 2023
Using the criteria above, we've reviewed the following women's cycling shorts. Hopefully this helps you make the best decision before purchasing.
These shorts are made from 80 percent polyester and 20 percent spandex. This means they have excellent moisture absorbing properties. The lightweight fabric also has great elasticity. The manufacturer claims that this feature prevents muscle cramps and reduces lactic acid buildup.
The thick padding in the chamois is made from a dense 3D gel to ensure that women are well protected from chafing. Great pair of shorts for long-distance cycling. The sewing construction is smooth and reduces friction, making your ride more efficient.
One downside to the shorts is that they're best for beginners who sit upright when cycling. The padding of the shorts is more at the back-end, which suits this riding style. Consequently, more advanced cyclists will find little value in these shorts.
---
This pair has been specifically designed for long-distance bike rides. The ventilated chamois with 3D gel padding is lightweight and provides enough structural support. This ensures you're comfortable and finish a ride with minimal chafing. The smooth construction also helps reduce the chances of saddle sores while making sure you have optimal freedom of movement. 
These women's bike shorts have an elastic closure to keep them in place while you cycle. They are also constructed using 80 percent polyamide that aids in its excellent moisture absorption.
The manufacturer offers excellent customer service. It's easy to reach out to them if you have any doubts about your size and measurements.
Despite the popularity of this pair, many customers report how the product feels bulky and uncomfortable when one's not cycling. Not the most comfortable or fashionable look if you wear your cycling shorts underneath your main clothing after a ride!
---
Are you looking for a competitive edge? For the ambitious triathletes among us, the My Kilometer shorts help support athletic performance. This includes hydrophobically treated material. This means you remain dry and become more aerodynamically efficient.
The easy-to-reach pockets are roomy enough to store nutrition packs when you need to refuel. 
With the elastic chamois, you get a lot of flexibility and movement. You can run and swim in these shorts and still have a decent level of support to ride for many kilometers. It also distributes pressure more evenly to ensure you remain comfortable throughout your race. 
The fit may be hard to determine with these shorts. The sizes come up small, so it's best to order a size up.
Related article – Best Triathlon Bikes For Beginners
---
An 85 to 15 percent polyester to spandex ratio ensures these shorts are great at releasing sweat. The fit is snug and follows the natural contours of your legs, which ensures great comfort and freedom of motion. 
The padding provides sufficient protection, and it's reinforced with thick 3D gel. It's also adequately placed to help fix your cycling posture. By leaning forward less, you're less likely to damage sensitive areas or put your hips at risk of injury.
Perhaps the best thing about this product is how you can order and try on the cycling shorts! If you're unhappy with the fit, you can then return for a new pair or get your full refund. This service gives you the freedom of your perfect fit, perfect in this day and age!
A reason why some people may not find this product suitable is that the cycling shorts suit women with a slim frame. Ladies who don't fall into this category have reported discomfort even after trying on larger sizes.
---
These shorts are great for the gym; they feature pockets that can fit a phone and a bank or gym membership card. 
In addition to these handy pockets, the cycling shorts have a seamless, shock-resistant pad. These provide ventilation and reduce the effects of ride vibration on your body. To ensure you don't overheat during a workout, these also have heat-dissipating properties.
The construction and materials are durable enough to resist wear, but the pair do have flaws. The sizing is confusing, and you should order a size up if you want the perfect fit.
---
From the previously reviewed products, you can tell that not all products are made for all women. This is why we love the Qualidyne Women's Bike Shorts. They're extremely stretchy and provide comfort and stability. In addition, they're available in extra-large sizes, too.
The chamois padding is moisture-wicking and quick-drying. It's soft and comfortable to provide hip and low back support. Another cool feature is the reflective strips on the sides of the shorts: they ensure you can safely go night time cycling.
If you aren't satisfied within the first 90 days of your purchase, you can claim a full refund for the shorts. That's how much the manufacturer trusts their product. 
Unfortunately these shorts aren't perfect. The side inserts may roll up and bulge a bit. Customers, especially the slimmer ones, have reported how weird this looks!
---
Final Thoughts
We chose the Beroy Women's Bike Shorts as the best women's cycling shorts because of the versatility they offer. They're well-padded and provide beginners with a perfect introduction to the world of cycling.
Don't discount the other pair of shorts though! If you're a triathlete, take a look at the My Kilometer Bike Shorts. Alternatively, if you need shorts for indoor cycling, check out the NiceWin Women's Bike Shorts.
Whichever pair you choose to get, purchase one that's comfortable and suits your riding style!  Thanks for reading!