What Is Zwift?
Zwift doesn't have any hardware attached, it is app-based so you'll need a bike and a turbo trainer to link everything together. 
With Zwift you don't get a spin class teacher. The Zwift experience is designed to make you feel like you're riding outdoors, although in a cartoon-like world! 
You can compete with other Zwift users in races, this can get very competitive! A lot of these races require you to wear a heart rate monitor and have a smart trainer – this is to prevent anybody-minded to try and cheat.
Races have different categories to try, which category you will be in will depend on your current fitness level. This means you are matched with other riders of the same fitness level.
If working out alone is more your thing, then there are plenty of training programs to work through. These have been designed by professional coaches and to be honest when I've followed them, I've usually seen an improvement in my performance!
Without question, Zwift is a great exercise program, with bags of appeal.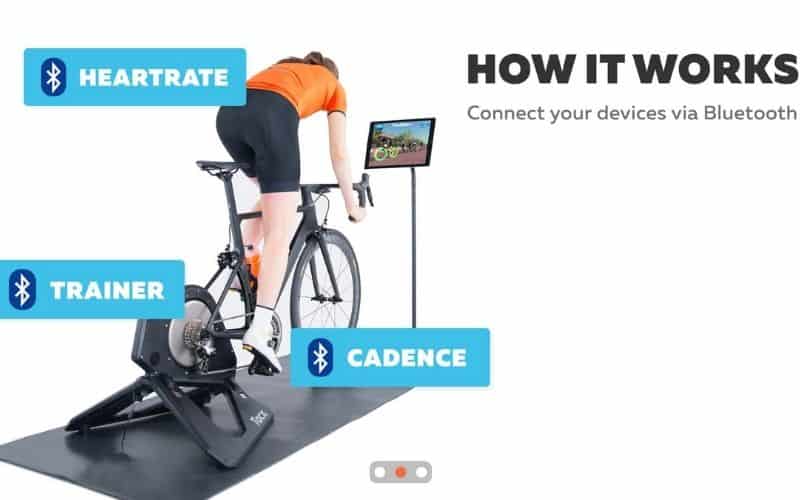 What Is A Peloton Bike?
A Peloton bike is quite different from Zwift in that it is both hardware and software. 
There are instructors for the spin classes, these can either be live or pre-recorded. 
If you have ever done a spin class in your gym, then that will give you a good idea of what Peloton is all about. The best way I can describe it is as if you have taken the spin bike from the gym, put it in your house and the gym instructors come to, whenever you want. 
If you like spin classes, then there's a good chance you'll like Peloton. 
As a Peloton bike is both hardware and software, you need to purchase the bike and then there is a monthly subscription of $39 a month.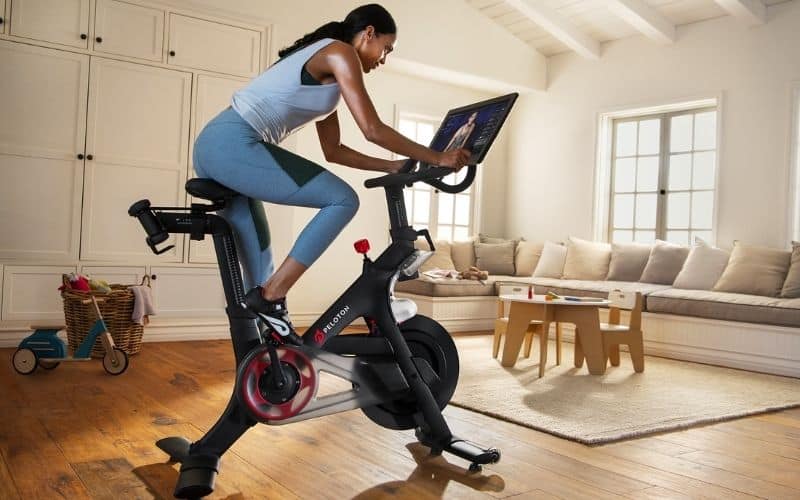 Zwift Vs Peloton: Head To Head
The Bike
With a Peloton bike, you get a bike. Your only concern is which bike and package. 
You can choose between 'Peloton Bike' or 'Peloton Bike+'. The big differences?
| Peloton Bike | Peloton+ Bike |
| --- | --- |
| Tilting screen for different heights | Full 360-degree rotating screen. Designed to seamlessly shift between cycling, yoga, and other activities. |
| 21.5" HD Touchscreen | 23.8" HD anti-reflective touchscreen |
| 2-channel audio with 2×10 watt speakers | 4-channel audio with tweeters and full-range drivers that deliver studio-quality sound |
| Resistance knob for manual control | Resistance knob for manual control or Auto-resistance option, which automatically changes your resistance to match instructors' cues |
| Weight: 61 kg | Weight: 63 kg |
With Zwift you can use your own bike that you use every day. You don't get a screen, but you do get plenty of options on how you make Zwift work. 
Whether that's through Apple TV, iPad, Android, or many other ways so you do have a lot of flexibility with the Zwift setup. 
If you're looking for Zwift setup ideas, you should check out Zwift setup ideas for any budget – written by yours truly. 😁
Related article – 5 Of The Best Floor Mats For Indoor Cycling
Other Exercise Options
If you're like me, you like to vary your exercise routine a little. Personally, I like the occasional run and a few weights. 
So how does that all fit in with Peloton or Zwift?
With a Peloton membership, you have access to a host of different exercise options. I have to say if you're looking for a gym membership replacement, Peloton has it. 
You can take yoga classes, strength training, boot camps, meditation, and many others. Just turn your screen around (if you have the Pelton Bike+) and you can seamlessly transition to a different exercise. 
Much like cycling classes, they can be taken live with leaderboards and encouragement from trainers. The fully immersive experience.
Related article – Best Headphones For Peloton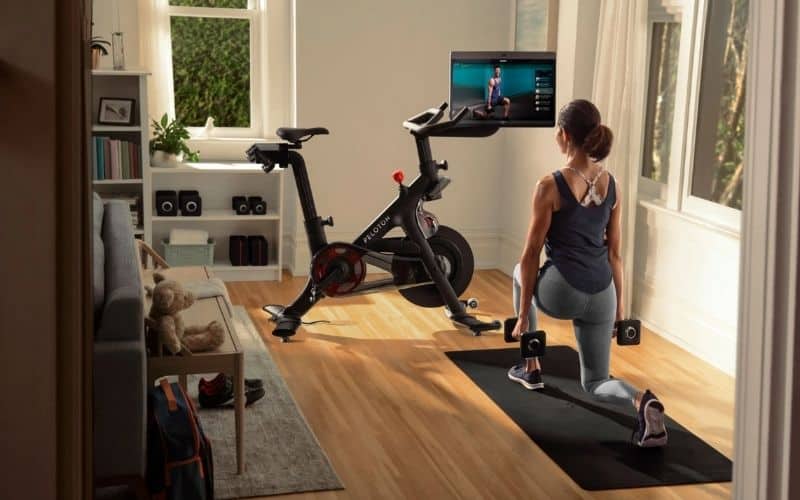 Zwift can't quite deliver in the same way here. It does offer Zwift Run and it's totally free! 
You get access to structured workouts. These are designed by coaches and can be tailored to your fitness. What I do like as someone who is somewhat of a novice runner, the workouts help me to achieve my goal. If I want to train for a half marathon (I don't!) then there's a workout ideal for getting me ready for it…all free.
With Zwift there are also running events so you don't miss out on the human interaction. You can meet up with your friends and run a race or do laps. 
In order to use Zwift Run, you do need to be able to connect your treadmill to Zwift. Now Zwift does sell its own RunPod and that will connect easily to the application. 
You can use other manufacturers' running pods, such as Garmin Running Dynamics Pod, and these work in a similar way to the Zwift RunPod.
What if your treadmill doesn't have Bluetooth? No problem, Zwift has thought of this too! 
You can now purchase Zwift Runn. In very simple terms, this turns any treadmill into a smart treadmill that will talk to Zwift so you can use all of its services. Pretty neat, huh?
Cycling Tracks
As Zwift is a largely cycling-based application, it's no surprise that there are plenty of cycling tracks available – an increasing number since the first lockdown too. 
Each 'World' as Zwift calls it, has different routes and they do try to replicate where the World is based on. For example, London has the Box Hill climb, so you have the opportunity to climb up Box Hill, virtually!
There is one world called Watopia, that isn't based on anything but I have to admit, it's where I spend most of my Zwift time. It offers a variety of routes and usually, something matches my mood!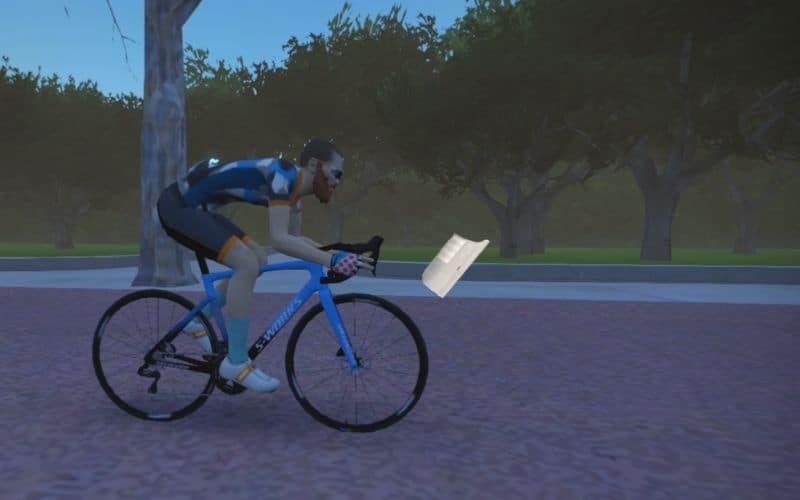 A little-known secret with Peloton users is that there are Scenic rides available through the Peloton app. It's on an extra tab, you have to click 'more' to access it. 
The interesting difference with Peloton is that there is a trainer with you on these rides. That's quite unique and can help to get you to your goals and also keep you motivated through the ride. 
There's a fair amount of camera work involved in all of this as sometimes you are looking at the trainer, who rides alongside you, other times you are watching the road. 
The cycling tracks on Peloton aren't 100% perfect yet but the same could be argued about Zwift but I do like the route Peloton is taking.
Related article – How To Ride Alpe Du Zwift – A Beginner's Guide
Interface Design
Zwift is very easy to navigate and when you're on a ride, it's focused whilst still giving you easy visibility to all of your stats. The Zwift Companion app is a nice extra feature that provides you with even more stats.
Both Zwift and Peloton have a leaderboard visible so if you're wanting to compare yourself against other riders, you can do it at a glance.
Peloton keeps things quite streamlined, your stats are at the bottom and you can really pay attention to your trainer. 
Sometimes I find Zwift to be a bit distracting when there is a lot of riders chatter popping up on the screen but generally, I find the setup motivating.
Related article – How To Get The Zwift Tron Bike – Tips And Tricks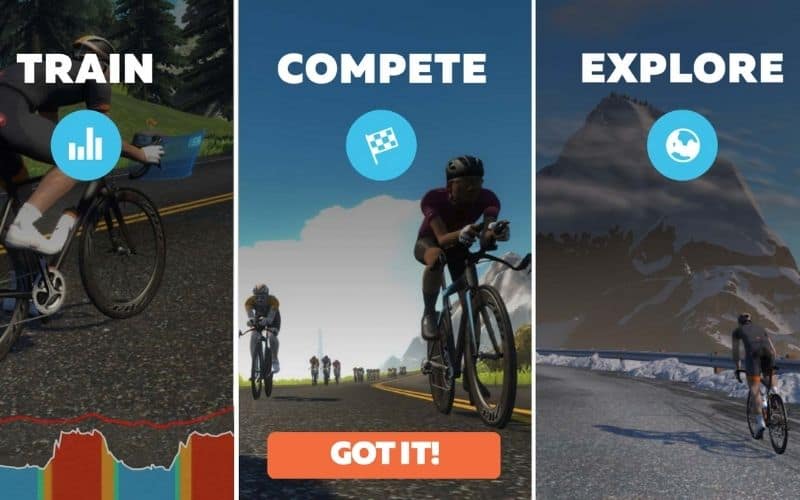 Overall Training Experience
Zwift can make you a better cyclist if you put the time into it. 
Whether you're a sprinter, a climber, or an all-rounder, Zwift has the tools for you to improve, keep your legs moving in the winter months or simply enjoy yourself. 
Whilst Peloton can make you a better cyclist, that isn't their main goal. Peloton removes the need to go to the gym. You can use it for much more than cycling and I'd encourage you to. 
Both applications bring a lot to the table. Personally, I'm a Zwift fan because cycling is my thing and spinning classes don't motivate me in the same way a long climb does.
Find what motivates you, what your goals are – this should help you decide whether Peloton or Zwift is more suited to you.
You may also like to read How To Connect Zwift To Garmin.
Summary
As you can see, there is a fair amount to consider before purchasing either one. On the surface, they can seem quite similar but when broken down, there are some telling differences. Wanna see? 
| | Zwift | Peloton |
| --- | --- | --- |
| Main Purpose | Mostly cycling-based, with Zwift Run offered for free | Cycle indoors but also do other workouts and remove the need for a gym |
| Video Features | No streaming. No Instructors. | Live or pre-recorded classes with instructors |
| User experience | Gives the user a sense that they're in a cycling video game | Feels like you're in an exercise class |
| Main Features | Mostly cycling based, with Zwift Run offered for free | Cycling, yoga, meditation, strength training, and many more |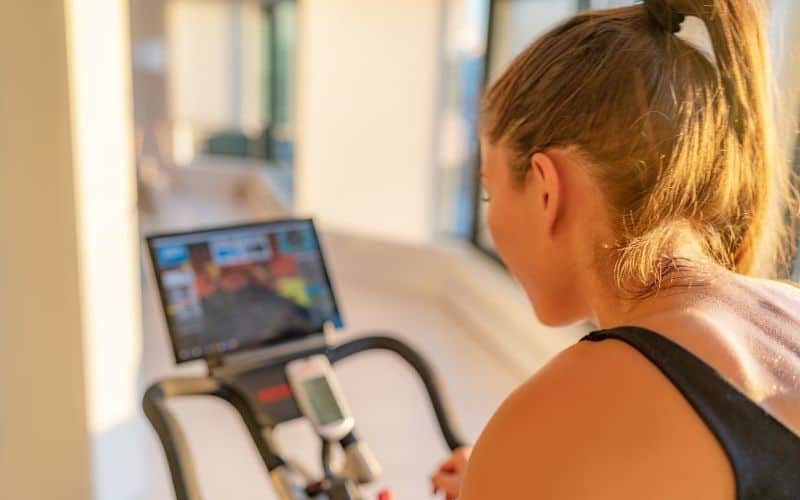 So How Do I Choose Between Zwift And Peloton?
Which is better for you, is going to largely depend on your goals and your preferences. 
If you're an out-and-out cyclist and your aim is to become a quicker, better cyclist, then Zwift is your answer. 
Zwift has workouts that are designed for cycling-specific fitness and the whole app is geared towards cycling. The fact that you can participate in group rides, workouts, or online races is all geared around becoming a better cyclist.
Whereas Peloton is focused on providing you with the indoor spin class experience.
You'll burn a lot of calories and really improve your cardiovascular fitness so it will improve your cycling. Though the workouts aren't specific to bike racing, they are designed to increase your cardiovascular endurance and overall fitness.
If spin classes are more your thing and you get a buzz out of the music and camaraderie that comes with the instructor then Peloton will motivate you through and through. 
Peloton is a superb alternative to needing to head out to the gym to do a spin class there.
Which is best for indoor cycling?
If you're a straight-up cyclist, then you're likely to be more at home with Zwift. You can climb the iconic "Alpe du Zwift", Alpe d'Huez's virtual twin. It follows the exact same 21-hair pinned route, meter-by-meter, the upside is, you don't need to leave your house to do it! 
Peloton offers something different and for a road cyclist, it may not be the same. It's very much geared towards spinning classes so if you're looking for that true indoor cycling experience, I would say you're better off with Zwift. However, if you want the ability to do a few different workouts, such as yoga (it is good for cyclists too…want proof?) then Peloton can offer you that.
Frequently Asked Questions
Can I use Zwift on a Peloton?
You can use Zwift on a Peloton but it does require a bit of investment. 
You're going to need to purchase some power meter pedals and connect those to your Zwift account and then you're all set.
The downside to this setup is that you cannot control the resistance so this is something you have to manually adjust as you're riding. 
For a more in-depth walkthrough, you can check out this.
How much does it cost to use Zwift?
Zwift costs $14.99 a month. There is no commitment so you can cancel at any time.
Does Peloton bike work without a subscription?
You can still use a Peloton bike without a subscription, though you don't have access to all of the features. 
Without the $39 a month subscription, you don't have access to:
On-demand and live classes
Interactions with the instructor, or get personal instructions, or ask any questions
Your metrics aren't recorded, nor do they feature on the leaderboard
You don't have access to the other workouts (yoga, running, strength workout, and BootCamp)
You aren't able to interact with other participants
What you do get is access to 3 on-demand classes and the Just Ride class. 
Now, this does only display your real-time data on the screen so you'll have to personally keep track of your workouts and metrics. 
Final Thoughts
We're now into 2022 so fitness is at the forefront of many people's minds with plenty of New Year's Resolutions set – did you set any? 
Set your goals and decide what equipment will help you to smash them, then go for it. 
By the way, did anybody see the Zwift's very own smart bike, they teased us with at the end of 2021? 
Are you tempted to have your very own Tron bike?
You may also be interested in: