Zwift has taken the indoor cycling world by storm. As you have asked this question, you're likely to know what Zwift is already. If not, the short summary is an online game app that allows you to ride on virtual roads. You can also ride with real-life cyclists in the Zwift virtual world! Basically it's made indoor cycling a hell of a lot more fun and entertaining!
Before I got my Wattbike, I had a "dumb" trainer setup. So I pondered, can I actually connect to Zwift without a smart trainer? Turns out, you can and the steps needed aren't complicated nor expensive!
To use Zwift without a smart trainer, you need to have a ANT+ or bluetooth cycling cadence and speed sensor. A power meter works well here too. These devices will then allow you to pair with whatever PC, tablet or phone you're using to run Zwift. Older sensors will need a USB dongle.
With that out of the way, let's get on with how to make your non-smart trainer working with Zwift.
What Equipment Do You Need To Connect Zwift With A Classic Trainer?
Another name you might see floating around is "dumb" trainer. While you don't get the full Zwift experience, classic trainers are still a great option to get you started on Zwift. It's also a very cost effective option to get you starting Zwift-ing.
You can find a list of all the trainers that Zwift supports here.
So, assuming you a classic trainer, these are the other bits and pieces you need to get started with Zwift:
A bike (clearly! 😅)
A Bluetooth or ANT+ Speed and cadence sensor
A device to run Zwift
Related article – Do Rollers Damage Your Bike Tires?
Choosing Your Bike
If you're new to cycling and don't own a bike yet, I suggest you visit your local bike shop and get some proper advice. They can advise you on type of bike, size, adjustments and whatever else you need to get you started.
We've also got a beginner's guide to picking the perfect bicycle if you want to have a look online before popping down to your local bike shop.
Related article – Zwift Vs Peloton – Which Is Best For Indoor Cycling?
Bluetooth Or ANT+ Speed And Cadence Sensor
As your trainer isn't a smart trainer, you're going to need to get Zwift to talk to your trainer and for that, you need a sensor. These sensors communicate with Zwift via ANT+ or Bluetooth signals or both. Just check that your sensor is supported on your Zwift device.
Speed sensors measure the speed of your rear wheel. Some speed sensors also include a cadence sensor (or sold separately). Most speed sensors have three components: a spoke magnet, a chainstay sensor and a crank arm magnet. Just follow the manufacturer instructions and make sure all three parts are aligned to make sure it's working properly.
So why do you need these sensors? Well, Zwift communicates with these devices to estimate how much power you're outputting. This can then simulate how fast you're riding and allows your in game avatar to reflect how much effort you're putting into the ride. Pretty nifty tech!
Check out our article on Zwift Setup Ideas For Any Budget. We've made a few recommendations on various bits and pieces to get you started.
A Device To Run Zwift
As Zwift is just the app, you'll need a device to run it. Here's a summary of the devices that run Zwift.
Smartphones, Streaming Devices and Tablets (bluetooth support only):
Android Phones
iPhone
iPad
Apple TV
Minimum computer requirements:
Windows 7+ or macOS 10.11+
Intel Core 2 Duo
8GB AM
Intel HD 4000 or AMD R5
4GB of hard disk space
Bluetooth version 4.0+ 
If you're using a PC and using ANT+, remember you'll need a ANT+ USB dongle too. They usually come with your device, but just a friendly reminder to plug it in! 
For the latest computer requirements, check out the official Zwift page here.
Related article – How To Setup Zwift On Your TV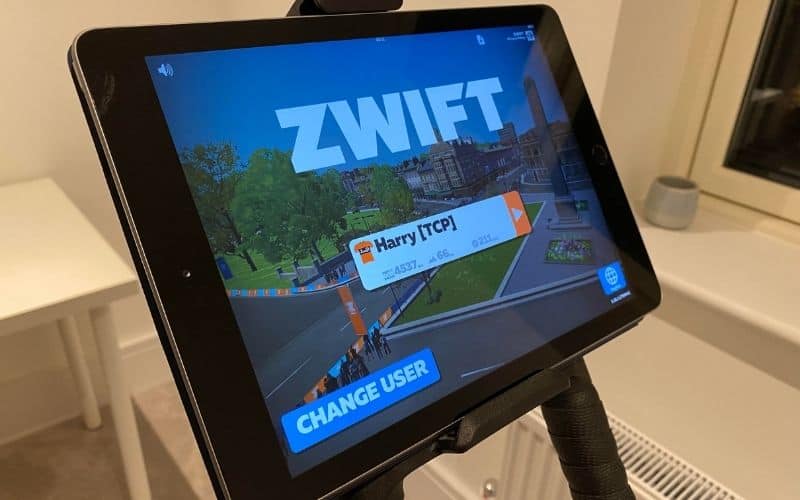 You'll also need a Zwift account! To get a Zwift account, you will originally start with either a free trial or 25km to use. After that, it's a monthly subscription and it's either $14.99 / £12.99, with the ability to cancel at any point.
Related article – 5 Of The Best Floor Mats For Indoor Cycling
Optional Bells And Whistles
Here are a few cheap ideas to upgrade your Zwift experience:
A Heart Rate Monitor – a heart rate monitor can really take your training to the next level and seeing your HR on Zwift will help.
A fan – or 3 🥵🥵🥵 – ok this'll depend on where you setup is located, but a fan definitely helps! Otherwise you'll be swimming in sweat….
If you don't have an Apple TV and are using a PC / laptop, get a HDMI cable to connect to your TV. A bigger screen really helps you see all the detail in the Zwift world!
How To Connect Your Speed Sensors To Zwift
Ok, now that you have all the hardware and software needs out of the way, you need to hook it all up! 
Once the trainer and sensors are connected, login to Zwift.
You'll be greeted with a Paired Devices page like the below:
Select the "Search" Speed Sensor icon if you are using a speed sensor. If nothing shows up, try pedalling a bit so it wakes all the devices up.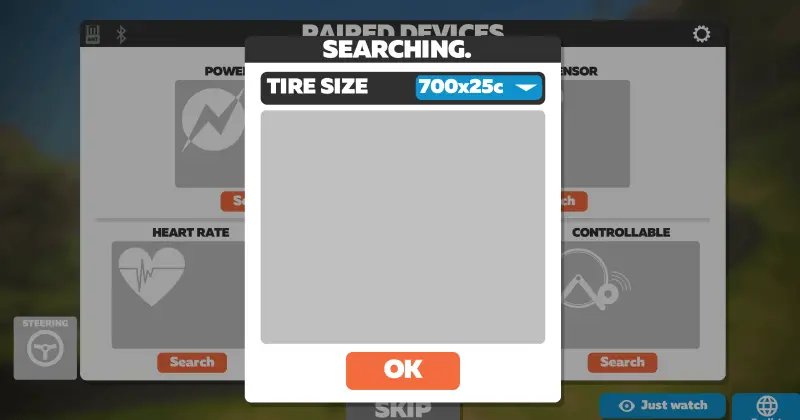 Once your device shows up, select the appropriate tire size and sensor and hit OK.
Next, select your trainer (or Not Listed). If you end up choosing Not Listed the power estimates won't really be accurate at all.
If you got the cadence sensor as well, pair that under the Cadence screen.
If you have a heart rate monitor, pair that under the Heart Rate screen.
Once you're all set up, click OK at the bottom of the Paired Devices screen and you're ready to start Zwifting. You'll be presented with a World Choice like the below, select a map and start riding!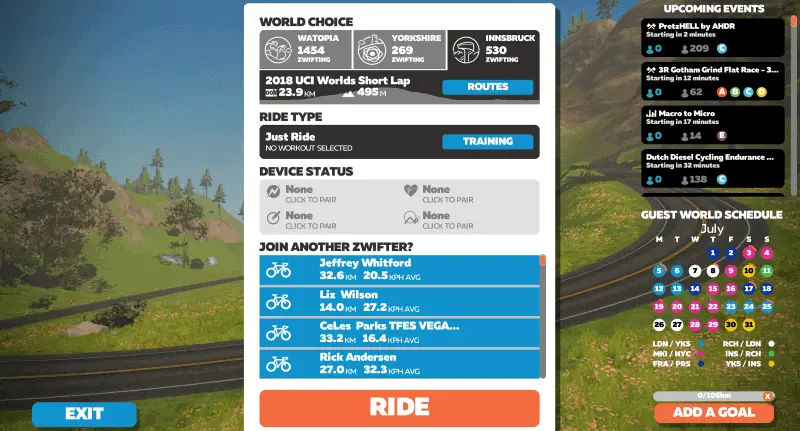 Related article – How To Pair Apple Watch With Zwift
Frequently Asked Questions
Can you race in Zwift without a smart trainer?
Yes, you can join races on Zwift regardless of how you're set up for Zwift. 
However, depending on the race organizer, you may be disqualified for having a classic trainer or no heart rate monitor. This is meant to weed out any cheats (yes, unfortunately this happens virtually too!) and make sure it's an even cycling ground for everyone involved in the race.
Related article – How To Ride Alpe Du Zwift – A Beginner's Guide
Do I need a smart trainer to use Zwift?
No, you do not have to use a smart trainer to use Zwift. As described above, there's a basic alternative that you can get started with.
Of course, if you can afford it, Zwift works best with a smart trainer. It's a lot easier to set up and it will automatically read your riding power output. In my opinion, the biggest benefit is that the resistance is automatically varied as the terrain changes in game. Cycling tech really has come a long way!
Is Zwift good for beginners?
Yes! Zwift is great for beginners and can really help you kick start your fitness journey. It's super fun and makes indoor cycling a lot more bearable!
All you'll need is a bike, a budget bike trainer, a Bluetooth or ANT+ speed/cadence sensor and you're good to go.
Happy Zwift-ing!
Related article – How To Get The Zwift Tron Bike – Tips And Tricks
Are indoor bikes Zwift-compatible too? 
Unfortunately not all indoor bikes are compatible with Zwift. Zwift only supports Bluetooth or ANT+ connectivity. That being said, most smart trainers today will cover you for the various Zwift like apps on the market.
So proprietary bikes like Peloton and certain spinning bikes will only work if you have the appropriate software / apps!
Summary
There you have it. A great way to get started on Zwift without spending $100s on a smart trainer. Once you get hooked with the group rides, training and races in Zwift, you'll definitely look to upgrade. N+1 bikes anyone? 😂😂😂
I'll see you on the Zwift roads. Ride on!
You may also be interested in: