For the safety of pedestrians as well as yourself in traffic, invest in a proper bike bell to let people know you're approaching with a friendly "ding!" Other bikers will also be aware of your presence and make way for you. Better than yelling "on your left / right!" when trying to overtake!
But which one is the best bike bell? Let's take a look, as well as things to keep in mind when buying a bell for your bicycle.
These are my top five picks for the best bike bell:
What To Consider When Buying A Bike Bell
These days there are many different bike bells on the market with varying designs and sounds. When choosing between them, consider the following:
Bell Types
In general, you have the choice between a traditional cycle bell and an air horn.
Bike Bell
The design of the classical bell dates back to the 1800s. Nowadays, there are many modern versions, but they're typically still made of steel or brass. They also still produce the distinctive "ding" sound by a plastic tab or metal ringer that strikes against the bell.
They're mounted on the handlebars in a way that gives the rider easy access, usually with a fixed plastic mount.
These days, there are even electric bells available. You can choose a wide range of sounds as your warning signal by using this type of ringer.
Air Horn
Using a blast of pressurized air, these horns produce a loud sound that can reach 129 decibels! Some models even have an air reservoir that you can refill with a bicycle pump.
Be aware that the sound of air horns is loud and trumpeting, which might not be appreciated by everyone. But if you've had one too many close calls where a regular bike bell just didn't cut it, go for an air horn to be used in emergencies. 
Classic horns are also available where you squeeze the ball end for a loud sound. If you're going for a retro look with your bike, this option is a good choice.
Related article – 5 Of The Best Cycling Headphones
Size And Design
Make sure the bell is appropriate for your bike and handlebars. Check the style and measurements of your handlebar to deem if the bell fits and if it's easy to operate from your seat.
Also, think about the design and whether you want a classic brass bell or a cool, colorful modern design.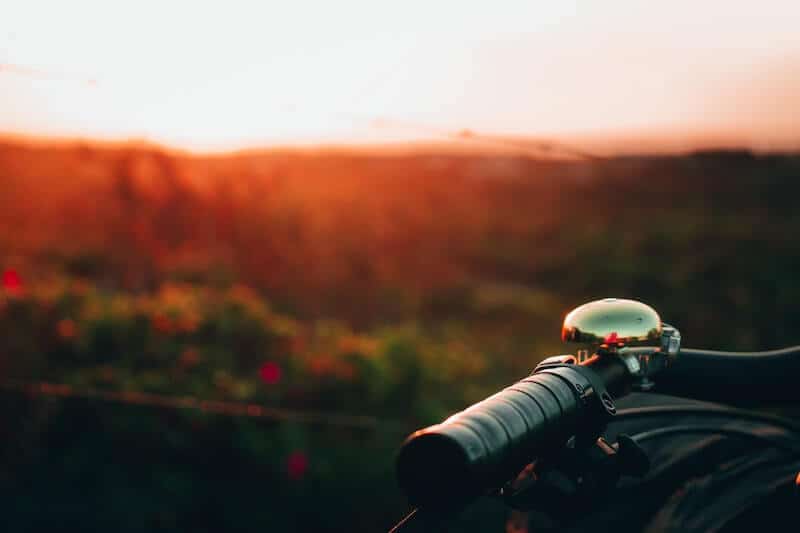 Other Things To Consider
You should also think about the following things when shopping for a bike bell:
Sound: Consider if you want a loud, clear sound or something more pleasant for the ears. Or maybe a customized digital ding?
Material: Durable metal or affordable and versatile plastic?
Durability: Features such as UV-resistant materials and rust-proof metals are preferable.
Related article – Are Single Speed Bikes Good For Commuting?
Reviews Of The Best Bike Bells
Now it's time for the fun part. Our bike bell reviews!
With this classic brass bicycle bell, you can expect a traditional loud and clear tone as well as durable material. The brass used in the Greallthy is anti-aging and anti-rust, making it long-lasting! Customers agree and praise this product for its superb durability while still being affordable.
The bell is available in a classic golden brass look, but you can also get it in six additional colors to customize your bicycle. It comes in two sizes and fits handlebars with diameters between 0.87 – 1 inch as well as 1.12 – 1.25 inches. The bell weighs 2.7 ounces, which is very lightweight and won't affect the balance of your handlebars.
The package comes with protective rubber pads as well as a screwdriver for easy mounting. Buyers report that it mounts easily on the handlebars and sits tight once installed.
According to users, the Greallthy gives a distinct ring that's loud but also pleasant on the ears. Simply put, it will definitely alert others of your presence without being too irritating.
Note that this comes at the expense of being sometimes tricky to ring as the lever can be uncomfortable if used extensively.  You also can't ring it quickly several times in a row since you have to push the lever all the way down for it to make a sound.
---
Are you searching for a unique sound for your bell? The Vanfrost Electric Bike Horn has three sound modes for you to choose between, namely hour, alarm, and whistle sounds. It can produce sounds up to 120 decibels, so you can definitely be heard on the road!
But how can you use an electric device outside? Well, it's dust-resistant and waterproof, of course, and comes with a USB-cable and rechargeable battery.
It's super easy to install and is fastened with flexible bands and no screws. Beauty is in the eye of the beholder, but this looks quite stylish and sleek on the bar.
Some customers feel like the horn is too loud in some environments and wish they would be able to adjust the volume. It can startle people, so be aware of that. What's good about this is that people with earphones and car drivers will hear you as well! So it has its pros and cons.
Other feedback is that it's easy for your fingers to slip and change the sound mode by mistake when you're trying to activate the horn.
---
If you're looking for an inexpensive bike horn with a retro look, the Timoo might be the right fit for you. Users report that it has a classic, old-school horn sound that's loud enough for people in cars to hear you. This makes it a great alternative to use in traffic. 
The horn is made of non-rust aluminum alloy as well as a flexible rubber ball. Customers find it easy to squeeze, even several times in a row, but the metal is relatively thin and scratches easily.
There isn't any padding that comes with this package, so the horn might not be securely fastened to your bar. It isn't the sturdiest option out there, but it will work well if you use some electrical tape or extra padding. Other than that, it's very easy to install!
Another great thing is that it comes with a forever warranty and is fully refundable if you're unsatisfied.
---
If you want something affordable yet effective, the Accmor Classic Bike Bell is a good alternative. It comes in a total of seven different colors as well as models for both right-handed and left-handed people. 
It's made of anti-rust aluminum and is pretty heavy-duty. It won't break easily, it's easy to ring, and it won't get stuck.
The bell suits handlebars with a diameter of 0.83 – 0.86 inches, which is rather narrow. Make sure to check the measurements for your bike before buying this bell. 
Some users report that this isn't the loudest bell on the market. It will probably work well in suburban areas with less traffic and some pedestrians, but it's not enough if you want to use it in real traffic.
---
If you're that "all-in-one" type of person that likes convenience, these bike lights that have a horn function is for you. There are several horn modes you can switch between to find your favorite by holding down the button.
This product fits most bikes such as road bikes, mountain bikes, commuting, and hybrid bikes. It's also waterproof and will perform well even in rainy weather.
The sound is solid and the batteries are rechargeable. However, users complain about the battery life and state that it's only enough for one, maybe two commutes. You will need to recharge it daily if you use it frequently.
The horn-light combo takes up a lot of space on your handlebars, so if you want something a bit more low profile we suggest looking elsewhere.
As for the lights, they work well and have adjustable settings to determine the brightness level.
---
Summing Up
While all of these products have their own ideal users, our top pick must be the Greallthy Bike Bell. It's a classic, durable brass bell that works well. With a clear, loud "ding," easy mounting, and a beautiful design, we think it will satisfy most riders.
If you're looking for that really loud warning signal, I'd recommend the Vanfrost Electric Bike Horn. It has different sound options, is easy to use and install, and looks great.
Which bike bell is your favorite?
This article includes affiliate links. If you choose to purchase any of the products we've discussed in this article, we may receive a small commission.