Need a simple way to alert pedestrians or other riders of your approach? A quality bike bell can make all the difference.
This guide breaks down the best bike bells for casual riders and daily commuters. I have tested some of these myself, and using additional feedback from everyday cyclists like us, I've found the best bicycle bell for each type of rider.
You'll find bells with clear tones, durable designs, and easy installations.
Ding! Let's get started.
In A Rush? Here's a Summary of the Best Bicycle Bells
Pros:

A distinct, clear ring

Mounts easily and sits tight

Lightweight

Durable brass that's anti-rust

Pros:

Loud and clear sound

Easy to mount and use

Waterproof and dustproof

Pros:

Loud sound

Quick installation

Easy to squeeze

Pros:

Affordable

Versions for left and right-hands

Durable

Easy to use

Pros:

"All-in-one" package

Fits most standard bikes

Loud

Waterproof
Reviews of the Best Bike Bells on the Market
Best Overall
Pros:
A distinct, clear ring

Mounts easily and sits tight

Lightweight

Durable brass that's anti-rust
Cons:
Can irritate your thumb

Difficult to ring in quick succession
View On Amazon
View On Walmart
I tested the Greallthy Bike Bell on my road bike, which has a handlebar diameter of 29mm. Installation was easy and quick. I only had to loosen the screws with a hex screwdriver, secure the bell to the handlebar, and tighten the screws again.
The bell has a protective pad to prevent sliding down or scratching the handlebar.
This bell is made of metal materials, making it resistant to rust and aging. It has a retro design that adds some charm to your bike and comes in various colors to match your preference.
The bell weighs 2.7 ounces, which is lightweight and won't affect the balance of your handlebars.
The best thing about the Greallthy Bike Bell is its loud and clear sound. The volume is more than 80 dB, which means it can be heard even in noisy traffic. The ringtone isn't too harsh or annoying.
The only downside of this bell is its small size. This makes it tricky to ring, and the lever can be uncomfortable if used frequently.  You also can't ring it quickly several times in a row since you have to push the lever all the way down for it to make a sound.
Best Electronic Bell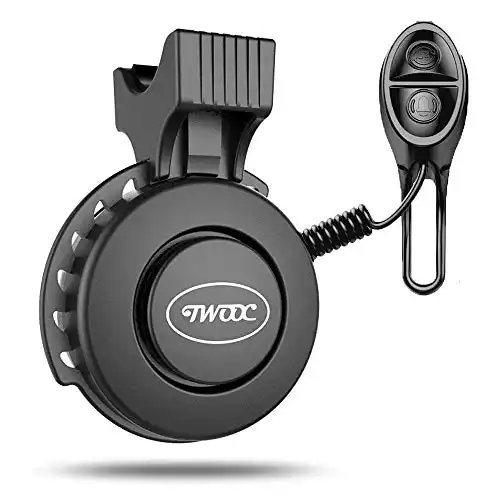 Pros:
Loud and clear sound

Easy to mount and use

Waterproof and dustproof
Cons:
No button to adjust the volume

Only two colors are available
View On Amazon
View On Walmart
I tested the NAPASA Electric Bike Horn on my daily commute to work and found it to be a great addition to my bike. I also charged the horn regularly using the USB cable that came with it and checked its battery life and sound quality.
It's a powerful horn that can alert pedestrians, motorists, and other cyclists, making the roads safer for everyone. The horn is also waterproof and dustproof (IP65 rating), an excellent feature for those who cycle in all weather conditions.
The horn is deafening, reaching up to 120 decibels. It can be heard clearly inside vehicle cabins and over ambient noise. It would have been nice to include volume control as this can get quite loud and annoying, depending on the situation!
It has four sound modes: whistle, horn, alarm, and tram. You can switch between them by pressing the button on the horn. I found the whistle and horn modes most effective for alerting others of my presence.
It's super easy to install and use. The battery lasts 40-60 days, depending on how frequently you ring the bell. It takes about an hour for a full charge.
Lastly, and this is entirely subjective, I'm not a fan of the aesthetics of this horn. It only comes in two colors (black and blue) and doesn't match well with my bike's design. It might look better if it had additional color options or patterns.
If you're looking for an inexpensive bike horn with a retro look, the Timoo might be the right fit. It has a classic, old-school bugle horn sound loud enough for people in cars to hear you. This makes it a great alternative to use in traffic.
The horn is activated by squeezing the rubber ball located at the end of the horn. This makes it easy to use even when you are wearing gloves or have limited mobility in your hands.
The horn is made of non-rust aluminum alloy and a flexible rubber ball, but the metal is relatively thin and scratches easily. There isn't any padding that comes with this package, so the horn might not be securely fastened to your bar.
It isn't the sturdiest option, but using electrical tape or extra padding will work well. Other than that, it's effortless to install!
Budget-Friendly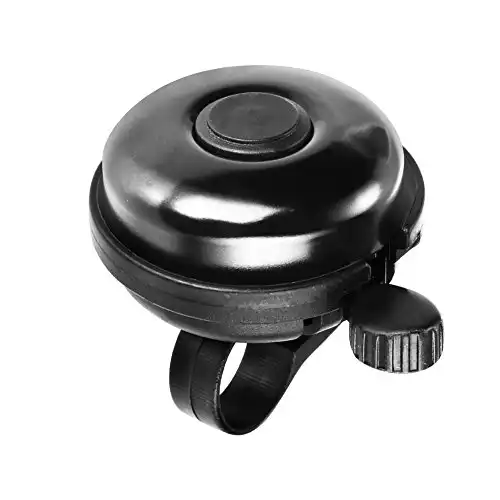 The Accmor Classic Bike Bell is a good alternative if you want something very affordable yet effective. It comes in various colors and models for right-handed and left-handed people.
The bell is made of aluminum and plastic materials that are anti-rust and anti-aging. The bell can withstand weather conditions and regular use without losing its sound quality or appearance.
The bell is also lightweight, weighing only 20 grams, so it does not add much weight or bulk to your bike.
The bell is designed to fit most mountain and road bikes, so you can easily install it on your bike. The bell suits handlebars with a diameter of 0.83 – 0.86 inches. Make sure to check the measurements for your bicycle before buying this bell. 
This isn't the loudest bell on the market. It will probably work well in suburban areas with less traffic and some pedestrians, but it's not enough if you want to use it in real traffic.
Most Multi-Functional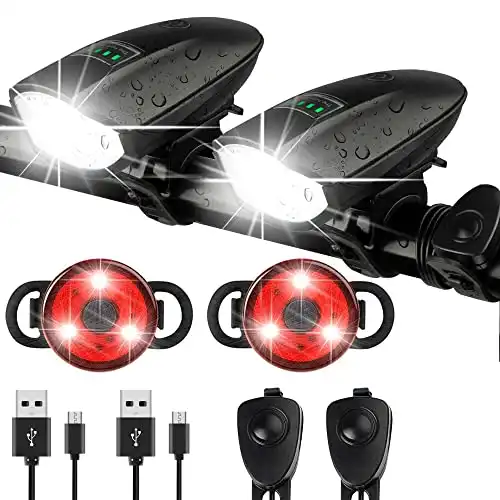 Pros:
"All-in-one" package

Fits most standard bikes

Loud

Waterproof
Cons:
Slow to recharge

Takes up a lot of space on the handlebar
View On Amazon
If you're that "all-in-one" type of person who likes convenience, these bike lights with a horn function are for you. This set fits most bikes, like road, mountain, and hybrid bikes.
The horn function is loud and clear (at 130db) and can be easily activated by pressing a button on the handlebar. The horn has five different sounds that can be changed by long pressing the button. The horn helps warn pedestrians, cars, or other cyclists when necessary.
The lights are bright and provide excellent visibility, even in low-light conditions. It also has an IPX4 rating, which means it can withstand water splashes from any direction. It also has a sturdy plastic body that can resist impacts and scratches.
The bike light is USB rechargeable and has a decent battery life. It's pretty slow to charge, taking about 3.5 hours for a full charge. Most riders find they need to recharge it daily if used frequently. The bike light also has a battery indicator that shows how much power is left. 
The set is also easy to install and has everything you need to start.
The horn-light combo takes up a lot of space on your handlebars, so we suggest looking elsewhere if you want something a bit more low profile.
Buying Guide for the Best Bike Bells
Riding a bicycle is not only fun but also environmentally friendly! A few cycling accessories are really understated – the simple bike bell is one of those!
Whether commuting, mountain biking, or leisurely riding through the park, a good bell can ensure you and those around you are safe.
Here's a guide to help you pick the best bike bell.
Purpose
Which bike will you stick the bell on?
Urban/Commuter Riding: For riding in cities, choose a bell with a clear and loud ring to notify pedestrians and other riders.
Mountain/Trail Riding: For trails, you might want something less obtrusive but still audible enough to alert other trail users.
Bell Types
You can choose between a traditional cycle bell and an air horn.
Bike Bell
The design of the classical bell dates back to the 1800s. There are many modern versions, but they're typically still made of steel or brass. They also still produce the distinctive "ding" sound by a plastic tab or metal ringer that strikes against the bell.
They're mounted on the handlebars in a way that gives the rider easy access, usually with a fixed plastic mount.
These days, there are even electric bells available. You can choose a wide range of sounds as your warning signal using this type of ringer.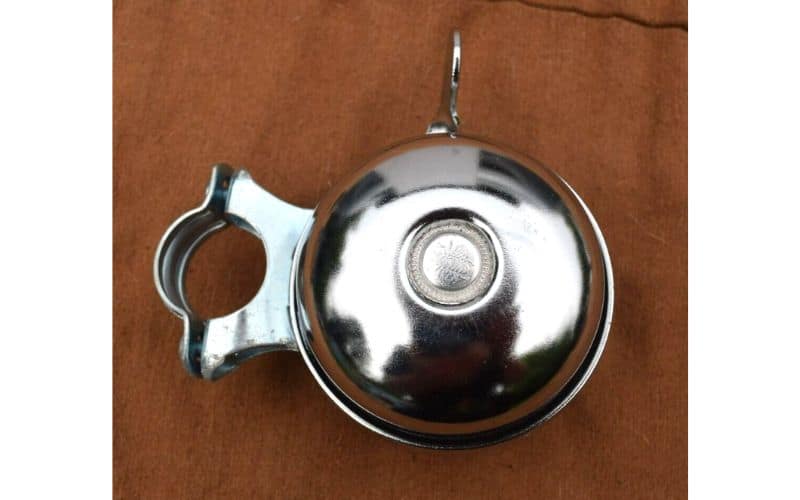 Air Horn
Using a blast of pressurized air, these horns produce a loud sound reaching 129 decibels! Some models even have an air reservoir that you can refill with a bicycle pump.
Be aware that air horns are loud and trumpeting, which everyone might not appreciate. But if you've had too many close calls where a regular bike bell just didn't cut it, go for an air horn for emergencies!
Classic horns are also available where you squeeze the ball end for a loud sound. This option is good if you're going for a retro look with your bike.
Size & Mounting
Make sure the bell is appropriate for your bike and handlebars.
Handlebar Diameter: Check your bike's handlebar diameter to ensure the bell fits. Most bells fit standard handlebars (22.2mm), but others might be designed for larger diameters.
Mount Position: Some bells can be mounted in multiple positions, while others have a fixed orientation. Check if the bell can be mounted on the left or the right, depending on your preference.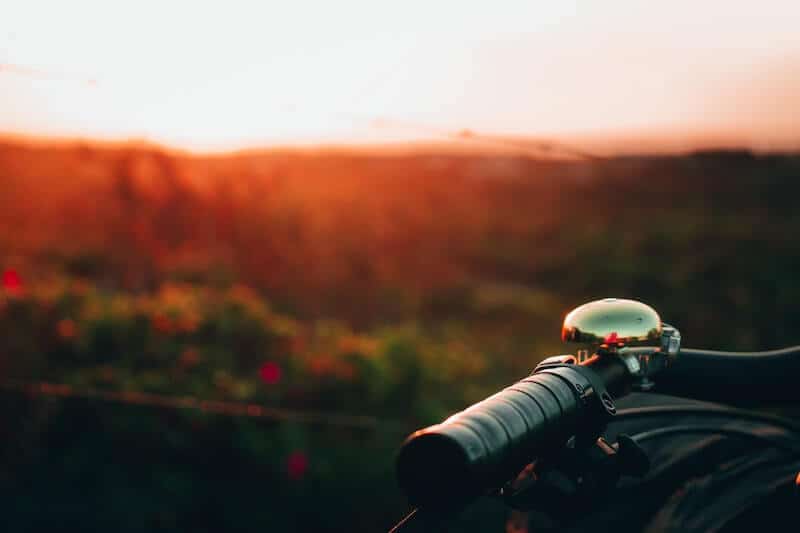 Other Things To Consider
You should also think about the following things when shopping for a bike bell:
Sound: Consider if you want a loud, clear sound or something more pleasant for the ears. Or a customized digital ding?
Material: Durable metal or affordable and versatile plastic?
Durability: Features such as UV-resistant materials and rust-proof metals are preferable.
Frequently Asked Questions
Do all bike bells fit on all types of bicycles?
No, not all bells are universally compatible. It's important to check the clamp diameter of the bell against your bike's handlebar size. However, many modern bells come with adjustable mounts to fit a range of handlebars.
Are there any innovative features in modern bike bells?
It's hard to reinvent the wheel with bells, but the newest models come with features like:
– Adjustable volume for urban or rural settings
– Quick-release mechanisms for easy transfer between bikes
– Anti-theft designs to keep your bell secure
– Eco-friendly materials for the environmentally conscious rider
Does the material of the bell affect its sound?
Yes, the bell's material significantly influences its sound. For instance:
– Brass bells tend to have a clear, resonant ring
– Aluminum bells offer a sharp, crisp chime
– Steel bells can be loud and long-lasting