If you've ever ridden road bikes through a hiking trail, you probably know that they're not suited for rugged terrain. This lack of functionality holds true even for flat trails.
Fortunately, cyclists have several options for smooth trail bikes. We'll examine our five favorite bicycles here and show you how to find the best bike for flat trails.
How To Choose A Bike For Flat Trails
Dozens of factors can make a bike ill-equipped or well-suited for trail travel. However, a bike's measurements, strength, and wheels are three of the most critical considerations for flat trail riding.
Angles And Frame Material
Flat trail bikes don't need to be too robust, but they should have some strength to counter bumpy terrains. Opting for a bike with a carbon frame over alloy will give you a smoother ride. However, the bike's structure matters more than its material.
Manufacturers tailor their bikes' components for specific terrains, with trail bike manufacturers aiming for a balance of stability and speed. An ideal trail bike typically has a head tube angle between 62-68 degrees. It also has a seat angle higher than 65 degrees and a bottom bracket 340 millimeters from the ground.
Wheels
Bike wheels must be exact for their terrain for the smoothest possible ride. For example, 26-inch wheels won't work for mountain travel since they can't roll over obstacles. Nonetheless, a bike with 29-inch wheels will feel too heavy for ideal road travel. 
The ideal wheel size for trail travel is 27.5-inches since it gives bikes enough weight to endure uneven terrain. At the same time, it is slim enough for higher speeds. However, some people prefer the control larger wheels provide on trails.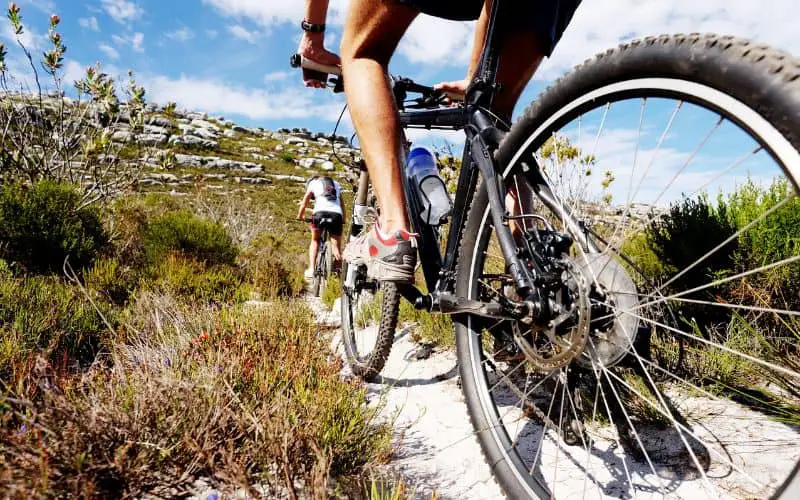 The Best Bike For Flat Trails: Our Five Favorites
Cycling is a hobby highly dependent on individual preferences, so there is no such thing as the "perfect" trail bike. The measurements listed above are standard across the industry. Yet, some people prefer angles that promote faster speeds or more control. 
However, with some research and enough trial runs, you'll find the best bike for flat trails for you. Below, we've listed five of our favorites to give you a starting point on where to look. Each bike is an ideally sized and calibrated trail-riding option.
Canyon crafted the Spectral 29 CF8.0 for rapid speeds on flat trails. The angles on the head tube and seat, and the height of the bottom bracket, are all well-situated for fast, effortless travel. Furthermore, the wheels and frame allow you to maintain control and comfort even while riding full steam ahead.
Climbing unexpected hills or obstacles in the Canyon Spectral 29 CF8.0 is a breeze even without switching speeds. Because of the bike's smooth ride feel, you'll barely notice the terrain shift.
However, the bike's smoothness comes at the expense of sharper navigation. So, you might not feel as much control over your change of direction as you would with other trail bikes.
Still, you'll feel comfortable cruising in straight lines while on the Canyon Spectral 29 CF8.0 no matter what's in your way.
The bike boasts a robust 29-inch wheel size and strong suspension fork. The 150-millimeter suspension travel keeps your tires glued to flat surfaces, regardless of the weather elements.
Overall, the Canyon Spectral 29 CF8.0 might be the best bike for flat trails if you enjoy riding in the rain and snow.
---
The YT Izzo Core 3 has a full-carbon frame. This structure gives it impressive control and strength, even alongside other high-end trail bikes. With that control and the bike's 29-inch wheels, you'll easily conquer whatever obstacles block your path.
The YT Izzo Core 3's ruggedness and large tires make it great for challenging paths or mountain biking. However, those features aren't always necessary on flat trails. As a result, this bike will feel more limited than its competitors when trying to build high speeds on smooth surfaces. 
The YT Izzo Core 3 also has a slightly non-responsive freehub, hindering your ability to coast on flat paths. Therefore, cyclists have to work harder due to the poor freehub design.
Still, the YT Izzo Core 3 remains the best bike for flat trails for beginner riders. It comes in five sizes, and its emphasis on stability makes any terrain accessible regardless of skill level.
---
The Trek Roscoe 8 combines a robust frame and thinner 27.5-inch wheels to create a trail bike with impressive control and easy navigation. The bike weighs 31 pounds with all its parts in place. It feels smooth across most terrains because of that weight.
Furthermore, the bike's small wheels help you easily make sharper movements.
The Trek Roscoe 8's heavy frame weighs it down slightly. Nonetheless, it still manages impressive speeds on flat trails. Its brakes are weaker than most competitors, so you might not feel as motivated to reach its top speed.
If you're looking for a balanced trail bike on the cheaper end, you won't find a better fit than the Trek Roscoe 8. Despite its impressive balance between size, stability, and speed, it's one of the most affordable big-name bikes on the market.
---
The top selling point of the Norco Optic C2 is its suspension. The bike has specially designed shocks and a 125-millimeter suspension travel. You'll never feel out of control during your flat trail ride. 
With the Norco Optic C2's stability, you can focus on building impressive speeds on smooth terrains. The bike has ideally-angled geometry, so don't be surprised if you navigate your normal trail quicker than usual.
Of course, even the best bike for flat trails has drawbacks. Durability is the major one for the Norco Optic C2. The rotors and brake pads wear down quicker than on other trail bikes, especially since you won't want to stop riding this one.
However, if you're okay with occasional tune-ups, the Norco Optic C2 is one of the best trail bikes to date.
---
The biggest downside of Salsa's Journeyer Sora line is the frame. Unlike most industry-standard trail bikes with carbon frames, the Journeyer Sora has an aluminum alloy frame. As a result, it has a lighter bike weight that many trail riders can't get behind.
However, the downsides of this trail bike line end there.
The Journeyer Sora 650 is the most popular model in this newest Salsa line. It makes up for any of the downsides the aluminum alloy frame might give it. It has large wheels for more stability and even weighs 24 pounds, a couple of pounds heavier than the standard.
Despite that above-average weight, the Salsa Journeyer Sora remains fast and flexible. You can hit incredible speeds going downhill or on even terrain while the robust frame and wheels keep you comfortable.
However, be wary of traveling too fast on unfamiliar terrain. The disc brakes on the Salsa Journeyer Sora are a bit softer than similar high-end bikes.
The Journeyer Sora 650 also offers several amenities despite costing less than the average high-end trail bike. This bike includes everything from bottle and utility cages to a feed bag.
Overall, it's the best bike for flat trails if you crave comfort at a reasonable price.
---
Honorable Mentions
Heller Barghest NX: The Heller Barghest NX has impressive traction and handling. However, its robust frame keeps it from reaching high speeds on flat trails. 
Forbidden Druid XT: This bike has excellent speed and stability on flat surfaces. Yet, it struggles to glide over minor obstacles like other trail bikes.
Focus Jam 6.9: A strong bike with a smooth ride feel that's great for beginners. However, this bike might frustrate advanced cyclists because of its speed limitations and elevated shock pressure.
Final Verdict
The best bike for flat trails should balance speed, power, and stability. It should have the strength and suspension to conquer rocks, bumps, and whatever minor obstacles block your favorite cycling trail. At the same time, it should feel agile enough for rapid speeds and quick movements.
Unfortunately, there isn't a trail bike that works for everyone.
Nonetheless, as manufacturers begin tailoring designs to specific cycling styles, you should find the best bike for flat trails for your needs. Whether you prefer a smooth, stable ride that works in all terrains or one with a fast pace and sharp movements, you'll find your perfect fit eventually.