Are you tired of fumbling with your phone while trying to navigate on your bike? Do you want a safe and secure way to keep your phone within reach while cycling?
Look no further! We have scoured the market to bring you the best bike phone mounts available.
Whether you're a seasoned cyclist or just starting out, a good bike phone mount is a game-changer. With our expertise and recommendations, you can trust that you're getting a product that will enhance your cycling experience.
So, get ready to say goodbye to wobbly handlebar mounts and hello to a secure and stable phone holder. Keep reading to find out which bike phone mount is the perfect fit for you.
In A Rush? Here Are Our Top Picks…
Pros:

Quick and easy click in / out

Slim and sleek setup from case through to mount

Secure

Pros:

Easy to install and remove

Plenty of storage space and made from heavy-duty material

Pros:

Great value for money option

Secure hold

Adjustable size for a range of smartphones
Top Pick
Pros:
Quick and easy click in / out

Slim and sleek setup from case through to mount

Secure
All Weather Gear
Pros:
Easy to install and remove

Plenty of storage space and made from heavy-duty material
Budget Pick
Pros:
Great value for money option

Secure hold

Adjustable size for a range of smartphones
If none of these fit your needs, we've covered a couple more options down below!
The 5 Best Bike Phone Mounts On The Market
Top Pick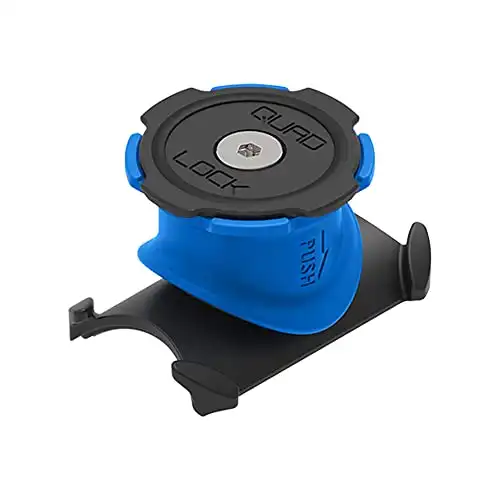 Pros:
Quick and easy click in / out

Slim and sleek setup from case through to mount

Secure
Cons:
Pricey side compared to others in this roundup

Hard to adjust once zip ties have been installed
View On Amazon
View On Quad Lock
The Quad Lock cases are available for iPhone, Galaxy, Pixel, Huawei, and now a Universal Fit. The case is then combined with the Out Front Mount (sits on the handlebars) to create a flexible and versatile bike mount.
You can also buy a Quad Lock Poncho – basically a cover that sits on top of your phone screen that helps make it weather resistant.
The Quad Lock is a very lightweight mount and features a patented dual-stage lock which creates a very sturdy mount. The phone case twists to lock into place on the mount, which in turn clamps onto a bike's handlebars.
Installation is quite simple and all the necessary components (O-rings and zip ties) are included in the kit. The one downside of the zip ties is that once you've selected that spot on the handlebar, it'll be quite hard to move without using a new zip tie.
All Weather Gear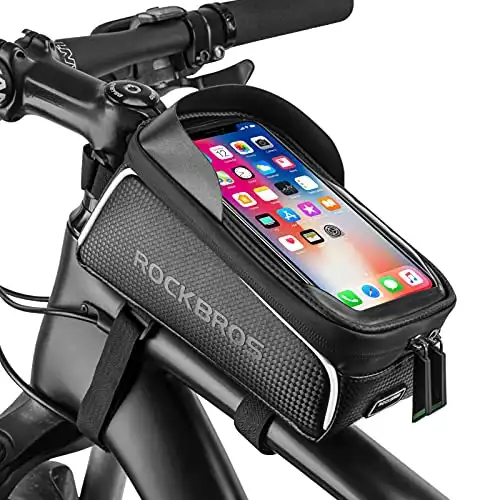 Pros:
Easy to install and remove

Plenty of storage space and made from heavy-duty material
Cons:
Slight loss in sensitivity of touch screen functionality

Can't rotate your screen/mount
View On Amazon
View On Walmart
The Rock Bros Bike Phone Bag mount is a bike front-frame bag. You could think of it as a little boot for your bike! Made from composite carbon leather, this makes the bag very durable and weatherproof.
The bag comes with a TPU touch screen film which claims to have over 90% sensitivity with the touch screen function on phones.
The main reason to buy this mount would be for the size of the bag. It has enough space for quite a few things like your phone, wallet, keys, and small tire pump/repair kit!
Be careful with packing this bag though as condensation can build up on the screen if it's raining and it's not zipped up tightly!
The Rock Bros bag is very easy to install with three velcro straps. There is a velcro strap on the front that straps to the stem and two longer ones that attach to various parts of the frame.
One thing with velcro straps is that they need to be REALLY tight otherwise you'll get a bit of movement with the case, especially if it's loaded up with quite a few things.
Budget Pick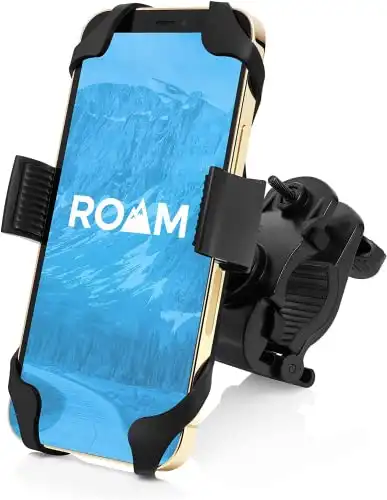 Pros:
Great value for money option

Secure hold

Adjustable size for a range of smartphones
Cons:
Can't detach the phone with one hand

The mount ball joint may not be sufficient for rough terrain rides
View On Amazon
View On Walmart
The Roam Universal bike phone mount, as the name suggests, is a universal bracket that is able to fit almost any cell phone up to 3.5" wide. The Roam has a standard clamp-type bracket that is adjustable and able to fit handlebar sizes from 7/8" – 1-1/4" in diameter.
The phone holder itself is made from a strong hard plastic that is paired with a silicon band that is able to stretch up to 4 times the original size.
The two primary side clamping system and the silicone nets in the corners provide a "six points of grip" that securely holds your smartphone.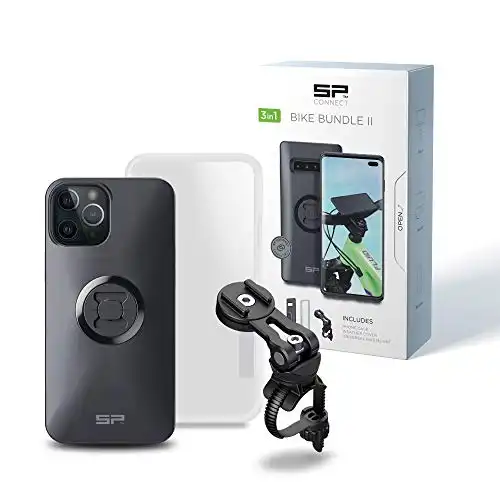 One of the major drawcards of the SP CONNECT Bike Phone Holder is its secure grip. You won't have to worry about your phone slipping out of the holder, even on bumpy rides.
Plus, the holder is adjustable to fit a variety of phone sizes. This means you won't need to upgrade your mount when you upgrade your phone, win win!
Another great feature is the quick-release mechanism. You can easily attach and detach your phone from the holder, making it convenient for taking photos or answering calls on the go.
Some users have reported issues with the holder's durability over time. While the holder is sturdy in the short term, it may not hold up as well after extended use.
Additionally, some users have found the holder to be a bit bulky, which can be a downside for those with limited space on their handlebars.
Pros:
Sturdy design

Versatile - easily switch between your car, golf buggy, or motorcycle

Secure locking mechanism
Cons:
Weather protection mechanism is not as polished as the Quad Lock

Expensive
View On Amazon
The Rokform Pro Series bike mount is made from aircraft-grade aluminum, resulting in a durable and lightweight mount. This mount features a twist and lock mechanism along with a magnetic attachment.
For extra reassurance a lanyard can also be attached to the back of the phone – however, it can be a bit annoying attaching and reattaching this.  The mount itself allows for adjustable viewing angles, tilting between -20 to +55 degrees.
The Rokform case is available for most iPhones and Galaxy phones. It's made from a polycarbonate (hard plastic) material and has raised edges that help protect the screen and camera.
The stand-out feature of this case is the strong magnet which can be added or removed from inside the case. This magnet does not interfere with your credit card / WiFi etc.
In terms of installation, it's quite easy to install with a single screw and the whole process should take less than 2 minutes. This mount is a little different in that instead of mounting it to your handlebars or stem, the Rokform mount attaches directly to the stem cap. You remove the top cap from your stem, place the mount on and tighten up the mount. Voila!
Buying Guide – Types Of Bike Phone Mounts
The type of bike phone mount you select will depend on the type of phone you have, how much protection you want it to have, and where you want it positioned on the bike.
Case Mounts
This type of phone mount is all model-specific. Your phone is held inside a phone case that can be securely attached to a small plastic mount that is attached to your handlebar or stem.
Depending on the brand, these may allow you to twist to move between portrait or landscape mode. For practical reasons, it's likely easier to just keep in portrait mode!  In terms of durability and waterproof features, case mounts will vary between brands which we'll cover below.
The benefit of this type of phone mount is that it's usually quite easy to click your phone case into the mount. The flip side is that you'll have to use this case permanently (or carry a spare).  Also, if you upgrade your phone, you'll likely need to buy a new case too.
Universal Mounts
If you're not the type to buy every release of a smartphone then the universal mount might be for you. The other benefit of the universal mount is that it may even allow you to retain your existing phone case.  They generally attach to your handlebars or stem and will grip/clamp your phone into place.
Unfortunately, this is not the holy grail of bike phone mounts – I have found the couple that I have tried have not been as secure and the clamp mechanism doesn't always allow for your phone case specs.
Frame Bags
Last but not least are the frame bags. These are effectively small pouches that you can carry your phone in. You'll likely be able to house your keys and a credit card / some cash in these bags too. They're usually attached to the top tube.
In terms of protection from the weather, I find that this type of mount will get the job done as the entire phone will be inside a pouch that has a transparent window. The flip side is that you might reduce the function of your touchscreen slightly as not all bags / transparent windows will play nice with the touch screen.
Other Things To Consider For Bike Phone Mounts
A few considerations and pointers before you click buy:
How often do you upgrade your phone? If you're snapping up the latest and greatest iPhone every year it might make more sense to purchase something that's a bit more universal
As obvious as it is, please remember to check that your phone is actually compatible with that particular mount 😅 Don't worry I've known a few people who bought first and checked later!
How much protection from the environment do you need? If you're constantly riding in the rain on your commute then you might be better off with a frame bag-type mount. Double-check the exact model you're buying.
Summary
If you ride your bike quite often I'd recommend going for a case mount locking mechanism like the Quad Lock. It's quick and easy to attach, it's very sturdy and the case is quite slimline in comparison to others in this roundup.
Additionally, it is able to move between mounts (i.e. jogging, car, motorcycle, etc). The only hassle will be if you upgrade your phone annually.
If the main purpose of the mount is just for leisurely weekend rides then a universal bar mount like the Roam Universal Bike Phone Mount will be sufficient.  It'll be a lot easier on the wallet 👍