Are you tired of struggling with manual bike pumps that take forever to inflate your tires? Look no further than electric bike pumps!
These handy accessories have become a must-have for cyclists and commuters alike. They provide a quick and efficient way to inflate your tires with precision and ease.
As more and more people turn to cycling as a healthy and eco-friendly mode of transportation, finding the right electric bike pump has never been more important.
That's why we've done the work for you! We've researched and tested the top options on the market to help you find the perfect pump for your needs.
With our expert guidance, you'll be able to take your riding experience to the next level with an easy-to-use, accurate, and reliable electric bike pump.
So, let's dive in and discover the best options available!
In A Rush? Here Are Our Top Picks…
Pros:

Fast and accurate inflation

Programmable pressure settings

Wide range of applications

Pros:

Inflates up to 150 PSI/10.3 Bar

Functions as a power bank and LED flashlight

Lightweight and compact design

Pros:

Rapid and efficient inflation

Compact and portable design

Versatile compatibility
Top Pick
Pros:
Fast and accurate inflation

Programmable pressure settings

Wide range of applications
Most Versatile
Pros:
Inflates up to 150 PSI/10.3 Bar

Functions as a power bank and LED flashlight

Lightweight and compact design
Most Portable
Pros:
Rapid and efficient inflation

Compact and portable design

Versatile compatibility
5 Of The Best Electric Bike Pumps Reviewed
We've gathered a list of the best electric bike pumps available on the market. Check out our top picks to find the perfect pump for your cycling needs!
Top Pick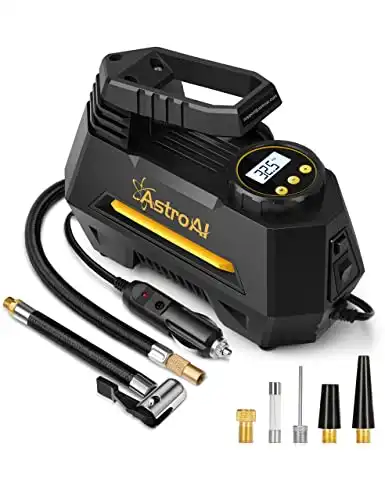 Pros:
Fast and accurate inflation

Programmable pressure settings

Wide range of applications
Cons:
Noisy operation

Air tube could be longer
View On Amazon
View On Walmart
We recently used the AstroAI Portable Air Compressor, and we were truly impressed by its performance. This air pump inflates bike tires super quick, and we noticed that it took less than 5 minutes to inflate a 195/55/R15 car tire from 0 to 35psi.
The advanced accuracy of the device is also impressive, as it always returns a reading within 1.5% of the tire's pressure.
Its programmable inflation feature was convenient. This allowed us to set our desired pressure unit easily. The AstroAI automatically switches off when it hits the pre-set pressure. A great safety feature.
We found the AstroAI Tire Inflator to be versatile as it comes with three nozzles and an extra fuse. This inflator can handle any Schrader valve on bicycles, cars, SUVs, and motorcycles. 
Additionally, the included accessories quickly inflate various items like balls and air mattresses, etc.
On the downside, the operation of the air compressor is a bit noisy at 80 dB. And while it is overall manageable, we feel the air tube could be a bit longer.
We highly recommend the AstroAI Tire Inflator Portable Air Compressor for its efficiency, accuracy, and added features.
Most Versatile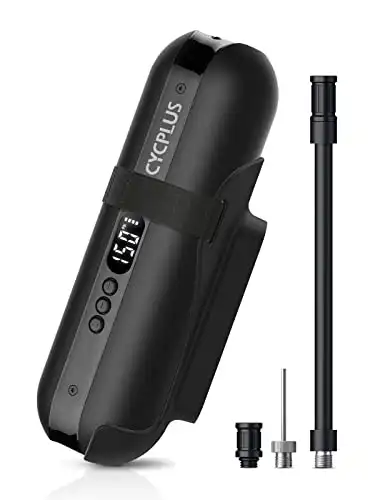 Pros:
Inflates up to 150 PSI/10.3 Bar

Functions as a power bank and LED flashlight

Lightweight and compact design
Cons:
Hose storage could be better

Requires consistent charging when not in use
View On Amazon
Small and mighty is the elevator pitch for this pump.
During our testing, the CYCPLUS Mini Inflator took only 2 minutes to fully inflate a bicycle tire. The additional American nozzle, French nozzle, and ball-shaped air needle also make it suitable for various bikes and even cars.
The added functionality of the LED light was helpful when inflating tires in the dark. As a power bank, it came in handy for charging our phones during our bike packing journey. Weighing only 380 grams, it was easy to carry it in our backpack.
The preset tire pressure feature allowed for automatic inflation and deflation when the desired pressure was reached.
A couple of minor issues – the hose storage could use some improvement as it may fall out if not secured properly. We also needed to remember to charge the pump consistently when not in use, as mentioned in the instructions.
Overall, the CYCPLUS Portable Air Compressor is a solid choice for those seeking a versatile and functional electric bike pump. While there are some minor issues with hose storage and regular charging, its benefits outweigh the drawbacks, making it a valuable tool for any cyclist or traveler.
Most Portable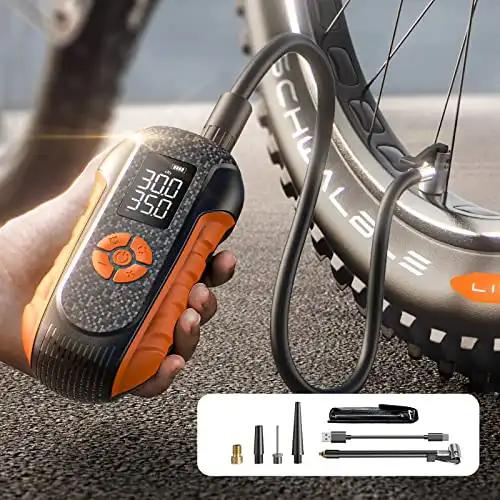 Pros:
Rapid and efficient inflation

Compact and portable design

Versatile compatibility
Cons:
Unit may get hot during extended use

Some users reported issues with charging
View On Amazon
We recently tried the LISEN Electric Bike Pump and its lightning-fast inflation helped us get back on the road in no time. With a maximum pressure of 150 PSI and 20L/Min airflow, this portable air compressor quickly inflated our bike tires.
Its sleek, ergonomic design was a standout feature for us. It was so lightweight and small that we could easily fit it in our backpacks.
The versatility of this pump was also impressive as it was compatible not only with bike tires, but also motorcycles, cars, and even balls, making it a great all-in-one inflator.
Like the CYCPLUS, the LISEN comes with an emergency power bank and flashlight feature.
One concern we had was the unit could get hot when in use for an extended period. Some users reported issues with the charging, but we did not experience this during our trial.
With its sleek design, rapid inflation, and versatile compatibility, this is a valuable accessory to have on hand for cyclists and outdoor enthusiasts alike.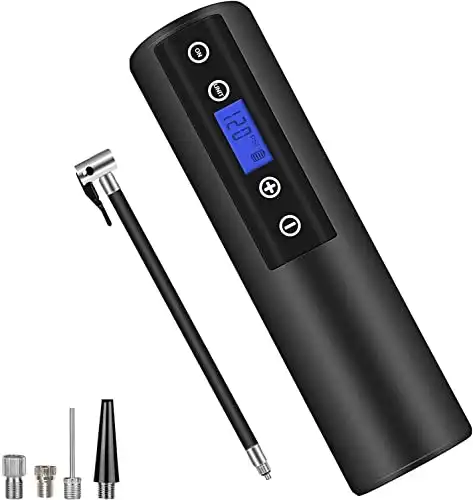 Pros:
Cordless design with rechargeable battery

Digital LCD display for accurate pressure monitoring

Built-in LED light for nighttime use
Cons:
Might be too large for some to carry everywhere

Battery life could be better

Can be quite loud during operation
View On Amazon
The ZTK 150 PSI Tire Inflator is the next contender on our list. This device allowed us to easily inflate our bike tires with its powerful inflation capabilities.
The cordless design and rechargeable battery make it convenient and easy to use on the go. It eliminates the need for a separate power source or extension cords.
Having a digital LCD display allows us to easily monitor the pressure in our bike tires. This ensured accurate and safe inflation. The automatic shut-off feature guarantees the inflator stops when the desired pressure is reached. Always a plus when it prevents over-inflation!
One invaluable feature we enjoyed about the ZTK inflator is the built-in LED light. This addition makes inflating tires at night a breeze. Nothing better than a bright light to help you see clearly in emergency nighttime situations!
However, there are a few drawbacks to the inflator. We did find this inflator larger than expected.
The battery life could be improved. You'll need to keep an eye on it and charge it when necessary. Additionally, the inflator tends to be quite loud during operation, which may be an annoyance for some.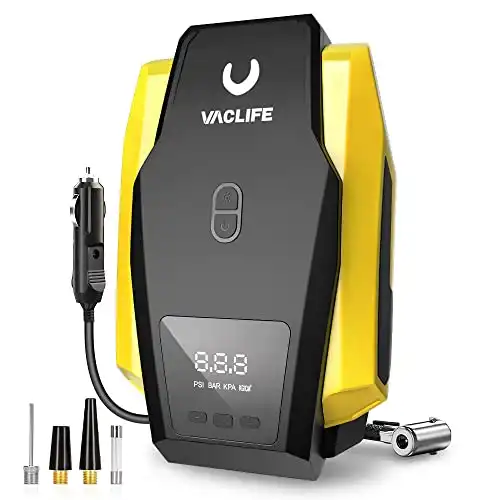 Pros:
Fast inflating and easy operation

Auto shut-off feature for safety

LED lighting for nighttime use
Cons:
Not suitable for large vehicles with tire pressure >50 PSI

Requires cooldown period after 10 minutes of use

Converter needed for some power outlets
View On Amazon
View On Walmart
As an electric bike pump that is extremely easy to operate, the VacLife Air Compressor is an amazing option for a multifunctional electric pump. 
One feature we found particularly helpful was the auto shut-off function. By presetting the desired pressure level, we didn't have to worry about over-inflating our tires. The pump shuts off automatically once the target level is achieved.
The LED lighting feature will come in handy for inflating bike tires in low-light conditions. The 9.8ft power cord allowed us to reach both front and rear tires with ease, eliminating the need for constantly unplugging and repositioning the pump.
One thing to note is that the pump requires a 10-minute cooldown period after running for 10 minutes. Additionally, depending on your car's power outlet, you might need a converter (120W, 10A rating) to safely use this air compressor.
How To Choose An Electric Bike Pump
A manual bike pump often becomes a monotonous and frustrating task when time is of the essence. So, why put yourself through the stress when you can enjoy the fast, effortless performance of an electric bike pump?
Electric bike pumps are convenient and compact enough for easy storage or transportation; there is not much else you need in a reliable bike pump.
In this section, we will discuss the essential features to look for when selecting the perfect electric bike pump for our needs.
Pressure Range
Firstly, consider the pressure range. Electric bike pumps should be capable of inflating our tires to the desired levels.
Most electric bike pumps can handle pressure up to 120 PSI (pounds per square inch). This should cover almost every need.
It's essential to check the recommended pressure for your bike tires and make sure the pump can handle it.
Easy-To-Read Display
A pump with an easy-to-read display will save us time and frustration.
Look for a pump with a backlit digital display. They are more accurate and easier to read than an analog gauge, especially in low-light conditions.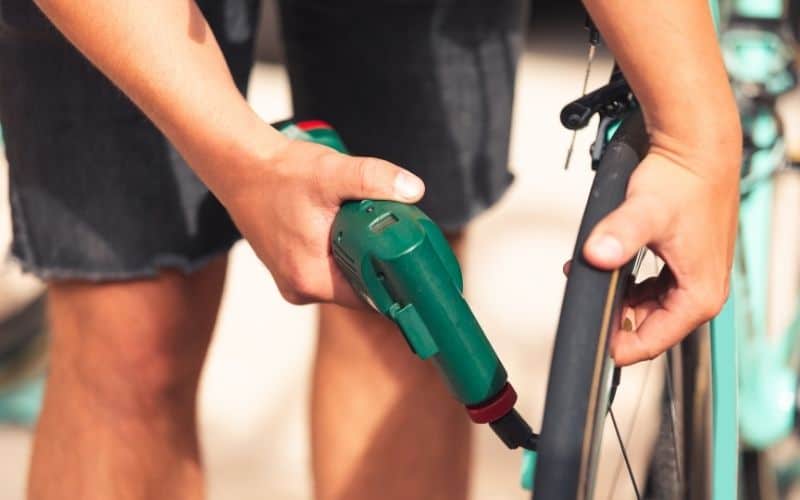 Power Source
Electric bike pumps come with various power sources, such as rechargeable batteries, standard batteries, or plugged into a wall outlet.
Consider the power source based on your preferences and usage. For example, if you plan to take the pump on cycling trips, a rechargeable or battery-powered option would be more convenient.
Portability
If you plan to carry an electric bike pump during rides or use it at multiple locations, a lightweight and compact design is crucial.
Some electric bike pumps come with storage compartments, carrying cases, or mounts to attach them to our bikes, enhancing their portability.
Valve Compatibility
Ensure that the electric bike pump is compatible with the valve types used on your bike tires. The most common valve types are Schrader and Presta. Many electric bike pumps come with adapters to fit both valves, making this less of a concern.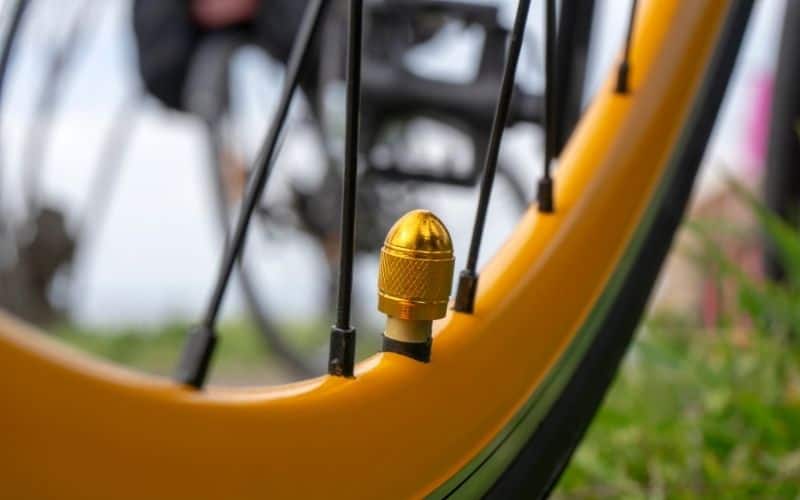 Additional Features
Some electric bike pumps offer extra features such as an auto-shutoff function or deflate bike tire buttons, which can help prevent overinflation and decrease pressure to the desired level.
Frequently Asked Questions
Can People Use An Electric Bike Pump For A Car Tire?
Yes, almost any electric bike pump will put air into car tires.
An electric bike pump is convenient to have at home for this purpose, whether your vehicle has driven for months and is starting to feel the difference or whether you are preparing for an unexpected road trip.
It is possible to use your electric bike pump on cars, trucks, SUVs, motorcycles, and more – check the manufacturer's recommendations for more details on use and necessary attachments.
What Is A Dual-Valve Electric Pump?
Electric bike pumps typically include either a Presta or Shrader valve, but some pumps come with both types. These dual-valve pumps are great for families that bike together with small children (children's bikes tend to use Presta valves and adult bikes tend to use Shrader valves). 
Some pumps are even more versatile, with four different valve options.
Do I Still Need A Hand Pump If I Have An Electric Bike Pump?
While an electric bike pump can make tire inflation more convenient, it's still a good idea to carry a portable hand pump or mini pump when you're out on a ride. Especially bike packing or touring.
In case of a flat tire or puncture, a mini pump can get you out of a jam and back in action until you get home where you can use your electric pump to top off your tire pressure.
This is particularly important if you're riding in areas where there's no power source for your electric pump.
Is An Electric Bike Pump Worth The Money?
Yes, an electric bike pump is an investment that is well worth its weight in gold for those who bike regularly. It makes it easier (and faster) to pump the tires before a ride and fits any other type of tire with a matching valve.