If you cycle regularly, finding the best electric bike pump available is an excellent investment in your time and effort. Manual floor pumps inflate a tire relatively quickly and are inexpensive, but electric pumps are far superior for cyclists who use their bikes daily or change tires frequently for different terrains.
An electric bike pump is versatile enough for bike tires, car or truck tires, air mattresses, and most other inflatables. It is also easy to use, which is convenient if you want to reduce your carbon footprint and cycle more than you drive.
Here are the few electric bike pumps we've reviewed:
How To Choose An Electric Bike Pump
A manual bike pump often becomes a monotonous and frustrating task when time is of the essence. So, why put yourself through the stress when you can enjoy the fast, effortless performance of an electric pump?
Electric bike pumps are convenient and compact enough for easy storage or transportation; there is not much else you need in a reliable bike pump.
Choosing the right electric bike pump goes a long way toward durability and functionality. Most electric bike pumps will work for car tires in the same way that most electric car tire pumps pump bike tires. However, it is always best to check this compatibility with the tires on your bike before finalizing your purchase.
Bike tires come with one of two standard valves: the Presta and the Shrader. Presta valves are mostly found on children's bikes. You can find the Shrader valve almost everywhere else, including in adult bikes and cars.
Many of the decisions come down to personal preference or a cyclist's specific needs on the road. Other considerations for choosing an electric bike pump include:
Do you want the maximum PSI units displayed on the gauge?
Do you prefer a display to be digital?
Some electric pumps come with cords that plug into a cigarette lighter; others have rechargeable batteries.
We've listed a few other important questions below so that you know you are choosing an electric bike pump that is going to meet your expectations.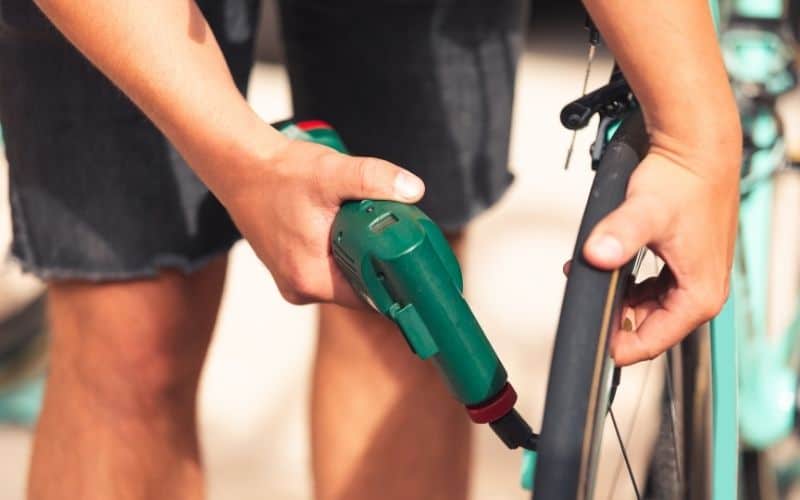 Can People Use An Electric Bike Pump For A Car Tire?
Yes, almost any electric bike pump will put air into car tires.
An electric bike pump is convenient to have at home for this purpose, whether your vehicle has driven for months and is starting to feel the difference or whether you are preparing for an unexpected road trip.
It is possible to use your electric bike pump on cars, trucks, SUVs, motorcycles, and more – check the manufacturer's recommendations for more details on use and necessary attachments.
What Is A Dual-Valve Electric Pump?
Electric bike pumps typically include either a Presta or Shrader valve, but some pumps come with both types. These dual-valve pumps are great for families that bike together with small children (children's bikes tend to use Presta valves and adult bikes tend to use Shrader valves). 
Some pumps are even more versatile, with four different valves options.
Related article – How To Bike Deflate A Tire (Any Valve Type!)
Are There Portable Electric Bike Pumps?
Yes, the best electric bike pump is on the heavier side, but this is not a prerequisite to performance. A more portable electric pump is a welcome addition to a bike or car to keep you on the move.
Is An Electric Bike Pump Worth The Money?
Yes, an electric bike pump is an investment that is well worth its weight in gold for those who bike regularly. It makes it easier (and faster) to pump the tires before a ride and fits any other type of tire with a matching valve.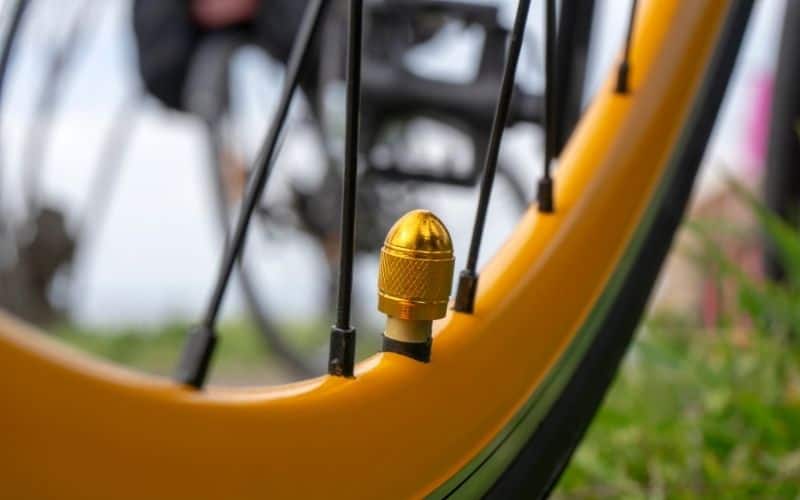 5 Of The Best Electric Bike Pumps Reviewed
Are you looking for something more portable or more powerful? Cyclists that have only used a manual bike pump might not feel as confident picking out a product online. Here are five electric pumps that are worth consideration:
The Portable Air Compressor Mini Inflator Electric Pump is an excellent option for anyone looking for versatility. The portable air compressor pump suits an array of applications, whether as a pump for an everyday bicycle, a hardy mountain bike, a slick BMX, or a motorcycle. It will work with both Presta and Shrader valves, with a third option to include the Dunlop valve in the mix.
The powerful 150 PSI output makes this product one of the more impressive mini pumps available. It is also small enough to fit into a pocket, which is extremely convenient for an emergency travel kit. The digital display adds to the convenience with four easy-to-toggle unit values, including PSI, BAR, KPA, and Kg/cm².
The product comes from a company that has been specializing in bike products since 2014. It includes a rechargeable Li-Ion battery, LED emergency lights, a practical bike mount kit, screwdriver, non-slip mat, bike mount, velcro, and two screws, which is everything you need. If you want a compact and multifunctional air pump that meets all a cyclist's essential requirements and more, this is a great choice.
---
The Husky Electric Air Tire Pump is the next contender on our list. It presents an excellent option for cyclists who need a bike pump that is both powerful and compact. The pump is no longer than 10 inches and weighs only just over four pounds, so transportation is a breeze.
The compact size makes it a perfect choice for storing under a seat in the car, and the standard 120-volt plug means that you won't run into problems when searching for an outlet. If you're looking for an electric bike pump that can do almost everything a bigger compressor could do, then this is an excellent option. The 29-inch air hose will provide the reach needed to get to any tire valve, no matter its position.
The pump even has a glow-in-the-dark pressure gauge to use day or night, even when you are stuck without a flashlight. The pressure gauge reads up to 130 PSI, which means this pump can inflate tires for cars, trucks, and bicycles with ease. It can also handle air mattresses, sports equipment, and more.
---
The AstroAI Portable Air Compressor Pump is professionally calibrated to return a reading within 1% of the actual tire pressure, which is impressively accurate compared to similar products. The inflation value will be 0.5 to 1.5 PSI or higher than the preset value.
Cyclists can easily use this compressor for bicycles, but it also makes itself useful for car tires, pool floating devices, and more. The automatic shutoff feature is a popular feature that kicks in at 100℃ (212℉) to protect the pump from overheating while in use.
Other features on the AstroAI model include an LED-backlit screen, movements in PSI, KPA, and BAR, cone adaptors, a spare fuse, valve caps, and a built-in LED flashlight.
As a very portable compressor, it is an excellent choice to use for bicycles, auto tires, soccer balls, basketballs, footballs, balloons, and other inflatable equipment. It is a small but powerful compressor, with the AstroAI reaching around 100 PSI to ensure a stronger airflow through the robust metal motor and multiple brass connectors. The pure copper coil motor is the secret to its reliable performance, reduced energy use, and safer, more durable inflation capabilities.
---
As an electric bike pump that is extremely easy to operate, the VacLife Air Compressor is an amazing option for a multifunctional electric pump. It comes with four nozzles that will fit a range of needs, from vehicle tires to basketballs, soccer balls, and entertainment equipment. It also covers bikes, motorcycles, air mattresses, inflatable boats, and more.
The product's auto-shutoff feature provides complete peace of mind if you need to use it for big projects or see to other tasks while you wait, ensuring that this pump will not overinflate or overheat while in use.
The compact pump works well with any 12-volt outlet and is a great portable solution to have on hand in case of emergencies. With LED lighting on display, cyclists and vehicle owners alike will never be left wondering about the pressure levels when they find themselves stuck somewhere in the middle of the night.
VacLife is well-known for its lightweight or trim product selection. These manufacturers take every aspect of portability into account, and this air compressor is no exception. The VacLife Air Compressor Tire Inflator electric pump is the definition of "compact" at 10 inches long and less than two-and-a-half pounds.
---
We thought it might be a good idea to end our review with a unique choice for our electric bike pumps list. Why does the JACO SmartPro Pump qualify for this unusual title? Well, it uses Smart Pressure Technology, which allows the pump to inflate tires to the minimum 45 PSI for cars and 100 PSI for bikes; it also includes a smart auto-shutoff feature.
The 24″ air hose on this air compressor is extremely durable, and its robust qualities make connecting and disconnecting the nozzle easy. The solid hands and feet also steady the operation. As a 10-foot-long power cord is on the shorter side, it is a good thing that this pump still allows easy access to each tire.
The built-in digital air gauge uses an LCD backlit screen to show time, measuring PSI and inflating only as much as it needs to before switching off. The LED screen has a few settings—a flashlight, a flashing red light, and an emergency SOS setting.
As a versatile electric bike pump, the JACO SmartPro Pump runs off a standard 12-volt DC battery in a car, truck, or SUV. It is an excellent option for anyone looking for a modern product that will last for years.
---
Final Thoughts
Reviews from professionals and customers are both incredibly valuable in sifting through the plethora of electric bike pumps out there. Some pumps are more portable, some rely on batteries, and others run on a car charger setup. How do you choose the right pump for your bike and lifestyle?
Start with what you expect from the pump, and factor in some of the considerations above into the list of desired features. Our five top electric bike pumps also provide a head start on what the market currently has to offer. There is something for everyone, whether you are looking for something that allows you to pump car or bike tires, or you have children's bikes with different tire valves.
Remember, think about the following:
type of valve (Presta, Shrader, or both)
maximum PSI?
auto-shutoff needs
digital gauge or LED pressure gauge
applications other than bike tires
Our overall recommendation the best electric bike pump goes to the AstroAI Portable Air Compressor Pump for its compact setup and all-around versatility. However, any of the five above are an excellent choice for an electric bike pump that fits your particular needs.