Have you noticed that after a long day of riding, you can be aching for days? I found it to be quite frustrating…when can I ride again at sub par performance? Or worse yet, without causing injury?
That's when I started looking into recovery and how to speed things up, without running the risk of hurting myself. 
Are massage tools the holy grail of recovery?
Why Is Massage Important For A Cyclists' Recovery?
For any athlete, recovery is essential. It should form an integral part of your training and become part of your routine.
Recovery helps your body to regenerate and ultimately become more efficient. One way to ensure you recover properly is through massage. Massage helps muscles to relax and restore flexibility into your muscles. 
When we exercise we can damage our muscles and recovery allows the body to heal these micro-lesions. Massage stimulates blood flow and helps to eliminate toxins – all good stuff for proper recovery!
Remember nutrition and stretching also plays a key role in your recovery.
What To Look For In A Massage Tool
There are lots of different types of massage tools out there, finding the right one can seem daunting. 
I'd start by considering which areas you feel ache the most post-ride as most tools are designed to work in one specific area. In most cases, they can do other areas but not necessarily as effectively. 
Think about whether you want something that will do the work for you. Do keep in mind that these tools won't always be as precise as you but they take away a lot of effort on your part. 
If you're happy to do some work, then you're going to be able to direct the massage tool where you want so you may find that it's more effective.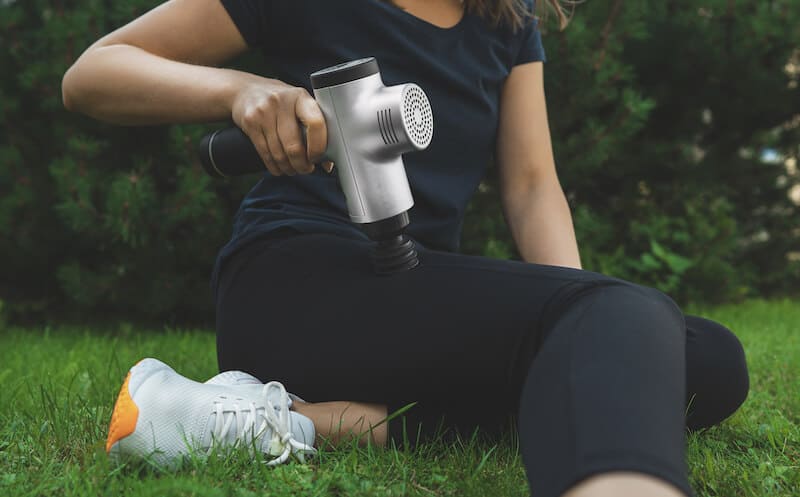 Why Is A Foam Roller Good For Cyclists?
As we know, as you work your muscles, tiny tears occur in the fibers, knots, and tight areas form. For cyclists, this is usually around the quad, hamstring, and different parts of your back. 
The repair process is vital to making you a stronger cyclist and using a foam roller helps to speed up the repair process and also has many other benefits such as:
Your mobility and flexibility can increase 
Helps to prevent muscle pain as it relaxes your muscles
Releases trigger points
Helps you to maintain a proper muscle balance
Looking for some foam roller exercises? Check out this:
What To Do After A Massage
Taking steps to aid your recovery by using a massage tool is great but it doesn't begin and end there!
I'd recommend doing a few light stretches so that your muscles can get back into their natural position. Depending on how time-pressed you are, you could even apply some ice to your muscles as this helps to further increase blood circulation. 
Don't forget that a massage is working your muscles, albeit gently, but it's still a workout so don't plan to ride hard after you've had some massage time. Let your legs rest and you should be good to go again tomorrow…but stronger! 
By the way, if you're new to the idea of recovery, you might want to check out this article – Recovery Ride vs Rest Days.
5 Of The Best Massage Tools For Cyclists
Let's kick things off with a lacrosse ball…I know, simple concept, right?
These things are ideal for getting to those small knots where you normally can't reach. Muscles getting knotty when you're riding and after your ride, particularly on your shoulders, back, feet and piriformis – this is where a lacrosse ball comes into play. 
The lacrosse ball we're looking at has a solid rubber construction, meaning that – when used correctly – you should see immediate results. 
I find that my shoulders and back can suffer a little after a long ride and these lacrosse balls can ease my muscles and speed up my recovery period. So if you're like me, I'd highly recommend this affordable solution. 
One issue I have found with other lacrosse balls I've tried (I've even tried tennis balls. I'll save you the trouble – don't go there!) is that they are either too hard or too soft. This means that they either don't quite get deep enough or they are painful to use. This isn't the case with these lacrosse balls, as they've been designed by Arc, who have been developing athletic products since 2016, they get things spot on and work well to ease the tension in your muscles. 
The great thing is that you get two balls in this pack and they come in a handy travel bag, which is a suitable place to store them when you're not using them.
---
The idea behind a massage stick is that there are plastic rolling beads that will move along your body as you roll the stick. These beads will knead your body. It's a tool that is similar to a foam roller (which we will get onto later!) but I'd say that roller sticks are more useful for working on your quads as you're able to target specific areas more accurately.
There are, of course, many roller sticks out there but this one should be the only one you need to buy…no seriously…the manufacturer has used industrial strength materials so it really is designed to last a lifetime. 
That's not the only thing I like about the durable design of this muscle roller stick, I love how compact it is, yet it still has 9 spindles that work well to target sore muscles. 
Some cyclists have found that using this muscle roller stick before and after a ride, rather than just after a ride, has actually increased their overall performance over time. This is because recovery is speeded up and the risk of injury is reduced.
For me, I've found the only downside to be (and it's more my issue rather than the sticks) is that when I'm lacking in a little energy, it does take more effort than using a foam roller as you're controlling the pressure with the roller stick, which is a good thing.
As I said, it's more my issue, rather than a fault with the stick itself but it is something to keep in mind, if you've come back from a long ride, you might not have the energy to do the job properly!
If you have used a foam roller before you will have noticed that you're doing a lot of work to try and reach all the angles you need to on a muscle, resulting in you getting into some awkward positions…hopefully that's not just me! The difference with this particular model of muscle stick is its size, you can use it almost anywhere.
I'm guilty of using it in bed. So long as you are working it along your quads in an up and down motion, it's all good!
---
Foam rollers changed the way athletes recover and they still dominate the recovery market. A foam roller will help to speed up the repair as it smooths out any knots and promotes blood flow.
This foam roller from TriggerPoint is made in the USA and is patented. It's actually the first foam roller to feature a multi-density exterior that is constructed over a hollow core. 
Sounds really impressive, right?
Basically, the pattern on the roller is ideal for dealing with tight muscles and knots. It's also so good that many physical and massage therapists, coaches, trainers, and pro athletes use it.
Some foam rollers have a tendency to lose their shape over time, and so you aren't getting the full benefit anymore. The TriggerPoint GRID 2.0 is different, it's rigid and is going to hold up to repeated use. It will support up to 500 lbs too so it's incredibly durable. 
For some people, they may look at this foam roller and think it's expensive for what it is. At first glance, I get what you're saying. However! I have to say, the science behind this roller really pays off. 
It's firm so it withstands use but it's soft so it's a joy to use. It hits all the right places and it certainly feels like an upgrade from any foam roller I've used before.
Want to know more about the science behind it all? Check out this video:
---
Massage guns have been growing in popularity over the years and Theragun has been leading the charge. 
For those unfamiliar with massage guns, they look like a smart power tool but they're a sports recovery tool. The head will oscillate at different speeds, in the Theragun Elite case, it's 5 different speed settings and this facilitates percussive therapy. 
Without question, Theragun is up there as one of the more premium brands and you get an impressive amount of features. Everything about the Theragun Elite performs as you'd expect, it does follow through with the premium-feel as the brand promises and it feels like it will still be there for many years to come, making it a sound investment. 
I particularly like that it comes with a companion app and a surprisingly long 120-minute battery life. Theragun does claim that the Elite is quiet and whilst it isn't horribly noisy, it was louder than I expected. I wouldn't go as far as to say it's a reason not to buy it but it's something to keep in mind.
Massage guns beat a foam roller if you're after accuracy and you can use it while sitting on the sofa so it does get huge convenience points. 
As a cyclist, I can't claim to have the strongest arms in the world (you know what I mean, don't you?) but despite this, the weight of the Theragun Elite was well balanced and never once felt difficult to use.
---
I first came across Shiatsu's back and neck massager through a recommendation as a way to simply de-stress, not as a recovery tool after cycling. However, if you're someone like me who suffers particularly in the back, neck, and shoulders then this could be ideal for you.
With this massager, you get four rotating heated nodes. They work to knead the knots away and get your blood circulation going. 
After every minute, the nodes will change direction as you'd expect from a massage chair. This helps to prevent bruising and does actually help with removing the muscle tension as it gets you from different angles. 
Whilst the massage pillow is marketed at your back and neck, it's versatile and it can work on other parts of your body such as your thighs, feet, arms, and shoulders (my favorite spot!).
One point I should make is that, even though it may be tempting to use this for several cycles at a time, I would urge against it. You are likely to end up bruised and doing your muscles more harm than good. One cycle a day. Trust me 😉.
---
Final Thoughts
OK, so there we are, something to get you to become a stronger cyclist and help you to stay injury-free. 
My personal favorite is the Muscle Roller Stick. It's so portable and you can really target the areas you need to work on with precision, something which not many other tools can claim. 
When you have certain places you want to reach, then it's ideal. For me, there's nothing more frustrating than not being able to get to knotty muscles. I love the build quality, for something that is so affordable, it feels like it's going to last a lifetime. For a cyclist, it hits all the right spots!
What areas of your body get tight after a day in the saddle?
This article includes affiliate links. If you choose to purchase any of the products we have discussed in this article, we may receive a small commission.