Getting the right handlebars is important in ensuring you remain comfortable and in control of your bicycle during the shaky bumps that come with trail cycling. 
But with a plethora of products on the market, which do you choose? And how can you tell a good handlebar from a bad one? This is why I've compiled a list of the five best MTB handlebars on the market.
My list of the best MTB handlebars consists of: 
How To Choose A Mountain Bike Handlebar
Handlebars are an essential point of contact with your bike. Despite mountain bike handlebars being a personal choice for most people, there are a few things you should look out for before purchasing one.
I will discuss the four most important things to keep in mind when looking for your next MTB handlebar.
Geometry
Your handlebar's geometry consists of two main components: rise and sweep. 
Handlebar rise: This is the difference in height between the center of the handlebar and that of the tapered ends. The rise depends on the seating position of the cyclist. If your sitting position appears too low, a riser bar like the Funn Full On MTB Handlebar will help keep you comfortable. 
Handlebar sweep: The two measures of sweep are upsweep and downsweep. Upsweep measurements should range between 4 and 5 degrees to keep the wrist in a comfortable, neutral position. Downsweep measurements vary between 0 and 45 degrees, with most beginners preferring a downsweep between 5 and 9 degrees.
Handlebar Width
The wider, the better. That's because a wide handlebar provides a much longer lever to steer a bike. This longer lever is easier to control than a much shorter one. 
Wide bars also ensure you can practice good posture and be in a better position to breathe. If your chest is wide open because your hands are far apart, you'll breathe much easier than if your arms are close together. 
If you have short arms, wide bars may not be the best for you as they can cause discomfort.
Bar widths range from 600 to 860 millimeters. When buying handlebars, you're better off buying a wide bar because you can also cut it if it's too wide. Unfortunately, you can't add material onto a narrow bar to make it wider!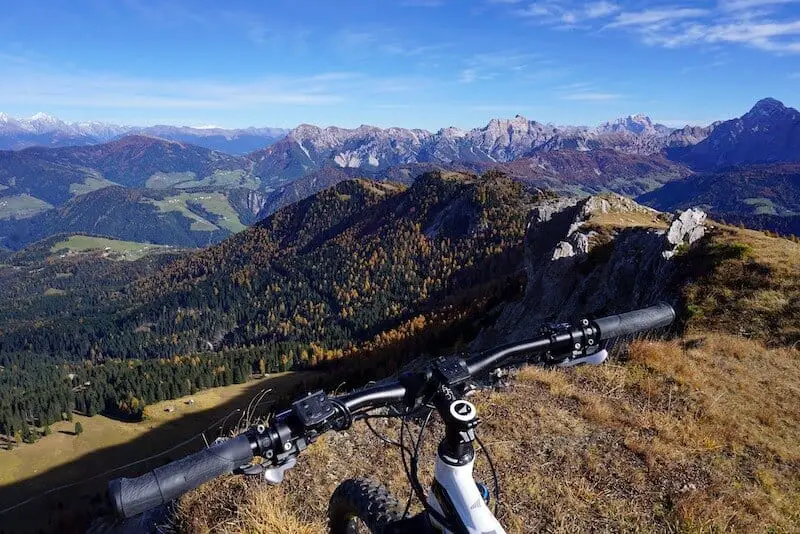 Handlebar Material
Most purists argue between aluminum and carbon fiber. Both are lightweight materials, but carbon is lighter and more expensive. Riders that prefer aluminum handlebars do so because these handlebars deform in a predictable manner – they bend or yield! On the other hand, carbon fiber can snap without prior indication of deformation or if you have an accident.
In addition to the two materials mentioned earlier, you could also opt for strong steel or titanium, which most customers report as being very good at absorbing shock. But this will likely come at the cost of a heavier bike!
When buying a handlebar, aluminum is often best for beginners. It's lightweight and strong, without being too expensive. As you get more advanced in mountain biking, you can always change to a more premium handlebar. 
Handlebar Shape
The conventional bar shape is a straight bar or riser bar. But unusual shapes have populated the market. These shapes are meant to cater to different sectors of the mountain bike riding populations like backpackers. Such handlebars will have an extreme rise in the center. 
For beginners, try getting a more conventional handlebar: a straight bar or riser bar. You can always get a specialized handlebar as you progress in mountain biking.
Reviews Of The Best MTB Handlebars
This is a wide mountain bike bar that's suited to tough and rugged terrain. It's made from a hard-anodized aluminum alloy that provides impressive shock absorption. The surface has a water-resistant coating that's also non-slip, ensuring you can use this handlebar in extreme weather without losing control of your MTB. 
The back sweep is 9 degrees, which falls within the optimal defined range. In addition, the rise is a comfortable 30 millimeters which is compatible with most sitting positions, even if you're an aggressive rider. 
The weight of the bar is a little over 1 pound, while the width is a generous 780 millimeters. You have the option of four colors: red, blue, black, and yellow; to suit the style and personality of your bike. 
Also, with a full manufacturer's refund, if dissatisfied with the product, the Wake MTB Handlebar Riser is a very good offering.
One minor drawback with the product is the flex. Some customers report an uncomfortable flex in the handlebars when they use them on extreme terrain, which is a consequence of the material used. Aluminum is less stiff than titanium, steel, or carbon fiber!
---
Funn has been in business for over two decades, and the Funn Full On MTB Handlebar is one of its most popular products. 
The bar is made from aluminum 6061 alloy that has gone through sandblasting, triple butting and anodizing to create a lightweight and strong handlebar with durable, non-slip coating. 
The design and production process makes this handlebar best suited for enduro bikes. Enduro bikes require wider bars with sweeps optimized for aggressive riding, which is what the Funn handlebar delivers. It has an impressive width of up to 810 millimeters while maintaining a weight of around 0.75 pounds. 
Back and upsweep are 5.5 and 8 degrees, respectively, which are great measurements for beginner to intermediate riders who want to try a more aggressive style of cycling. 
With six color options, you're spoiled for choice with different models available for this handlebar. 
There isn't much wrong with this model. In fact, it offers nearly identical performance to my top choice. The only difference being the Wake MTB Handlebar Riser is slightly cheaper!
Generally, this won't deter most customers, but the fact one can get similar value for a lower price elsewhere should be a drawback! So, if you can get this on discount I would definitely recommend it.
---
Steel is a robust material that offers great strength. The Sunlite Steel Handlebar is corrosion resistant and has a width of nearly 700 millimeters. Because steel is relatively cheap and easy to construct metal, many customers report how easy it is to weld extra material to the handlebar to increase the width. 
The main benefit of this handlebar is that it's designed to be appropriate for both road and mountain bikes, which isn't the case with most handlebars on this list. The 3.5-inch rise provides comfort for low-profile city bikes and is great for tall people and riders with posture problems.
The heavy weight is a major drawback for most people. The product weighs 1.25 pounds, which means it's the heaviest product on this list.
---
Funn features once more on this list! This time with a carbon fiber handlebar. The Black Ace Handlebar is lightweight and provides great durability with its high-end construction.
The handlebar comes in only one color but has three different versions, each with a different sized rise. The rise ranges from 7 to 30 millimeters, with the heaviest of these versions weighing an impressive 0.454 pounds. This is undoubtedly the lightest handlebar on this list, which is expected considering the material used. 
With all these features, it comes as no surprise that this is also the most expensive product on this list. But by investing in this handlebar, you get a really long product life cycle. Most customers have reported after five years of regular use, they only have a few scratches on it!
---
Most of the bars on my list have been riser bars. These are extremely popular, but many customers prefer the familiarity of a flat bar. 
This one from UPANBIKE is only 620 millimeters in width but offers a great weight to strength ratio because of its aluminum construction. And because it's a flat handlebar, it doesn't have a back or upsweep, which makes flat handlebars easy to shop for: the major difference between products is the material and construction quality. 
Another great feature about this product is the price. It's an incredibly affordable handlebar. One drawback is the width of the handlebar. It might be too small for taller riders!
---
Final Thoughts
A good handlebar will provide the perfect conditions for you to enjoy your mountain biking. Buying a new handlebar should be a decision you should approach with great care and consideration.
My favorite is the Wake MTB Handlebar Riser. It's an affordable product but offers excellent value and competes very well with the more premium models on this list. It's best suited to beginners who want to try out mountain biking without making substantial financial commitments. 
Whichever handlebar you choose, ensure you get the performance and comfort you need. Mountain biking is one of those activities where the quality of the experience depends heavily on the quality of gear used. Because of this, make sure you get the best equipment you possibly can!
Looking for a new MTB? Check out our comparison between a hardtail vs full suspension mountain bike.
This article includes affiliate links. If you choose to purchase any of the products we have discussed in this article, we may receive a small commission.