Ever hit the road on your bike and felt that something was just… off with your grip? Yep, it's probably the handlebar tape. But which one should you be wrapping around?
To steer you right, I've delved deep, tried out various tapes, and researched some top-notch choices for the best road bike handlebar tape. No more guesswork for you!
Craving a shortcut? My top pick is the SRAM Supercork Bicycle Bar Tape. What makes it stand out from the rest? You'll be surprised!
Want the full rundown? Read on!
Summary of the Best Road Bike Handlebar Tapes
Pros:

Superior shock absorption

Excellent grip and control

Easy to install and re-wrap

Beautiful colorful, cork-patterned design

Affordable

Pros:

Great road feel

Doesn't get bulky

Long-lasting

Good grip

Pros:

Colorful design

Stretchy

Feels cushioned

Tacky grip which is good for gloves

Pros:

Excellent cushioning

Sticks well to the handlebars

Gives you a lot of tape

Provides a good grip

Pros:

Budget-friendly

Lightweight

Prevents sore and numb hands

Stretchy and flexible for installation
Detailed Reviews Of The Best Road Bike Handlebar Tapes on The Market
Best Overall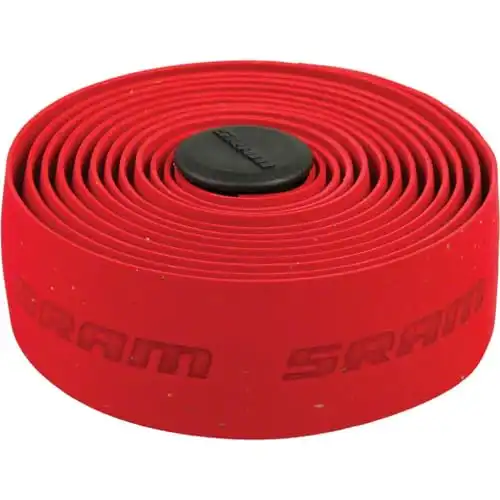 Pros:
Superior shock absorption

Excellent grip and control

Easy to install and re-wrap

Beautiful colorful, cork-patterned design

Affordable
Cons:
Not the best moisture-wicking properties

Lighter colored tape gets dirty easily
View On Amazon
View On JensonUSA
Let's dive into what the SRAM Supercork Bicycle Bar Tape is all about straight out of the gate.
This affordable polyurethane tape is embedded with cork, making it grippable and cushioned. Riders rave about its anti-slip qualities and how much isolation it gives from road vibrations. It also has an adhesive strip that's very durable.
There's no beating around the bush: This is the go-to choice for avid cyclists who prioritize performance, especially on those long-distance rides.
The tape is about 3mm (⅛ inch) thick, which provides plenty of protection from blisters and soreness. With 3 meters (118 inches) long and two rolls in the pack, it should be enough for your handlebars. 
The tape is easy to re-wrap if the first time isn't perfect, which is great for beginner riders.
If I had to nitpick, the SRAM Supercork, compared to some competitors like the Fizik Tempo, lacks a bit in terms of moisture-wicking properties. It's something to consider if you often cycle in wetter conditions.
It's available in four different colorful designs and the more classic black and white. All colors have spots of cork that look great. However, please note that the lighter colors can quickly get dirty!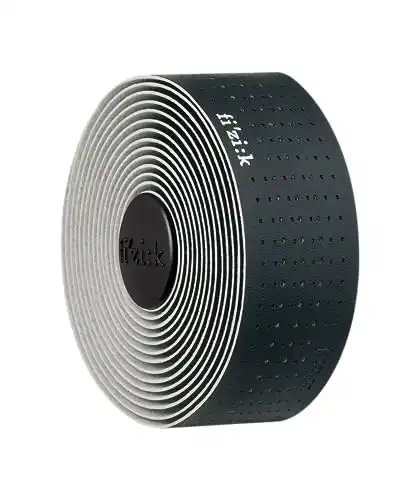 Right out of the box, you can feel the quality and craftsmanship of the Fizik Tempo Microtex Bar Tape.
With a thickness of 2mm, this tape is excellent for those who prefer feeling the road better to having more shock absorption. This is needed if you want to venture into bike racing or keep beating your personal best when it comes to biking times. This tape will not feel bulky at all.
This tape has a pierced leather-like texture but doesn't actually contain leather. This makes it durable and provides sufficient grip. The tape comprises Microtex, a thin material with excellent handling and control. Additionally, it performs well even in wet conditions.
On the downside, it's not very cushioned and doesn't give much isolation from shock. Additionally, it isn't very stretchy, making installing it quite challenging.
Pros:
Colorful design

Stretchy

Feels cushioned

Tacky grip which is good for gloves
Cons:
Color fades and tape gets muddy easily

Pricey
View On Amazon
View On JensonUSA
The Supacaz Super Sticky Kush Star Fade Bar Tape is a game-changer for any cyclist aiming for top-tier grip and a stylish flair on their handlebars.
This bar tape has a star-patterned design available in several neon colors as well as red and white. Riders love how it looks on their bikes and that it stretches well when installed. You get two 2.16-meter (85-inch) long rolls, which is enough to wrap each handlebar.
With a 3 mm thickness, it also provides a lot of comfort and shock absorption. It's made with a Kush foam middle layer that helps smooth your ride and a polyurethane outer layer that gives a tacky grip in all environments. They're especially good to grip with gloves.
Cyclists note that the tape gets dirty quickly and is also rather pricey. The color also tends to fade relatively quickly if you're often out in the sun.
The Supacaz Super Sticky Kush Star Fade Bar Tape is a fantastic choice if you're seeking optimal grip and a statement design. However, if plush comfort tops your list, you should explore further.
Pros:
Excellent cushioning

Sticks well to the handlebars

Gives you a lot of tape

Provides a good grip
Cons:
May not be long-lasting

Colors are different from the pictures
View On Amazon
View On Walmart
The Domain Cycling Extra Long Gel Handlebar Tape is a premium-quality, extended-length tape designed primarily for serious road cyclists seeking comfort and endurance on those long rides.
The surface is an anti-slip polyurethane leather look to provide a stable grip. It boasts an impressive gel layer that significantly dampens vibrations, ensuring that those hours spent pedaling aren't marred by numbing discomfort.
Riders also feel it's stretchy and sticks very well to the bar.
The Domain tape comes with two rolls, each giving you 2.4 meters (94 inches) of tape, whichprovides you withu a total of 4.8 meters (188 inches). This will be plenty for you to wrap your handlebars several times around with this amount.
Some riders have had issues with longevity, and the tape starts coming off within six months, especially after riding in rainy climates. Also, the colors may look different from the ones advertised, as several riders feel like the red color is actually orange!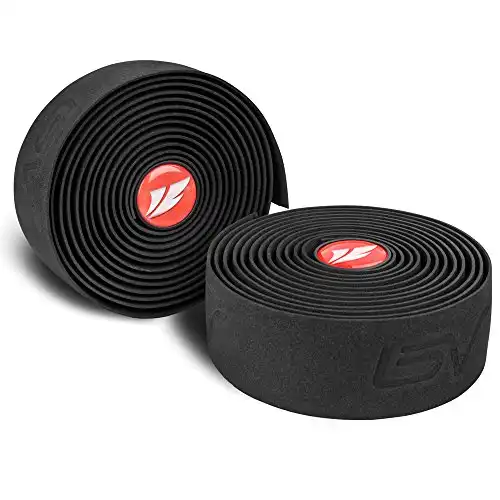 Pros:
Budget-friendly

Lightweight

Prevents sore and numb hands

Stretchy and flexible for installation
Cons:
Might break when you remove it, so try to install it correctly the first time

Relatively thin
View On Amazon
View On Walmart
These handlebar tapes promise a comfortable grip and optimal shock absorption for a very affordable price.
You get two 3-meter rolls (79 inches) each, giving you 6 meters (158 inches) of tape. The BV tape is also lightweight and won't add much weight to your bike. It's all about the marginal gains!
The tape is made from EVA foam material, providing a lot of shock absorption and preventing hands from getting sore. It's anti-slip, comfortable, and relatively long-lasting, considering it's water- and UV-resistant.
The tape is relatively thin, but riders mentioned that if it's wrapped correctly, it'll provide plenty of cushioning for comfort to prevent fatigue in your hands.
While the BV EVA scores high on grip and comfort, it doesn't fare as well in the aesthetics department compared to some of its competitors, like the Fizik Tempo and Supacaz.
How To Pick The Best Road Bike Handlebar Tape
As with all cycling parts, there's a few things to consider before buying. Essentially, you want your handlebar tape to do the following things:
Provide you with a good grip on the handles
Absorb shocks and bumps from the road
Improve your level of comfort
Make your bike look nice and unique
With this in mind, here's what you need to know when shopping for the best road bike handlebar tape:
Materials
These are the most popular materials for handlebar tape and their features:
Synthetic: These materials are lightweight, durable, and very versatile. They include polyurethane, silicone, and nylon. They typically have a gel or foam core but don't look as high-end as other options.
Cork: Soft, cushioned, and shock-absorbing. Cork is less durable than other options and tends to absorb dirt and sweat.
Leather: Soft once broken in and has excellent durability, but leather is less cushioned.
Gel: Offers maximum comfort and shock absorption, especially for long rides.
Foam: Lightweight and offers good cushioning, but might wear out faster than other materials.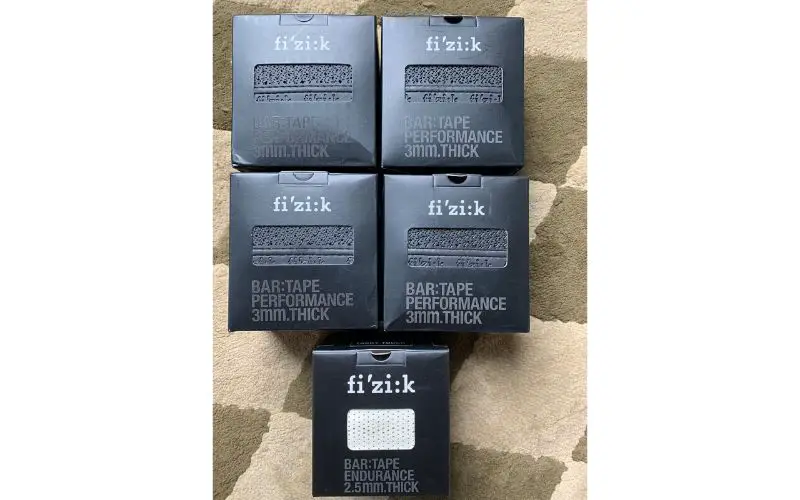 Grip
You want a good grip on your handlebars to handle your bike correctly. Synthetic materials can provide excellent grip in wet and dry conditions due to their versatile nature.
Also, tapes with cross-hatch or knurled design on the surface provide a better grip for the biker than a flat surface.
You also want the tape to be breathable to let moisture and sweat be drawn away from your hands to keep a good grip.
Thickness
Putting it simply, thicker tape gives more cushioning, making it more comfortable. With thick enough tape between 2.5 – 3.2 mm, you'll prevent blisters and sore hands.
Cork and synthetics with foam cores provide a lot of cushioning and shock absorption due to their thickness. Leather offers less cushioning. But if you want a less bulky look, go for leather.
Also, keep in mind that thinner materials wrap around your handlebars better. The thicker ones might be more difficult to install and hang loosely from the handle.
A wrap thinner than 2.5 mm will offer a closer road feel and might be a good option for racers. But for casual bikers, go for a thicker tape.
Adhesive vs Non-Adhesive
Tapes usually have either gel or an adhesive strip that attaches to your handlebar. While the adhesive is durable and sticks throughout the seasons, the gel is more dampening.
Additionally, adhesive backing can make them easier to wrap but harder to reposition or remove. On the other hand, non-adhesive tapes can be repositioned easily but might require finishing tape or extra care when wrapping.
Color and Design
This aspect depends entirely on your personal preference. Choose a color that matches your personal style or bike color.
Synthetic materials can be made in all the colors of the rainbow and have patterns and more versatile designs than other materials. Leather is for those who prefer a classic design with more natural, earth-like colors, while cork looks relatively high-end.
Also, lighter colors might wash out after some time, and you will need to change them more frequently than dark-colored tapes.
How To Wrap Your Road Bike Handlebar Tape
To install your handlebar tape the "traditional" way, follow these steps:
Gather your bar tape, scissors, two end plugs, and electrical/finishing tape.
Start at the bottom of your bar and leave a few inches overlapping since you'll stuff these into the end of the bar and fasten them with end plugs later. This protects you if you should fall on your bar.
Now, wrap the tape from the inside out clockwise for the right-hand drop and anti-clockwise for the left-hand drop. Leave about a quarter to a third of the width of the tape overlapping.
Use a figure of 8 when wrapping around your brake hoods. First, roll up the rubber hood. Move the tape under the lever and up the inside.
Then wrap it over the top and then under again as you come back around the lever body and take it back inside the drop.
Finally, bring the tape to the top of the bar.
Roll your rubber hood back, and then continue wrapping the top of your bar in the same fashion as you did the bottom.
When you come to the bulge of your handlebar, cut off the excess tape and secure it with finishing/electrical tape. Then push in the end plug.
Repeat on the other side!
It's also possible to reverse-wrap your handlebars without using any finishing/electrical tape. Check out the video below for some additional help:
Frequently Asked Questions
How often should I replace my road bike handlebar tape?
The frequency of replacement depends on the quality of the tape, riding conditions, and personal preference. However, if the tape becomes slick, torn, or loses its cushioning effect, it's a clear sign that it's time for a change.
Generally, active cyclists may consider replacing their tape once a year or even sooner if they notice wear and tear.
Is it better to ride with gloves if I have a comfortable bar tape?
While a comfortable bar tape does provide cushioning and grip, riding with gloves offers additional benefits. Gloves protect your hands from abrasions in case of a fall, absorb sweat, and can further reduce vibration.
Even with the most comfortable bar tape, many cyclists still prefer to ride with gloves.
Are there eco-friendly options for road bike handlebar tapes?
Yes, with the rising awareness of sustainability, many brands now offer eco-friendly handlebar tapes made from natural or recycled materials. These options are not only good for the environment but also maintain the quality and comfort standards that cyclists seek.
Final Verdict
While all these handlebar tapes will work great with your road bike, my absolute favorite is the SRAM Supercork Bicycle Bar Tape. Not only does it isolate road vibrations and provide a stable grip, but it's also more affordable than many competitors and gives good comfort with its soft cork core.
The runner-up is the Fizik Performance Bicycle Bar Tape, which is thinner than the SRAM tape and gives more of a road feel that enables the cyclist to move faster. It's also made from high-quality materials, is durable, and provides a good grip. If you prefer less bulky-looking tapes, go for the Fizik.
Which handlebar tape do you like on your road bike?