As an avid cyclist, I had a dilemma. I didn't want a backpack on my back while cycling as it threw my balance off and collected sweat in summer. But once I arrived at my destination, I didn't want to carry around an awkward pannier as the rigid hooks kept knocking into my legs. 
Enter the convertible pannier backpack. It rides on your bike while cycling and takes a lift on your back when you're walking around. Win win!
Here's my list of the best pannier backpacks:
What Should You Be Looking For When Buying A Convertible Pannier Backpack?
A convertible pannier backpack lets your bike carry the weight of your belongings while you're riding. Once you've stopped riding, the bag changes into backpack mode. This is a huge advantage if you are combining walking and riding throughout your dailies activities.
Below are some considerations you should think about when buying a pannier backpack.
Capacity
Before making your purchase, you have got to consider what you'll be lugging around with you on a typical day of cycling.
You might think you only need room for an extra sweater, a water bottle and your lunch. But think again.
Sometimes on my way home from a ride, I like to stop at the supermarket for a few groceries for dinner. It's better than getting home and then taking the car to the store.
If you want to take your pannier backpack shopping, look for around 1,500 cubic inches (24 liters) of capacity.
Pockets
Personally, I like and want lots of pockets. However, I don't want them to show too much on the outside. Outer pockets tend to get caught on things, and I like my pannier to look sleek. I take mine into the office from time to time!
Look for plenty of inner pockets and maybe one hidden outer pocket for things you need to grab often, like keys, your phone or your wallet. 
Water Repellency 
I wouldn't consider any convertible pannier backpack, or pannier period, that wasn't at least water-resistant. There's not much worse than soaking the contents of your bag.
If a pannier backpack isn't waterproof, look for an included cover that neatly fits over the pannier in case of rain. 
Easy Conversion
The whole point of a convertible pannier backpack is to allow you to carry your back in a different manner. So, the change from pannier to backpack should be seamless and fast. You don't want to be the guy fumbling with this transition while your buddies are already heading to the lunch spot.
Easy to snap clips are a must.
Secure Attachment
Having your pannier backpack fall off your bike could result in anything from severe embarrassment to serious injury. You definitely want a secure attachment. 
A good pannier backpack will attach in more than one place.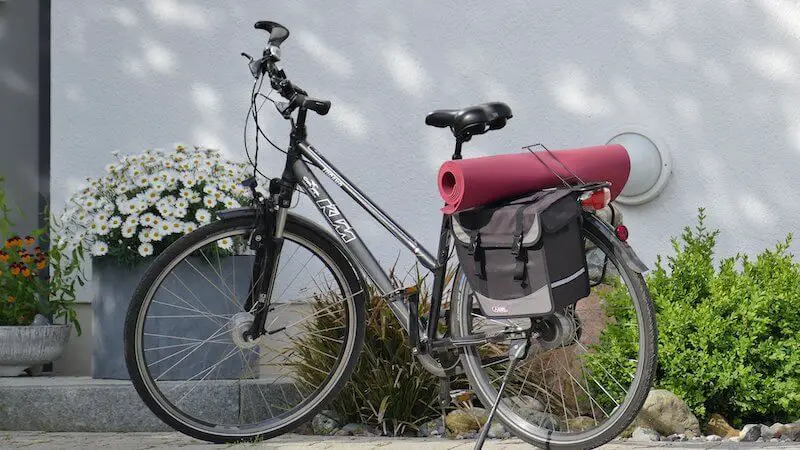 Appearance
Ok ok, this is a subjective topic, but how it looks on your bike is important! The way I see it, there are two different styles in play here.
One is a super slick, athletic-looking, convertible pannier backpack. It shouts: "I'm a cyclist" as you walk down the street with it on your back. But who cares? You're a cyclist, after all. 
The other looks surprisingly like a normal backpack. If you have any inkling of using your pannier backpack for work-related outings, this type is for you.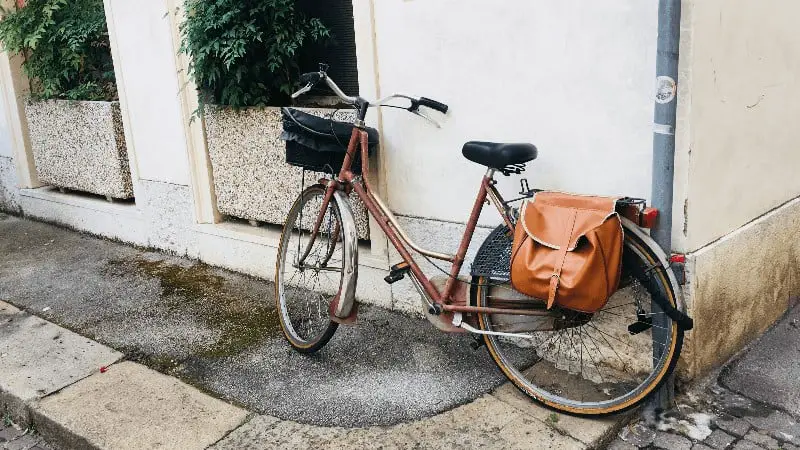 High Visibility
If you're like me, you've already got a few methods of letting drivers know you're on the road, especially at night. Ride safely – lights and reflective materials do a great job of this.
But some extra help here from your pannier backpack is also welcome. Look for reflective materials and places to attach lights easily. 
Price
Of course, there's a huge price range for these things. Consider how often you're going to use it. Daily and weekly excursions mean you should spend a little more on a more durable product.
If you're an every other week type of cyclist, you can probably afford to go a little cheaper!
Note: Don't forget, you're going to need a rack to attach your pannier too. If you need some help installing a rack, check out this video:
Reviews Of The Best Convertible Pannier Backpacks 
Choosing the perfect convertible pannier backpack isn't easy. Below you'll find a detailed guide on what are, in my opinion, the best products on the market. 
The Two Wheel Gear Convertible LITE is a great pannier backpack for many reasons. 
The outer fabric is waterproof backed 600-denier polyester. The manufacturer lists this pannier as only water-resistant, but it comes with a waterproof rain cover that holds up in heavy rain. The design is reflective to enhance your visibility, and there's a loop to attach your own light. 
The capacity is about 1350 cubic inches (22 liters). It's not tons, and some say that there isn't that much room left once you slide your laptop in there. 
The bag includes a laptop sleeve, but there's not much protection at the bottom of the sleeve. What's great is that you can access your laptop without opening the main bag.
When converting to backpack mode, the hooks that attach the bag to your bike zip away in seconds, so they're invisible. Not only is the attachment to your bike secure, but you can also adjust it for a few different sizes or types of racks. It attaches to your bike in two places.
Customers say that the bag is comfortable when used as a backpack. In fact, some even use it when they aren't cycling! But you can't win them all, some complain that the straps are too long.  This pannier backpack also looks pretty smart, so you can use it for work.
---
Let me introduce the Ortlieb Vario QL3.1 Backpack Pannier to see if it ticks your boxes.
The capacity of this bag is about 1400 cubic inches (23 liters). This is a pretty good size for most day outings, but it won't carry a load of groceries. 
The pannier backpack features two outer pockets, an inner pocket, and space for your laptop. The outer pockets of this bag aren't waterproof, which seems like a bit of an oversight. 
Ortlieb is well-known for its waterproof bags. This particular model is rated IP64 for dust and water resistance. Users rave about the roll-down opening at the top, which is one of the easiest ways to keep water out of your bag. 
This product does convert to a backpack fairly easily, but it may seem tedious at first.
Securing this bag to your bike rack requires you to attach special mounting hardware, which is unusual for a pannier. Once the hardware is there, putting your bag on and taking it off is pretty easy, and users like that it audibly clicks into place. 
You won't fool anyone into thinking this is a school or office bag. It looks very conspicuously like a waterproof cycling bag. There are two reflectors for visibility, which isn't a lot but better than nothing.
---
The Tourbon Water-Resistant Canvas Backpack has to be the trendiest looking pannier backpack on this list.
The manufacturer doesn't list the capacity, but from my eyeballing, I would put it at about 1100 cubic inches (18 liters). There are some inner pockets, but there is still a generous amount of empty space for you to organize on your own kit. While there's no designated laptop sleeve, there's certainly space for it. It's got enough padding for protection as well. There are also some outer pockets for your bike lock and other things. 
One downside to this pannier backpack is that it's only water-resistant. The fabric is a waxed canvas, which looks pretty nice with the leather straps. You have to undo the straps to convert between backpack and pannier, which is slightly inconvenient. 
Like many fashion bags, the mounting hardware looks a little flimsy to me. Customers commented that the mount is hard to use and the clips are flimsy plastic. 
The design of this bag is its biggest draw. It'll look good at school or at the office. With that in mind, there is also a charging port and a reflective belt.
---
The Rhinowalk Bike Bag is another sporty-looking addition to our list of the best convertible pannier backpacks.
The 1,450 cubic inch (24 liters) capacity is impressive. Strangely, many users say that the bag seems small inside; others felt there was lots of room.
The interior has a few pockets for gadgets but keeps a pretty big empty space for clothes or shopping. One customer called it "super functional". 
The manufacturer claims the bag is fully waterproof, but they don't back it up with details about the materials. It does come with a PVC waterproof cover, though. You might not appreciate that it's fluorescent yellow and takes up a lot of space when stored in the bag. 
The conversion to backpack requires you to unclip the shoulder straps and zip them away, which can sometimes feel clumsy. This bag can also attach to a suitcase. 
The mounting hardware looks pretty standard. Metal covered with plastic. Some customers found that it came unhooked by itself, while others found the hook inflexible and scratched their bike rack. 
I like the look of this pannier backpack. Sporty yet minimalist feel. There are reflective strips for safety at night, plus a life-saving sentinel. This device supposedly helps you locate and get help in an emergency.
---
The Mammoth Empire Pannier is a more economical addition to this list. But don't let the low price fool you. It's got a lot going for it.
First off is the capacity. At almost 1500 cubic inches (24 liters), this low-priced bag is larger than some higher-priced ones. 
If you like a large empty storage compartment, you may not be happy with this bag. It's all about the mini compartments, plus it has mesh pockets on the outside. 
The manufacturer says the outer fabric is waterproof but throws in a waterproof cover at no extra charge. This makes me suspicious about the water repellency of the bag itself, which is listed as "waterproof polyester."
You store the shoulder straps for the backpack behind a zippered flap. Users report that the straps are well built and durable, but others complained that the outer fabric of the bag is thin and could tear easily. 
As far as appearance goes, I'd call this one sporty. You won't be bringing this to the office without everyone knowing you arrived on two wheels. 
For visibility at night, this pannier backpack has reflective strips and a place to hang your own tail light. And here's a first: it comes with a safety whistle!
---
Final Thoughts
My top pick is the Two Wheel Gear Pannier Pack Convertible LITE. What clinched it for me is the quick conversion in and out of backpack mode and the comfort of the backpack straps. The fact that it is secured to your rack in two places makes it extra-safe. 
There was some fierce competition out there. If you live in a rainy climate, I'd recommend the Ortlieb Vario QL3.1 Backpack Pannier. Its water repellency is amazing, but the cost is a little high.
All of the pannier backpacks on the list are great. Choose the one that fits your needs and your budget and get out there and ride. 
Thanks for reading and please share with your family and friends!
This article includes affiliate links. If you choose to purchase any of the products we have discussed in this article, we may receive a small commission.