Are you tired of constantly struggling with your mountain bike's shock absorbers? Do you find yourself continually adjusting and fine-tuning your bike's suspension, only to see that it still doesn't perform at its best? If so, you're not alone.
Every serious mountain biker knows that having a reliable and effective shock pump is essential to achieving the perfect ride.
Our hands have gripped, tested, and gauged them on the most challenging terrains, from the cost-effective champions to the elite with precision digital readouts.
So, buckle up and get ready to discover the finest shock pumps to amplify your mountain biking experience!
In A Rush? Check Out Our Top Picks!
If you want a great MTB shock pump, check out the three options below!
Pros:

Analog display that's easy to read and accurate

Affordable

Durable and dependable

Pros:

Designed for endurance and durability

The Pressure Rite connector ensures no air loss

Bleed valve for accuracy

Pros:

Accurate digital gauge

Compact and lightweight

Pressure release button for fine-tuning
Top Pick
Pros:
Analog display that's easy to read and accurate

Affordable

Durable and dependable
Most Durable
Pros:
Designed for endurance and durability

The Pressure Rite connector ensures no air loss

Bleed valve for accuracy
Most Portable
Pros:
Accurate digital gauge

Compact and lightweight

Pressure release button for fine-tuning
The Best Mountain Bike Shock Pumps On The Market
Top Pick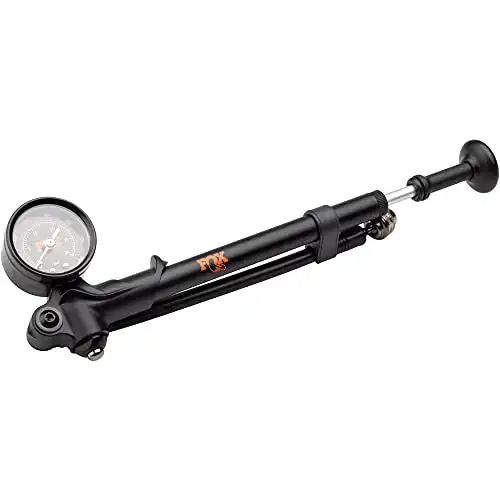 Pros:
Analog display that's easy to read and accurate

Affordable

Durable and dependable
Cons:
Loses some air when unhooking

Takes a while to pump
View On Amazon
View On Walmart
We recently used the Fox High-Pressure Shock Pump on our mountain bikes, and it lived up to its reputation.
The high-pressure capacity allowed us to adjust the shock suspension for optimal performance and comfort effortlessly.
The build quality of the pump is impressive. It felt sturdy in our hands and could withstand regular use over time. The ease of use is also a significant plus, as we could effortlessly attach it to our bike's valve and begin pumping.
However, there were a few minor issues we encountered with the pump. When unhooking it after use, we noticed a little air loss, which might affect the accuracy of your tire pressure.
It also took a little longer than expected to pump up our tires, so if you're in a rush, this could be a downside.
Despite these minor drawbacks, we believe the Fox High-Pressure Shock Pump is a solid option for mountain bikers. The benefits significantly outweigh the cons.
From our experience, it delivered reliable and efficient performance.
Most Durable
Pros:
Designed for endurance and durability

The Pressure Rite connector ensures no air loss

Bleed valve for accuracy
Cons:
As it's small, you'll need plenty of strokes to increase air pressure
View On Amazon
View On Walmart
We were impressed by how quickly the Topeak Pocket Shock inflated our mountain bike shocks. The extended barrel allows for a faster reach of the desired pressure. Additionally, the easy-to-read dial gauge accurately measures up to 360 psi.
The Pressure-Rite connector and air release button make it incredibly easy to set the appropriate pressure without losing air when disconnecting the pump. Moreover, the dual-density handle provides a comfortable grip throughout the process.
The flexible hose is another great feature, as it helps take stress off the valve stem when pumping, ensuring a hassle-free experience.
We didn't experience this issue, but it's worth noting that some users may need to start turning the activating plunger before fully tightening the pump's attachment.
The Topeak Pocket Shock DXG is a reliable and efficient shock pump for home and shop use. Its well-thought-out design and features make it a valuable addition to your mountain biking gear.
Most Portable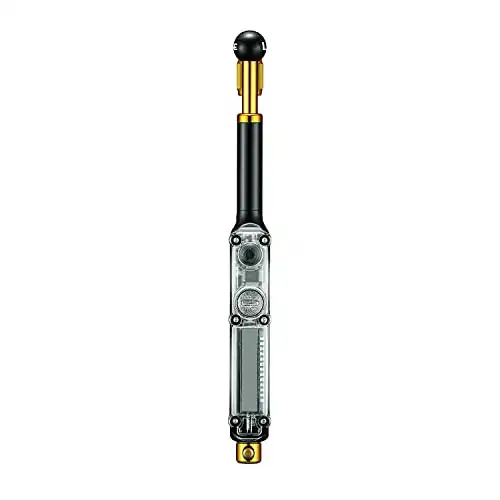 Pros:
Accurate digital gauge

Compact and lightweight

Pressure release button for fine-tuning
Cons:
Difficult to pump at high pressures

Pricey compared to other pumps
View On Amazon
View On Walmart
When we first picked up the LEZYNE, we noticed its compact size and sturdy nylon construction. The braided hose feels durable, and the CNC machined construction adds to its quality.
The 350 PSI digital gauge provided precise pressure readings that were much more accurate than those we've experienced with analog dial pumps.
We also appreciated the pressure release button for quickly adjusting while maintaining an airtight connection.
However, we did notice that it can be challenging to pump at higher pressures due to the pump's small size and slightly uncomfortable grip.
Some have reported issues with the battery cap being mis-threaded or a damaged digital display, so double-check upon receipt.
Of course, all of these features do come at a cost.
Pros:
Easy-to-use bleeder valve

Secure valve head connection
Cons:
Slightly uncomfortable handle at high pressures

Slight air loss when disconnecting

Not suitable for all bikes
View On Amazon
View On Walmart
The RockShox's aluminum build makes it lightweight yet durable for long-term use. With a maximum pressure of 300 psi, it's sufficient for most air forks and rear shocks.
The bleeder valve beside the gauge allows accurate pressure adjustments, ensuring precision suspension settings. The secure valve head connection minimizes air leakage while pumping – an essential feature in a shock pump!
However, the pump handle becomes uncomfortable when reaching higher pressures. 
Additionally, there's a slight loss of air pressure when disconnecting the valve head, which means you'll need to factor in this tiny loss when adjusting your suspension.
Lastly, the max 300 psi might not reach the pressures required for some mountain bike setups.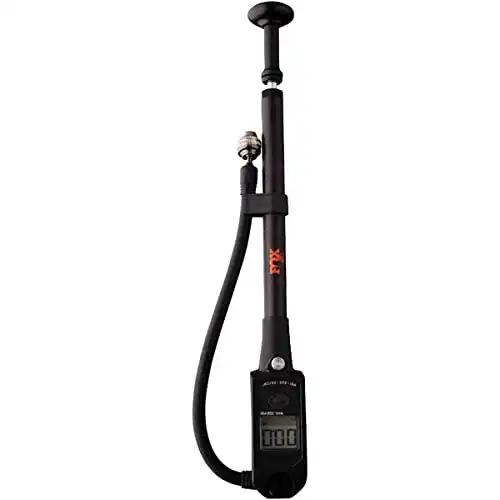 Pros:
Easy pressure reading with digital display

Built-in air bleed button for accurate tuning

Sturdy aluminum construction
Cons:
Possible leakage at the hose swivel joint

Pressure loss when disconnecting the valve

Inconsistency on different shock brands
View On Amazon
View On Walmart
Like the Lezyne pump, the Fox Racing pump has a max pressure of 350 psi. The digital display provides readings up to 350 psi with 0.5 psi increments up to 100 psi and one psi increments above 100 psi, making it precise and user-friendly.
The air bleed button came in handy when we accidentally overfilled our shocks. This feature lets you quickly release excess pressure and find the perfect balance for your ride.
However, we did encounter some issues. We noticed a slight leak at the hose's swivel joint, impacting the pressure reading's accuracy.
Another issue is the pressure loss when disconnecting the valve from the shock, making the exact final pressure challenging to determine. Finally, we found inconsistencies when using the pump on other shock brands like RockShox.
Despite these drawbacks, the FOX Racing Shox Digital HP Shock Pump remains a good choice if your bike has FOX shocks.
Budget Pick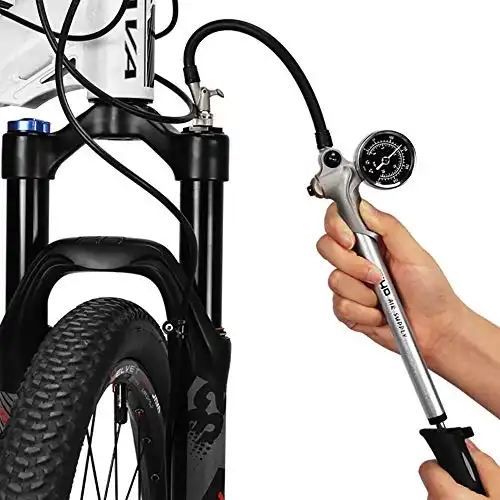 Pros:
No-Air-Lose nozzle

Decent build quality

Affordable price
Cons:
Plastic handle on some models

Challenging to distinguish between cheaper models
View On Amazon
View On Walmart
The GIYO High-Pressure Shock Pump is a solid, budget-friendly option for maintaining your mountain bike's suspension.
The No-Air-Lose nozzle ensured we didn't lose any air when disconnecting it from the suspension, which can be a common issue with other pumps.
Given the price, the build quality is decent, resulting in a sturdy and durable pump.
However, when purchasing this shock pump, look for the rubber handle version, as some sellers sell a version with a plastic handle.
Additionally, this pump is designed specifically for mountain bike shocks with Schrader valves.
What To Consider When Shopping For A Mountain Bike Shock Pump
You save money and time when you invest in high-quality equipment. You'll want to ensure you get one that is both reliable and suited for your particular needs. The following tips will guide you in picking the best mountain bike shock pump.
Accuracy and Readability
First and foremost, a shock pump should provide an accurate pressure reading, typically via a digital or analog gauge. Ensure the gauge is easily read and provides measurements in familiar units (e.g., PSI or bar).
Maximum Pressure
Different forks and shocks require different pressures, so ensure the pump can handle the maximum pressure you need.
For most mountain bikes, a pump that goes up to at least 300 PSI should suffice.
Digital vs. Analog Gauge
While digital gauges offer precise readings and may even have backlights for low-light situations, they may require batteries.
Analog gauges, however, don't need batteries and are often just as accurate if well-calibrated.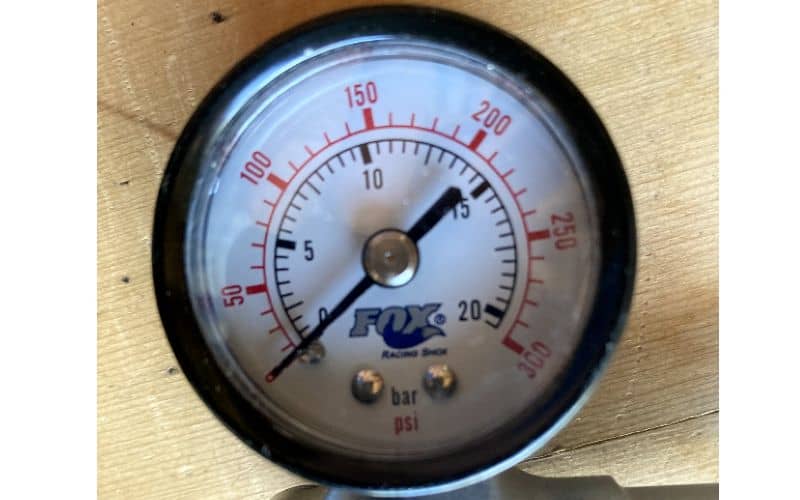 Quality, Durability, and Portability
The design and style of the shock pump determine durability and portability. Look for shock pumps that have robust construction.
Materials like aluminum guarantee durability, corrosion resistance, and lightweight features.
T-handle or Ergonomic Grip
Slippery or uncomfortable handles make it hard to pump!
Look for rubber handles that offer a firm and ergonomic grip to ensure comfort and stability when inflating. Particularly when trying to reach higher pressures.
Hose
The best mountain shock pumps have flexible, high-pressure hoses.
Shock pumps that have longer hoses have an increased surface area for grip. A larger surface area reduces the amount of force needed during pumping. 
Valve Head
After disconnecting the pump, the valve head ensures air doesn't escape from the suspension fork.
Most pumps will feature a valve to ensure no air will be lost from the suspension air chamber.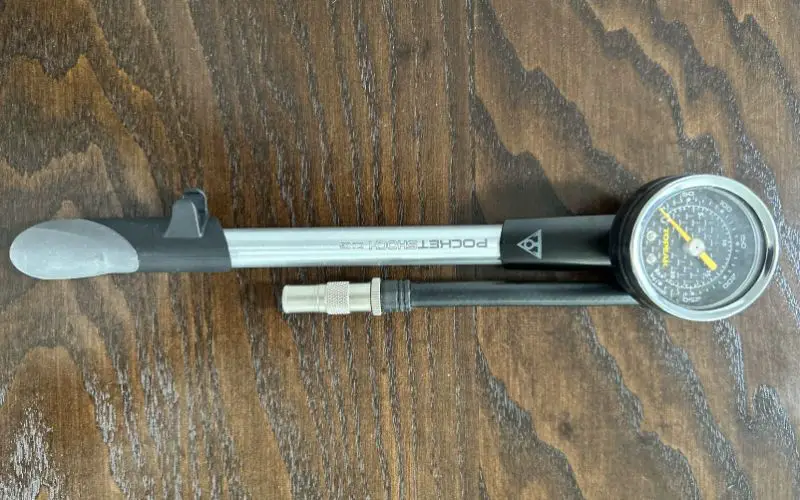 Bleed Valve
Mountain bike shock pumps with a bleed valve fine-tune the suspension when there is excess air.
The bleed valve releases the back pressure present in the compressor to prevent the compressor from stalling and surging.
The best shock pumps have a simple button that controls the amount of inflated air to tune and balance your suspension for a comfortable ride.
Threaded vs. Push-On Connection
Threaded connections create a more secure seal, reducing the risk of air leaks when attaching or detaching the pump.
Frequently Asked Questions
Why is it essential to have a dedicated shock pump for mountain biking?
A dedicated mountain bike shock pump provides accurate and consistent pressure readings for proper setup and maintenance of suspension components.
Regular bike pumps often lack the precision and high-pressure capabilities needed for suspension adjustments.
How often should I check and adjust the pressure in my mountain bike shocks?
Ideally, check the pressure before every ride, especially if you're tackling different terrains. 
Regularly adjusting the shock pressure ensures consistent bike handling and performance, preventing premature wear of suspension components.
Can I use my shock pump on other types of bikes or equipment?
While primarily designed for mountain bikes, shock pumps can also be used on specific models of road bikes with air suspension and other equipment requiring high-pressure adjustments. Always refer to the manufacturer's guidelines.
Final Thoughts
Our top pick is the Fox High-Pressure Shock Pump, the best mountain bike shock pump.
It's popular among mountain bike riders because you can easily adjust the pressure using the pump's mechanism. The analog gauge is easy to read; it's affordable and easily portable due to its lightweight.
No matter which shock pump you go for, there are many quality designs to suit your needs – whether you want a digital gauge, portability, or durability.
Thanks for reading, and if you found this helpful, please feel free to share it with family and friends!