The performance of any mountain bike depends on its suspension. Getting the air pressure in the fork and rear shocks right will help improve control and performance. Get it wrong, and you'll be fighting a constant battle no matter the terrain.
To do this, mountain bike riders need a quality shock pump, which functions the same way as a standard bicycle pump but is low volume and high pressure. 
Shock pumps don't require as much exertion and can reach up to 300 PSI to balance the air pressure. Below is a list of the best mountain bike shock pumps we found on the market.
The best mountain bike shock pump models include:
What To Consider When Shopping For A Mountain Bike Shock Pump
You save money and time when you invest in high-quality equipment. To get a top-quality shock pump, you first need to understand how they work. The following tips will guide you in picking the best mountain bike shock pump.
Gauge
This measures the amount of pressure you will be putting in your bike. You need a quality gauge with a readable print and a long needle to ensure accuracy. Use the sag measurement system to determine the efficiency of a gauge.
Body
The design and style of the shock pump determine durability and portability. Look for shock pumps that have robust construction. Materials like aluminum guarantee durability, corrosion resistance, and lightweight features.
Handle
Slippery or uncomfortable handles make it hard to pump with ease. Rubber handles or similar offer a firm and ergonomic grip to ensure comfort and stability when inflating.
Hose
The best mountain shock pumps have flexible, high-pressure hoses. Shock pumps that have longer hoses have an increased surface area for grip. A larger surface area reduces the amount of force needed during pumping.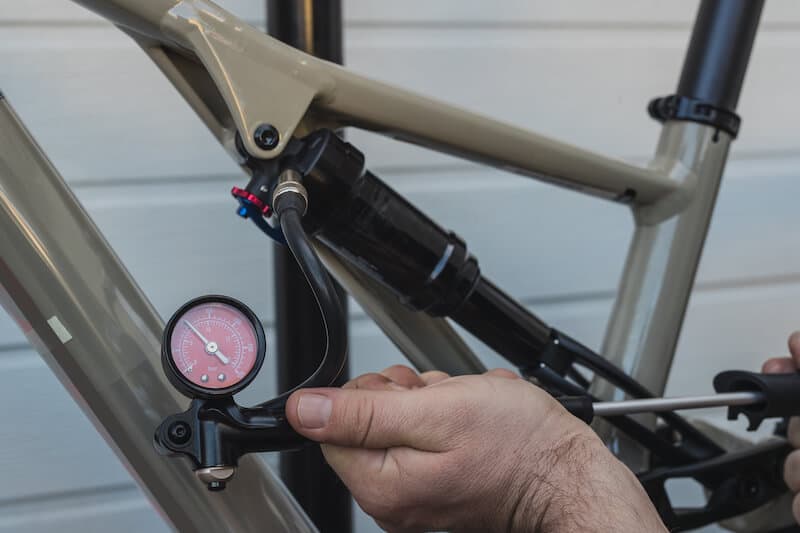 Valve Head
The valve head ensures air doesn't escape from the suspension fork after the pump is disconnected. Most pumps will feature a valve to ensure no air will be lost from the suspension air chamber.
Bleed Valve
Mountain bike shock pumps with a bleed valve fine-tune the suspension when there is excess air. The bleed valve releases the back pressure present in the compressor to prevent the compressor from stalling and surging. The best shock pumps have a simple button that controls the amount of inflated air to tune and balances your suspension for a comfortable ride.
Display
You'll find both digital and analog displays on offer. While some riders prefer digital as it's easier to read and may offer more features, others are happy to use analog as the former can be heavier, pricier, and require batteries.
Reviews Of The Best Mountain Bike Shock Pumps
The well-known Fox shock pump is a classic among experienced mountain bikers. The shock pump features an analog gauge that reads air pressure up to 300 PSI. According to users, the gauge is accurate enough for general usage and is clear to read. 
Riders can adjust the shock pressure manually using the pump's plunger mechanism. The lightweight nature of the pump, at just over 7 ounces, makes it easy to carry around.
The Fox shock pump has a Schrader valve that fine-tunes the pressure needed and prevents air from leaking when you remove the pump. It provides a perfect seal, and it's quick-release, so almost no pressure is lost during disconnection. As long as you do it right 😜.
The Fox High-Pressure shock pump is affordable, durable and has plenty of consumer support and trust.
---
The RockShox shock pump has an air pressure support of 300 PSI, which should be plenty for all types of suspensions. It's ideal for maintaining your bicycle's shock absorbers since it delivers high pressure at low volumes for the precise calibration of your rear suspension and air fork.
The shock pump is portable and weighs under 8.5 ounces. Mountain bike riders can easily read the PSI and bar units on an accurate analog gauge. The pump hose can move a complete 360 degrees, making it easy to use in all positions.
The bleed valve helps you get your accurate measurements by letting out excess air when you over pump. Just make sure you don't press it by accident, as the button is sensitive. There's also a valve head to prevent air loss during disconnection. You'll find the pump handle is comfortable to use, and the body is durable and made from quality materials.
---
Unlike the majority of shock pumps on the market, the Fox Racing Shox bike pump has a digital gauge. This makes it more accurate and easier to read. 
The design is sleek and slim but slightly heavier than its analog counterparts at 14 ounces. The shock pump has a maximum air pressure support of 300 PSI. 
The hose pump head connects to any valve and is easy to use. It also adds to the aesthetics of the shock pump. The only negative about the design is that it's awkward to access the batteries to replace them, plus you may lose a few PSIs during disconnection, though the pump does feature a valve head.
---
The Topeak Pocketshock DXG pump is built for endurance and durability. This makes it popular with both novice and professional mountain bike riders. If you're looking to invest in a robust tool that's dependable and will last, this is your guy. 
The shock pump has excellent accuracy, with a precision analog gauge that reads up to 360 PSI. The gauge is easy to read, making the pump user-friendly. It also makes it compact and lightweight, at just 6 ounces.
The pump has a Pressure Rite connector valve to eliminate air loss during pumping and disconnection. The air release bleed valve also aids in setting the correct air pressure.
You can connect the pump easily to the rear shock valve using the rotating hose.
---
The Zacoo Macht from Birdman is one of the lightest mountain bike shock pumps on the market, weighing just 4 ounces. Aluminum alloy is the main material used in the construction of the pump. This means it's still as efficient and durable as most top mountain bike shock pumps.
The air pressure gauge of the pump is analog with an air pressure support of 300 PSI. The top feature of the shock pump is the Air-Lock valve head, which prevents air loss and fits easily on a Schrader valve. 
The slim design and lightweight make the shock pump portable, though some users said it's awkward to use due to it being so compact!
---
If one of the main features you're looking for is portability, this last model may be for you. The Lezyne shock pump uses new technology to feature a digital gauge but still stay compact and lightweight, at under 4 ounces.
It's powered by replaceable batteries and has an air pressure support of 350 PSI. The precise digital gauge has a big screen, making it easy to read, and the battery level indicator lets you know when it's getting low. A toggle between the BAR and PSI covers the different pressure units present in different regions. 
The nylon-braided hose connected to the pump rotates at 360 degrees, making it easy to use in any position. To make it easier to get your desired pressure, the pressure relief bleed valve releases air easily if you over-pumped. 
Of course, all of these features do come at a cost.
---
Final Thoughts
As a mountain bike rider, you need the best shock pump to tune your bike's suspension, so you can hit all types of surfaces with ease.
Our top pick is the Fox High-Pressure Shock Pump as the best overall mountain bike shock pump. It's popular among mountain bike riders because you can easily adjust the pressure using the pump's mechanism. The analog gauge is easy to read; it's affordable and easily portable due to its lightweight. 
No matter which shock pump you go for, there are many quality designs out there to suit your needs – whether you want a digital gauge, portability, or durability.
Thanks for reading and if you found this useful, please feel free to share with family and friends!
Related article – 5 of The Best Mountain Bike Headlights