Riding a mountain bike can be an exhilarating and heart pounding adventure, especially when you're tackling some challenging terrain. These bikes are an excellent bet for those who like to push their own limits and ride in style.
There are plenty of mountain bikes under $1500 in 2021 that are worthy of your consideration. We have scoured through these options to pick out the safest and most durable bikes available. Our helpful guide can aid your quest in finding the best mountain bike for your needs.
Here's a quick preview of five of the best mountain bike under $1,500:
What To Look for in a Mountain Bike Under $1,500
A great mountain bike has a handful of features that you should consider before making your purchase.
Frame
Mountain bikes are available in a wide range of frames, and each frame varies greatly in terms of size and specifications.
An upright frame, for example, is best suited for newbies as it features a short reach and includes steep angles. This allows users to achieve a more relaxed riding position that feels natural to new riders. 
Experienced mountain bikers won't mind picking up a model that's aggressive in its stance. They generally have more of a back-wheel bias that can be more challenging to handle. This allows for a more aerodynamic position and better speeds.
Frames made out of aluminum, steel, or titanium offer the highest levels of stability and durability.
Wheels
Wheels are available in a wide range of sizes and options, too. The standard 29-inch variation with a 650B profile is a great choice to consider if you're unsure about the type of wheels to suit your needs.
These wheels ensure that you have enough grip and stability to take on a wide range of conditions with ample confidence.
If you're an experienced rider, however, and you want a healthy amount of traction on your bike, you should look at mid-fat wheels that come with XXL treads.
Suspension
You need a quality suspension system in your bike to handle hilly and rocky terrain. At the $1,500 price point, however, you'll have better luck in seeking out a great hardtail bike over purchasing a full-suspension mountain bike.
Full suspension mountain bikes at this price point can only include low-quality suspension links. These won't hold up when tested against challenging environments. 
On the other hand, a quality hardtail bike, will offer a much better suspension system in comparison. These are also known to be more durable in the long run.
A great option to consider in this segment would be the Diamondback Hook Hardtail Mountain Bike.
Related article – Hardtail vs Full Suspension – Which MTB Is Right For You?
Check out this video on why hardtail MTBs are so awesome:
Brakes
Often overlooked, good brakes are an absolute necessity. Whether you're looking at tackling tight corners or you want to take on rocky areas with greater ease.
Make sure to seek out mountain bikes that come with hydraulic brakes. This is because they're the best braking system in this category and will come with immense stopping power.
Comfort
You don't exactly expect to be seated on a throne when you're using a mountain bike. But it pays to have a bike focused on the user's comfort levels.
A comfortable ride in this category entails a bike with excellent shock-absorption capabilities. This will offer a consistent riding experience regardless of the type of terrain you're conquering. 
Additionally, the pedals, tires, and seats of your bike will also be crucial in determining a level of comfort. It's best to seek out a model that's compatible with your dimensions and uses high-quality materials in this department.
Have a look out for high-density foam seats if you're looking to protect your backside 😄.
Looking to train indoors? Check out the Best Indoor Mountain Bike Trainers.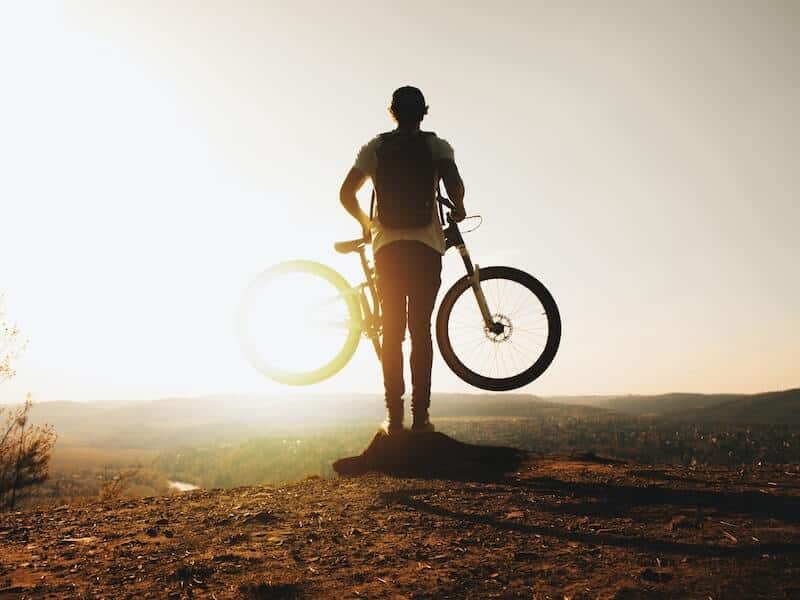 Reviews Of The Best Mountain Bike Under $1,500
Below is our list of five of the best mountain bikes under $1,500 that truly shine.
This model by the Savadeck brand takes the top spot on our list thanks to its incredible structure and overall features.
It uses a Toray T800 carbon fiber frame to provide you with a strong yet equally lightweight structure at around 27 pounds. The SR Suntour fork offers additional comfort and control, thanks to the 100mm suspension system.
This model includes the Shimano 3x10S derailleur system in the front and rear ends. You'll have access to a wide set of gears capable of taking on mountainous terrains.
You'll also appreciate the Shimano MT200 disc brake system that's well complemented by the continental tires. These are double mechanical disc brakes that produce immense stopping power with ease. The tires are more than up to the task of responding to the brakes without sliding and skidding.
Unfortunately, to compensate for the carbon fiber frame, Savadeck has had to make some sacrifices.  In this case, they've had to use lower quality front shock absorbers. They don't seem to match the overall quality of the model!
---
It's hard to keep the Diamondback brand out of the conversation when we're considering the best hardtail mountain bikes. This is a hardtail frame and one of the very best one at that in this segment.
It uses a hand-built aluminum frame and a low-slung design to provide you an unparalleled trail riding experience. This includes a 1×8 drivetrain system with an SRAM single ring to help you tackle various terrains with ease.
Thanks to the SR Sun tour XCM 120mm suspension bike fork, you can expect this model to provide you with a smooth ride regardless of the conditions you're facing.
A set of powerful Tektro Aries mechanical disc brakes are included, offering an appropriate amount of stopping force.
The only downside of this model is with regard to the customer service offered by Diamondback. It could use some improvement!
---
The next product on our list also happens to be yet another Diamondback bike. Simply because of how impressive the vehicles are in the mountain bike segment.
This model includes an aluminum alloy 29er hardtail frame. This should last the long haul due to its durability. A set of 14g stainless steel spokes in the tires ensure the bike's weight stays to a minimum without affecting overall stability.
This bike is equipped with a RockShox FS30 TK Coil Spring fork (suspension fork system).  This helps to boost your comfort levels and bike control simultaneously.  Shifting gears also becomes effortless, thanks to the Shimano Alivio/Acera 2×9 drivetrain system.
The fact that this bike comes with a lifetime warranty speaks volumes about the overall quality in every element of its design.
One drawback of this bike is the saddle. Some users would prefer a little more padding during a long ride!
---
Schwinn is yet another brand that's near-impossible to keep away from the conversation about mountain bikes. This particular model comes with the famous Schwinn aluminum dual suspension frame. It is punctuated with the SR Suntour XCT30 suspension fork system.  This offers a responsive and comfortable ride.
The 24 speed Shimano EZ fire trigger shift system will give riders a wide range of options in various conditions. The Shimano derailleurs used in the front and rear end of the bike will also boost the quality of this system.
Shimano hydraulic disc brakes in the front and rear end of this bike boost your stopping power in various conditions. Great for when you're flying down a mountain!
The tires are equipped with extra-wide double-wall alloy rims in order to keep the weight to a minimum, all the while maintaining the integrity of your riding experience. 
A set of highly durable SR Suntour XCE alloy cranks are also in place to ensure that the cost of maintaining this bike is minimized in the long run.
---
The final product on our list is the Mongoose Salvo Comp. The Salvo has been marketed as a full suspension MTB.  This has been designed for use on cross country trail riding.  
The frame geometry has been designed for a bit more of an aggressive ride.  It features a longer top tube and shorter stem.  This allows for more stability and steering control.
Thanks to the quality SRAM SX Eagle 1×12 drivetrain, you'll have access to a wide range of gears that are capable of tackling a host of conditions.  Not many MTBs in this price range feature this SRAM series!
Great all around bike with a nice black colorway. They've also put some effort into internal cable routing.  This helps to improve the aesthetics of the bike and provides some protection for the cabling.
---
Those Holy Mountains
Taking on the highest landscapes of our great planet on a bike is no easy challenge, and you need a quality bike on your side if you want to rise up to the occasion. Pun intended ;).
You can't go wrong with any of the five bikes listed in our article, although the Savadeck Deck300 Carbon Fiber Mountain Bike takes the top spot. This is thanks to its incredible carbon fiber frame and quality components.
Those holy mountains are calling you, dear rider. Are you up for it?
Looking to spend a bit less? Check out these:
This article includes affiliate links. If you choose to purchase any of the products we've discussed in this article, we may receive a small commission.