Electric bikes have become affordable recently. As a result, they have become an increasingly popular alternative to standard bikes. If you have a family member that wants to bike during their morning commute or ride more conveniently on trails during weekend breaks, an electric bike is a perfect gift for a birthday or holiday.
People have an impression of electric bikes that they're crazy technical machines, more akin to a motorcycle than a bicycle. However, that is not the case at all.
Likely, the reason why this misconception is spread so much is that electric bikes are battery-powered. One of the most common questions they ask is whether or how you can get a model that charges the battery while pedaling.
Keep reading to learn all you'd ever need to know about charging an e-bike battery.
Does Pedaling An Electric Bike Charge Its Battery?
Short Answer – No, pedaling an electric bike won't charge its battery. However, depending on the type of e-bike you have, pedaling may impact battery use and motor function.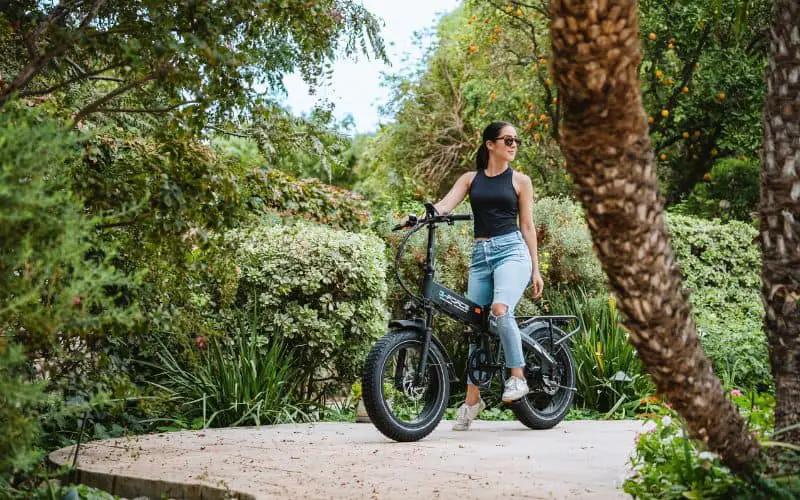 Breaking Up An Electric Bike Into Parts
If you want to learn more about why pedaling doesn't charge an e-bike's battery, you are going to want to get a better idea of how an e-bike works.
The two components that are important to learn about how to pedal and power an e-bike are the motor and battery.
An e-bike motor takes in energy that is stored in the battery, releasing it over time to push the e-bike forward. Most e-bikes are powered by lithium-ion batteries.
How the motor releases stored energy from the battery depends on the type of e-bike, you have.
Throttle vs. Pedal Assist
The two main options for using your motor are throttle and pedal assist.
Most e-bikes with a throttle work similarly to motorcycles. You power them by holding down the throttle. E-bikes with throttles are more powerful than pedal-assist bikes. Unlike pedal-assist e-bikes, throttle e-bikes can be powered by energy in your battery as long as you stay within 20 mph.
On the other hand, pedal-assist e-bikes only draw stored energy when a rider stays below 20 mph (Class 1) and 28 mph (Class 3). Pedal assist options are best for when people want to have a casual ride that still feels like they're riding a bike.
For future reference, if you plan on buying an e-bike, Class 1 and 3 e-bikes are pedal assist, and Class 2 has a throttle.
Six Ways To Charge An Electric Bike
Regenerative Braking
Regenerative braking/pedal charging is probably the closest thing to charging the battery while pedaling, but it isn't standard with most e-bike models. 
Bikes with regenerative braking can bring a small percentage (~10-15%) of kinetic energy back to the battery. Regenerative braking only works with bikes that have hub motors. This technique works best in hilly areas with lots of declines, where you'd frequently brake to gain control.
Charge The Battery Itself
Charging the battery itself is the most common option among all the different types of e-bikes.
Follow these steps to charge your e-bike:
Turn your battery off
Remove the battery pack from your bike
Locate the battery charging cable. Once found, connect it to the battery pack, and plug it in
Turn on the plug for it to start
Wait until the battery is fully charged
Related article – Can You Overcharge An Electric Bike Battery?
Bring A Backup Battery
If you know you will be at some place for a while or planning a trip, it may be wise to buy a backup battery. With a backup battery, you can ride for longer distances and at higher speeds without minimal drain.
Related article – Can You Carry An Extra Battery For An Electric Bike?
Use Your Car
In unforeseen and extreme, you can use your car to charge your e-bike battery. E-bikes typically have a 12V DC charger, which you can connect with a car lighter and the battery itself.
Don't forget to keep your car on!
Use An Alternative Energy Source
Solar energy and the use of a generator are the two most common alternative energy options for charging an e-bike battery. Solar isn't the easiest to set up, but you may be able to charge it during the day or at night with stored solar energy through your wall outlets.
Generators are a convenient option to choose from, depending on where and when you'll need to ride your bike. A home generator will work fine as long as it takes your charger. However, you can also consider buying a portable generator/charger.
Go To A Charging Station
Thanks to the rise and development of electricity in technology and government initiatives, more charging stations are added each year throughout the US, Europe, Australia, New Zealand, and China.
As the demand for eMobility increases, the supply of charging stations will also increase.
As you would for an electric car, plug in your bike and wait!
Do Electric Bikes Charge While Going Downhill?
E-bikes do not charge while you go downhill. However, you can preserve energy while going downhill by taking it slow and easy. Even if you pedaled at top speed downhill, you'd only be saving the bike's battery for later and making yourself excessively tired.
How Far Can An Electric Bike Go Without Charging?
Technically, an e-bike can take you as far as you want to get while you're riding because it still pedals like a standard bike without power!
Depending on a rider's weight and speed, you can ride an e-bike between 40 and 100 miles on a full charge.
Also, consider these factors:
Battery Age
Physical Capabilities
Hills
Type of Tire and Battery
Wind
Poor Tire Pressure
Hill Incline
5 Ways to Increase E-Bike Battery Life
Here are 5 ways to increase your e-bike's battery life:
Use pedal assist while riding
Keep your bike and battery in good condition, especially during the summer and winter seasons
Don't let the battery drop to 0%
Keep your battery on full-charge often
Avoid excess battery heat by riding in more optimal conditions and training harder