Camera? Check.
Flash? Check.
Spare battery? Check.
Somewhere to store them while I'm riding…? Negative.
That's where I found myself and I'm pretty sure you've been there too! I was in need of the best bike camera bag I could find before I could take my camera anywhere whilst on the bike.
It turns out there are lots of different types so plenty to consider when carrying your gear. I found the best 5 bike camera bags and here are my thoughts! 
Buyers' Guide: What To Look For When Buying A Bike Camera Bag
If you're planning to go touring or simply a ride out on your bike and want to take your camera with you, you need somewhere to store it.
Here's what you should be thinking about before you buy one:
Size
Size is going to be one of the most important things when buying a bike camera bag. 
Think about how big your camera is, what additional accessories you'd like to bring with you, lenses, flashes, etc. Also if there's anything else you'd like to be able to carry (snacks, rain jackets, tubes, etc) in the same bag.
Type
There are lots of different types of camera bags out there and you might prefer one style over another. 
Do you want a bag that will be attached to your handlebars or would you be more comfortable with it on your back?
This will come down to personal preference and to some extent, how much gear you have.
Quality 
Now it's time to consider the quality of the bag. 
Look at the amount of padding there is and how many removable inserts there are. Can you easily store what you need to store?
What level of protection is there and will it stand up to use over a long period of time?
Accessibility
For some riders, this won't be a concern but for those who like to be able to get their camera out at a moment's notice, you will need to think about how that's going to happen.
With a handlebar bag, it should be straightforward, just open it up and shoot. 
A backpack? Some are designed to be accessed easily, some aren't so give some thought to your needs!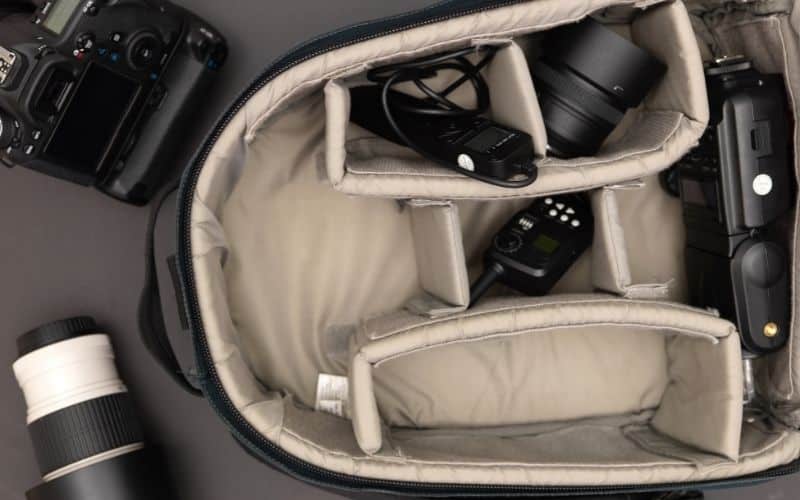 What Are The Advantages Of Handlebar Bags?​
You may still be weighing up your options as to which type of bag is best suited to your bike camera bag needs. So let's see what's so good about handlebar bags.
They're convenient. The thing about handlebar bags is that they're designed so you can access them easily when you're riding. There aren't many on-bike storage options that offer that.
Portability. Most handlebar bags can be attached and removed within minutes and then used as shoulder bags, backpacks, or tote bags, giving you a great deal of flexibility.
Mounting is straightforward. The joy of handlebar bags is that they're relatively self-contained. Everything you need to mount them is there. You don't need to worry about cargo racks or eyelets.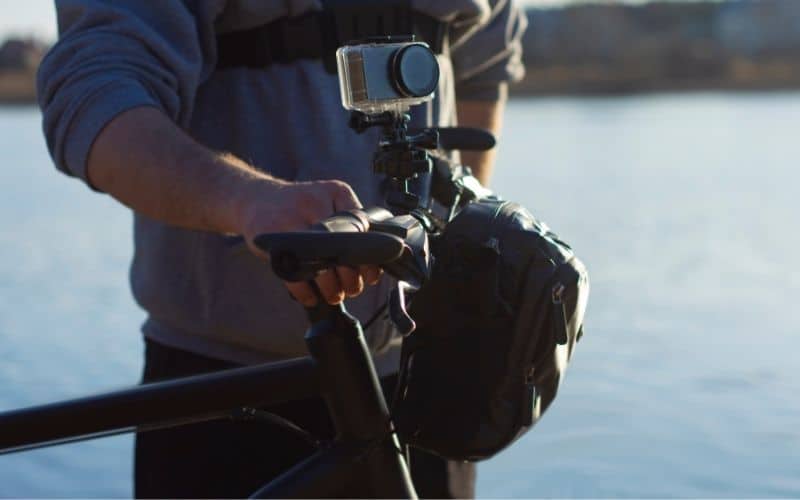 What Are The Advantages Of Backpacks?
So what about backpacks, what are the advantages?
Capacity – If you have a desire to carry a lot of gear, then a backpack is a good option. Some will have the extra space so that you can store extra items that aren't camera-related. 
Security – If it's attached to you, it's harder to steal. Simple. 
Access – This does depend on the model of backpack you choose but some are designed so that you can access your camera quickly via side pouches so you'll never miss a shot through not being able to get to your camera in time!
No mounting involved – In effect, you are the mount so you don't need to worry about how to attach it to your bike!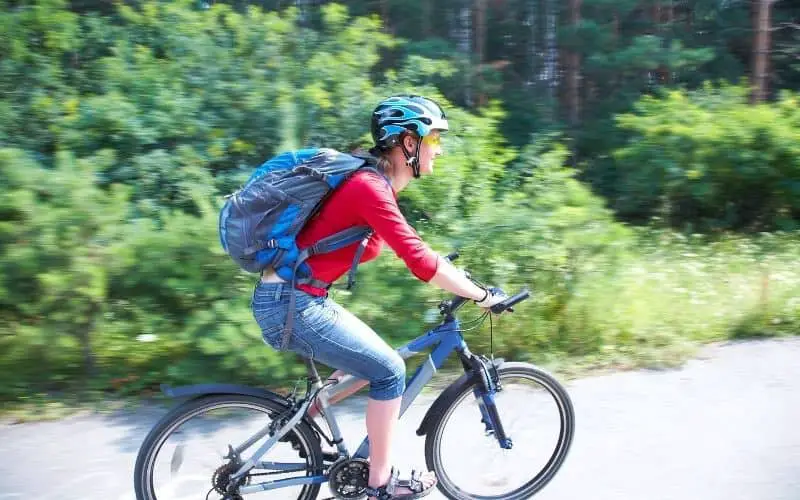 5 Of The Best Bike Camera Bags
Let's kick things off with this handy Ortlieb Ultimate 6! 
It's designed to be attached to your handlebars and includes a lockable mounting set for that very purpose…though up to a bar diameter of 31.8mm so be sure to measure! 
One thing that is worth pointing out is just how excellent this mounting system is. It's a tiny faff to install but you do reap the rewards once it's done and I am only talking a tiny faff. Once it's installed, it's semi-permanent and should be resistant to theft unless your complete bike is stolen!
The bag itself is easy to access whilst you're on your bike as it opens away from you so you can visibly be able to see the contents quickly when you're riding. 
As with other Ortlieb products, the build quality is fantastic and will prove to be a reliable friend through many adventures before it even begins to show signs of wear and tear. 
Inside the bag, there is the main compartment for your camera and a few other bits and pieces. You also get some smaller compartments that are good for SD cards, keys and similar items. 
Overall, the quality of this fantastic and being waterproof only adds to that. The impressive weight capacity of 3kg tops it off.
---
Ibera is a company that is all about cycling lifestyle so you can be sure they know a thing or two about bike camera bags.
Comfort and ease of use are at the forefront of Iberas' focus so it's no surprise that the "clip-on, clip off" mounting set-up is easy to use. The upside to this is that the clamps can be adjusted to give you a custom fit on your handlebars. 
It also includes a strap should you want to use it as a shoulder bag so there's a good element of convenience in this design too. 
In terms of size, the Ibera bike handlebar bag is quite large and measures 28 x 20 x 18cm so it should be capable of storing a camera and several pieces of equipment. To help keep everything in place and safe, the interior is padded, this includes the dividers too.
Externally, the bike camera bag is waterproof, it's largely black with some orange and there is some reflective striping on the sides. One feature I really like is the clear sleeve on top of the bag, it's ideal for storing your phone or a map. 
To finish it off, it comes with a waterproof cover so when Mother Nature turns on you, at least your camera will stay dry!
To see more about the Ibera handlebar bag, check out this video:
---
Kulie is a Seattle-based company, with a focus on developing European-style bike bags.
For them, it's all about getting people to do more with their bikes, by developing innovative products at an affordable price…which is just what the Urban Tourist bicycle bag is!
The Urban Tourist is versatile, not only can it be used as a handlebar bike bag, within minutes you can convert it to a crossbody bag or a shoulder bag. It comes with a storage capacity of 2L so plenty of room to store a camera and a few accessories. 
Whilst it may not be the largest bike camera bag I've looked at, it's well constructed. The side panels are waterproof and double reinforced to ensure that they stay firm. 
When it comes to attaching the bag to your handlebars, it uses a 2-point strap system. This keeps things secure but also allows you to detach it quickly – hassle-free! A small touch, but a thoughtful one nonetheless is the 3M reflective tape to boost your visibility at night.
One of the great things about the bike camera bag is that it works well when you're traveling and potentially swapping hire bikes out a lot as it's compatible with almost every type of bike or scooter. 
When you do carry it, it's actually comfortable thanks to the padded straps. Should you need to remove these, you can do that too – told you it was versatile 😁
Should you need to access the bag when you're riding, it can be done with one hand and also safely close it too. 
---
This backpack is ideal for photography gear, it's packed with padded dividers and pockets, giving you ample room to store your camera plus accessories without the need to leave things at home. 
How much gear are we talking?
The main compartment is large enough that you'll be able to store one camera body with a lens attached, along with 4 additional lenses, one flash and there's a pouch which is specially designed for tripod feet. 
It doesn't stop there either. If you want to be able to check out your photos on the move, there is a pocket inside the front flat that fits a laptop up to 14". There is also a side pocket for a water bottle or similar. 
So it's got great storage capabilities, but I ought to address the comfort factor too!
The Endurax comes with padded shoulder straps and a chest strap. In addition to that, the rear of the backpack offers ventilated back padding which encourages ventilation and increases breathability.
Durability-wise, it's a camera backpack that should be with you for many years as it's fully waterproof, being constructed from high-density water-resistant polyester material. It also features a PVA armored front panel which will give the contents of your backpack some much welcomed protection. 
Overall, the Endurax is a bike camera bag that will sit comfortably on your back as you rack up the miles for years to come.
---
With a lot of camera bags, there is only room for the camera and its gear. The Lowepro breaks that mould, allowing you to carry other items as well. 
There is a dedicated camera compartment that is suitably padded. The rest of the bag, well, you're free to use it how you wish so it's ideal for that "all-in-one" solution. 
The name "AW", would suggest that you can use this backpack in all weather and that's largely true. It's water-resistant but however not 100% waterproof if you get caught in a seriously heavy rain storm! 
Lowepro have thought about this and included with the Photo Sport is a water repellent shell that you can fit to the bag. When not in use, it slots away neatly into a small pocket. 
Lowepro are very proud of their camera gear compartment on this bag, so proud that they've trademarked it; UltraCinch. Essentially it's a padded compartment that's built into the backpack. 
What makes this such an attractive backpack is that despite the camera compartment being at the bottom of the bag, you still have quick access to your camera from the side. 
In terms of comfort, Lowepro has what's known as "ActivZone-Balanced". This is a system that provides support at the shoulder blades, lumbar and waist. In other words, it's very comfortable to have on your back for long periods of time!
---
Final Thoughts
The best bike camera bag for you is obviously going to depend on your needs. 
If you're wanting something to carry your camera and a small amount of gear around then my favorite would be the Kulie 2L UrbanTourist Bicycle Bag. It's compact, it's hard-wearing, and does exactly what you need it to do.
However, if you're wanting something that will do it all, then I'd opt for the Lowepro Photo Sport 300 AW II. You won't need another bag as you'll be able to fit everything in there. It's the complete package.
What's your best photo of the year?