The very first time you ever took a winter bike ride, did you put much thought into which jacket to wear? I didn't. I just yanked one from the closet.
That didn't work out well for us, did it?
Maybe it was too light and we got chilled. Maybe it was heavy and warm for the first few miles. But when perspiration built up inside, it was like wearing a sackful of freezer packs. Fortunately, we cyclists don't have to rely on street clothes to stay comfortable in chilly weather. We can choose a winter cycling jacket that looks good, feels great and keeps us at the right temperature.
Here are some options that we've looked at in this roundup:
The Perfect Winter Cycling Jacket
Spoiler alert: there isn't one.
Why not? Because there are three critical characteristics, and you can't have the best of all of them.
Windproof, Rainproof, Breathable
The more weatherproof a jacket is, the less breathable it will be. No matter what sport you're dressing for, there's a tradeoff.
If I'm popping out to the corner store for a couple of bits of groceries, it doesn't much matter what I choose. I can throw on something warm and forget about breathability. But if I'm powering uphill then catching some frigid wind on the way down, I need something that doesn't make me sweat then turn my perspiration into ice.
The weatherproof vs. breathable conundrum isn't as tough as it used to be. Technology in modern fabrics keeps on improving. Manufacturers are getting more creative in confronting the challenge. For example, some jackets use mixed materials: more windproof and waterproof on the front but more breathable in the back. Some also provide vents and pit flaps to regulate temperature.
Softshell vs. Hardshell
There are hardshell jackets that will hold up to just about any weather, but most good winter cycling jackets are softshell. Those that support brisk riding need to be.
Most jackets are water-resistant rather than waterproof. That means water will bead up and roll off. They'll do fine against road spray, light rain, or even a brief heavier shower, but they won't protect you against a lengthy soaker.
Even in cool weather, a small amount of moisture is not terrible. Your exertion can keep you warm in spite of it. After all, you don't suffer if your leg warmers get a little wet.
Another advantage of softshells: they're lighter and easily packable. Some will stuff into your jersey pocket when there's an unexpected temperature spike.
Related article – How To Layer For Winter Cycling
Material
Heavier jackets sometimes incorporate merino wool, but the ones I'll be talking about are made from lightweight fabrics such as NEOS and Gore-Tex. Many are treated with durable water repellent (DWR). DWR makes raindrops bead up and roll off the material rather than penetrate and soak!
Choosing the Fit
Some people, especially racers, like clothes that cling to their body and stretch with their every move. Others prefer a more relaxed fit. Winter cycling jackets come in form fit, relaxed fit and something in between.
Softshell jackets are usually worn with layers underneath. It's the only way to make the same jacket comfortable on a 50-degree day as well as when the temperature is 35. If you buy too snug a jacket and layer underneath it, you may look and feel like the Michelin tire man!
If you've bought a few jerseys you know that cycling clothing sizes can be, to put it mildly, inconsistent. Especially between brands! I'm an average size guy and I usually take a medium in a club fit but may go as high as XL in a racing fit. Pay attention to sizing recommendations between brands.
Extra Features
Over the years, I've found that my favorite winter jackets have these extra comfort features:
Drop-tail hems – On a wet road, the "roostertail" coming off your rear wheel can soak you from saddle to helmet. A long hem keeps your bottom dry.
Cinchable hems and sleeves keep water and cold drafts out.
Zippered air vents that help you control your temperature and avoid moisture build-up.
Pockets. Everyone needs to keep their phone dry. Also, to carry a few cold-weather snacks. Pockets are good. More pockets are better.
Related article – Best Cycling Shoe Covers For Wet And Winter Rides
Be Seen
As always, it's important to keep safe during your rides. Even on the best winter days, there isn't much visibility and light. If your jacket isn't a bright color, it should have reflective accents. 
Here are five jackets you'll be happy to be seen in.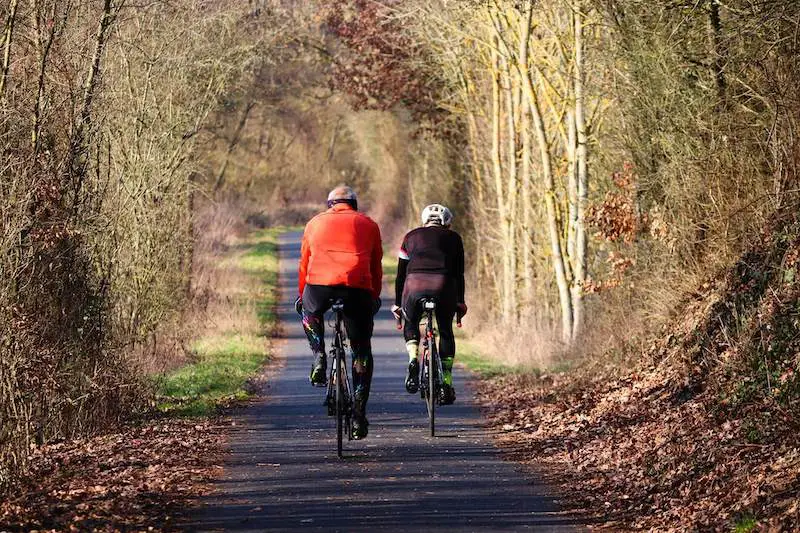 Reviews of the Best Winter Cycling Jackets
A marvelous jacket choice for the aggressive rider. It's form fit and stretch panels keep the jacket snug in every riding position. In a light rainfall, drops land briefly on the fabric, it beads up, and the wind whisks them away.
---
This jacket has an in-between fit that is neither snug nor overly relaxed.  Pearl Izumi has described it as a semi-form fit. The fit and the light weight mean you're not likely to get overheated even when temperature reaches the fifties. The fabric is stretchable and suitable for wearing over base layers.
---
This Swiss jacket features NEOS fabric and offers warmth-preserving wind protection in a thin softshell. It has been designed with a semi-fitted size for a comfortable feel in all riding positions. It readily accommodates base layers and Assos has a few to pair with your Mille GT.  Designed to be comfortable with a raglan cut, this jacket has been made to allow for easy, free movement and reduced drag.
---
It's tough to beat the name that paved the way in foul weather activewear. A premium product at a premium price tag. This form fit jacket is light, fitted and does about as well as possible in marrying weather resistance and breathability. As the name suggests, ShakeDry is the Gore-Tex fabric where droplets bead and you can shake them right off.
---
You usually have to spend money to bring home a good quality winter cycling jacket, you can buck that trend with the Windchill II. You'll be able to dedicate the leftover cash to base layering and energy bars :). This is a relaxed standard fit jacket with stretch thermal weather resistant fabric.
---
Conclusion
You won't go wrong with any of these choices. They aren't cheap; even the sticker on the affordable Windchill II might make you look twice. But if you're serious about your training during winter you'll need one.  They're long-lasting and winter comfort is worth a lot. Dollar bills won't keep you warm on a chilly, sloppy day, but a quality jacket will!
My pick? The Castelli Perfetto ROS. Maybe I'm just a sucker for Italian names, but the stylish form fit encourages me to keep riding despite the elements, and I feel good while doing so. It has all the critical features: water beading, wind resistance, breathability, venting zips, long hem, visibility and pockets. Perhaps it's the zip-off sleeves that put it over the top. As for my color choice, I'll make sure I'm seen by motorists as well as my fellow cyclists in the yellow fluro jacket 😃.
Need some extra protection for your hands during cold rides? Check out the best winter cycling gloves so your hands don't freeze!