Wanting to fully immerse yourself in your workout? For me, that means having the best headphones for indoor cycling.
Unfortunately for me, the headphone market is basically saturated so finding the right pair was a bit of a mission. 
I ended up with the Jabra Elite 75t, which by funny coincidence is my favorite in this review! The battery life and the sleek modern look sold it. Though there were a few close contenders – which I mention here too!
Which Type Of Headphones Are Best For Indoor Cycling?
I get it, we don't move that much when we're cycling indoors. Despite that, I'd still recommend the option of wireless headphones. 
Why?
It takes away so much of the stress when you get a cord tangled as you're cycling. 
They do usually cost a little more, that's for sure and you do have to remember to charge them but I have included a few options that don't break the bank, without losing out on quality.
Then you have to consider whether you want in-ear or over-ear. 
If getting the best sound quality is what you're after then over-ear should be where you look. The downside to going down this route is that they feel quite hot and sweaty quickly during an indoor cycling session.
This is where in-ear headphones shine. They aren't cumbersome, and they fit neatly into your ear or hook over your ear without getting in the way.
Having said all of that, it does come down to personal preference, so find what works best for you.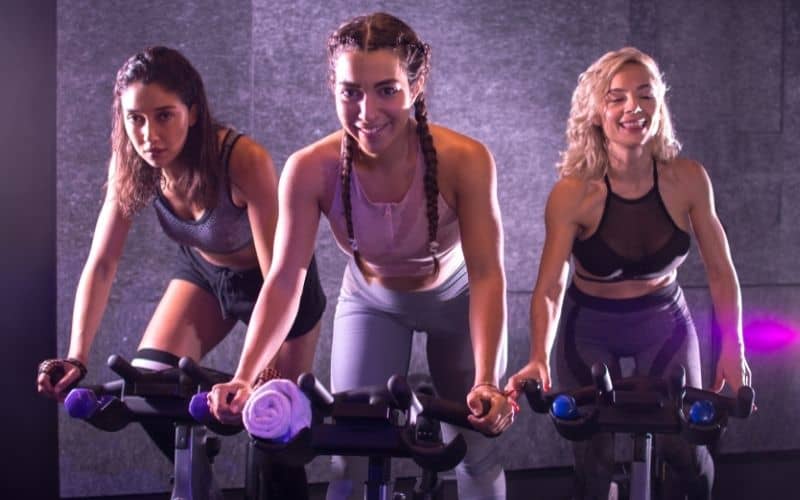 How Much Should I Spend On Headphones For Indoor Cycling?
If you're looking at your sports headphones as an investment then you should look at spending $100+.
However, if you don't want to spend that much, then you can still find decent headphones, almost whatever your budget!
Having said that, if you want a pair of headphones that will produce good sound and withstand being your gym buddy, then look to expand your budget upwards of $150. 
How To Choose The Best Headphones For Indoor Cycling
Headphones for indoor cycling have to be different from your ordinary headphones because they are much more likely to come into contact with liquid, whether that's sweat or moisture. 
Here are a few things you should consider before buying a pair of headphones.
Wire vs. True Wireless Headphones
If you have read any reviews, you might have heard 'true wireless' being mentioned, and is it any better?
True wireless headphones are in-ear monitors (IEM) or earbuds with no cord connecting them. 
Basically, all of the controls, battery, and mic are built into their housing. For people with an active lifestyle, these are ideal as they are usually lightweight, sweat-resistant, non-restricting, durable, and super portable.
Wireless headphones, on the other hand, have cables that are connected, usually by a neckband. 
There are advantages to this setup. They are usually very comfortable and durable. The neckband provides extra security as the buds aren't able to become loose.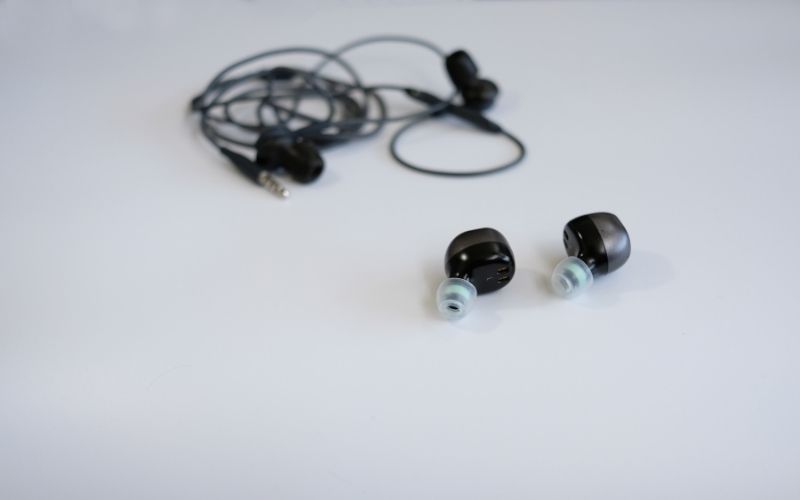 Water or Sweat Resistant
Sweat has killed enough of my headphones in the past to know you need to pay attention to it!
To ensure your indoor cycling headphones last the test of time, go for a pair that has an IP rating. This tells you that it's going to have a decent level of water resistance.
Sweat-proof vs Waterproof Headphones
When you're looking online at headphones, websites use the word "waterproof" loosely. Ensure you find a pair that has at least an IPX4 rating as this will mean that they're sweatproof – though not waterproof.
To be sure that your headphones are waterproof, they need to be rated IPX7 or IPX8. 
What is IP rating? Find out here.
Battery Life
Battery life is going to be something you need to take note of if you're buying wireless headphones. Some wireless headphones can last around 8 hours and true wireless headphones last around 4 to 5 hours.
4 to 6 hours may not sound like much but given the size of the earbuds, they simply can't accommodate everything.
Don't let the battery life put you off true wireless earphones. Many come with cases that charge them on the move.
Noise Cancellation
Noise cancellation is the built-in capacity of your headphones to block out noise. The benefit of this is that you are able to focus on your music more and therefore focus on your workout more.
Passive and Active are the two types of noise cancellation.
Pass noise cancellation uses the materials found on the headphone to block out noise. If you cover your ears with your hands, that gives you a good idea of what passive noise cancellation is like. 
Active noise cancellation actually uses technology to cancel things out. It's an electronic system that uses tiny microphones. 
These microphones pick up ambient noise and create an opposing signal to cancel it out so that you aren't able to hear it.
Active noise cancellation can be dangerous depending on your surroundings so a lot of manufacturers now have an "Ambient Mode" built-in so that you are able to hear your surroundings when you want to.
Personally, I didn't actively look at this feature when buying headphones, but just something extra to consider!
Related article – Best Headphones For Peloton
6 Of The Best Headphones For Indoor Cycling
The use of plastic and rubber can be a sign that a company has cut costs for build quality. However, when used on sports headphones, it's a good thing! 
Firstly, these Anker Sound Buds Sport NB10 are really light. Not only that, the plastic and rubber combination means that these headphones are sweat-proof. They have an IPX5 certification against sweat and water – ideal for indoor cycling!
In terms of controls, there are 3 buttons. Two outer buttons control the volume and the middle button is multifunction.
The battery life is said to be around 6 hours and in practice, it's around 5.5 on maximum volume so near enough for accuracy. However, 6 hours isn't a super long time these days. 
Sure that should be sufficient for a workout but if you're like me, I forget to charge them often and this could become an issue. 
As these are earbuds, there isn't a full seal. This means you do end up hearing sounds around you. For me, this is fine as I'm in my home gym so there isn't a lot of sounds otherwise (aside from my heavy breathing, of course!).
Overall, the Anker Sound Buds Sport NB10 headphones are built well, though lacking in sound quality in some places. Having said that, at this price point, they are a great purchase and something I wouldn't hesitate recommending. 
---
Apple had to feature here somewhere, right?

Fortunately, Apple didn't just produce a half-decent pair of sweat-resistant wireless earbuds. In true Apple fashion, they went all out and the Powerbeats Pro was born. 
In terms of looks, they are smart. They do have a 'sporty' look about them but not overly so you're good to wear them when you're not working out too. 
On both earbuds, there is a center playback control button and also a volume rocker. All of this means that you're able to control your music using whichever hand is free. Not forgetting that if you have Siri enabled, you can also call upon it.
These earbuds are wonderfully comfortable. I'm not just talking about how they fit either. When you listen to music, it's actually quite special and this is coming from somebody who is an Android user so no Fan-boying going on here. 
Something that I'm less keen on with these Powerbeats Pro Wireless Earbuds is that they stick out a little bit from the ear. With Apple AirPods, they're quite low-profile. In most cases, it's totally fine, but worth mentioning if you don't just want to stick to indoor cycling with these. 
Now, battery life. Up to 9 hours between charges. The case can store up to two charges. What this all means is that the Powerbeats Pro can have a battery of up to 24 hours. In theory, this means that you can go for several days without needing to charge. Sadly, Powerbeats Pro Wireless Earbuds do not support wireless charging.
Overall, these earbuds are impressive and if you're an Apple user, they are ideal for your indoor cycling workouts. 
---
Now let's look at the AirPods Pro. Not a dedicated sport earbud but they do deliver on the noise-canceling feature.
The sound quality for these earbuds is excellent and as some of you will know, these aren't the first version of the AirPods Pro. This model is a redesign and these ones are far less likely to fall out than previous models. 
As part of the redesign, there are now more microphones and the noise cancellation is fantastic now. Although if you want to be able to hear the world, you can use Transparency mode. This means you'll be able to hear the outside world. 
Battery life isn't as strong as other wireless options out there. You're likely to get around four to five hours on a single charge. Which for most training sessions is not going to be a problem. Just don't forget to charge them! 
One thing I really like about the AirPods Pro is that they connect to your Apple devices instantly. It's features like this that are what makes Apple special. Things are seamless with Apple as much as I might not want to admit it. 😝 
The AirPods Pro are IPX4 water-resistant, so this means you're good to use them for indoor cycling and out in the rain if you wish. No harm will come to them.
Without a doubt, these earbuds are premium but you can't fault the engineering of them. Whether you are on your turbo trainer or using them for something else, the AirPods Pro performs in every category. 
---
Bose QuietComfort Earbuds do look attractive, though they have a fair amount of bulk about them. But will the sound quality make up for it?
The QuietComfort earbuds are kept in a carry case. This has four LED lights that show the battery levels. Connection is done through Bluetooth 5.1 and the range is within 9 meters, so more than sufficient for indoor cycling, without worrying about connection drops.
Related article – Best Phone Holders For Indoor Cycling
In terms of battery life, you're looking at around 5 and a half hours, this is at maximum volume and active noise canceling enabled. Given the fact you get noise canceling with this length, it's impressive.
If the battery life isn't sounding appealing to you – no worries. Quick charge is here. Pop your earbuds in the case for 15 minutes and you get another two hours of playtime. A full charge takes two hours but for a quick charge, that's very handy! 
Active noise canceling works as you'd expect on a piece of Bose kit, wonderfully. For indoor cycling, you can expect to hear nothing but whatever you're playing through the earbuds. 
You can alter this allowing you to hear more if you want to. There is a sliding scale from 1 – 10. 
Overall, the Bose QuietComfort Earbuds have fantastic sound quality and with the IPX4 rating, they have happily become your faithful workout companion. 
---
If you're in the workout earbud market you have to do something to set yourself apart. For JLab, it's to offer durable, yet affordable products and that's exactly what the JLab Jbuds are.
Controlling the earbuds is simple. Each one has a touch panel and that gives your a surprising amount of control.
This includes being able to change the volume, skip tracks, and switch on Be Aware mode. One thing that was noticeable about this was that no matter how sweaty your hands seem to be, the controls never faulted. 
The JBuds use an ear-hook design. Now, I know what you're thinking and you're kind of right, ear hooks aren't cool. 
However!
It does work brilliantly at keeping the earbuds in place and for that, it has to be cool, right?
These earbuds are rated IP66 and are very durable. They seem able to take what might be thrown at them as sports headphones. 
For battery life, you can expect around 4 and a half hours of playback. So a tad on the low side but at the same time should be enough for indoor cycling and JLab have something up their sleeve for this. 
That being said, like the Bose QuietComfort, JBuds feature a quick charge. 15 minutes in the case and you can extend your playback time for an hour. 
When it comes to a full charge, it will take around 3 hours to charge the case and the earbuds take 1 and a half hours. 
The case can actually charge the earbuds 5.5 times before it needs to be charged again so while the battery life on the earbuds itself may not be the greatest, you can go over 30 hours without ever needing to consciously charge your JBuds.
Connection strength is strong and never really drops so for all of those reasons, I can't help but recommend the JBuds.
---
Jabra are known for their good quality products and the Elite Active 75t is no different.
The Elite 75t is rated IP55 so you won't need to worry about sweat or rain drops ruining your earbuds. Off to a good start!
Both the earbuds and the case are made from soft plastic. In your hands, this isn't the most premium of feeling but it does have the benefit that they're very lightweight. I'm talking around 5 grams for each earbud. 
On the outside of the earbuds, there are control buttons. Personally, I prefer touch-sensitive playback controls as with buttons you have to push it and that can cause it to move. The Jabra Elite Active 75t are guilty of this but certainly not the worst by a long way.
The earbuds do fit into the ear comfortably and you get three different tip sizes to find your perfect size. Once they are in your ear, they're going to stay there, especially when you're indoor cycling.
Unlike a lot of wireless earbuds, the case for the Elite Active 75t isn't big. It fits into a pocket and doesn't get in the way. It's a nice touch!
Jabra claims that you should be getting around 7.5 hours of playback, which increases to 28 hours with the cases. 
As far as true wireless earbuds go, the Jabra Elite Active 75t works well at canceling noise. Though they do also feature a HearThrough mode, which allows you to hear your surroundings when you want to.
Overall, I'm struggling to suggest anything better than these earbuds. Sure, they aren't perfect but they're pretty close. 
---
Final Thoughts
Hopefully, now you're feeling more sure about which headphones you want for indoor cycling.
For me, the Jabra Elite Active 75t offers so much of what it's important for indoor cycling that they get my vote.
What's on your workout playlist?
Need more indoor cycling accessories? Check out our Best Fans For Indoor Cycling – Keep Cool!