An important part of cycling is capturing your adventures through photos and videos. Being able to relive the thrill of these journeys makes purchasing a bicycle camera a good investment. But which camera is best? And how much performance do you need from one? 
These questions trouble most cyclists, and that's why we have compiled a list of the five best cycling cameras. Our list consists of: 
How To Choose A Bicycle Camera
Action cameras have different features from regular ones. They need to perform when you're in motion and should be rugged enough to endure different weather conditions. These are two examples of what to look for in a bicycle camera. Read on and discover the other criteria that make a product great. 
Video Quality
Video quality is the most crucial consideration you should make. But, most people incorrectly measure this attribute. Most people read about a camera having 4K resolution and immediately assume the camera will produce top video quality—this is far from the case. 
In addition to having high resolution, you also need a high frame rate. Consider cameras that capture at least 30 frames per second (FPS). The human eye may not be able to spot the difference between frame rates. However, higher frames per second provide you with more footage when editing videos in slow motion. 
Also, look for stabilization features. This ensures that your video isn't shaky and runs smoothly when you play it back.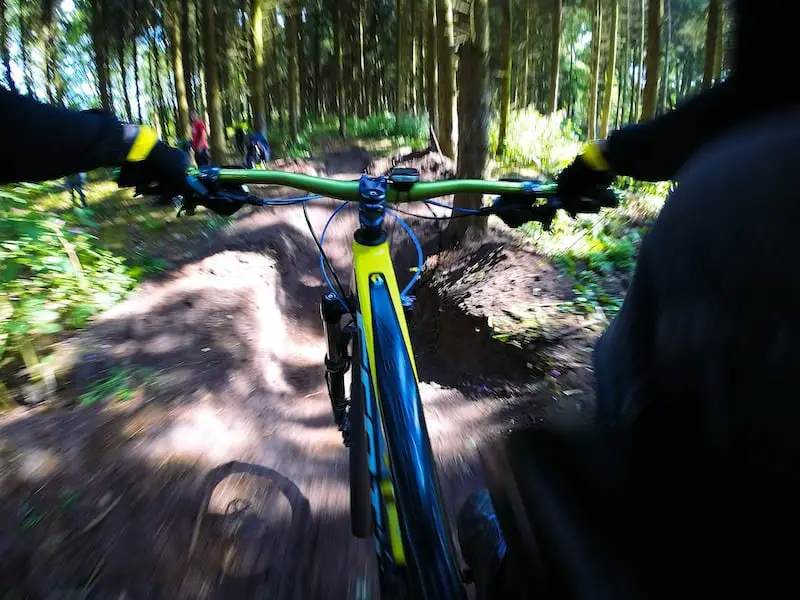 Portability
This isn't a camera you'll keep in your bag. You need to be able to mount it on your bike without it adding extra weight or discomfort. Some riders like putting their camera on their helmet, which is why the action camera should be small and lightweight. It should fit in the palm of your hand and weigh less than around 6 ounces. 
Because you're prioritizing size, you should make the most of the field of view (FOV). This is the extent of the area captured by the camera. Large cameras usually have a wide FOV, but if you get a wide-angle camera, you won't suffer from the disadvantages of having a small camera.
Related article – Best Bike Camera Bags: Reviews and Complete Buying Guide
Accessories
Because you're mounting your camera, you should get accessories that allow you to place your device on either your bike handle, chest, or helmet. These accessories must also help with stabilization. 
With this in mind, you should get a camera with a range of accessories. That's because an action camera isn't all you need to get the most from the device. A great example of this is the APEMAN 4K Camera, which has over 22 accessories.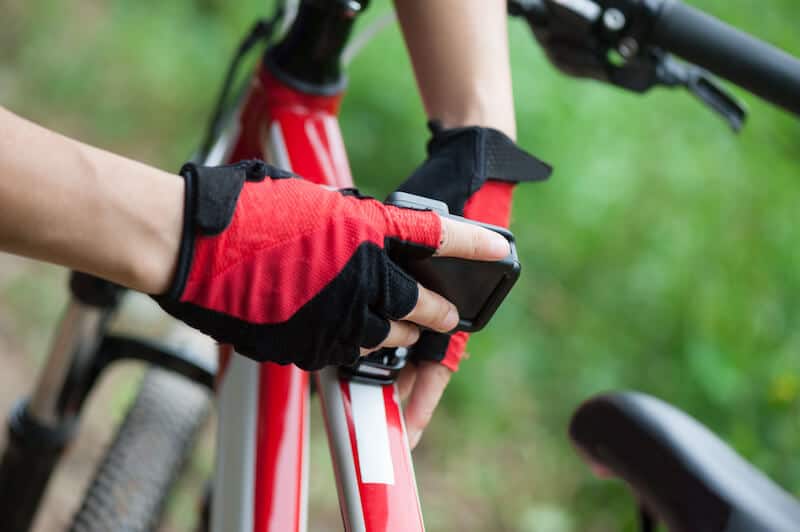 Durability
Shock-resistant devices are ideal, as they're better able to handle rough trails and accidental drops. A second feature related to durability is water resistance. Most devices should be waterproof up to 30 meters. This feature ensures you can comfortably record your adventure through the rain. 
Battery Life
High performance and great battery life aren't often found in the same device. But for a bike camera to be considered the best, the two must balance perfectly. If you go on long rides, this feature is even more important. Try to get at least one hour of full performance from your device. 
To enhance your battery life, look for cameras with dedicated power banks. These are often lighter than the standard ones and will work more efficiently since they're native hardware. 
Reviews Of The Best Bicycle Cameras For Cycling Action Shots
Using the criteria above, we have compiled a list of bike cameras that offer a great combination of performance and convenience. With a wide range of products to choose from, we hope you'll be able to find one that suits your needs and budget. 
The Dragon Touch Vision 3 is an affordable option for people looking for their first action camera for cycling. It does its best to offer great quality video and performance with its 170-degree wide-angle camera and 4K video at 30 FPS. 
You also get 16-megapixel photographs, which is the same image quality you'd expect from flagship smartphones. 
It weighs only 5.3 ounces and comes with an extensive range of accessories that enhance portability. This includes a chest, handlebar, and helmet mount.
The action camera performs decently underwater with the waterproof case. This translates to good performance in the rain. The hard plastic shell is durable enough to withstand regular drops, but you can make it more secure using the clip-on casing. 
You also get around 90 minutes of battery life from each of the 1050mAh batteries. This is incredible performance considering how affordable this bike camera is.
A drawback for many users is that this camera is incompatible with macOS. If you use an Apple product, this device may not be the best choice – though you can use a card reader to download videos to your Mac.
---
If you have a few hundred dollars to spend, then this is by far the best option. This premium device has 4K video at 60 FPS and has a HyperSmooth feature for the best video stabilization on the market. 
You get great performance in low light, and when connected to Wi-Fi, you can live stream in 1080p. 
The device also features more premium materials than the others and is praised by customers for how reliable and rugged it is. 
You don't get the accessories that you'd expect from the other products. However, the GoPro is the most popular brand of action cameras, and it won't be difficult to find your desired accessories.
The biggest problem users have with this camera is the battery life, which runs out quickly when you're using the camera at full performance. If you've got lots of footage to record, it's best to carry a backup battery.
---
With easily adjustable modes, the Akaso Brave 4 offers 4K resolution at 24 FPS and 2K resolution at 30 FPS. While the frame rate at 4K is less than our ideal 4K resolution, you still get great video and audio quality from this device.
The camera takes crisp and sharp 20 megapixel photos, while an integrated smart gyroscope provides image stabilization for smooth video playback.
Weighing only 5.6 ounces, the Akaso Brave 20 is easy to carry and can fit in the palm of your hand with compact dimensions of 2.32 by 1.57 by 0.91 inches. 
Accessories are another hallmark feature of the device. They aren't only compatible with the Akaso Brave 20 but can also be used on other devices like the GoPro. The accessories include a helmet mounting kit that allows you to securely fasten the camera on your helmet for more vivid cycling angles. 
You also get a handlebar mount and five other different-angled mounts for optimal versatility. The protective backdoor and clips provide your device with added protection against cracks and scratches. 
Being waterproof to 30 meters in the specialized case is an impressive feat. The display works incredibly well, even if you're immersed in water. 
Battery life is probably the best feature this camera offers. You get the standard 60 to 90-minute video battery life for each of the two batteries included, which should be plenty to cover your adventures.
Besides some shortcomings mentioned before, customers report that accessories aren't the best quality you can get on the market. They don't have similar attention to detail as the camera and may break easily. Another flaw is how end frames aren't recorded well, which makes editing a bit more tedious than it should be.
---
The COOAU 4K camera features an easy-to-use interface that most beginners will be comfortable with. You get the standard 4K resolution at 30 FPS. It also has an embedded stabilization feature making this camera suited for extreme sports and off-road cycling.
Another great feature is better performance underwater. It's quoted as being waterproof up to 40 meters. You can control the device using a wrist remote that comes with the purchase. Alternatively, by downloading an Android or iOS app that connects with the device via Bluetooth. This gives you more creative freedom to capture intriguing footage and photographs. 
The battery life of the two included batteries is pretty good; you'll get one to two hours per charge, depending on how you use the camera.
The flaws may be in the microphone – users report it records with a bit of sound, but most should be cleared during edits. Another negative is the image quality. The manufacturer promised 20 megapixels, but customers report the images don't seem high resolution.
---
The Apeman 4K Camera is loaded with accessories. The company is even reasonable enough to include a carrying case to store your device and its accessories! 
You get impressive image quality with this device: 4K at 60 FPS. The touch display allows you to add filters and presets to your footage. This display won't fail you even in the rain, since the device is waterproof up to 40 meters. 
The built-in gyroscope provides incredible stability when in motion. The numerous mounts in the accessory kit will also give you great options for recording angles. 
Along with an integrated app, you get the standard 60 to 90-minute battery life on the device when recording in 4K. 
Despite this performance, there are two problems customers have with this bike camera. The first is poor-quality recording at night. The sensors aren't responsive and won't work well in low lighting. The second flaw is how a wall charger isn't included, which seems counterintuitive considering the product's number of accessories!
---
Final Thoughts
From our comprehensive review, we conclude that the Dragon Touch Vision 3 is the best action camera for cycling. It has the perfect combination of budget-friendliness and performance features.
We wouldn't completely discount the others in this roundup. The premium GoPro Hero 8 Black has the best video stabilization of the five. Additionally, the well-equipped Akaso Brave 20 will provide a great introduction to the world of action cameras.
Thanks for reading and drop us any questions or comments down below!
This article includes affiliate links. If you choose to purchase any of the products we have discussed in this article, we may receive a small commission.