Capturing your cycling journeys in crisp detail requires a worthy camera. But with the number of options available on the market, which truly stands out for cyclists?
With this article, you're in for a time-saving summary of the best bicycle cameras for cyclists.
I selected these cameras based on in-depth research. I have sifted through countless user reviews, discussed cameras with friends who are videographers, and even tested a few myself.
Let's dive in!
In A Rush? Here Are the Best Bicycle Cameras For Cyclists
Pros:

Great quality for the price

4K video quality with 4x zoom

100ft waterproof

Wireless remote control and adjustable view angles

Pros:

Expansive field of view with new image sensor

High-resolution 5.3K video and 27MP photos

Impressive HyperSmooth 5.0 stabilization

Pros:

Excellent video and photo quality

IPX8 waterproof without a case

Dual screen for easier selfies
Best Overall
Pros:
Great quality for the price

4K video quality with 4x zoom

100ft waterproof

Wireless remote control and adjustable view angles
Premium Option
Pros:
Expansive field of view with new image sensor

High-resolution 5.3K video and 27MP photos

Impressive HyperSmooth 5.0 stabilization
Best For Selfies
Pros:
Excellent video and photo quality

IPX8 waterproof without a case

Dual screen for easier selfies
Haven't found what you're looking for? Check out our other cycling tech guides.
Reviews Of The Best Bicycle Cameras For Cycling Action Shots
Best Overall
Pros:
Great quality for the price

4K video quality with 4x zoom

100ft waterproof

Wireless remote control and adjustable view angles
Cons:
Battery life could be longer

App may require patience
View On Amazon
View On Walmart
I faced ever-changing weather conditions and challenging terrains during a recent cycling tour. With the Dragon Touch 4K Action Camera mounted on my helmet, I captured stunning moments in detail, thanks to the 4K video quality.
The adjustable view angles let me capture the action from different perspectives, making the footage more exciting.
One of my favorite features is the 100ft waterproof capability. I didn't have to worry about the camera getting wet or damaged during sudden rain showers or crossing streams. This waterproof design eased my concerns and let me focus on enjoying the journey.
I found the Dragon Touch camera easy to control with the wireless remote, designed to be worn on the wrist.
However, I noticed that the battery life was not great. I needed to recharge both included batteries at least once during our day-long ride. Another drawback was the camera's app, which requires some patience as it occasionally lagged.
Overall, the Dragon Touch 4K Action Camera provided exceptional video and photo quality and kept up with my demanding outdoor activities. Despite minor issues, I highly recommend it to cyclists and outdoorsy individuals.
Lastly, this camera is the cheapest in the roundup, so its price-performance ratio is amazing!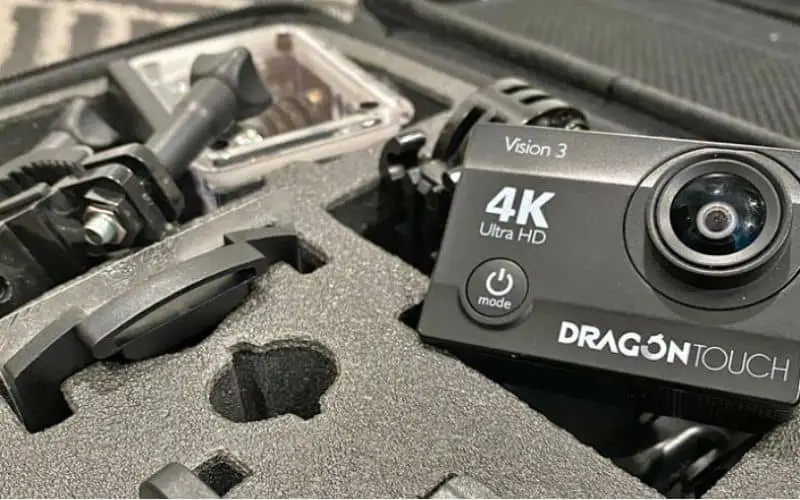 Premium Option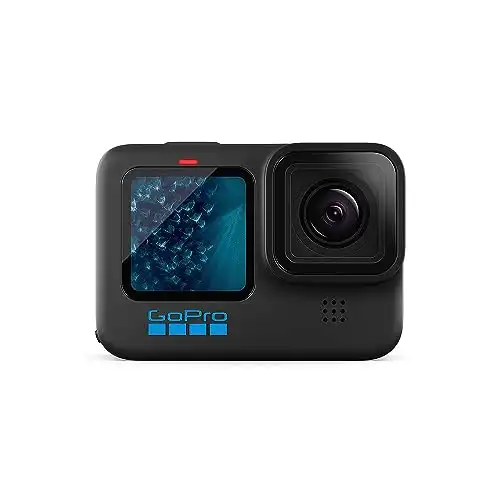 Pros:
Expansive field of view with new image sensor

High-resolution 5.3K video and 27MP photos

Impressive HyperSmooth 5.0 stabilization
Cons:
Camera gets warm with prolonged use

Limited battery life

Expensive
View On Amazon
View On B&H Photo
The GoPro Hero11 Black is a beast of a camera. It's small, durable, and waterproof, making it an ideal choice for cycling enthusiasts.
Here's what I found out during my tests.
The camera's 5.3K60 footage with fantastic stabilization in a rugged, waterproof build is a standout feature. The camera also supports 10-bit color, which means more vibrant and realistic colors in your footage.
HyperSmooth 5.0 stabilization can keep your footage steady, even at high speeds or on rough terrain.
One of the things I love about the GoPro Hero11 Black is its versatility. You can mount it on your helmet, bike, chest, selfie stick, or handheld with the included mounting buckle and thumb screw. 
However, I noticed the camera got quite warm during longer rides. It didn't hinder performance, but it's something to consider if you plan to record for extended periods. 
The camera is bigger and heavier than previous models, making it cumbersome to mount in some places. It can also affect the aerodynamics and balance of your bike if you mount it on your helmet or handlebars.
If you're looking for a smaller and lighter camera, you might want to consider the GoPro Hero11 Mini instead.
Remember the potential need for extra storage and battery life management; one battery won't get you through the day!
Overall, the GoPro HERO11 Black is an excellent choice for cyclists who want to capture their rides with stunning visual quality and smooth stabilization. Premium camera with a premium price tag!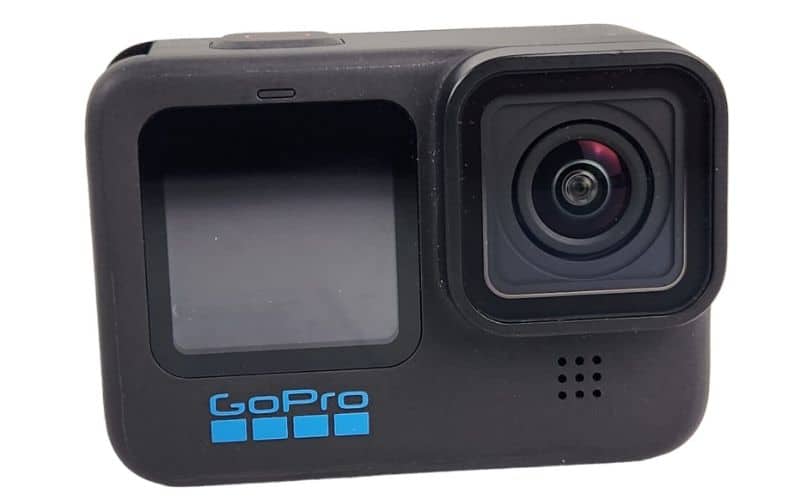 Best For Selfies
Pros:
Excellent video and photo quality

IPX8 waterproof without a case

Dual screen for easier selfies
Cons:
Touchscreen not very responsive when wet

Image stabilization is not amazing
View On Amazon
View On Walmart
The camera is feature-rich and offers good value for its price. The 4k30FPS video resolution and 20MP photo capabilities will enable you to capture beautiful, clear footage of your ride.
The camera's IPX8 waterproof design is impressive, and it can go underwater up to 33 feet without a separate waterproof case. The camera also has remote and voice control, making it easy to use while cycling.
You can use simple voice commands like "Akaso start recording" or "Akaso take a photo" to control the camera without touching it. The voice recognition is fairly accurate, as long as there's not too much background noise.
The standout feature of the Akaso Brave 7 is its dual-color screens on the back and front of the camera. This feature makes it easy to take selfies, frame your shots, and adjust settings.
However, there are some downsides to the Akaso Brave 7.
The touchscreen is not very responsive when the camera is wet or underwater. You have to dry it off before you can use it again. This can be annoying if you want to change settings or modes quickly.
The image stabilization is not very effective in low-light situations or fast-moving scenes. You might notice some blur or distortion in your videos if you're cycling at night or high speeds.
The Akaso Brave 7 is a good choice for anyone who needs a waterproof action camera with 4K recording capabilities. In terms of pricing, this is the middle of the pack and comes with many features that make it worth your money.
However, if you're looking for a camera with better image stabilization or longer battery life, you may want to consider other options.
Pros:
Waterproof up to 40 meters

Easy-to-use interface

Lots of accessories
Cons:
No touch screen

No memory card included

EIS feature does not work in all modes
View On Amazon
The COOAU 4K camera features an easy-to-use interface that most beginners will be comfortable with. It comes with 4K video resolution and 20MP photos, enabling you to take decent videos and photos.
The COOAU 4K WiFi Action Camera comes with several accessories that enhance its functionality and usability. It includes two rechargeable batteries that last for about an hour each when recording in 4K resolution.
The camera also has a waterproof case that allows you to use it up to 40 meters deep underwater.
Lastly, you can control the device using a wrist remote, but the 10-meter range can be restrictive.  Alternatively, download the Android or iOS app that connects with the device via Bluetooth. This will give you more creative freedom to capture footage and photographs. 
Given this camera's price point, it lacks a few features.
The camera does not have a touch screen, which makes it less user-friendly than the other cameras in this roundup. The camera does not come with a memory card, so you'll need to purchase one separately (adding to the cost!).
The camera's EIS feature does not work in all modes and resolutions, which might result in shaky and blurry videos.
This low-budget action camera can deliver decent video quality and features, but you'll need to compromise on some aspects of usability and reliability. If you are looking for a more user-friendly, reliable, and high-end action camera, you'll want to consider the other options.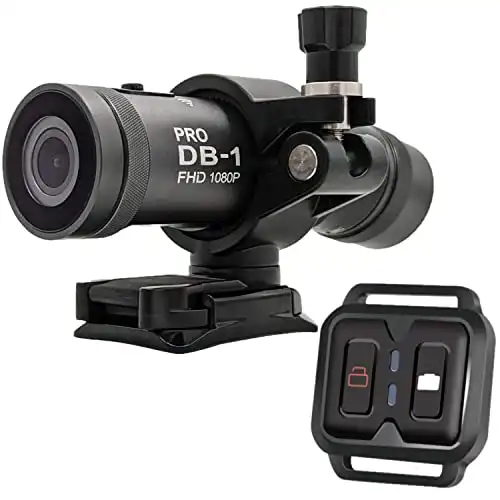 Pros:
Patented dual lens design

Excellent nighttime performance

Good battery life
Cons:
Heavy and bulky mounting system

No shockproof or dustproof features

No waterproof rating
View On Amazon
The camera has a patented dual lens design with a front and 15° angled rear lens. The dual camera system allows you to record the front and back of your ride, providing a comprehensive view of your journey.
The camera is easy to use, with simple controls that allow you to start and stop recording easily. The video quality is excellent, with clear images that capture even the smallest details.
The camera's SONY IMX307 sensor and F1.8 ultra-large aperture will perform well in low-light conditions. The front-and-rear 1080p video quality will allow you to capture moments without worrying about visibility.
The camera has a built-in 1600mAh battery that can last up to 4 hours of continuous recording. Plenty for a long weekend ride.
One downside of this camera is its weight. The camera and mounting system add extra weight to your helmet, which can be uncomfortable during long rides. Additionally, the mounting system is bulky and can be difficult to adjust to fit your helmet properly.
The camera has no waterproof rating, which means it's not suitable for rainy or wet conditions. You have to protect the camera from water or moisture. Otherwise, you risk damaging it.
Lastly, the camera has no shockproof or dustproof features, which means it's not very durable or rugged.
This camera is ideal for those who enjoy cycling in scenic areas or want to document their daily commute. The camera is also suitable for those who want to improve their cycling skills by reviewing their rides.
How To Choose a Bicycle Camera For Cycling
Whether you're riding urban streets, rural paths, or mountain trails, a bicycle camera can serve multiple purposes: recording your rides, capturing memorable moments, or providing evidence in case of an incident.
Here's what you should consider when choosing a bicycle camera for cycling:
Video Quality
Look for 1080p, at the very least. However, 4K resolution cameras provide clearer videos, especially if you need to zoom in on details.
In addition to having high resolution, you also need a high frame rate. Consider cameras that capture at least 30 frames per second (FPS). Higher frame rates (e.g., 60fps) result in smoother videos, particularly for high-speed cycling.
Your human eye may be unable to spot the difference between frame rates. However, higher frames per second provide more footage when editing slow-motion videos. 
Also, look for stabilization features. Good electronic image stabilization (EIS) can significantly affect video quality, reducing the jitteriness caused by bumpy rides.
This ensures your video isn't shaky and runs smoothly when you play it back.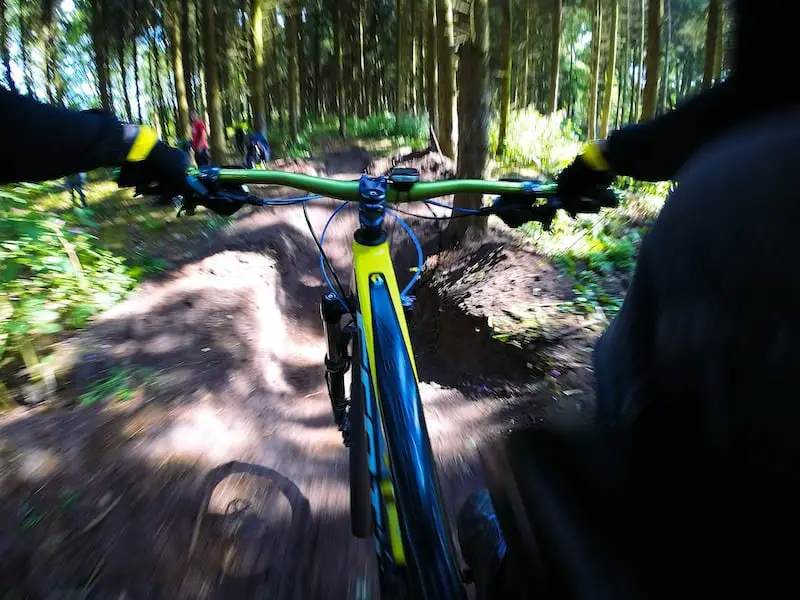 Field of View (FOV)
Because you prioritize size, you should maximize the field of view (FOV).
This is the extent of the area captured by the camera. A wider FOV captures more of your surroundings. However, too wide an angle can result in a "fisheye" effect.
Adjustable FOV settings allow you to switch between wide, medium, and narrow shots.
Portability
This isn't a camera you'll keep in your camera bag.
You will want to mount it on your bike without adding extra weight or discomfort. Some riders like putting their camera on their helmet, so the action camera should be small and lightweight.
Here are some mounting options:
Handlebar mounts are common but may transfer more vibration to the camera.
Helmet mounts provide a higher and more central point of view, but consider the added weight to your head.
Chest mounts offer a more immersive perspective, ideal for mountain biking.
It should fit in the palm of your hand and weigh less than around 6 ounces.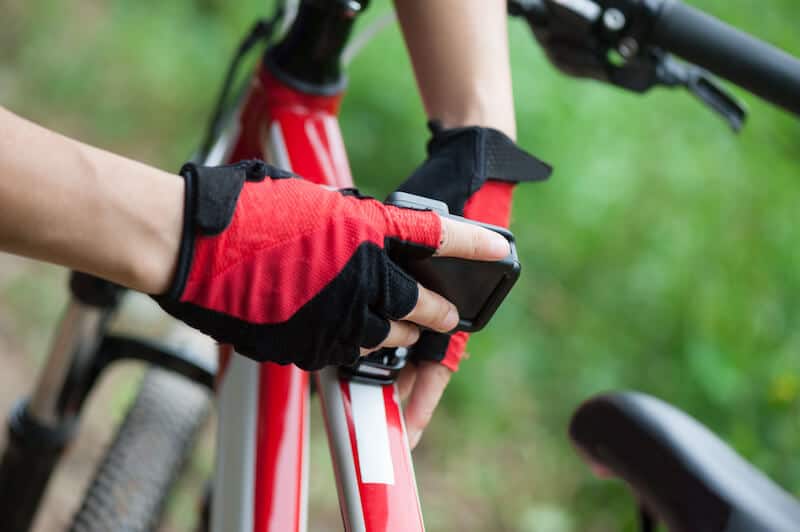 Weather & Impact Resistance
Shock-resistant devices are ideal for handling rough trails and accidental drops.
A second feature related to durability is water resistance. Ensure the camera is at least splash-proof. For wetter conditions or off-road rides, full waterproofing is essential.
Battery Life
High performance and long battery life aren't often found in the same device. If you go on long rides, this feature is even more critical. Try to get at least one hour of full performance from your device. 
To enhance your battery life, look for cameras with dedicated power banks. These are often lighter than the standard ones and will work more efficiently since they're native hardware.
Additional Features
Here are some extra bells and whistles you might like to consider for your camera:
Wi-Fi & Bluetooth connectivity for easy transfer of videos and remote control through smartphones.
Incident detection to automatically save footage during potential accidents.
Night vision or low-light capabilities for evening or early morning rides.
Built-in GPS to embed location data in your videos.
Frequently Asked Questions
Is 4K resolution necessary for a bicycle camera?
While 4K offers stunning detail, it's not strictly essential for all cyclists.
However, the higher resolution can be beneficial for capturing scenic rides or cropping and editing footage post-ride.
How is the audio quality on action cameras during fast-paced rides?
While most action cameras have decent audio recording capabilities, wind noise can be an issue at higher speeds.
Consider cameras with noise-reduction features or external mic support for clear audio.