Apartment living can be great, however, bike storage solutions for apartments can be a challenge. It's something I've faced and over time, I've found different solutions depending on where I was living. Want to know my secrets?
These are the best bike storage solutions for apartments. Wall-mounted hooks, bike stands, and ceiling pulleys are all space-saving tools you can use to reclaim your apartment back but it doesn't stop there!
Whatever your needs or space restrictions, there is something out there for you. 
Don't believe me? Keep on reading 😁
How Do I Store My Bike In My Apartment?
Apparently, some people don't like having their bikes on show in their living room, something I may not be able to relate to, but I do understand! 
So I'm here to show you that there are plenty of options out there if you live in an apartment and don't wish to turn it into a garage.
You may also have the challenge that your Landlord may not be too happy about you mounting a bicycle to the wall/ceiling but we have solutions for that too! 
Horizontal Wall-Mounted Ideas
Firstly, we'll look at horizontal wall-mounted options. If you're looking to maximize your wall space, then mounting your bike horizontally can be the best way. 
These work as a great space saver and are fairly simple to install. I find that they can look a little more attractive than the vertical options out there but then I do like to look at my bike! 
Bicycle Storage Hanger
I'm personally a fan of the Hiplok AIRLOK secure hangers (I have three!) as they add an extra layer of security. 
By that, I mean that the Hiplok AIRLOK is the first wall-mounted bike storage hanger that has an integrated hardened steel lock. 
This lock is rated gold standard so if you're looking for a storage solution that meets the needs of bike insurance providers, it's a bit of a 2-in-1 job.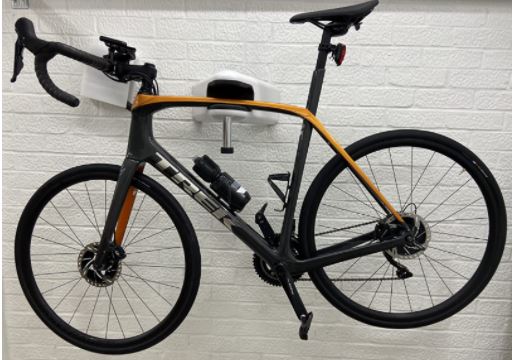 Want to know more? Here's a quick video on the AIRLOK.
Of course, you may not be after something quite as heavy-duty as this and if that's the case, then you can go for a simple but effective bike wall mount. 
Something like the Novoware will do the job nicely.
You should look for something constructed from a strong material. The Novoware uses steel, which means it has a load capacity of up to 68lbs/30kgs so it can almost certainly store increasingly popular e-bikes which are of course heavier than most bikes.
If you're looking at bike storage options, I'm going to guess you're looking to save space. These types of wall-mounted storage solutions work well as the bike sits parallel with your wall. When you're not using the mount, you can simply fold it in!
Protecting your bike is key too so you want to make sure that your hanger offers some form of protection. 
Look for things like scratch-resistant rubber hangers as this will prevent damage to the paintwork. 
Vertical Wall-Mounted Ideas
Wall Mounted Hooks
Wall-mounted hooks are going to be your easiest option when it comes to bike storage. 
They free up floor space and they help to keep your walls clean too (yes, I have been told off for leaving muddy tire prints on the walls before!).
Most manufacturers of these wall mounts will ensure that there is rubber padding so you won't be at risk of damaging your bike.
They also have a high weight load capacity so for those mountain bikers out there – you should be all good too!
For example, the Dirza bike wall mount has a load capacity of 65lbs/29kg, includes a rear tire tray so that there won't be any tire marks on the wall. It also keeps it looking sharper as the bike will always be straight.
How Do You Choose The Appropriate Solution For You?
So by now, you should know that just because you don't have a garage, doesn't mean you can't store your bike in a space-saving way.
Your wall, ceiling, door, or floor can double as a place to store your bike.
I would recommend that you aim to keep your bike off the floor whatever type of solution you're looking at and that's easy to achieve.
Consider whether or not you want to display your bike. I like my bike on display but I like it to look sharp. There are definitely solutions out there to achieve exactly that.
If you don't want to make your bike a showpiece, there are also storage options out there for that too.
If you rent your apartment then you may not be able to drill into the walls, if that's the case then look at things like the Bike Nook –  still, a great way to save a huge amount of space but something you can take with you and won't upset your Landlord!
So spend a bit of time thinking about what options are available to you and what will give you the best outcome.
What Are My Bike Storage Options When I Can't Drill Anything On The Walls?
There can be many reasons why you are unable to drill holes in the wall and if that's the case, then you're going to need another solution to save space or store your bike safely. 
Prior to moving house, I was in this position and found a few options! 
Bike Stands
This is one of the easiest solutions out there. Get the right stand and you're onto a winner. 
I opted for the Bike Nook.
These types of bike stands allow you to free up around 3 and a half feet of space and are really simple so it was a no-brainer for me.
All you have to do is roll the back wheel onto the ramp and place the front wheel up. Bike Nook gives you a velcro brace to secure the front wheel in place – this provides you with a bit of extra stability.
Most of these types of bike stands will give you some adjustability so they will be able to take different types of bikes.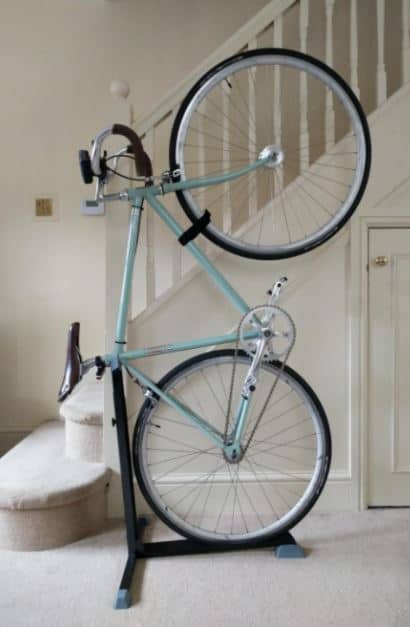 Speaking from experience, I found these to be very sturdy and it would take a decent push for the bike to fall over – mine never did. Though I would state that the velcro strap is a necessity, I did end up with the front wheel in my face once a few times before I learned the error of my ways!
Vertical Bike Hanger
So this one is more appropriate if you have two bikes that require storage in your house. 
Finding storage space for both can be a challenge, especially if you aren't able to mount them to a wall. 
You might want to consider a two bike hanger, something like Bikehand 2 bike indoor hanger.
There are a few different types of these hangers but this one ensures stability by using a tripod system at the base. It has rubber holders so even if your flooring isn't level, it will still be stable.
For those who aren't keen on assembling things, you're in luck! There are three pieces and it arrives almost assembled anyway so you're in for an easy job.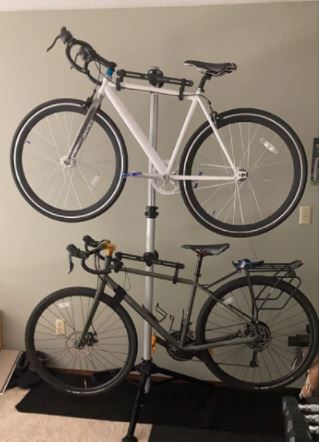 The one caveat I would say is that if you have young energetic children, then this might not be the best option. Otherwise, it's going to save you loads of space and keep your bikes safe!
Bike Tent
If you're unable to store your bike inside of your apartment then ideally, you want to be in a position where you can still keep your bike out of the way of Mother Nature. 
So I'd recommend a bike tent. Pop it in your garden/courtyard and away you go.
The great thing about bike tents is that they're portable so you can use them anywhere. 
If you can find the right one, a bike tent won't be too intrusive as to take over your outdoor space and you'll still be able to store your extra cycling gear in there too.
Related article – How To Store And Protect Your Bike Outside
Tents like Maizoa are waterproof, weatherproof, and provide UV protection so can give you everything you're looking for.
Unique Bike Storage Solutions
Not quite settled on the right storage option? Here are a few others!
Bike Pulley
If you have a load of vertical space then you could consider a bike pulley. Personally, I think these are super cool.
Systems like the Racor Bike Lift are mounted to your ceiling and use a rope and pulley system. Bike pulleys tend to have a weight limit of 50lbs/22.5kgs so you may need to factor that in if your bike is on the heavier side. 
The Racor system will raise your bike up to 12 feet so this option is all about reclaiming your space as your bike will be out of the way completely! There are latches that attach to the seat and handlebars. You pull the rope and up your bike goes. 
You don't need a ladder when it comes to getting your bike down. It operates a unique locking mechanism so you can easily and safely lower your bike down. This locking mechanism also prevents any accidental releases, making it a safe option too.
Looking for something a bit sleeker?
The Stasdock bike wall mount can store all of your bike accessories with your bike.
It comes in a variety of colors and can be a way to keep everything in one place, again, giving you that extra space.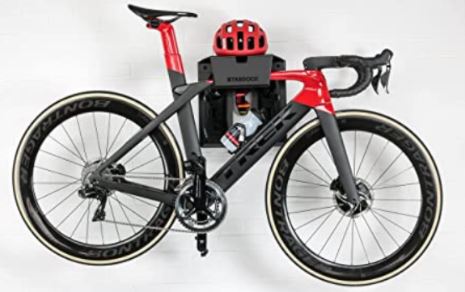 Door Mount
Another option is a door mount. If you haven't got any wall space, or you're not allowed to mount anything to your walls then this can be a space to consider. 
In theory, you can hang your bike on the back of almost any door in your home.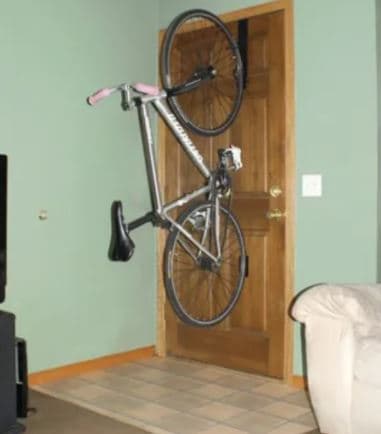 These types of mounts will work by either hanging it over the top or bolting it onto the door.
Given that you can just hang the mount over the door, these types of bike storage solutions are some of the easiest around. Though they aren't without problems. Bikes are big and if you want to open your door fully, you're probably going to have to take your bike off so my advice would be to find a door that doesn't require this!
Stair Storage
So this one will depend on your type of apartment but if you have a duplex apartment then this could be the one for you!
Understairs bike storage works by attaching to the underside of the stairs and are spaced sufficiently far apart that your tires fit and are locked in place. 
What is great about this option is that, if you have a fair bit of space under there, you could be able to get more than one bike stored this way!
Frequently Asked Questions
Does hanging a bike by the wheel damage it?
Some cyclists have hung their bike by the wheel for years and never had any issues. Others seem less in favor, for worry it may damage the rim of the wheel.
I tend to sit on the side of caution for this one. The good news is, if you're like me and don't like the idea of hanging your bike by its wheel, there are plenty of alternative options above!
Is hanging a bike upside down bad for it?
There are some storage options out there that require you to store your bicycle upside down (under the stairs for example) however depending on the type of bike you have, this can actually be a bad thing to do.
Bikes that are affected are those that have hydraulic brakes. By hanging your bike upside down, you risk air bubbles forming in the reservoir tank or the cables. 
The impact of this is that the performance of the brakes can be affected until the air has returned to the top of the reservoir.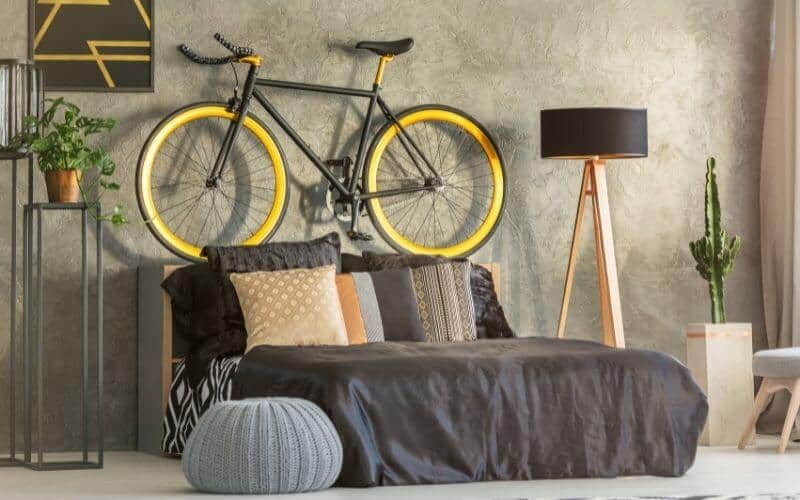 Final Thoughts
So that's it! A few different ways to store your bike when you're living in an apartment. 
I did say at the beginning that there will be something for everyone and I don't think I've let you down! 😆
Have you come up with any unique ways to store your bike that you'd like to share?
Related article – Best Bicycle Covers For Storage