Being seen on the road is important, something I'm conscious of so I'm always looking for ways to increase my visibility. A rear light on my bike is all well and good but can be missed – I'm guilty of not seeing cyclists as early as I should this way. 
All of this got me onto finding out about the best bike helmet rear lights. Something that's a bit different, should stand out and be seen from a distance. 
As it turns out, there are loads of options so which one is best?
Let's find out!
Why Should You Use A Bike Helmet Rear Light?
Legally, there's no requirement to have a light on your helmet, but that doesn't mean it isn't a good idea!
Simply, a rear bike helmet light will increase your visibility and mean that you can be seen more easily in traffic. 
When visibility becomes an issue, this can become even more important. In foggy conditions, having that extra light can make the difference. 
There is plenty to choose from and they all come with different modes for their lights, but you're likely to use either constant or flashing. 
Constant lights tend to be quite bright and help you to be seen from a distance. Whereas a flashing light will draw attention to you and generally increase your visibility. 
For me, I tend to use a flashing bike helmet rear light, combined with a constant rear bike light. I found this to be the right balance for me. Of course, this does vary depending on the conditions, but 99% of the time that's my setup!
Related article – Common Situations Cyclists Get Hit And How To Avoid Them
What To Consider When Buying A Bike Helmet Rear Light
When I'm looking for a bike helmet rear light, there are a few things I like to weigh up that help me to make a decision…I thought I'd share them with you! 
Lumens & Brightness
Now, I'm no Sherlock but if you're buying a rear helmet light, it's probably because you want to be seen, so brightness is right at the top of important things to consider. 
It's easy to think that the brighter the light, the better it is and I used to think that way.
Light levels are measured in lumens and the right number of lumens will depend on where you're cycling, the light conditions, and the terrain. 
Having said all that, not all rear bike helmet lights are measured in lumens as there isn't the same requirement to be as bright as your front light. 
Quite often rear lights are powered by LEDs, these are bright lights but won't dazzle other road users, which is perfect! 3 LEDs on the back of your helmet should do the job nicely.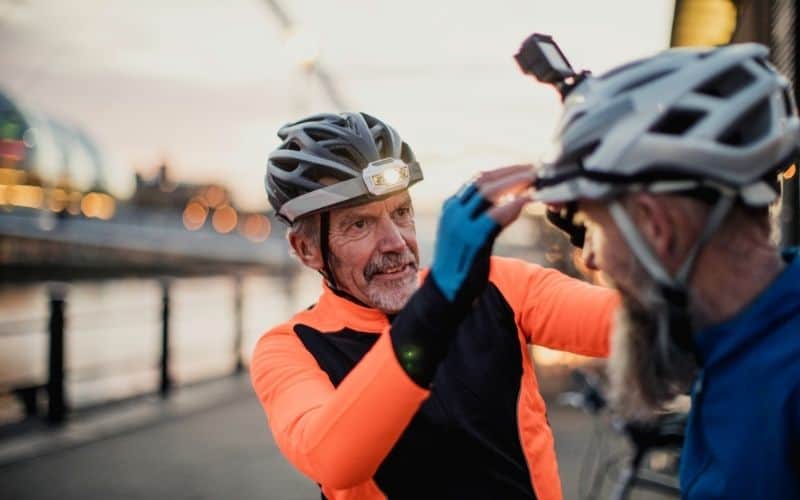 Installation & Mounting
Some lights are designed solely to fit helmets, others can be mounted onto helmets so there are usually plenty of options.
Be sure to check that the light you're looking at is compatible with your helmet as it isn't always the case. 
A lot of bike helmet rear lights can be mounted to the helmet using velcro straps (these are usually supplied with the light) or zip ties. Consider whether you'd like to be able to remove your light quickly and easily before deciding on how to mount it. Zip ties keep things in place but they don't offer the same flexibility as velcro straps!
Related article – How To Choose A Bike Helmet
Battery Life
There's no real benchmark when it comes to battery life. Equally, the power required to power these lights is minimal so you can expect a good runtime, almost whatever model you go for.
Most bike helmet lights come with different modes and these can affect the battery life so I'd recommend reading the manufacturer's instructions as to what the impact will be on different modes. 
Though typically you should be looking at a battery life of around 80 to 100 hours and this should be good for those cyclists who enjoy long rides as well as those who like to commute without the worry of having to charge everything every night.
You should also consider how the battery is to be charged or replaced. 
Quite a lot of bike helmet rear lights use CR2023 batteries. This means you don't have to recharge them and they usually give you a long battery time, however, there is the ongoing cost of replacing them when the time comes.
If you want to opt for the rechargeable option, it's as simple as plugging in your phone when the battery is low.
Durability
It's also important to factor in how durable the light will be. 
Consider whether you'll be riding in all weather conditions, if so, ensure that the light is waterproof, rather than water-resistant. 
It's worth thinking about what the housing is made from, this is what will be protecting the components inside. Aluminum will give you that increase in durability compared to plastic. 
Don't forget to consider how durable the mount is too as this is what is holding the light onto your helmet!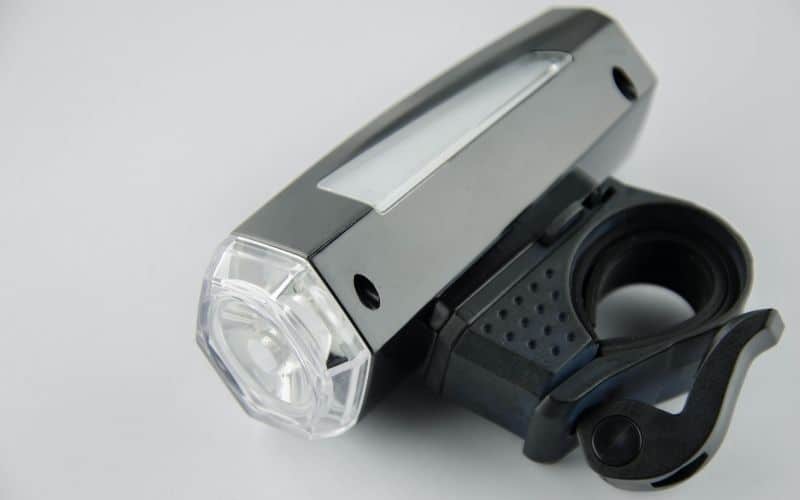 5 Of The Best Bike Helmet Rear Lights
Let's kick things off with the Topside Bike Helmet Light, it's a light that you can install within minutes. 
As for the number of lumens, you get a fixed 100 lumens, that's the benchmark number of lumens on a bike light so that's nice to see. You also get an extra bonus of a tail light, this gives out 15 lumens to ensure drivers behind you can see you. 
It comes with two modes; flash and constant. You can easily change between modes using the top button. The top button will also alert you when the battery is running though. However, that won't be very often as it lasts for up to 43 hours! 
Another feature which I really like is that Topside light is resistant to pretty much anything…dust, water, and frost so it's a light you can depend on when you're out and about. 
What's surprising is how well this bike helmet light stays in place, even on uneven terrain. Especially when you factor in how lightweight it is, at only 68g!
There isn't anything too complicated about this light and that's nice to see. It works as you'd expect and delivers what you want.
For a quick how-to mounting video – check this out:
---
The Sigem lights offer you flexibility from the point of purchase. The pack of lights comes with 3 lights, you can choose the color combination you want to give you the perfect setup. 
Each light comes with 5 LEDs built into them, they give out a decent amount of light too! They are powered by 2 CR2032 batteries (think watch batteries so it's readily available) and will last for a good 100 hours. 
Batteries are included and you also get extra batteries so it's going to be a while before you'll need to buy a new set. When you do, Sigem has even included a screwdriver so you don't have to find one of those to change your batteries either. 
Also included in the pack are velcro straps, 3 of them to be precise so it's all straightforward to attach the lights to your helmet. 
I mentioned flexibility with these bike helmet lights and the theme carries on, with 3 different lighting modes available to you; steady, flash, and strobe. 
If you're looking for a downside, these LED bike helmet lights are water-resistant, rather than waterproof. Having said that, they're still going to hold up just fine with a bit of rain – you just can't submerge them. 
Overall, the design of these lights gives you a feeling that Sigem has thought about every aspect of the design and that's quite special.
---
This Serfas light does what it needs to, it alerts other road users to your presence. Good start! 
It comes with 3 different lighting modes; chase, flash, and steady. The battery life is affected by the mode you choose, though I have to say, it's decent on all modes. 
Steady mode gets you around 95 hours, flash and chase mode is around 130 hours.  
Similar to the Sigem bike helmet light above, the Serfas light requires 2 CR2032 batteries to work – these are included so you're pretty much good to go straight out of the box.
In order to mount this bike helmet light to your helmet, you do need to have ventilation air passages. It comes with a rubber spacer and a velcro strap for installation. All of which is easy to do. 
Powering on the light is easy, right at the center of the light is the power button. You use this to switch it on/off and also to switch through the different power modes.
Overall, it's a bike helmet rear light that is kept simple and you'll never have to think twice about how to use it.
---
If you're after a helmet light with a decent visible range (of around 220 degrees) then the Topeak HeadLux helmet light is pretty much the perfect option. 
This helmet light is impressively light and weighs only 24g – if you're looking for a lighter bike helmet, you're going to be hard pushed, especially at this price point. 
Included as part of the package are two white LED bulbs and two red ones. These give off enough light so that you can be seen. 
To top it off, you get three different lighting modes to choose from; constant, blinking, and constant white/flashing red. Switching through these modes is done so by pushing the button on the top of the helmet light. 
The battery life of this light is on par with what we've looked at today and is also an impressive 100 hours. This battery is rechargeable so you don't have to worry about replacing batteries when it becomes flat.
Zip ties seem to provide a better fit and make it more secure when it comes to installation but Topeak does provide a velcro strap.
---
The TaoTronics LED lights aren't specifically designed to be mounted onto a helmet, however, the rear light does come with a helmet mounting strap so it can work well and it's bright so it's a good choice! 
Powering the rear light are two CR2032 batteries and the runtime is comparable to others in this review. 
Whilst we aren't looking at front lights, I will say that the front light has a maximum lumen output of 700 lumens and a runtime of up to 6 hours, if used on low brightness. It is rechargeable and has a 2000mA sized battery. It's fully waterproof and dustproof. In all honesty, it's a great light so it's a nice bonus to have.
Both of these lights can be mounted onto your helmet so you get plenty of versatility in this pack.
---
Final Thoughts
That's your lot. Five of the best bike helmet rear lights on the market. 
Now you'll have to decide which one is best for you as your riding conditions and style may be different from mine. Overall, my favorite is the Serfas Helmet Safety Light. 
It keeps you visible in traffic, there's nothing complicated about the way it works, in fact, it's a joy to use and it's super easy to mount.
The great thing is that the battery life makes it viable to other cyclists who do longer rides too so it's a solid all-rounder!
Need to pick up a new helmet? Check out the Best Winter Bike Helmets.