Being seen on the road is important, something I'm conscious of, so I'm always looking for ways to increase my visibility. A rear light on my bike is all well and good but can be missed – I'm guilty of not seeing cyclists as early as I should this way. 
All of this got me to find out about the best bike helmet rear lights. Something different that stands out and can be seen from a distance.
Is it possible that the key to safer nighttime cycling lies in a light at the back of your head? Keen to light up the facts? As it turns out, there are many options, so which one is best?
Let's find out!
In A Hurry? Here's Our Top Bicycle Helmet Light Picks
Pros:

Easy to install

Very lightweight

43-hour battery life

Two modes

Pros:

2-in-1 design with both front and rear lights

Five lighting modes for various situations

Bright and lightweight

Pros:

Budget price

Lightweight

Fantastic battery life
Best Overall
Pros:
Easy to install

Very lightweight

43-hour battery life

Two modes
Brightest Light
Pros:
2-in-1 design with both front and rear lights

Five lighting modes for various situations

Bright and lightweight
Budget Pick
Pros:
Budget price

Lightweight

Fantastic battery life
Reviews of the Best Bike Helmet Rear Lights on the Market
Best Overall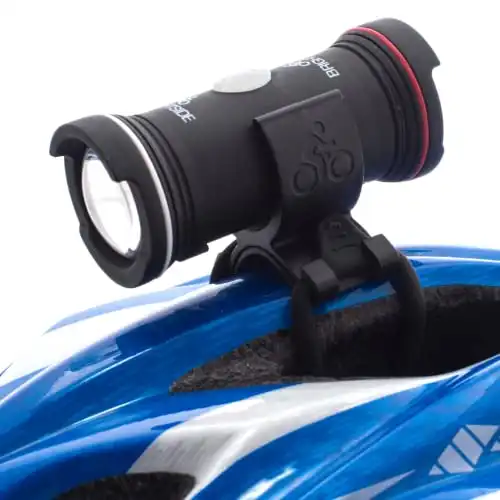 Pros:
Easy to install

Very lightweight

43-hour battery life

Two modes
Cons:
The beam could be stronger
View On Amazon
Let's kick things off with the Brightside Bike Helmet Light. It's a light that you can install within minutes. 
As for the number of lumens, you get a fixed 100 lumens. That's the benchmark number of lumens on a bike light, so that's nice to see. You also get an extra bonus of a tail light. This gives out 15 lumens to ensure drivers behind you can see you. 
It comes with two modes: flash and constant. You can easily change between modes using the top button. The top button will also alert you when the battery is running low. However, that won't be very often, as it lasts up to 43 hours!
Another feature I like is that Brightside Light is resistant to pretty much anything…dust, water, and frost, so it's a light you can depend on when you're out and about. 
What's surprising is how well this bicycle helmet light stays in place, even on uneven terrain. Especially when you factor in how lightweight it is, at only 68g!
There isn't anything too complicated about this light, and that's nice to see. It works as you'd expect and delivers what you want.
For a quick how-to mounting video – check this out:
Brightest Light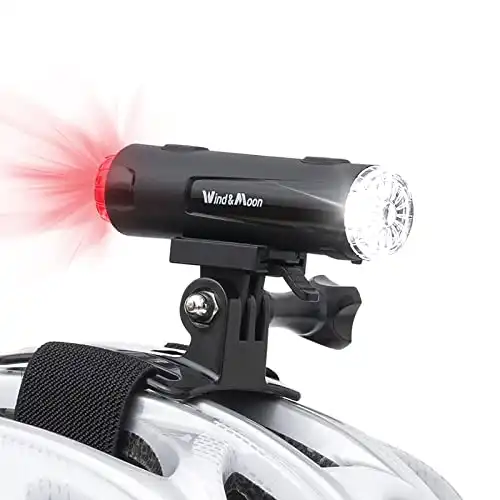 Pros:
2-in-1 design with both front and rear lights

Five lighting modes for various situations

Bright and lightweight
Cons:
Battery life may be shorter than expected

May require frequent recharging
View On Amazon
I recently tried the Semaho light and loved its incredible convenience and visibility. 
With a single purchase, you get a bright front and tail light that provides unparalleled 360º warning visibility. This combination lets drivers see us clearly, ensuring a safe ride in low-light conditions.
Its individual switch control sets this helmet light apart from others on the market. The front and rear lights can be turned on and off independently, and different modes can be changed without hassle.
It includes five lighting modes that are useful for various riding situations. This light is also the brightest in this roundup, with 200 lumens. 
The lightweight design also impressed me. Weighing only 75 grams, it did not feel heavy on my helmet. 
However, the battery life is shorter than expected, so frequent recharging might be necessary. Make sure you have a charging cable nearby when needed.
Budget Pick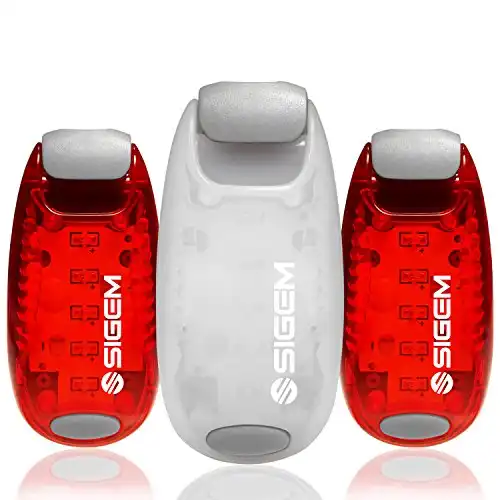 Pros:
Budget price

Lightweight

Fantastic battery life
Cons:
Not the easiest to attach
View On Amazon
The Sigem lights offer you flexibility from the point of purchase. The pack of lights comes with 3 lights. You can choose the color combination to give you the perfect setup. 
Each light comes with 5 LEDs built into them. They give out a decent amount of light, too! They are powered by 2 CR2032 batteries (think watch batteries, so they're readily available) and will last 100 hours. 
Batteries and extra batteries are included, so it will be a while before you'll need to buy a new set. When you do, Sigem has even included a screwdriver, so you don't have to find one of those to change your batteries either. 
Also included in the pack are velcro straps, 3 of them to be precise, so it's all straightforward to attach the lights to your helmet. 
I mentioned flexibility with these bike helmet lights, and the theme continues, with 3 different lighting modes available: steady, flash, and strobe. 
If you're looking for a downside, these LED bike helmet lights are water-resistant rather than waterproof. They're still going to hold up just fine with a bit of rain – you just can't submerge them. 
Overall, the design and price of these lights give you a feeling that Sigem has thought about every aspect of the design, and that's quite special.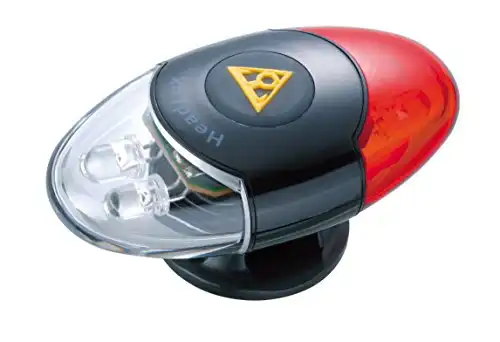 Pros:
Affordable

Lightweight

Battery is rechargeable

Installation is easy
Cons:
Better off using zip ties than the velcro strap provided
View On Amazon
View On Walmart
Suppose you're after a very lightweight helmet light with a decent visible range (of around 220 degrees). In that case, the Topeak HeadLux helmet light is the option. 
This helmet light is impressively light and weighs only 24g – if you're looking for a lighter bike helmet light, you will be hard-pushed, especially at this price point. 
Part of the package includes two white LED bulbs and two red ones. These give off enough light so that you can be seen. 
To top it off, you get three lighting modes: constant, blinking, and constant white/flashing red. Switching through these modes is done by pushing the button on the top of the helmet light. 
The battery life of this light is on par with what we've looked at today and is also an impressive 100 hours. This battery is rechargeable, so you don't have to worry about replacing batteries when it becomes flat.
Zip ties provide a better fit and make it more secure when installed, but Topeak does provide a velcro strap.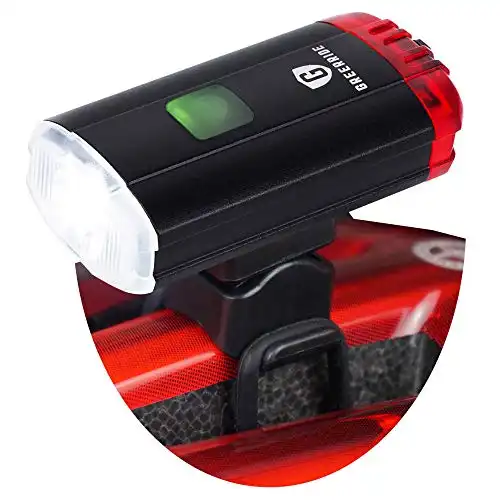 Pros:
Bright front light (100 lumens)

Lightweight and compact design

Rechargeable
Cons:
Rear light not as bright

Mounting bands may not fit all helmets

Not suitable for darker conditions
View On Amazon
Last but not least, the Greerride light.
The front light, at 100 lumens, is bright enough for on-road cycling, and it's perfect for increasing visibility to other road users. The various settings provide flexibility in adjusting the brightness and light patterns to suit your preferences.
The helmet light's lightweight and compact design is impressive, especially considering its brightness. Weighing only 60 grams, it added no noticeable weight to my helmet.
Its small size also ensures that it doesn't obstruct your view while cycling. The rechargeable feature is handy, so you don't have to frequently replace batteries.
However, I noticed the rear light wasn't as bright as I had hoped. While still visible, it may not be sufficient for dark environments or off-road cycling. Additionally, the provided mounting bands may not fit all helmet types securely, so consider this when purchasing.
Overall, the Greerride Rechargeable Bike Helmet Light provides excellent frontlight visibility and a compact design, making it suitable for urban night riding and increased safety.
Why Should You Use A Bike Helmet Rear Light?
Legally, having a light on your helmet is not a requirement, but that doesn't mean it isn't a good idea!
Simply, a rear bike helmet light will increase your visibility and mean that you can be seen more easily in traffic. 
When visibility becomes an issue, this can become even more important. In foggy conditions, having that extra light can make a difference. 
There is plenty to choose from, and they all come with different modes for their lights, but you're likely to use either constant or flashing. 
Constant lights are bright and help you be seen from a distance. A flashing light will draw attention to you and increase your visibility. 
I use a flashing cycle helmet rear light and a constant rear bike light. This is the right balance for me. Of course, this varies depending on the conditions, but that's my setup 99% of the time!
Need to pick up a new helmet? Check out the Best Winter Bike Helmets.
What To Consider When Buying A Bike Helmet Rear Light
When I'm looking for a bike helmet rear light, there are a few things I like to weigh up that help me to make a decision…I thought I'd share them with you! 
Lumens & Brightness
Now, I'm no Sherlock, but if you're buying a rear helmet light, it's probably because you want to be seen, so brightness is at the top of important things to consider.
It's easy to think that the brighter the light, the better it is, and I used to think that way.
Light levels are measured in lumens; the correct number of lumens will depend on where you're cycling, the light conditions, and the terrain. 
Having said all that, not all rear bike helmet lights are measured in lumens as there isn't the same requirement to be as bright as your front light. 
Quite often, rear lights are powered by LEDs. These are bright lights but won't dazzle other road users, which is perfect! 3 LEDs on the back of your helmet should do the job nicely.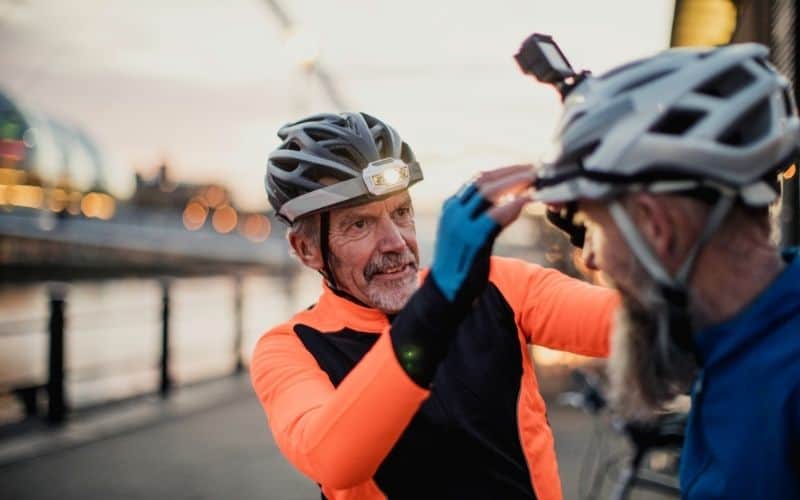 Installation & Mounting
Some lights are designed solely to fit helmets, others can be mounted onto helmets, so there are usually plenty of options.
Ensure that the light you're looking at is compatible with your helmet, as it isn't always the case. 
Many bike helmet rear lights can be mounted to the helmet using velcro straps (usually supplied with the light) or zip ties.
Consider whether you'd like to be able to remove your light quickly and easily before deciding on how to mount it. Zip ties keep things in place but don't offer the same flexibility as velcro straps!
Related article – How To Choose A Bike Helmet
Battery Life
There's no real benchmark when it comes to battery life. Equally, the power required to power these lights is minimal, so you can expect a reasonable runtime, almost whatever model you go for.
Most bicycle helmet lights come with different modes, which can affect the battery life, so I'd recommend reading the manufacturer's instructions on the impact of different modes. 
Typically, you should look at a battery life of around 80 to 100 hours. This should suit cyclists who enjoy long rides and those who commute without worrying about charging everything every night.
You should also consider how the battery is to be charged or replaced. 
Quite a lot of bike helmet rear lights use CR2023 batteries. This means you don't have to recharge them, and they usually give you a long battery time. However, there is the ongoing cost of replacing them when the time comes.
If you want to opt for the rechargeable option, it's as simple as plugging in your phone when the battery is low.
Durability
It's also important to factor in how durable the light will be. 
Consider whether you'll be riding in all weather conditions. If so, ensure that the light is waterproof rather than water-resistant. 
It's worth thinking about what the housing is made from. This is what will protect the components inside. Aluminum will give you that increase in durability compared to plastic. 
Don't forget to consider how durable the mount is, too, as this is holding the light onto your helmet!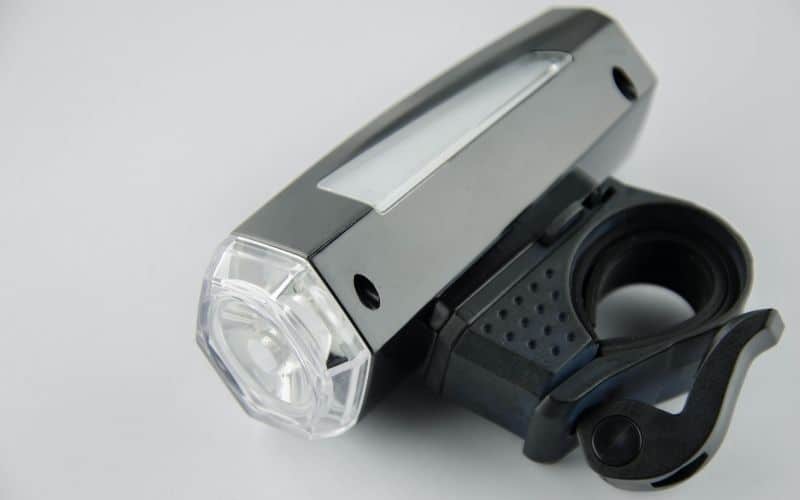 Frequently Asked Questions
What are the benefits of having a rear light on my bike helmet?
Helmet rear lights enhance safety by making cyclists more visible to motorists, especially during low-light conditions like dawn, dusk, and nighttime.
This added visibility can significantly reduce the risk of accidents and collisions, ensuring you're seen by other road users.
How do helmet rear lights differ from traditional bike tail lights?
While traditional bike tail lights attach to the bicycle's frame or seat post, helmet rear lights affix directly to the back of your helmet. This elevated position often provides better visibility to drivers, as the light is closer to their eye level.
Additionally, since the light moves with your head, it can draw more attention when you look around or check blind spots.