You've decided to up your cycling sock game? You've come to the right place!
We've compiled a list of the 7 best cycling socks on the market that will keep your feet dry, cool, and comfortable during even the longest rides. From breathable materials to cushioned soles, these socks will take your cycling game to the next level.
Get ready to say goodbye to blisters, discomfort, and smelly socks, and hello to the best ride of your life. So, grab your helmet, hop on your bike, and let's dive into the world of the best cycling socks!
Top 3 Cycling Socks
Pros:

Moisture-wicking properties

Excellent fit and support

Enhanced durability and longevity

Pros:

Merino wool provides excellent insulation

Natural odor resistance

Soft and comfortable on the skin

Pros:

Good fit with a double cuff design

Made with sustainable materials

Great color options
Top Pick
Pros:
Moisture-wicking properties

Excellent fit and support

Enhanced durability and longevity
Warmest Socks
Pros:
Merino wool provides excellent insulation

Natural odor resistance

Soft and comfortable on the skin
Most Colorful
Pros:
Good fit with a double cuff design

Made with sustainable materials

Great color options
For more options, see a detailed review below.
Things To Consider Before Buying Cycling Socks
Socks are socks, right? Wrong. They might not seem all that important for your ride, but a good pair of socks can make a big difference to your ride.  If you've ever worn an uncomfortable pair of socks whilst exercising then you'll know what I mean!
Also, who doesn't like wearing a funky pair of socks whilst riding around town? 😎
Cycling Socks Material
This is the most important aspect when deciding which pair of socks to buy. It will heavily depend on which season you're buying for as well.
If you're looking for winter socks, you'll want something a bit thicker to keep your toes warm and comfy. However, you'll also need the socks to be breathable so your feet aren't boiling. Vice versa for summer!
Synthetic fibers such as polyester or nylon are the most common types when looking for cycling socks. This is due to their ability to wick sweat and breathe easier than cotton socks. Merino wool is also quite popular for winter socks mainly due to their ability to keep your toes and feet warm. 
Most cycling socks will use a blend of these materials to achieve the desired combination of sweat-wicking, breathability, and comfort.
Length
The only reason why you would need to consider sock length is if you're trying to become a pro rider.  There are length restrictions that have been set by the Union Cycliste Internationale (governing body for cycling). If not, it's all about comfort and style!
Most cycling socks range from 3" (ankle socks) to 6-7" (mid-shin). Again, this is purely what you find comfortable when riding. Obviously the longer the socks, the more style you show 😎
An example of the longer socks would be the Swiftwick Performance Seven.
Compression Socks
Another option to consider is cycling compression socks. There are a lot of great benefits associated with these types of socks.
Provide extra support and boost blood flow by delivering additional pressure around the ankles and foot areas;
Ease muscle strain by helping the muscles to stay warmer for longer periods of time;
Help with muscle endurance during long rides as they reduce the incidences of muscle vibration; and
Great moisture-wicking material, making your feet feel "sweaty" and minimizes the risk of chafing
Aesthetics
Ok, this last one isn't a serious point! The only rule would be to make sure your socks match the rest of your kit! 😁
Once you select a comfy pair of socks, have fun mixing and matching the color, length, patterns, and materials of your cycling socks!
The Best Pair Of Cycling Socks Roundup
Top Pick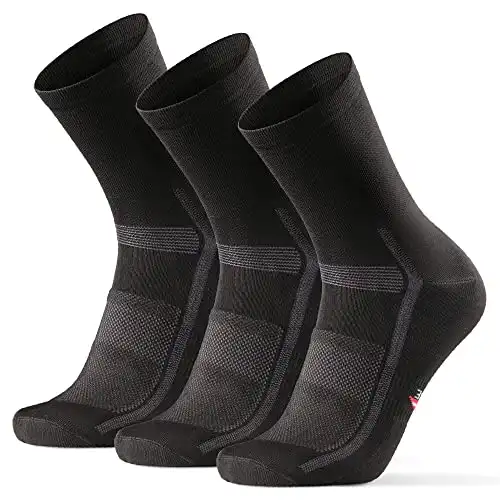 Designed in Denmark and produced in Portugal, these unisex socks are ideal for all types of cycling. These crew-length socks are made from a synthetic material called Prolen. This is a lightweight and breathable fabric, ideal for sweat-wicking, keeping your feet comfortable and dry.  These socks are padded in all the right spots, keeping your feet from rubbing and irritating the same spots whilst pedaling.
The pair I bought fit like a glove and did not constrict movement at all. The elastic at the top was nice and tight, but not overly constricting either. No slippage!  The only issue would be that these shrink slightly after the first wash. So if you're between sizes I would suggest going to the larger size.
Warmest Socks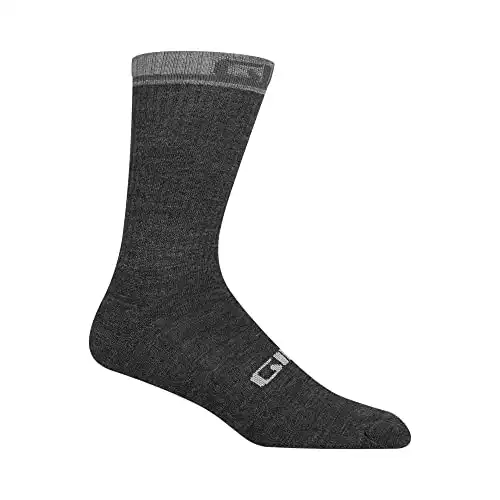 Giro has a reputation for producing top-quality cycling equipment. These Italian-made socks are no different.
As mentioned in the name, these winter-focused socks are made from a Merino wool blend. These will keep your feet nice and warm during those chilly winter rides!  These feature a 6" high-rise cuff and despite being made for winter, are still thin enough to slide into your cycling shoes easily. They also contain moisture-wicking properties and are naturally odor resistant.
Thumbs up for the variety of colors and patterns available!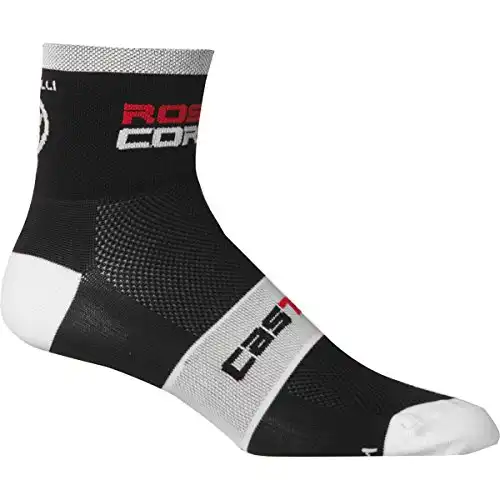 Another quality name in the cycling world, Castelli has long been a leader in producing quality cycling wear. These socks deliver on both style and performance!
The Castelli's are made from Meryl Skinlife, known for antibacterial properties. These are moisture-wicking and odor-reducing socks that will keep your feet feeling fresh after a long ride.  The temperature is also supported by the mesh material around the foot.
A midfoot support band is included to prevent your foot from slipping in your shoe.  Finally, the cuff offers optimal compression to ensure there are no re-adjusting socks every few minutes!
2XU 24/7
Pros:
Compression technology

Versatile for various activities

Excellent fit and arch support
Cons:
Expensive

Compression may not be suitable for all cyclists

Limited color options
View On Amazon
View On Walmart
2xu is well known for its compression garments for running, cycling, and triathlons. So, this pair of socks is a little different compared to the others in the roundup. Not only do these go all the way up to just under your knees, but they also feature compression properties.
These socks are ideal for longer rides as they will help to reduce muscle soreness and fatigue due to the graduated compression.
What is graduated compression? It is meant to help increase blood circulation and minimize lactic acid buildup. This then reduces muscle swelling and soreness, getting you ready for your next ride faster!
For additional comfort and performance, these lightweight socks have padded areas around the heel and balls of your feet. They also contain sweat-wicking properties and are rated as UPF 50+, helping to block harmful ultraviolet rays.
Most Colorful
Hands down DeFeet makes some of the funkiest patterns out there. So if you're fashion-conscious, you'll definitely want to check these out!
These American-made socks are better for warmer days, with the thin and breathable fabric that wicks moisture away from your feet.  They are made from a blend of Nylon, Recycled Polyester, and Lycra. The top-of-feet mesh design allows for maximum airflow and ventilation, keeping your feet from getting too toasty warm.  The double "StayFast" cuffs do the job well and firmly keep the socks from slipping down.
Big thumbs up from my side given the number of styles and patterns that are available from DeFeet!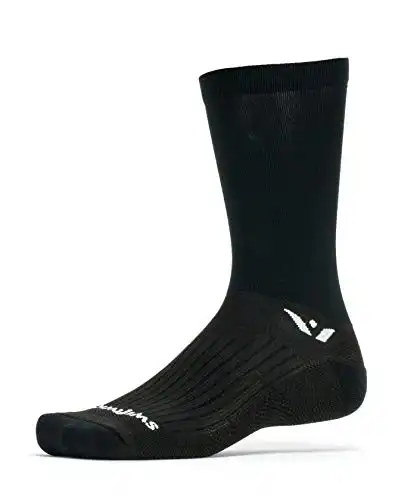 These are the original Swiftwick socks. These thin summer socks are made from a mix of nylon, olefin, and spandex. The olefin fiber helps to wick moisture away from the feet. It is also fast drying, helping your feet stay cool and dry during those hot summer rides.
They feature a moderate compression feeling which helps to improve blood circulation during long rides. To boost the durability and comfort of these socks, the heel and toe areas are padded with additional nylon.
To make up for the lack of color variety, Swiftwick offers these in additional cuff heights.
These Gore Wear unisex socks function for all weather conditions. These mid-length socks have been made specifically for cycling but are also ideal for running.
These are made from a mix of polyamide and elastane, allowing for a bit of stretch during your ride or run.  To prevent blisters, extra padding has been placed around the Achilles tendon, heels, and toes.
These are also designed with fewer seams and are flat-locked. The flat locking decreases the chance of chafing during repetitive pedaling or running strides.
These come in a variety of colors which is always a plus in my books!
Summary
Cycling socks are generally more expensive than a pair of sports socks. That being said, the extra costs of a pair of cycling socks can really improve your comfort and performance. Just make sure you're picking up the right pair of seasonal socks!
The Danish Endurance Cycling Socks are my top overall pick.  They are VERY comfortable, have a snug fit, and are very smooth which allows them to slide easily in and out of my cycling shoes. Also, durability hasn't been an issue for me.
For context, I've had my set now for about 6 months and used it 3-4 times a week whilst road cycling or indoor spinning. My only wish is that they start producing more colors and designs.
Need some socks for your hands (ok gloves 😂) to keep you warm? Check out these winter cycling gloves!
You may also be interested in: