There are just two things winter cycling gloves need to do well.  That is, keep your hands warm and allow you to shift and brake. As we enter the colder half of the year, a dependable pair of winter cycling gloves becomes one of the most important elements of your cycling kit.
Cycling gloves are different to normal gloves because of the weatherproof tech that goes into them.  To protect your hands from harsh winter conditions, manufacturers have made these gloves, dextile, windproof, waterproof, breathable, and sweat-wicking.
In this article, we'll look at a handful (🤣) of the best cycling gloves on the market so that your hands stay warm when the weather is chilly.
Here are a few ideas about which winter cycling gloves might work for you:
Things To Consider Before Buying Winter Cycling Gloves
Winter-proofing
As all cyclists know, your hands take a beating during the winter months.  They sit on the handlebars welcoming the cold wind with the occasional movement to shift gears or brake.  Depending on how crazy you are, there will be winter cycling gloves designed for a mild winter or ones that are basically for snow riding. So, to prevent your fingers from falling off, you should make sure the gloves have these features!
Windproof and Waterproof
Winter cycling gloves are usually advertised with a Durable Water Repellent (DWR) treated material, waterproof fabric, or windproof fabric.  
The DWR coating will help ensure that water beads don't soak into the gloves and instead slides off them.  One thing to note with DWR is that it isn't a replacement for waterproofing and the effect does wear off over time.
Another type of fabric that appears frequently in winter gloves is the Gore Windstopper. Gore Wear describes the material as a "membrane that is an ultra-thin protective layer which is laminated to a lightweight textile layer, making it totally windproof."
We've found that the level of waterproofness you need is a personal preference.  Some people are happy to sacrifice a bit of waterproofness if they're riding in mild winter conditions, but some refuse to let their hands get wet at all.  A good waterproof layer should protect your hands from the elements, keep your hands dry and also be breathable.
Related article – Best Cycling Shoe Covers For Wet And Winter Rides
Thermal Insulation
Gloves can come in two types of insulation, namely, down insulation or synthetic insulation.  Most on the market come with synthetic insulation due to the balance of warmth, breathability, and ability to dry when wet.
Again the level of insulation in cycling gloves will be very much a personal preference.  The goal here is to find the right level of insulation and breathability.  This helps to ensure that your hands don't overheat and turn all sweaty and clammy for the majority of your ride.
Need some additional warmth? Check out the Best Cycling Balaclava For Winter Cycling.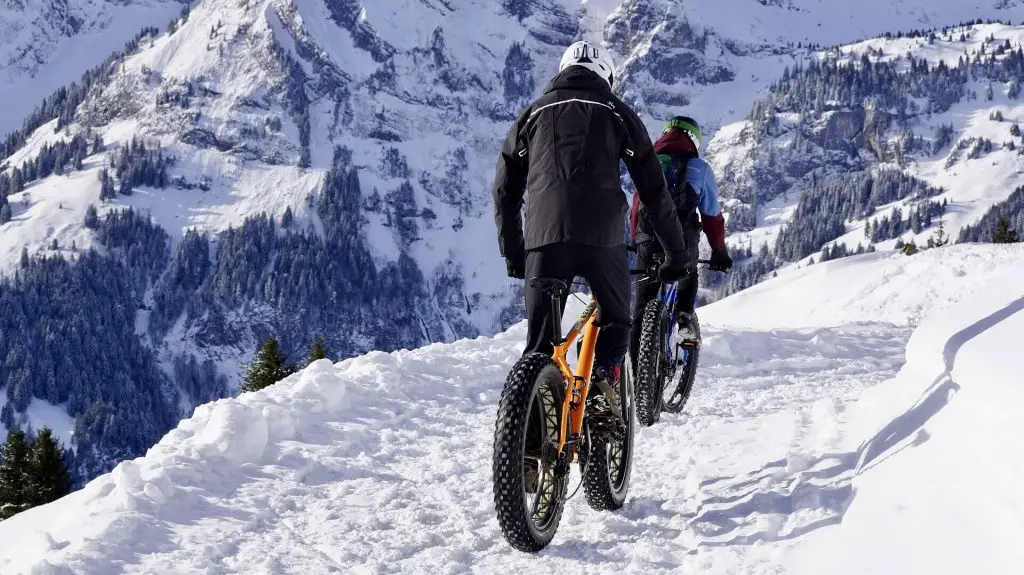 Touchscreen Friendly
Whether it's a smartphone or a smartwatch, most of our favorite cycling gadgets today have a touchscreen function.  Until recently, most cycling gloves and touchscreens didn't really play nice.
Welcome to the new range of e-touch gloves. These will allow you to control your device without exposing your hands to the elements.  Just be a bit careful with these as compatibility/performance with touch screens can vary.
Size And Fit
Last but not least, your gloves should fit nice and snug.  This will help ensure that you can still feel the handlebars, shifters, and brakes properly. Gloves that don't fit well will likely cause chafing, lose warmth or constrict the blood flow to your hands.
Just remember to check the manufacturer's sizing guide 🙂
Other Considerations
A couple of other small details that are usually overlooked are reflective patches for additional visibility and a glove cuff that is long enough to overlap with your winter cycling jacket.
Related article – How To Layer For Winter Cycling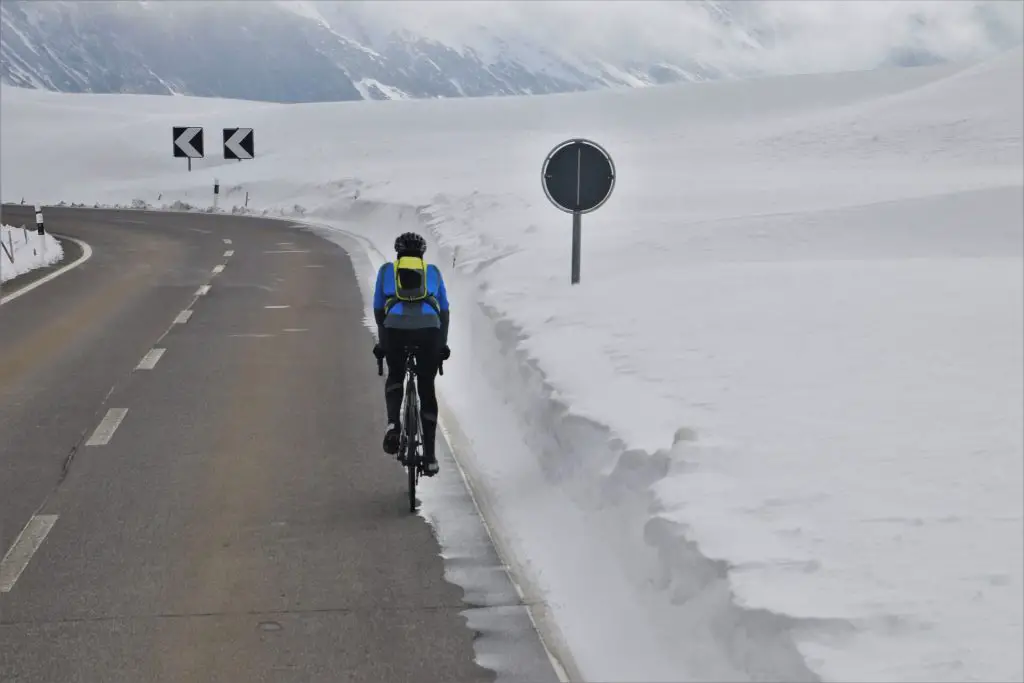 The Best Winter Cycling Gloves Roundup
The Giro Blaze 2.0 Gloves are an excellent option for milder winter conditions.  They are slim, flexible and lightweight, making them easy to take off and put into a jersey pocket if things get too warm.
To keep your hands from getting too cold, Giro uses a soft thermal fleece lining.  On the back of the hand, these gloves use a wind and water-repellent Polartec Windbloc fabric.  The cuff itself is made of stretchy neoprene and is a good length, keeping your wrists covered up too.
Giro has opted for a suede palm that has a thin layer of gel padding on the heel of the hand.  This should improve comfort during longer rides. They have used a conductive thread around the fingertips which enables it to work with touchscreen devices. A few users have reported that the touchscreen functionality is a bit patchy though.
These are available in Black or Highlight Yellow-Black.
---
The DeFeet E-Touch Dura Gloves are designed for milder winter days, with the recommended temperature being 40°F to 60°F (4°C to 16°C).  These simple and comfortable gloves are made from nylon, recycled polyester and lycra.  They provide good grip and control of the bike due to the rubber DeFeet logos covering the inside of the glove.
As you probably guessed already, the E-Touch refers to the fact that these gloves work with touchscreen devices.  DeFeet has used a Silver yarn at the tips of the index and middle fingers, and thumb. A selfie without your hands freezing, win win!
As usual with DeFeet these come in a range of bright colors.
---
As with most Castelli wear, they have delivered a pair of premium gloves at a premium price. These gloves have been designed to operate in the 43°-50°F / 6°-10°C temperature range.  Castelli uses a range of materials to ensure that these gloves are comfortable, provide enough warmth, are water resistant and windproof.
The exterior of the gloves are made using a Gore-Tex Infinium Windstopper fabric.  This material blocks off all wind, resists light rain by beading up water instead of soaking through and is breathable so your hands don't go all sweaty and clammy.
The interior is insulated with a light fleece material, keeping your hands toasty warm during winter conditions. On the inside of the hand, they have added areas of grip and padding around the palms to improve comfort during longer rides.  The cuffs include a neoprene material that stretches, allowing you to take the gloves on and off easily. 
The overall package is quite thin and provides plenty of dexterity for shifting and braking.
---
The DexShell ThermFit Neo Gloves provide weatherproofing and dexterity during those wet and wintry bike rides.  Key requirements of winter cycling gloves!  DexShell uses a three-layer system and extra long cuffs to keep your hands dry and warm.
The outer shell is made up of nylon, elastane and elastics. There's a Porelle membrane fabric in between that helps provide the waterproof cover and breathability.  Finally, the inner layer is made from terry loop merino wool.  Basically what this means is, the gloves are soft inside, have a nice tight fit, and ward off the elements pretty well!
---
If you're looking for a pair of gloves for deep winter rides, have a look at the Amfibs.  These will keep you toasty warm with the Primaloft Gold insulation. This material is able to lock in the heat whilst not being too bulky as well.  The synthetic insulation is also water-resistant and breathable.
To keep your hands dry from the snow, the soft shell is coated with a Durable Water Repellent finish that provides wind and water protection. There's also various reflective elements for low–light visibility and synthetic leather on the palms to improve durability. They've also added a nice touch on the thumb by including a soft fleece wiping surface, for wiping your glasses or snots… 🙂
With all this warmth and weather protection, you'd think these would be too bulky?  Well it's still surprisingly easy to handle the shifters and brakes.  Great all-arounder gloves for riding from 45°F to freezing.
---
These gloves will definitely turn heads whilst cycling around on a biting winter day!  You'll look a bit different… but you'll definitely be warm.  Despite being fairly bulky for sub zero temperatures, the design makes it easy for you to grab the brakes.  It also provides some flexibility that full mittens don't have. The Nordic Gloves are also equipped with touch screen compatibility but good luck not fat finger texting the wrong person…
These gloves are really well insulated and use windproof and water-resistant fabrics to keep your hands safe from the elements.  Even with how thick these gloves are, they've still included a gel padding to make sure your hands are really comfortable! The sweat / snot wiper is a nice touch too.  The pull cord cuff ensures that the warmth is trapped inside the gloves.
---
Summary
When it comes to winter cycling gloves, there's such a wide range available from numerous cycling brands. Ultimately, it comes down to personal preference (i.e. are your hands always cold?) and weather conditions you're riding in.
If you're looking for a great all round pair of gloves for mild winter conditions, then take a look at the DexShell Thermfit Neo Gloves.  If you enjoy those arctic winter rides, then we suggest you take a look at the Pearl Izumi Pro AMFIB Gloves.
Need some options for keeping your feet warm too? Check out the best cycling socks!
Thanks for reading and drop us a comment below if you have any questions!