Are you tired of sore feet and blisters ruining your bike touring adventures? Don't let uncomfortable shoes hold you back any longer!
Whether you're a seasoned tourer or a newbie, finding the perfect pair of cycling shoes can make all the difference in your experience. But with so many options on the market, choosing can be overwhelming.
That's why we've researched for you and compiled a list of the best touring cycling shoes for both men and women.
So, sit back, relax, and let us take the guesswork out of your next shoe purchase. Just focus on where you should be riding next!
In A Rush? Here Are Our Top Picks…
Pros:

Compatible with all cleat types

Hook and lock velcro straps

Ventilated mesh portions

Durable synthetic leather

Offer maximum power transfer

Pros:

Light and portable

Fit well

Aesthetic design and shape

Shoes are machine washable

Comfortable for touring

Pros:

Sturdy laces for a better fit

Padded collar

Breathable lining

Comfortable footbed

High friction outsole
Top Pick
Pros:
Compatible with all cleat types

Hook and lock velcro straps

Ventilated mesh portions

Durable synthetic leather

Offer maximum power transfer
Most Comfortable
Pros:
Light and portable

Fit well

Aesthetic design and shape

Shoes are machine washable

Comfortable for touring
Best Multi-Purpose Option
Pros:
Sturdy laces for a better fit

Padded collar

Breathable lining

Comfortable footbed

High friction outsole
Best Touring Cycling Shoes On The Market Today
Top Pick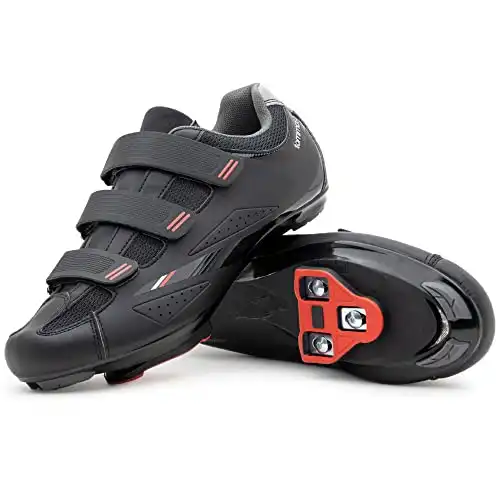 Pros:
Compatible with all cleat types

Hook and lock velcro straps

Ventilated mesh portions

Durable synthetic leather

Offer maximum power transfer
View On Amazon
The Tommaso Strada is explicitly designed for comfort and optimal power transfer, making your rides smoother and more efficient.
With a secure three-strap design, they're ready to roll no matter what pedal system you're on, thanks to the included cleats and installation wrench.
But these shoes aren't just about performance. They're about comfort too. The synthetic leather upper wraps around your foot, while the ventilated mesh keeps your feet cool even on the longest rides.
The low-profile hook and lock Velcro straps provide a precise fit, and the fiberglass-reinforced sole delivers optimal stiffness for maximum power on every pedal stroke.
They might not be the flashiest, but they sure deliver on functionality. So if you're ready for a more comfortable and efficient ride, gear up with the Tommaso Strada. Your cycling tours will always be different!
Most Comfortable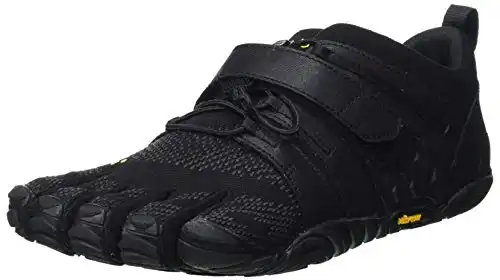 Pros:
Light and portable

Fit well

Aesthetic design and shape

Shoes are machine washable

Comfortable for touring
Cons:
Extended use can result in sore calves for beginners

Smelly feet
View On Amazon
View On Walmart
The Vibram FiveFingers is the ideal cycling shoe for touring cyclists. These are good quality shoes that feel comfortable and offer protection when riding.
They offer good toe articulation for outstanding balance and stability when riding on different terrains while touring. The Vibram FiveFingers shoes feature quality upper construction suitable for heavy training and performance.
As with all Vibram shoes, they match the experience of being barefoot while still offering protection for your feet. They are stiff at first, but they become very comfortable once you wear them for a while.
You might also need breathable toe socks to prevent your feet from smelling bad due to sweat or long hours of riding!
The modern lacing system has a softer feel and comfort when riding. It is perfect for lateral movements and more aggressive cycling.
You will easily cycle with these shoes because it is like wearing foot gloves!
Best Multi-Purpose Option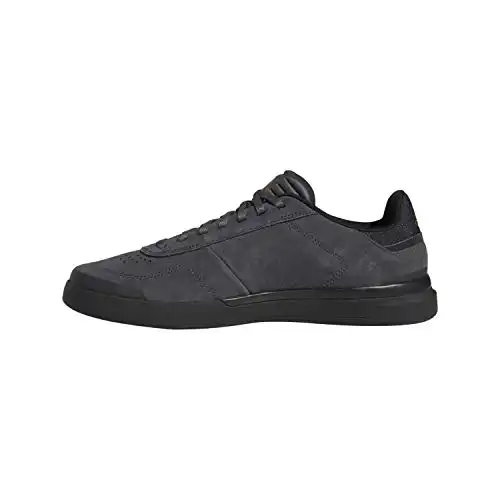 These shoes are a tremendous multi-sport option. These offer something for all uses, from a skate park to gravel roads. 
The rubber sole offers excellent traction and is comfortable for touring cyclists. It offers the unbeatable grip you won't get from other cycling shoes. The dotty tread is suitable for pedal control and maximum grip when cycling.
These shoes feature a suede upper that provides flexibility during motion and comfort all day. You don't have to worry about sore feet when cycling for long tour rides.
It also features a lace closure to secure your feet. These offer traditional sturdy laces for a more secure fit when you wear the shoes.
The breathable textile lining on these cycling shoes also makes them ideal for cyclists looking for some additional comfort against the environment. The cushioned textile footbed also adds to the comfort you need when riding bikes all day or for extended periods.
The Five Ten Sleuth DLX cycling shoes come in various colorways, perfect to match your apparel. This is an ideal option if you are looking for durability and excellent grip from the next cycling pair you purchase.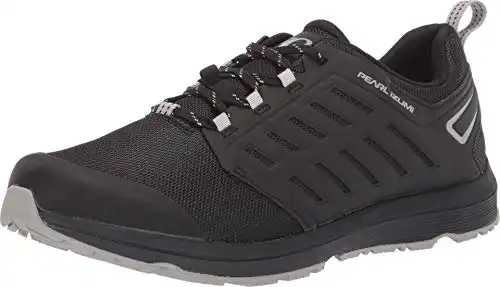 Pros:
Good grip on the bike

Comfortable soles for all-day riding

Lightweight cycling shoes

The design provides protection

Durable cycling shoes
Cons:
The upper vents let in water

Laces lack elasticity
View On Amazon
View On Competitive Cyclist
A cycling shoe designed for touring and adventure – specifically, they dry up in relatively short order once they're wet.
The upper of these cycling shoes is seamlessly bonded to provide comfort and additional breathability. This feature also adds to these cycling shoes' durability, making them an excellent option for touring cyclists.
The quick-lacing closure is convenient and will keep your foot secure when riding on different terrains. This closure is suitable for adjusting when riding long distances.
The lightweight EVA midsole adds comfort when riding all day. The outer sole features carbon rubber for better traction and durability. The rubber sole is soft and grips well on the rocks when riding.
You don't have to worry about these PEARL IZUMI cycling shoes wearing out after cycling for days or weeks.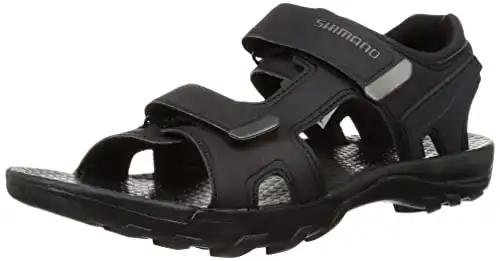 Pros:
Flexible and comfortable shoes

Breathable sandals

Secure dual strap closure

Soft and durable leather design
Cons:
These shoes can run a bit tight

Poor cushioning
View On Ama
View On JensonUSA
If you want quality and durable sandals for the next ride, try out the Shimano SD5 cycling shoes. You can expect nothing less than quality from Shimano. 
The upper material is made of mesh and synthetic leather. The sole is made of rubber to ensure you are comfortable when riding. These shoes also feature a dual strap closure. These materials are durable to last you months, if not years, of bike riding.
The design of the Shimano SD5 is suitable for long rides because of its breathable and easy to wear. These cycling sandals with a fiberglass-reinforced rubber sole are compatible with a two-bolt cleat.
You will feel the soothing breeze on your feet and the traction on the pedals when cycling.
The Shimano SD5 is easy to slip on and off, which is convenient when touring. You will love having your toes free when cycling through nature. You will hardly notice they are on when riding.
If you are looking for complete ventilation when riding, the Shimano SD5 is a great choice.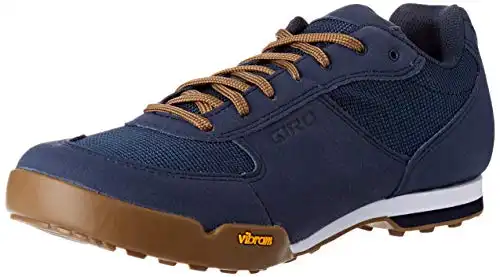 Pros:
Breathable synthetic material

Clipless pedal compatibility

Comfortable and Supportive

Easily adjustable
Cons:
Laces aren't for every cyclist
View On Amazon
View On Walmart
These shoes are comfortable and suitable for adventures on trails, paths, and roads. The suede synthetic is breathable with a mesh upper for a supportive fit.
With quality laces, you can adjust the fit of these shoes to get a snug fit. These laces are one of the lightest closures available that are still very secure.
The injected nylon plate allows for efficient power transfer. With these shoes, you can enjoy energy-efficient pedaling and better touring performance.
The outer sole offers high traction for better grip and stability when riding your bike. These cycling shoes work with 2-bolt pedal and cleat systems, including Crank Brothers, Time ATAC, and Shimano SPD.
The Giro's includes a die-cut EVA footbed that offers medium arch support. Your feet will be well balanced and reduce risks of injury when biking.
Overall, these shoes are high-quality and easy to wear when you go touring.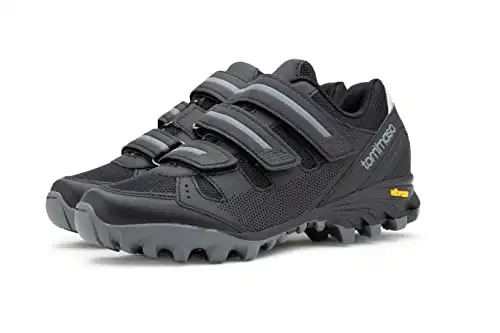 Pros:
Versatile shoes

Padding for increased comfort

Secure velcro straps

Grippy Vibram sole

Stable and breathable
View On Amazon
The Tommaso Vertice Touring shoes are yet another quality cycling pair of shoes from Tommaso.
Some great features of this pair include the ultra-rugged grippy Vibram sole and reinforced toe box. It can easily handle whatever trail you choose to ride. You can count on these shoes for fantastic grip, stability, and weather resistance.
It has a quick and reliable closure system to keep your feet secure. The Velcro straps will offer a perfect fit whenever you wear the shoes.
The extra padding will ensure these shoes fit like a glove. The inner shank plate allows for optimum power transfer, meaning you can conserve energy during long rides.
No matter where you are riding, these shoes will provide you with the support and performance you need.
How To Choose the Best Touring Cycling Shoes 
Touring requires a specific type and make of cycling shoes. Your cycling shoes can't be too soft or rigid on a long-distance ride. Otherwise, you'll be settling in for a very uncomfortable ride!
If you need to know more about the right cycling shoes, here are some considerations to make.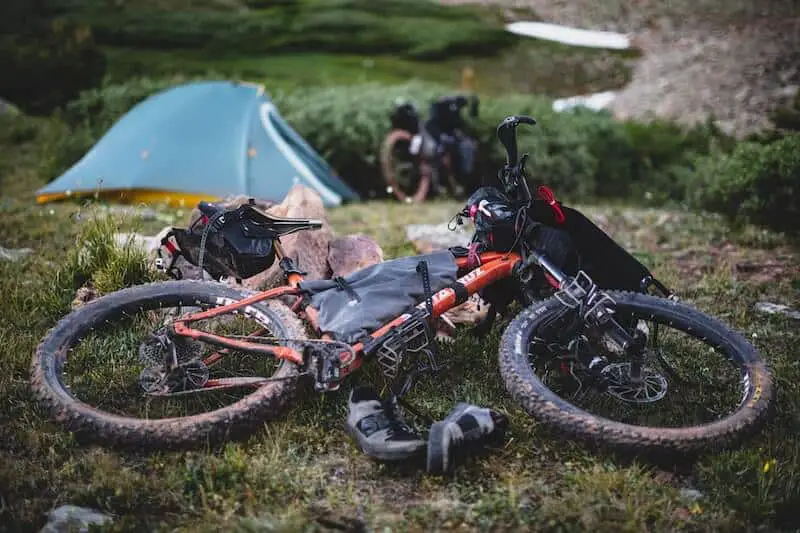 Ventilation
It is impossible to predict the weather, and you don't know what you will encounter on long-distance trips.
You might have to ride through streams or when it's raining, so having shoes with good ventilation will help. This feature makes it easier for them to dry, so you aren't riding around in uncomfortable wet shoes.
Breathable shoes are also better for touring cyclists due to the distance and nature of the rides.
Type Of Closure
The top of your cycling shoe is essential because this is where you adjust the shoe. You need to be able to quickly and efficiently adjust cycling shoes no matter where you are cycling. 
Three main types of closures can help you. You can choose between laces, velcro straps, and BOA lacing. 
Laces may not be the best option because you can't adjust your shoe's tightness while riding your bike. Laces also get dirty quickly and, worse, stuck in your chain, which can be dangerous.
It takes much longer to loosen, and unless you are part of the Cirque du Soleil crew, you'll need to get off your bike!
Velcro straps are more popular because they are quick and easy to open.
You can adjust your shoe even when riding your bike. Unfortunately, you might have to clean them more frequently because they get dirty faster.
BOA lacing is a good choice for most riders. It features a dial system to evenly distribute the pressure across the shoe for a better fit.
All you have to do is turn the dials to loosen or tighten the cycling shoes. They are also comfortable and more convenient when touring.
Sole Design
The soles of your shoes will significantly determine your comfort when cycling.
The midsoles are the layer between your foot and the outer sole. They should feature quality padding to provide additional support for hours of pedaling.
Outsoles refer to the part of your cycling shoe that is in contact with the ground or pedals when riding. Touring shoes require soft and sticky outsoles to grip the pedal better when riding your bike.
Some of the best touring cycling shoes have rubber soles and deeper grooves for a better grip, even when the weather is terrible.
Avoid choosing cycling shoes that are too rigid. These might be too uncomfortable to walk with when off your bike. They should also be flexible for easier and faster movement.
Clipless Shoes Or Flat Shoes
When choosing the perfect cycling shoes, you can select between clipless and flat shoes. 
Flat shoes are compatible with a flat pedal which is the standard bicycle pedal. The flat pedal is compatible with almost any cycling shoe. 
Clipless cycling shoes mean that your touring shoes clip into the bicycle pedal.
Clipless shoes are great because you can quickly transfer power between your leg and the bike pedal. By clipping your shoe to the pedal, you also exert power when pulling up when cycling. 
You don't have to worry about putting too much pressure on specific muscles when riding with clipless shoes.
These shoes are also safer and improve your performance when cycling. Your legs will be stable, and your feet will remain connected to the pedals even when riding on rocky terrain. Although they might take some time to adjust to, they are worth the effort!
Check out this video on clipless vs. flat shoes:
Cycling Pedals
The type and brand of cycling pedal you choose for your touring bike depends on the shoes you buy.
Touring cyclists are advised to choose pedals with a broader, more diverse platform. If you buy clipless shoes, you will need pedals with clips for attachment.
If you go for flat shoes, you can buy flat pedals to ride comfortably. Some riders still prefer platform pedals because they are easy to use and convenient.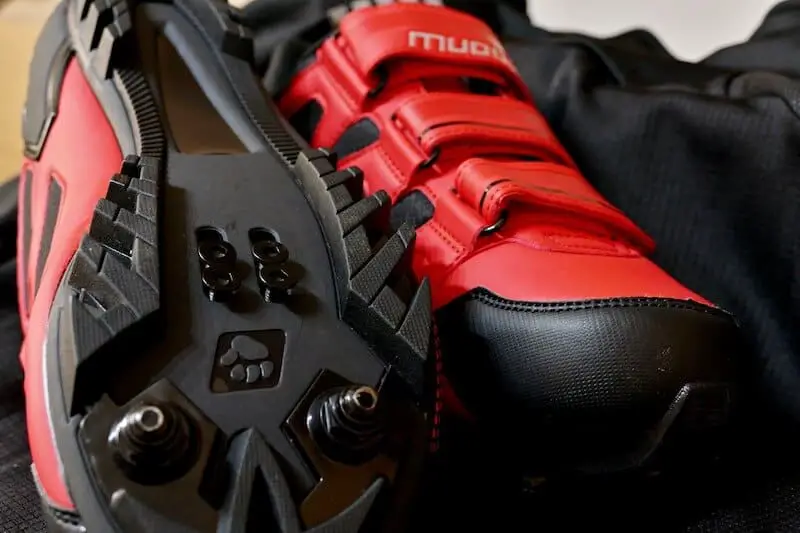 Frequently Asked Questions
Are road cycling shoes suitable for bike touring?
While road cycling shoes are designed for performance, they may not always be the best option for touring.
Road shoes' stiffer soles and tight fit can become uncomfortable on long rides and aren't typically designed for walking comfort.
Touring shoes balance pedaling efficiency and walking comfort, making them more suitable for most bike touring trips.
How important is the fit of a touring cycling shoe?
The fit of a touring cycling shoe is critical.
Shoes that are too tight can cause discomfort or numbness. Shoes that are too loose can lead to less efficient power transfer or even blisters.
The best touring cycling shoes should fit snugly without squeezing your foot, with enough room to wiggle your toes.
Remember, feet can swell over long distances, so consider this when choosing your size.
Are there any specific touring cycling shoes that are great for wet weather?
Touring cycling shoes, like the Giro Rumble VR, are designed with wet weather in mind. 
They feature waterproof or water-resistant materials to keep your feet dry in the rain. These shoes also have robust traction for safety on wet and slippery surfaces.