The Tron Bike is the coolest bike on Zwift and I won't be told otherwise but how to get the Zwift Tron Bike can be a mystery to some.
A lot of climbing is the short answer. To get the Tron Bike, you need to climb a total of 50,000 meters on Zwift. You need to complete the Everest Challenge and then climb another 42,000 meters.
I'm going to tell you a few ways you can help make your climbing time go more quickly so let's get to it!
What Is A Tron Bike?
A Tron Bike is the most coveted bike in Zwift. You have to work for it but it's fast and looks super cool, so worth the effort! 
The Tron Bikes' actual name is "Zwift Concept Z1". Most likely can't be referred to as "Tron Bike" for intellectual property reasons but everyone calls it the Tron Bike, so make sure you do too!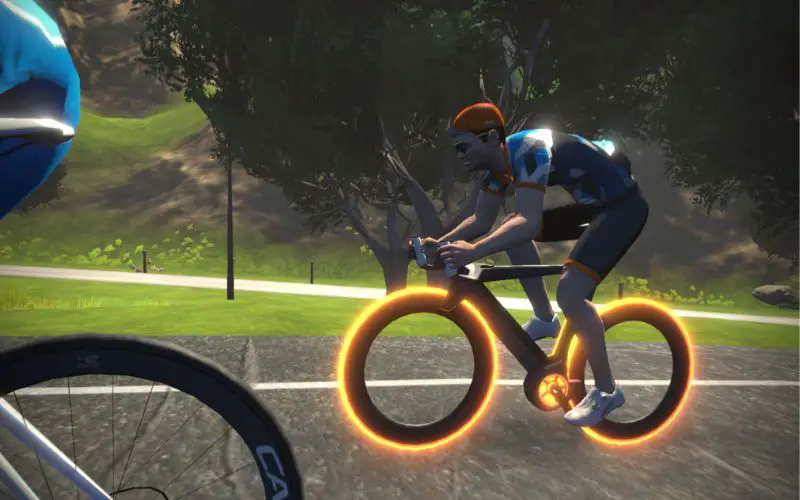 How Do You Get A Tron Bike?
So now you probably want a Tron Bike and I don't blame you. Here's how you get one.
You need to climb the height of Everest. This is around 8,800 meters. Then you also need to add another 42,000 meters to that too. So 50,000 meters in total.
My recommendation, when you download Zwift the first thing you should do is sign up for the Everest Challenge.
Why?
Well, the meters only count when once you've entered the challenge so start making those meters count straight away.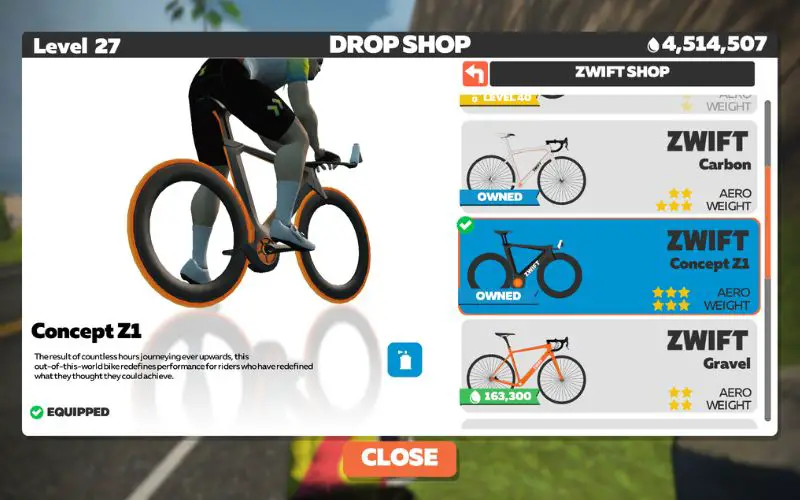 What Is The Fastest Way To Get Tron Bike In Zwift?
You can basically do any route you want as long as you're racking up those meters. 
If you are determined it's straightforward – hill repeats are the quickest way.
You can also focus your efforts on hilly routes. ERG mode will take over and it's easier when there aren't constant changes in gradients but you're still getting your meters. 
Another way you can do this is by coming up with your own workout and having a set power output in ERG. This means you can stick at a level you are comfortable with.
You might read on other sites that you can get a Tron Bike more quickly by reducing your weight. Don't be that person. Earn your Tron Bike, otherwise what's the point?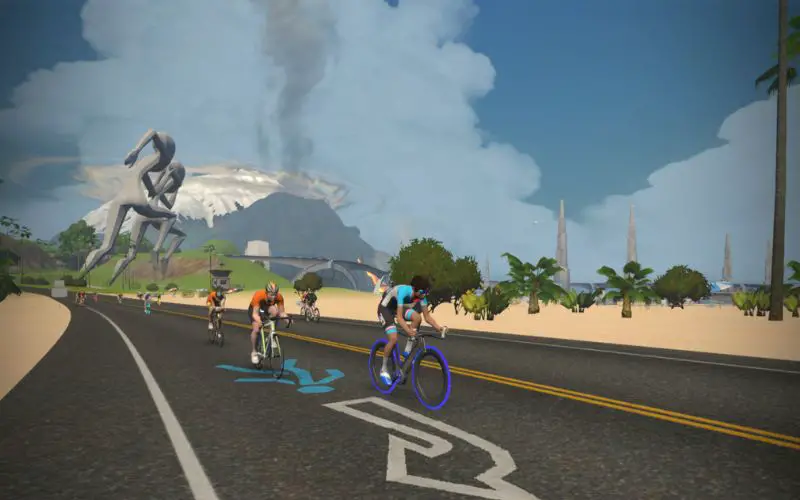 What Zwift Climbs Should I Target?
Epic KOM – Watopia
The Epic KOM is a ride to the Radio Tower in Watopia. It is 414m elevation, which means you'll need to do it around 120 times to get a Tron Bike. 
It's one of the steeper climbs on Zwift so you won't have to do as many miles to get there.
Alpe Du Zwift – Watopia
Alpe Du Zwift is the longest climb on Zwift and it's a complete replica of the famous Alpe d'Huez.
It totals 1,144 meters so you'll need to ride it 44 times to bag the Tron. This was my personal preference in achieving my Tron Bike!
You're looking at around an hour to complete this ride at a decent pace so around 44 hours to complete the Tron Bike challenge. 
It's the quickest way to complete it but probably the toughest.
Related article – How To Ride Alpe Du Zwift – A Beginner's Guide
Hilly KOM – Watopia
The Hilly KOM is available to everyone on Zwift and it's a short one. A real short one.
It will take you around 2 – 4 minutes, then you just need to turn round and repeat…around 1,000 times.
If you're looking for a gentle way to get a Tron bike, this is it. However, it's also incredibly dull so kudos if you manage to do it this way!
Fox Hill Surrey Hills – London
Heading to London this time.
The Surrey Hills route includes a segment known as Fox Hill. It will get you 120m of elevation. With an average of 4% gradient, peaking at 11% it's a steady 2.8km climb.
It will take you 416 climbs to achieve your goal with this one.
Leith Hill – London
Staying on the Surrey Hills course, we have Leith Hill. It's tougher than Fox Hill but it's a good one for those who like climbing. 
The length is around 1.95km and averages 7%, with some fairly decent spikes above that. 
Having said that, it'll take 373 climbs so fewer climbs than Fox Hill.
Innsbruck KOM
The Innsbruck Forward segment has an average gradient of 5% but expect to be climbing at a 12% often. 
This is a good option for riders who like climbing as the total elevation is 400m so only 125 climbs are needed – not bad! 
How Much Does A Tron Bike Cost?
It costs 50,000 meters of climbing! You can't purchase the Tron Bike through anything other than time, sweat, and a lot of climbing.
Is The Tron Bike The Fastest Bike In Zwift?
The Tron bike is one of the fastest available on Zwift but it's not the fastest. That spot is held by the Specialized Venge S-Works…on the flat courses. 
When you add climbing into the mix, the Felt AR is actually the quickest bike. 
The Cervelo S5 comes in third quickest, though it is matched by the Trek Madone on the flat. 
The Tron bike actually comes in at the 7th quickest bike on Zwift. What you often find is that the Tron bike can outperform a lot of these bikes on the flat or rolling routes, especially if they aren't paired with the correct wheelset. 
Frequently Asked Question
How Do You Unlock The Trek Emonda In Zwift?
To get the Trek Edmonda you need to complete the Everest Challenge. In order to do this, you need to sign up for the challenge, you aren't automatically entered. 
When you're in the game, click on the Menu button. You will then see an image for challenges on the top right. 
From there you can enter the challenge. Time to climb 8,850 meters, or 29,028ft if you prefer!
What's going to be your preferred ways to get your Tron Bike?
Related article – Zwift Setup Ideas For Any Budget