If you're preparing for an event or want to maintain a regular fitness level, using an indoor mountain bike trainer is an excellent option. But which trainer do you buy? And how can you tell a good trainer from a bad one? To answer both these questions and many more that you may have, we have compiled a list of the four best indoor mountain bike trainers. 
We have reviewed the following indoor mountain bike trainers: 
How To Choose an Indoor Mountain Bike Trainer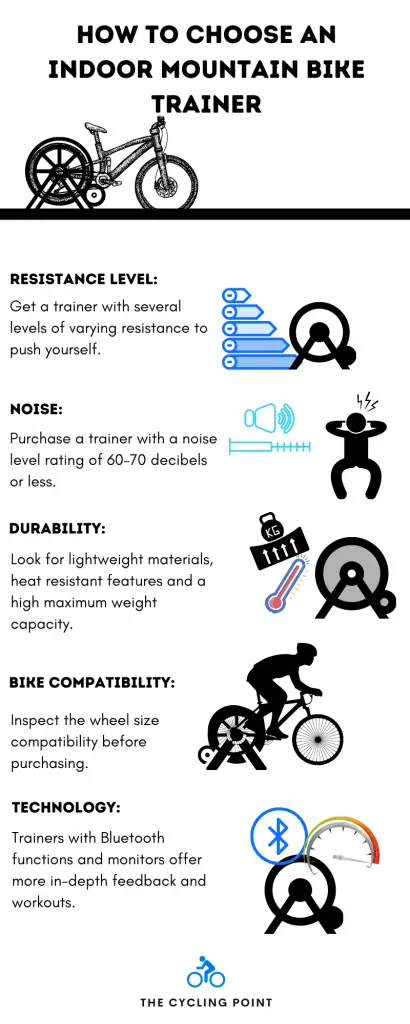 An indoor mountain bike trainer allows you to ride your bicycle while it's stationary. This makes it suitable for training during rough weather conditions or when it's dark outside. It usually consists of a frame that makes the bike stable, a roller that ensures you can cycle and a mechanism that creates varying degrees of resistance for the best workout. 
Unlike regular bike trainers, you should get one that's compatible with mountain bikes. This will help simulate the environment you're most likely to use your mountain bike in. Below are pointers you should look for when buying an indoor mountain bike trainer. 
Resistance Levels 
You may want to purchase a bike trainer that offers varying levels of resistance. If a bike trainer is always going to feel the same, then there's no way you can effectively train. The body trains efficiently through progressive overload. In our case, this means gradually increasing the resistance a bike trainer has until you're in top shape. 
It's likely that building up your fitness is important to you. So, look for a bike trainer that offers at least six levels of resistance. This will give you enough training variations to have an effective workout plan. 
Noise
We all have neighbors, and we'd prefer it if they didn't have to hear our workout. Fortunately, bike trainers have become much quieter than previous versions, but some types are better than others. The four most common types of bike trainers are: 
Wind resistance: These are the noisiest and, unsurprisingly, the cheapest. If you're on a budget, you'll most likely buy a wind resistance trainer. Unless you have a dedicated, near sound-proof area to train, you shouldn't buy this type. 
Magnetic: These are much quieter than wind-resistance trainers. There's now quite a few decently priced options on the market today. Take the Walmann Bike Trainer, for example, which should suit most budgets. However, compatibility with bike frames is sometimes challenging for this type. You should always make sure your bike is compatible before buying one.
Fluid trainers: These are simple to use and very quiet. Most people would love to have a fluid trainer. The flip side is they are expensive and run the risk of leakage. You'll need to be a committed cyclist to justify the purchase of a fluid trainer. 
Rollers: These take no effort to set up, and their noise is dependent on your wheels and the manufacturer. Make sure you look at the decibel reading before purchasing the roller. 
For near-silent cycling, look for models that have a maximum noise level of 60–70 decibels, which is like normal conversation.
Durability
As a regular cyclist, you need your bike trainer to last. Instead of looking at the price of a trainer to determine how durable it will be, consider the following attributes: 
Material: Materials like aluminum have a high strength to weight ratio. This makes aluminum based frames more durable.
Parts: In the event of things breaking, replacement parts must be easily accessible. Without accessible replacement parts, your trainer can become useless if something falls apart. 
Maximum weight capacity: Trainers that can carry a higher load are better. That's because mechanisms designed to handle more weight are usually designed better with robust construction methods.
Heat resistance: You won't find this in all trainers but heat resistance features ensure temperature doesn't build up. This could cause damage to mechanical parts when you're cycling.
Related article – Do Rollers Damage Your Bike Tires?
Bike Compatibility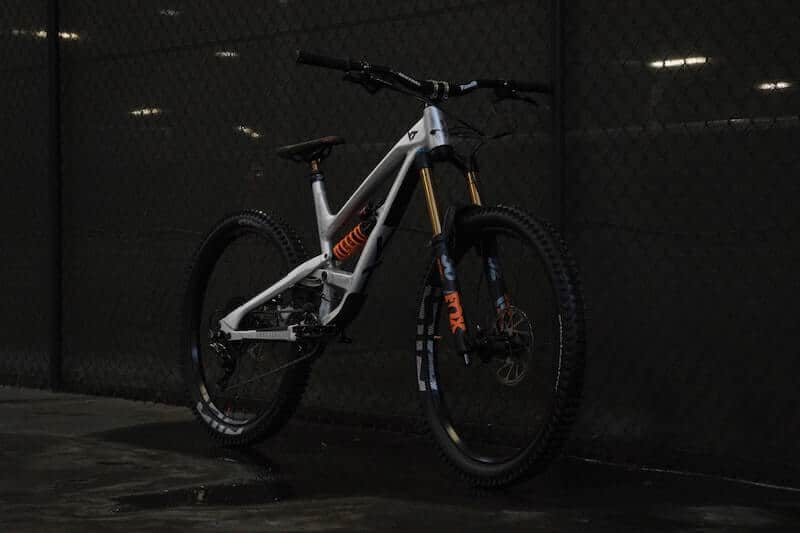 If your bike has novel features and an unusual design, don't expect it to be compatible with most indoor mountain bike trainers. Always check the wheel size range the trainer is compatible with before buying one. 
If you have a standard bike, you can safely assume that the bike is compatible with the trainer. If in doubt check the manufacturer's website!
Interesting read – When Do You Change Your Mountain Bike Tires?
Technology
Many bike trainers come equipped with Bluetooth technology. This allows them to connect to a raft of cycling apps. With such apps, you can monitor fitness progress as well as control the resistance levels of your trainer. 
Most notably, smart trainers have become a growing trend among cycling enthusiasts. They're incredibly silent and offer accurate control over your training. 
None of these features will replace the effort you put into your training! But if you love technology and are willing to make a hefty investment in a smart trainer, then buying a product like the Saris CycleOps H3 is a good place to start.
Reviews Of The Best Indoor Mountain Bike Trainers
Choosing the perfect indoor mountain bike trainer is no easy feat. Fortunately, you have us to give you a hand! Below is a detailed guide on what are, in our opinion, the best products on the market. 
This magnetic resistance trainer offers six levels of resistance, which are effortlessly changed by the mountable control cable. This allows you to progress steadily in your training. The addition of robust stainless steel construction ensures your gear won't fail any time soon. 
Anti-slip pads and the quick-release lever reduce setup time since you don't need any tools to connect your bike to the trainer. Once set up, the trainer uses quiet magnetic technology to simulate real-world cycling: hills, roads and mountains. 
The portable device comes with a bag for easy storage and is compatible with road and mountain bikes with 700c or 26–29 inch tires. The two main drawbacks are – first, the poor instruction manuals that make using it difficult for beginners. Secondly,  if you don't have smooth tires, then the trainer will be considerably noisy. 
---
The smart trainer from CycleOps provides efficient cycling with minimal noise. It's an extremely quiet device, with a noise rating of 59 decibels at 20 miles per hour. It provides consistently quiet resistance via electromagnetism. A combination of sturdy plastic and aluminum are used in the construction to create a lightweight and portable device. 
As a smart trainer, the H3 connects with popular indoor cycling apps like Zwift and TrainerRoad via Bluetooth or ANT+. This will definitely give you a challenging workout. You can use the device to take power measurements and monitor training progress in real-time. 
The device has an internal cooling system to prevent heat from causing damage and can fit a variety of axle sizes. This is the ideal mountain bike trainer for those who can afford it. 
---
The foldable roller is safe and stable. That's a great feature since rollers usually take some time for people to adjust and not fall over. The enhanced stability and sealed bearings ensure you remain stable, even when cycling fast. 
Aluminum is used throughout the device. This strong yet light material helps make the device portable at just 14.3 pounds. It also allows the bike trainer to carry a maximum load of 275 pounds. 
With the adjustable rolling resistance, there's little wrong with this trainer. However, there are two minor issues I have with this product. It's hard to set up, which will inconvenience beginners, and riding rollers is more difficult than any other type of trainer. But once you learn, you'll enjoy this simple device.
---
The Walmann Bike Trainer is a silent magnetic resistance trainer that comes in a foldable stainless steel frame. Unlike our top pick, this device doesn't make noise with tires that aren't smooth. 
It's compatible with most wheels and has six resistance levels for steady progression. The maximum weight capacity of 300 pounds is impressive and contributes to the considerable stability of the device. The wide base is low enough to ensure you remain balanced when cycling.
A drawback of the device is that the back tire scrapes the floor, which not only damages your floor but contributes to noise levels.
---
Final Thoughts
Our top pick is the Alpcour Bike Trainer. It's the perfect combination of price and performance with its portable frame and six resistance levels. 
The other products offered fierce competition. The Saris CycleOps H3 smart trainer is a brilliant device that offers features that no other product on the list does. For example, the Bluetooth connectivity and power monitor. Unfortunately, this comes at a hefty price tag.
Hopefully with the variety of indoor trainers in this list, at least one will hit your budget and needs. So go ahead and start training for that big event, or take the first step to a healthier life. Buy an indoor mountain bike trainer and cycle in the comfort of your own home!
Thanks for reading and please drop us a comment down below if you have any questions!
This article includes affiliate links. If you choose to purchase any of the products we have discussed in this article, we may receive a small commission.