With more of us cycling indoors, it's important to have the right kit, and that should include a floor mat. Like so many things in cycling, the choice is huge, but surely there's not much to consider when buying a mat. 
Well…there is! Today I'm looking at what you need to consider when purchasing one and what are the best floor mats for indoor cycling.
Our top pick is the POWR LABS Exercise Bike Mat. It's made in the USA, comes with a 12-month warranty, and has excellent durability.  Due to its dense structure, it is ideal for carpets or hardwood flooring. It's also designed to be anti-slip.
Why Do You Need A Mat For Indoor Cycling?
You might be wondering if there is a genuine need for a cycling mat. Here are a few reasons why they're a good idea! 
Offers Protection For Your Floor Surfaces
Cycling naturally generates movement, and with that, the trainer or bike can damage your floor. A mat is essential for preventing this.
Not only that, as you're cycling hard, your bike can end up sliding, particularly if you have a slippery floor, leading to your bike moving out of position and potentially making things unsafe. A floor mat keeps your bike in one place and keeps things safe.
Related article – How To Prevent Your Indoor Trainer From Damaging Your Bike
Ease Of Cleaning
I've said it before but I'll say it again, you're going to sweat when you're cycling indoors. You're going to sweat a lot.
Depending on the surface of the floor, those sweat drops can be really difficult to clean. Carpeted surfaces will absorb the sweat and eventually need a deep clean in order to prevent any build-up of odor (painting a pleasant picture here, aren't I? 🤢).
Pop a mat under your indoor bike and the problem goes away. It catches the sweat and you can easily wipe this away with a damp cloth. Some floor mats are machine-washable so even easier to clean.
A mat will also offer some protection to your bike in the way of dust protection. If you have your bike on carpet especially, it will release dust simply because of your trainer's motion. 
With a mat being there, movement is absorbed and the carpet underneath is relatively undisturbed.
Reduces The Noise
This is a benefit I really felt when I purchased a proper floor mat, it reduces the noise and vibration your bike/turbo trainer creates. 
For some people, this is a real concern, especially if you live above somebody as the noise can be disruptive to those below you. 
A bike mat won't totally remove the noise (I could still hear the trainer was being used upstairs if I was in my kitchen downstairs) however, the difference in sound was huge as the mat helps to absorb the vibration noises.
Related article – Best Fans For Indoor Cycling – Keep Cool!
How To Choose The Right Floor Mat For Indoor Cycling
Alright so you're probably thinking that a floor mat is the way to go, right? 
So let's drill down as to what type of floor mat you might want. I started with a cheap yoga mat, 100% don't recommend!
Flooring
Consider what type of flooring will be beneath the floor mat as some won't be suitable for your flooring. 
For those who have carpet, hardwood, or concrete floors, I would recommend a PVC mat or rubber mat. 
Why?

These types of floor mats are stable, provide a slip-resistant base, and should help to remove any worry about you or your turbo trainer slipping when you're working out. 
An additional thing to consider when you have carpet is that it is best to go for a floor mat that is thinner. A thicker mat can cause your bike and trainer to become unstable. 
Floor Mat Size
Another thing I got wrong. Make sure your floor mat is big enough. 
It ought to comfortably accommodate your bike, turbo trainer and still have some allowance on either side so you will be on it when you're mounting/dismounting. The reason for the extra bit is that it will help to stop you from slipping.
Material
Rubber is arguably the best material for floor mats in almost every situation. It's durable, waterproof, and provides excellent grip.
Odor
Can't get away from this one. If you aren't going to clean your mat, it's going to smell. Do take into account how you will be cleaning your mat. 
Will you be wiping down after every workout? Or do you want to be able to throw your mat in the washing machine when needed?
Appearance
So maybe you shouldn't worry so much about how the mat looks, but if we're being honest, it's something to consider. 
The good news is, that a lot of floor mats come in a host of different colors so you should be able to find something that will work with your home gym setup.
Additional reading – Zwift Vs Peloton – Which Is Best For Indoor Cycling?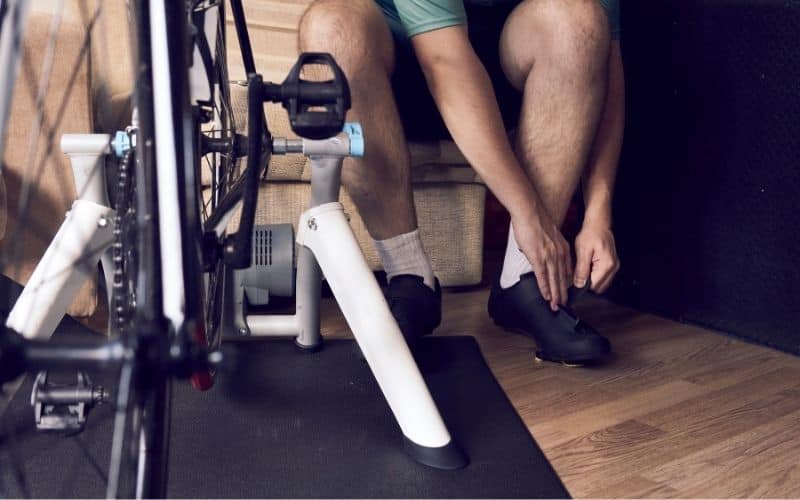 The Best 5 Floor Mats For Indoor Cycling
If you're looking for an all-rounder, the BalanceFrom GoFit mat is here for you. 
This mat is a little thin so ideal for those intending to train on a carpeted surface. Don't let the thinness put you off, it's high density so works well at keeping your floors protected and the PVC material makes it not only hard-wearing but easy to clean too. 
BalanceFrom state you only need to use soap and water to clean GoFit and that sounds like the type of low-maintenance cleaning I like! It's also moisture-resistant so in terms of keeping things clean, GoFit does make it easy for you with this durable mat.
I do like the multi-purpose aspect of this floor mat. Both sides of it can be used and have different patterns. This lends itself really well to being used for different activities, not limiting it to just indoor cycling. 
On both sides, it uses anti-slip material so you can be safe in the knowledge that you won't be going anywhere when using it. It's a fairly crucial feature, especially if you intend to use it for more than just indoor cycling. The weight of the bike will hold most mats in place usually but it's not a certainty. 
Overall, BalanceFrom GoFit high-density mat offers a lot of great features that make the all-rounder suitable for any home gym.
---
This floor mat from CyclingDeal not only looks the part, but it also plays the part. 
Like other mats in this review, it's versatile and is suitable for use for not only indoor cycling but it will work great for a treadmill or an elliptical. If you're wanting a mat for less intense activities, CyclingDeal has a 6mm thick mat (which we'll be looking at here too) so they really have got all bases covered! 
The surface of the CyclingDeal workout mat is surprisingly smooth, yet it's very stable and you shouldn't experience any movement when you're having a hard workout. 
Size-wise, this mat comes in at 30" x 60" (or 36" x 72" if you opt for the 7mm thickness version) so it's a good size for an indoor bike and should leave plenty of space on either side for mounting/dismounting. 
I can't fail to mention the durability of this mat, it comes in at 7mm thick and is constructed from PVC, in other words, it's made to last. There is the option to go for a slightly thinner version at 6mm so depending on how durable you want/need your mat to be, you've got options! 
In addition to this, it's completely waterproof so a simple wipe down will keep it clean and odor-free. 
Overall, the CyclingDeal workout mat is a great addition to your workout equipment for almost whatever type of exercise you do!
---
For those who are after simple, no-frills options, I bring you Amazon Basics. 
I will confess, I am a fan of Amazon Basics stuff. They tend to do the job and do so at an affordable price, this high-density exercise mat is no different.
There are three different sizes of mats, so plenty to choose from depending on your needs. Whichever size you opt for, you can be sure of a decent amount of padding. 
The cushioning that it provides does work well for indoor cycling as well as many other activities.
As far as absorbing noise goes, it works well. Even when you place weights on it – which I wouldn't recommend doing with force, there's only so much protection a mat can offer! But you get my point, it does a good job at noise reduction. If it can help muffle a dropped dumbbell, it can certainly help to drown out the noise of an indoor bike!
It's another mat that is easy to clean however, the sweat/water does tend to sit on the mat so I would suggest you wipe it up before it becomes slippery. It will of course, eventually dry but the Amazon Basics exercise mat doesn't quite do the job of others in that way.
Having said that, you almost can't fault this mat, it does everything the big branded floor mats do but in an inexpensive way. Nice one, Amazon 👍
---
The Powr Labs exercise bike mat offers something a bit different from the rest. It's made in the USA for one so the quality is excellent.
You get a 12-month warranty, which for an exercise mat is impressive. Mats can see a lot of use, and no matter how hard you try, it's difficult to be gentle to them. I am guilty of piercing a few yoga mats with my cycling shoes of the years 😶
As a sucker for extras (when they're worthwhile at least), I have to mention the neon-green, microfiber cooling towel that you get free with the Powr Labs exercise bike mat. 
You're going to need a towel, no matter how good your fan is. So this type of freebie is appreciated. 
Do you really need a fan?
It's not the thickest exercise mat out there at 4mm but that's no bad thing. Due to its dense structure, it is ideal for carpets or hardwood flooring. It's also anti-slip so you're not at risk from sliding around when you're full gas in a Zwift race.
Want to get started on Zwift? Check out Zwift Setup Ideas For Any Budget.
I haven't finished with what makes this mat quite so different. It's resistant to scratches. That's pretty special. 
This means that you drag your trainer on and off and do not worry about damaging your floor mat. Powr Labs also claim it's tear-resistant. It's these durability claims that make this a standout product that I can't fail to recommend.
---
I'm not going to lie, I'm a fan of Wahoo products so naturally, I like the Wahoo KICKR floor mat but I can justify my fondness! 
Let's start with the length, this bike trainer mat is long, 78 inches long, and has a decent width of 36 inches. 
For some people, this may not actually be a positive but depending on the type of trainer you have, it can be necessary. I have an Elite trainer and my whole setup is quite long so a long mat makes me happy. Let's not forget it's almost 3 feet wide so it's going to be ideal for catching your sweat.
The Wahoo KICKR floor mat works a bit differently from other mats, in that it's waterproof but the sweat is collected in the small depressions of the mat's rough surface. 
Why is that good?
It makes cleaning super easy, a mop is all you need. Not only that, it means the sweat doesn't just stand there on the mat, potentially creating a slippery surface for you.
As with many of the other floor mats here, this one is made from PVC and Wahoo claims it's going to be more durable than rubber so that's great news, right?
It comes in at 6mm thick and Wahoo has created a beveled edge with this mat so that it's easier to keep it in line with the floor. 
On a final note, the Wahoo KICKR gets extra points for noise reduction. Something that has been designed into this mat so if you're wanting something that will help to reduce the noise output, this one should be a contender for you.
---
Round-Up
So not all floor mats are the same but they are needed. You get greater protection for yourself, the floor, and the machine. 
Which one is my favorite? 
My heart wants to say Wahoo KICKR Floor Mat. It's a fantastic size and does the job brilliantly.
However, I do feel like the POWR LABS Exercise Bike Mat does that and more…I did tell you I'm a sucker for a freebie!

What are your indoor cycling goals?