Despite all the advancements in bike technology, they still dont come with a dashboard of gauges or meters. A quality bike speedometer will give you all the data you need when cycling.
Adding a speedometer to your bike will indicate your speed, distance and other key riding metrics in real-time. Below is a list of the best bike speedometers you can try today.
What Should You Consider In A Bike Speedometer? 
If you feel overwhelmed looking for the best bike speedometer, don't worry, we got you covered. With bike tech being so complicated, you need a list of the most important features you want in the device you chose. Here are some factors every bike owner needs to consider before buying a bike speedometer.
Display
How easy is it to read your bike speedometer data? A quality display screen will make reading your stats when cycling simpler. 
Most units today have font customizable options, and you can adjust the light for better visibility during the day. LCD screens with high resolution will make checking your stats a breeze during road vibrations when you're cycling.
Depending on the model, the data can be restricted to a single screen or several screens you need to scroll to find. Some speedometer feature buttons for quick navigation when riding. Some displays segment the screen to provide more data at the same time. These screen options are either customizable according to your style or fixed.
Data Geeks!
The main function of a bike speedometer is to collect different kinds of data. These include current speed, distance, and cadence. This may be enough for casual cyclists. Fitness and cyclist enthusiasts will require more data like trip distance, maximum speed, calories burnt,  and total odometer.
The data collected is stored in the speedometer depending on the storage available. Some models can store only a few hours of data, while others can store up to 800 hours of data for you to review later. More expensive models can measure your heart rate and gradient, all in real time.
Durability 
Your bike takes a lot of hits, especially if you are riding in rough terrain. A quality bike speedometer will be able to withstand harsh impacts and all kinds of weather. 
For off-road cyclists, having a durable speedometer will ensure it holds up during storms, harsh winds and heat. If you regularly forget to take care of your devices, choose a model with a maintenance alert to ensure it is working right until the next time you need to use it.
Connectivity
There are numerous connectivity options with recent bike speedometer models. Wired speedometers can only send and receive information. Aside from the hassle with wrapping and unwrapping wires on your bike, this can be very limiting for most cyclists. If you want to analyze your data to track your performance when cycling, a wireless speedometer will be much better suited for you.
Connectivity options available include WiFi, Bluetooth, or third-party app connectivity. For cyclists who want to monitor their stats keenly, these modes of connectivity will help you share and update your progress in many ways. You can share data to your social network through mobile apps or use Bluetooth to send the data to your computer.
Other models also offer phone connectivity features that will keep you connected no matter where you are. After syncing with your smartphone, you will get email and text message notifications, so you don't miss out on anything important.
Battery Life
If you plan on cycling for hours on different trails, you will need a speedometer with a long-lasting battery. Longer battery life means you can rely on the bike speedometer no matter how far you ride.
They can last anywhere from 25 hours to months, depending on the manufacturer. Some batteries are USB-rechargeable, so you can use your USB cable to power up when the battery runs low. There are also solar-powered speedometers that charge using light or sunlight.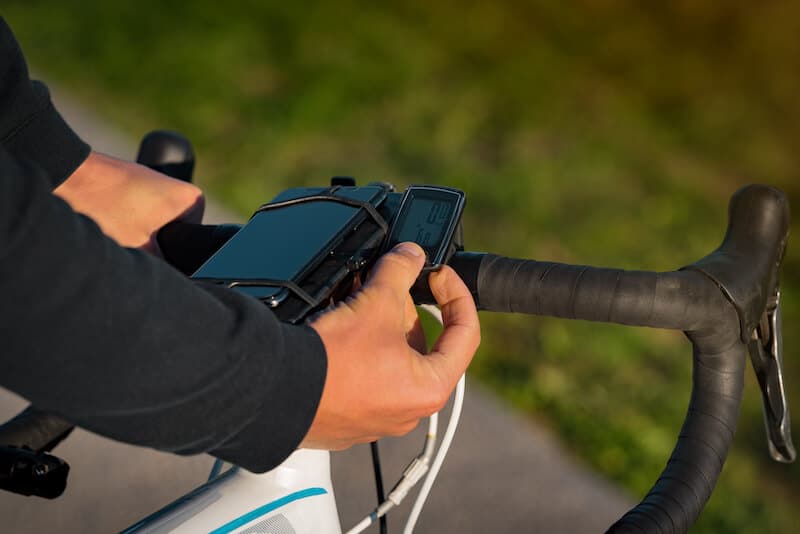 Review Of The Best Bike Speedometer
Weighing only 25g, the Garmin Edge 25 is one of the most compact bike speedometers you can get. The Edge 25 is perfect with a 1.3-inch clear screen display. This device uses GPS satellites to track your distance, speed, and time. It even works well in tree-dense areas.
Usually, you would have to use a phone to track your distance and speed. With the Garmin Edge 25, you don't have to worry about your battery running out or damaging your phone when biking. I've found that speedometers are more accurate than my phone as well.
Other features of this bike speedometer include the ANT+ compatibility that allows you to pair a heart rate monitor, speed sensor, and cadence sensor to get the most relevant data out of your rides. This autormatically syncs with Garmin Connect which provides a nice interface of all your fitness data. It allows you to quickly view your own personal performance and analyze them for improvement.
This speedometer from Garmin is ideal for fitness training and daily riding!
---
The Wahoo ELEMNT BOLT GPS bike computer is handy to have for your next ride. If you are looking for an aerodynamic and compact gadget that you can gather fitness data while riding, this is it.
This bike computer comes with a stem mount and front mount to place wherever you feel most comfortable. With the Wahoo companion app, you can quickly pair your devices for a stress-free setup.
The Wahoo bike speedometer accurately measures your heart rate, speed, and distance. After pairing with your phone, you can also receive emails and messages to avoid missing important alerts.
You won't miss a single notification with the LED indicators on this speedometer. The tactical small buttons make it easier to navigate through texts, maps, and live track features. With the live tracking feature, locating your friends in real-time will be easy for an adventurous group ride.
This is a truly wireless speedometer with WiFi, ANT+ and Bluetooth compatibility. Maps for this bike computer are automatically downloadable using third-party apps like Komoot, MTB Project and Starve. 
The Wahoo computer has an impressive battery life that can last up to 15 hours. It also has a waterproof rating of IPX7 for cyclists riding through water bodies or in the rain. Definitely ticks all the right boxes!
---
The LEZYNE MEGA XL is an accurate and advanced data recording system to keep track of all your rides. With multiple real-time features when paired with the mobile app, there is so much you can do with this device. Aside from the basic functions like calculating speed, distance and elevation, this bike computer has a lot more to offer.
First of all, you get an easy-to-read and large display. It measures 2.7 inches with a high-resolution screen. You can store up to 800 hours of ride data and enjoy customization features like creating multiple user profiles. Your friends can follow your rides in real-time with the Lezyne Track app no matter where you ride.
You get an impressive 48 hours of runtime with the Lithium battery. It comes with a micro USB cable charger as well. The bike computer also comes with a mount to quickly place on your bike before you start riding. Other features include an accelerometer and barometer.
The ANT+ and Bluetooth compatibility on the LEZYNE MEGA XL allows you to quickly sync to heart rate monitors, power meters, and speed sensors. Through the user-friendly Lezyne's Ally V2 app, you can sync to your android or iOS smartphone for turn-by-turn navigation and notifications.
---
Get all your favorite stats with the CATEYE VELO 7 wired bike computer. If you are looking for a trusted model that displays your speed, total distance, pace arrow, and time-lapsed, look no further. 
A nifty feature is that it notices when you stop for some coffee or to fix your bike. It automatically stops calculating your speed and time to avoid getting inaccurate data.
This bike speedometer is easy to use and simple, with high-quality features found in high-priced models. The interface is simple to learn, with the top display showing your speed and the bottom showing other data points. With a battery that lasts up to three years, you no longer have to carry around multiple charger cables!
It is designed to be used on a road bike with the wired sensor wrapped at the front brake line. Unfortunately, you will not be able to upload any of the ride data to third-party apps. This is a suitable speedometer for beginner cyclists who want to improve their riding. It is also an affordable option for casual cyclists who need basic ride data.
---
This is an advanced bike computer for providing all the necessary ride data when you are on your bike. It boasts great features like a five satellite system support for stronger signals and reliable coverage even when riding in the mountains. The crystal clear screen has a powerful and adjustable backlight so that you can read your data with ease.
You can take up any long-distance challenges with the strong 35-hour battery life. This bike computer supports ANT+ and Bluetooth connectivity. It also includes speed, heart rate sensors, and cadence sensors compatibility to give you the data you need.
Never worry about missing any important notifications during rides with this bike speedometer. You will get real-time notifications for emails, texts, and phone calls after pairing with your smartphone.
This bike speedometer from Bryton is compatible with the Bryton Active App with automatic sync to Strava. The Bryton app allows you to set up the device, data pages and view your cycling results after each ride. It is also highly customizable depending on your training needs and style. Additionally, the app makes sharing and comparing activities easy.
---
This wireless bike speedometer from XOSS is the go-to choice when mountain biking. The XOSS bike speedometer features four positioning systems with an automatic pause mode when you stop. The anti-glare LCD screen features three backlight modes to be visible when cycling during the day.
With the XOSS app, you can quickly upload your data via Bluetooth while at the same time syncing with Strava. This is not your regular app because you can set unit metrics, auto pause, and key tone through it. You can also set the time zone and units through the bike speedometer.
The XOSS speedometer has a waterproof rating of IPX7 for those rainy days. With 25 hours of reliable battery life, it will be a while before you are looking for a USB cable for charging. The batteries are included in the package, so you can use the XOSS bike speedometer as soon as you buy it.
---
The ICOCOPRO bike speedometer is the only device on this list that is powered by solar energy. It can automatically charge in sunlight but also features two built-in batteries for your daily needs. You get to take care of the environment while extending the battery life!
Built with 22 functions, it accurately measures speed, time, distance, and calories burnt. The interface is easy to navigate with two buttons to access all the data you need. Viewing is also simple with the day and night backlight on the large LCD. The backlight will also automatically turn off when inactive between 5 pm and 7 am.
This bike speedometer is compact and lightweight. It's based on a wireless design so it makes placing it on your bike fast and stress-free. With the auto-sleep function, the display screen will go into standby mode. It automatically wakes up with a single shake or after inputting a signal.
The waterproof design of this bike speedometer makes riding in any weather stress-free. This not only makes it convenient but durable too. The ICOCOPRO bike speedometer is worth the price with a user-friendly interface to use for years!
---
The Dinoka bike speedometer is suitable for different bikes like road bikes, folding bikes, and mountain bikes. You can quickly install and use this device with the easy-to-follow instructions. It is compact in size and compatible with most bicycles apart from some electric-assist bikes.
The LCD digital display lets you read your statistics from your bike speedometer easily. With a day and night backlight, you won't have a problem seeing your data at any time. The green and white color on the odometer lets you distinguish between day and night.
The basic functions of this speedometer include measuring the trip distance, speed, and elapsed time. You will also get a wireless sensor, the actual time, and the miles set from this bike computer. It is convenient to have on your bike due to its lightweight nature and small size. To top it all off, it's waterproof for cycling in the rain!
The auto-on/Sleep mode after 300 seconds helps save on battery when the speedometer is not in use. There is also a maintenance reminder or alert to help in prolonging the durability of this device. Overall, this is a suitable speedometer for cycling enthusiasts who need to keep track of a wide range of data.
---
Conclusion
Bike speedometers are essential for all cyclists. They offer relevant data on your cycling speed, trip distance, calories burnt, and real-time location. You need to pick wisely and consider the durability, price, connectivity, and uses you are looking for in the device before you buy.
Overall, our winner of the best bike speedometer is the Wahoo ELEMNT BOLT bike speedometer.
This is a stand-out choice because it not only offers data on your time, distance, and riding speed, but comes with a great range of connectivity options.  The interface is clean and user-friendly, with buttons for navigation. 
You can share real-time updates through the tracking apps, and with the high waterproof rating, it will withstand riding in all kinds of weather. It is a great option for casual and competitive cyclists who want to improve their cycling with helpful data.
You may also like to read Can You Carry An Extra Battery For An Electric Bike?