Bikepacking is a fantastic experience. From the open roads to the people you meet, the memories you bank from these trips will never be forgotten, and you will inspire many others to get on their bikes and go for an adventure. However, one thing that stops many people is the price of bikes and Bikepacking equipment.
I started Bikepacking seven years ago. I had no spare cash as I was a full-time student at the time, and when it came to my Bikepacking, it was on a seriously tight budget. One thing I found was it didn't have to be expensive. 
In this article, I want to tell you all how you can go Bikepacking on a budget and where to source most of your equipment you will need.
The Essentials
Let's start with the basics, and let me give you a list of everything you are going to need. Then, I'll make some recommendations of equipment to use to start your bikepacking.
Bike, Tools, And Spares
To start, you're going to need your basics to keep you on the road. A Bike to keep you moving forward 😁. The tools and some spares in case of any issues. This is what I carry on trips to keep me going.
Bike 🚲
Inner Tubes
Patch Kit or Tubeless Repair
Tire levers
Spare brake or gear cable
Brake pads
Gear hanger to suit your bike
Chain lube
Spoke Key and Spokes (Recommended if you are using an old wheelset)
Extra small piece of tire in case of tire rip
Bikepacking Carrying Gear
The next thing to think about is how you will carry your essentials and store your food and water. I've put two different options, one a traditional Bikepacking setup and another a Touring setup.
Bikepacking
Frame Bag
Roll Bag
Saddle Bag 
Top Tube Bag
Touring
Rear or Front Pannier
Pannier Bags
Top Tube Bag
Related article – Best Bike Camera Bags: Reviews and Complete Buying Guide
Bikepacking Sleeping Kit And Essentials 
One thing about Bikepacking usually is you might find yourself sleeping on the road, and especially if we are doing this on a budget, it's the cheaper option, so we need to think about how we will go to sleep, we will also need to think about hygiene and charging goods so that if we don't see power for a few days, we will be ok. I've got two options here, a tent and a bivvy option depending on how comfortable or fast you want to be. 
Lightweight and fast
Bivvy Bag
Down Mat
Sleeping Bag
Comfort
Tent
Down Mat
Sleeping Bag
Travel Pillow
Gas
Pan
Cutlery
Cup
The Essentials 
Medication if needed
Hygiene creams
Shower Gel
Toothbrush
Toothpaste
Water Cleansing Tablets
Bike Lights
Powerbank
Phone and Charger
Bicycle camera (ok this isn't essential but why not take pics of your trip!)
Cash and Card
Related article: Skin Care For Cyclists – Keep Your Skin Healthy
Bike Recommendations
When it comes to the bike, it's really up to personal preference. It has to suit the trip you are doing, so if you're going off-road, make sure you have a bike with the capability to cover the terrain. Here's a few basic bikes I would recommend for some budget Bikepacking and the Pros and Cons of them.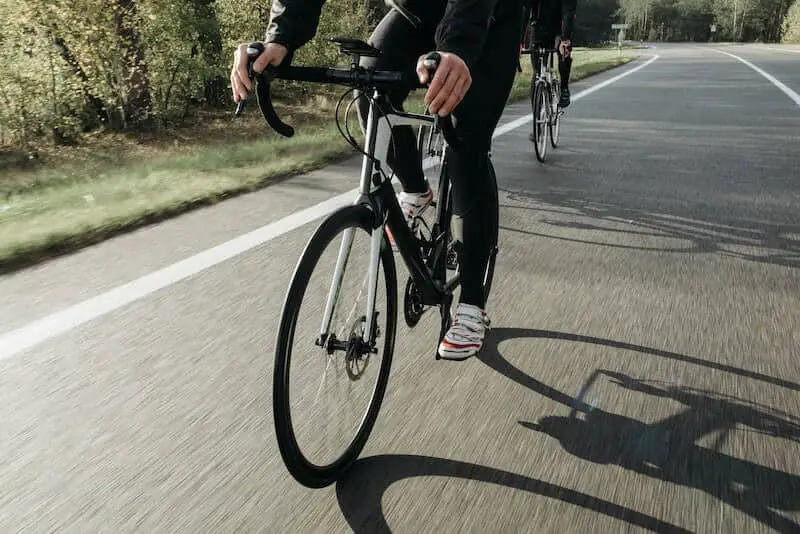 Schwinn makes a decent bike, and they are a brand you will see not only on the road but in spinning studios and lots of gym equipment. This is a standard road bike; it has an excellent gearing system that will help you get up the hills and skinny tires to keep the speed up. Everything is relatively standard, and it will be solid and robust with its aluminum frame.
Related article: Can You Convert A Road Bike To A Gravel Bike?
---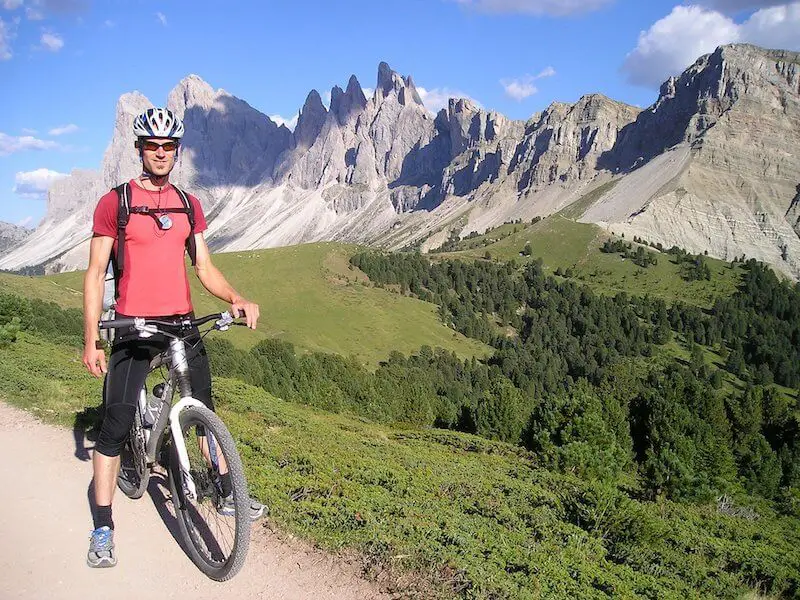 This Mongoose mountain bike will help on an off-road trip and give you the capability to go anywhere. If you're not in a rush or like to get lost in the wilderness, then this is going to be the bike for you. Bigger tires and dual suspension will make the trip extremely comfortable and work much harder on the terrain.
---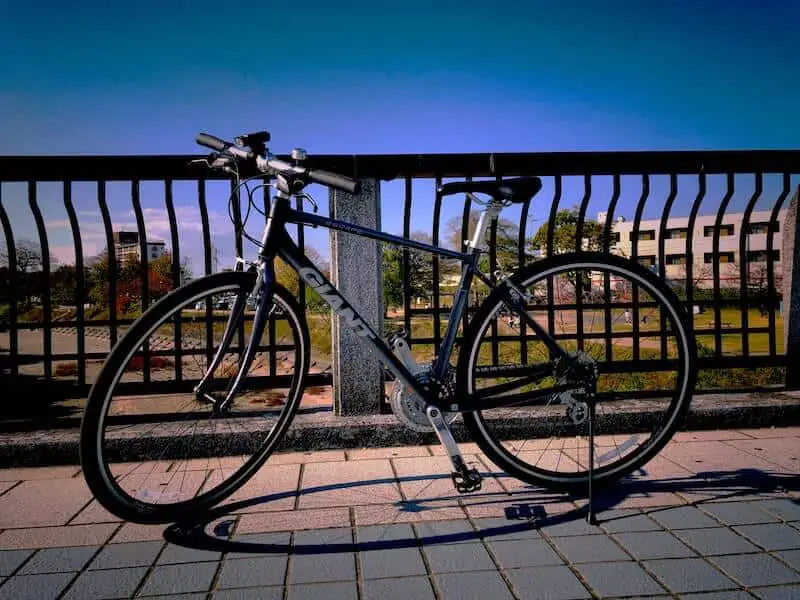 The Schwinn Discover is a great way to go, and this one I have selected here definitely tick the box for the touring style bike you will see very often. It will offer bigger tires like the mountain bike but with a smooth tread for speed like the road bike, and it will provide suspension on the front like the mountain bike to keep that comfort. It will be able to do some light off-road and will perform well on smooth roads. It is an excellent way of getting around comfortably and sits between the mountain and the road bike.
---
Gravel Bikes
Lastly, have a look at gravel bikes which have been designed for a bit more of a rugged ride in mind. Check out these:
The Bikepacking Bags and Kit
Bikepacking involves carrying a fair amount of gear, and there's always more to carry when it comes to adding food and drink as well. 
I personally, as a rider, love to use Bikepacking bags instead of panniers, but I can see the appeal of panniers. When I look for bikepacking bags, I always think about the capability and try not to get caught up in the ones that look the coolest. 
Firstly they have to have a suitable attachment to the bike. Secondly, they have to have a decent amount of waterproof ability. Thirdly they have to accommodate some proper space and lastly they have to be a good value for money as this article is Bikepacking on a budget!
Bikepacking Lightweight Set up
When it comes to a lightweight Bikepacking Setup, you need to think about being light, fast, and aerodynamic. 
I rate what Amazon has to offer, and you can pick up most kits cheaply and the next day. Here I have made my Bikepacking recommendations.
The Rhinowalk Saddlebag is an excellent bit of kit, and it's terrific value for money. Unlike many other saddlebags, it straps uptight and doesn't move much when riding. It has an outstanding waterproofing ability, and I love the stealthy black look with the reflective logo. 
It comes in four different sizes depending on how much you want to store and is easy to take on and off and also really easy to get stuff out and repack it while it's on the bike. As far as budget saddlebags go, this is something special. 
The only thing they could do to improve this is to cradle mount it.
Roswell makes some excellent budget equipment, and just because the price isn't high shouldn't be overlooked. 
I rate this frame bag. It comes in two designs depending on your frame shape and mounts nicely and securely to your bike with the velcro straps. It's waterproof not only in the material but in the unique glue zipper too. 
There's always one bit of equipment you will use the most, and it will probably be your frame bag. As it's the most accessible while you ride, you need to make sure it's going to last and do the job well, and I have complete confidence in this.
When it comes to rolling bags, you have to be careful. You need them to hold well and be accessible and not get in the way of your cables. 
I came across the Lixada a few years ago and liked it as it was different from most roll bags. Instead of just strapping straight on, it has a mounting cradle. This makes it so easy to access the goods inside but also strap at nice and tight. It's waterproof, mounts solid, and looks excellent looking. 
This is my go-to Rollbag, and it's adaptable to nearly any bike.
There pros and cons of this setup:
Bikepacking Heavyweight Set up
When it comes to Bikepacking, it doesn't always have to be roughing it, you can make your time on the road comfortable. It can be a long ride but much more enjoyable, but that does come at a price in weight. If you want to take such amenities as a tent, you will need space and support. This setup would be making use of panniers.
Here we are looking at a colossal capacity set up for your bike, and I can highly recommend this if you're going on a long trip and not in a rush. It has a vast 50-liter capacity and comes with different sections making it easy to organize your stuff and take lots with you, such as extra clothing. They strap on to your panniers solid and are easy to take on and off for those hotel stops if you can't take the bike in the room.
Camping
When it comes to Bikepacking, you usually are going to have a night or so sleeping rough. This can be made comfortable with a tent or as essential as just a bivvy bag. I usually have two setups. 
Personally, one I will use for speed, and it's incredibly lightweight, and another that I use for longer trips is heavier but much more comfortable for those nights sleeping outside. It depends on if I'm racing or I'm just generally exploring. 
Though on the road, life is much cheaper, and it's much easier to be on a budget if you are sleeping outside. Hotels are expensive and have a habit of not liking dirty bikes. 
As far as it goes for lightweight and heavyweight, I use the same sleeping bag and down mat for them both. Let me tell you a bit about them separately. 
Sleeping Bag
The Besteam comes in at a meager price and is an excellent value-for-money product. It's no frills. It's a fundamental sleeping bag and will do the job and pack away lightly. It's not something I'd use in winter, but it does the job in the other seasons well.
Down Mat
Sleepingo Camping Sleeping Pad
People often underestimate the importance of a sleeping mat. Not only do they keep you off a hard floor, but also they stop you from being on a cold floor. They may take up a bit of room in your setup, but they are worth it and do have a purpose. 
I like the Sleepingo because it packs down to be the size of a water bottle and is very easy to inflate.
Lightweight Bikepacking Sleeping Setup
What's not to like here, the Tact bivvy bag is outstanding value for money. It's waterproof and weighs next to nothing. It comes with a bag which means you can pack it tight to get it hidden in your saddlebag. There are better bags on the market, but they usually cost thirty times the price. I highly recommend this!
Pros
Super Lightweight
Packs away tightly
Very cheap
Cons
Very basic 
Sleeping outdoors with the elements
Heavyweight Bikepacking Sleeping Setup
It's a very simple tent and does the job pretty well. The setup is basic and doesn't take long to put together at all. You're probably going to need to be using panniers for this as it's tough to fit in any Bikepacking bags, but it's a perfect place to sleep at night and shelters you from the elements in your tiny room.
Pros
Shelter from elements
Comfortable
Cons
Handy Tips, Tricks, And Equipment
The key really with any setup is to be efficient. It takes time to get the correct setup and know what to bring. 
Personally, it took me years to start taking the right amount and leave the kitchen sink at home, and that ok Bikepacking is a process of learning. 
Here's some advice I wish I could have told myself when I was new to Bikepacking.
Take the luxuries you think you will need and anything you don't use, try not to bring the next time.
Try not to stress about the finer details. The majority of what you need can be bought on the road.
Have a practice night sleeping rough before you go on a more extended trip, and maybe do this with a friend who has been bikepacking before.
Get a decent power bank, as, personally, that has caught me out a few times. I rate the Ankers. They seem to last and hold a lot of charges.
Frequently Asked Questions
How To Pack Your Budget Bikepacking Setup?
Be organized, so for example, with a bikepacking bag setup, I use the saddlebag and rollbag for goods that I don't plan on getting throughout the day. That's where I will put my sleeping goods, hygiene essentials, and casual clothing. The frame bag will hold all my day goods such as spares, tools, and the odd bit of food.
Related article – How To Pack Your Bike For Air Travels
Which Bikepacking Bags Are Worth The Money?
Many of them are actually from the same factory, so I go on specific characteristics such as waterproof capability, mounting straps, and size. 
If I'm concerned, I just read the reviews and go off them. Bikepacking bags are not difficult for companies to make. It's about how you use them more than anything. Make sure everything you have is fit for the purpose.
How Much Water Should You Carry For Bikepacking?
Depending on the trip, to be honest, if you're not able to resupply much, then a lot, but maybe a bit less if you're in very built-up areas. I'd never take any less than two liters personally as you don't want to run out.
Summary – Bikepacking On A Budget
Bikepacking can be done on a budget, and in my opinion, it is fun this way. When you start looking at Ultra racing, the top end gear becomes more important then, but it's just not needed as far as just exploring at adventuring. 
You can buy an entire setup, including a bike, for less than a package holiday, and it gives you the option to go away endless amounts of times!