With so many options available to track indoor cycling, it is important to understand the difference between the options and how they track that information. The app you choose will connect to a GPS device, computer, or fitness watch where sensors are also installed.
Below is a breakdown of some of the leading apps that provide the most accurate information.
How Do I Track My Indoor Cycling?
Most cycling apps have the basic feature of a start and stop function and determine how many calories were burned during indoor cycling. However, there are quite a few ways how each achieves these!
You can store these apps on your indoor bike to manage your cycling sessions or have them stored on a phone or watch while you are actively engaged in the activity.
Depending on the app and the device to which it is connected, it could use different sensors, heart monitors, and other features to track your indoor cycling sessions.
Apps That Help You Track Your Indoor Cycling
If you are not sure what app will help you with tracking your indoor cycling, feel confident knowing you have a few options. It will depend on where you plan to store the data and where you would like to down the app. Some of the most popular apps include the following:
Strava
Zwift
Garmin
MapMyRide
TrainerRoad
While there are a few more out there on the market, these are the most commonly used.
Zwift
Welcome to gamified cycling. You are provided with a cycling avatar and you ride around various world maps (with a few famous landmarks!). The app connects to your indoor bike and tracks all your cycling as your roll around the various worlds.
To get started, you have to first set up your Zwift account with some information. Include details like your weight, age, and gender so that they have a basic point for their calculations.
Zwift utilizes a cadence sensor connected through Bluetooth to your bike. As you continue to pedal, Zwift takes the base information coupled with the speed and rate you are pedaling to build data. Because Zwift has pre-designed workouts stored in the app, the information they are generating is much more accurate than other options.
Related article – Zwift Setup Ideas For Any Budget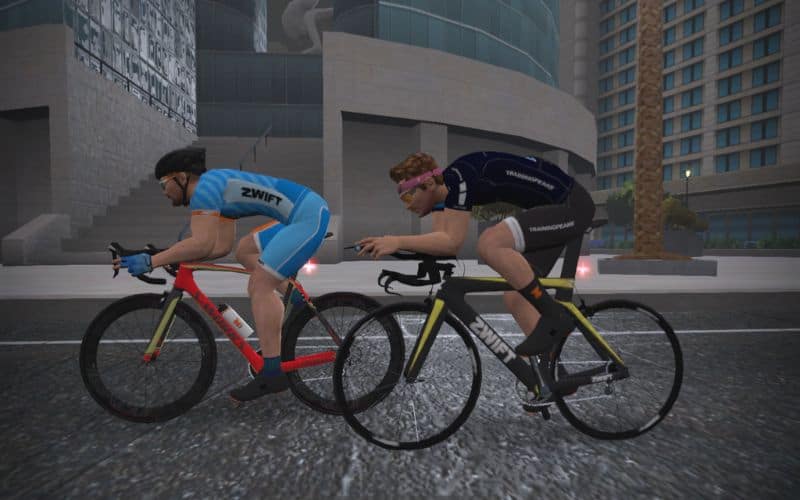 Garmin
Many cyclers who ride outdoors have a Garmin device or fitness tracker. So, when it is time to move to indoor cycling for the cooler months, you can still keep track of these workouts just as you would out on the trail.
Connect the Garmin app on your phone to your Garmin GPS device and set your GPS on your indoor bike. Follow these few steps below to update your sensor:
Go to the Settings menu
Scroll down to the sensor menu
Add new sensor
Select cadence
Add the wheel size of your bike
Go to the activity screen and opt for Indoor cycling
You are ready to begin your indoor workout and can start when you are ready. The cadence sensor on the Garmin will track your movements and store the information with other data that you have collected.
Related article – How To Connect Zwift To Garmin
Fitbit
Unlike other apps, Fitbit doesn't do automatic tracking on indoor cycling. Before you begin your indoor cycling, you need to first do the following:
Go to your settings
Select shortcuts
Add spinning to your list.
Before you start your workout, manually begin the activity and Fitbit will start tracking your indoor cycling.
The Fitbit has both altimeters that determine when you are climbing and 3-axis sensors that track and determine the movement of your body. These sensors store the speed and can calculate your distance and caloric burn easily with this information.
For more information check out How To Track Indoor Cycling With A Fitbit
MapMyRide
There is a lot of information calculated with the MapMyRide app. It is designed to show your progress over time from the data that is collected. 
It can be uploaded to your profile online, and you can share it in your rider community. Like other trackers, MapMyRide utilizes a cadence tracker to determine your movement and your speed so that when you are cycling, they can determine what type of calories you are burning and the intensity of the workout.
TrainerRoad
If TrainerRoad is your preferred fitness tracker, you have a variety of indoor cycling workouts to choose from on the app.
TrainerRoad utilizes Bluetooth and has ANT+ sensors to help determine the metrics of your ride. Cadence sensors, power meters, and heart rate monitors are all tracked in TrainerRoad. This gives you access to the data you need to monitor your workouts and see where you need to make improvements.
This app is ideal for those who are avid cyclists and use indoor cycling as their primary workout.
Strava
To log the speed and distance of your indoor cycling, you can pursue the free Strava app and utilize the basic plan for this information.
There are a few steps to take to make sure you log the right activity and get the most accurate information.
Enter personal information regarding age, weight, and height on your profile
Go to the top right corner and select the + sign for more options
Select the Indoor Cycling option
Add New Bike and include the details around your bike
Once your information is logged, you can begin your workout. You can choose to do your free ride session with Strava or you can choose the preloaded workouts available on the app.
If you've linked up Zwift and Strava, check out How To Connect Zwift To Strava. Alternatively, here's generally How To Record Indoor Cycling With Strava.
Utilizing Fitness Watches
If you want to wear a fitness watch, a couple of good options are the Fitbit and Apple Watch. Both of these have these exercise options stored, and you just need to select the indoor cycling option before you get started.
Both Fitbit and Apple Watch can determine when you have slowed down and paused or stop the session at the same time that you do. Cadence sensors and heart monitors are available in both of these devices.
Related article – 5 Of The Best Bike Fitness Trackers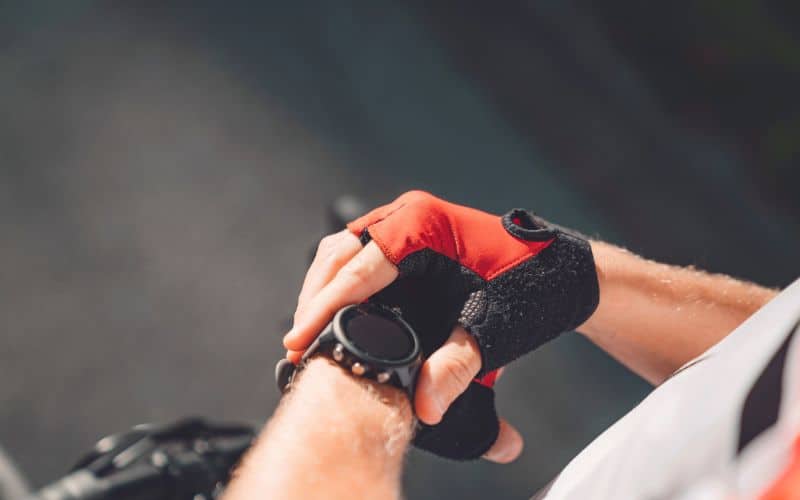 What Other Features Are Available on These Apps?
When you download these apps and start using them for indoor cycling tracking, you will find that they have a few additional features that are great for your overall health and help you manage your cycling routines daily.
Heartbeat
Speed
Distance
Caloric burn rate
Upload and share your data
For those of us who are more fitness fanatics, you'll find that uploading and sharing data from these apps is very easy to do. Being able to keep yourself and an accountability partner in check is great. You can also provide this data to your doctor if you are having any concerns with patterns or changes you are seeing when you review this information.
Ride on!